Thinking of flying United Airlines with your dog? Sniff out everything you need to know before you go, as barked by the world traveling Yorkie.
**Please note that this website contains affiliate links, and at no obligation or additional cost to you, my humans and I earn a small commission if you make a purchase. If you love the work that we do, you can show your support by making a purchase through an affiliate link. Proceeds will go towards helping homeless dogs (and cats) along with improving the lives of the neglected and abused.
ARF, I'll bark the truth – I didn't think I would ever fly United again.
No way, I thought to my handsome Yorkie self – not after what happened in 2018 when a United flight attendant forced Kokito, a 10-month-old Frenchie, into the overhead bin. Kokito's pawrent ensured he traveled in an airline-approved carrier and paid $200 roundtrip for the 4-hour flight from Houston to NYC.
Despite desperate pleas from his pawrent and human sister that there's a dog inside, the deranged flight attendant insisted that the carrier must be placed inside the overhead compartment because it was supposedly blocking the aisle. Once poor Kokito was found dead upon landing (after barking a few times for help during the turbulent flight), the flight attendant suddenly claimed that she thought it was a "normal bag" and didn't know there was a dog inside.
Although United took full resPAWsibility, the past cannot be changed, and Kokito's life was unfairly taken. Shortly after that horrific tragedy, United shipped a German Shepherd (via cargo) bound for Kansas City to Japan. ARF-my-DOG!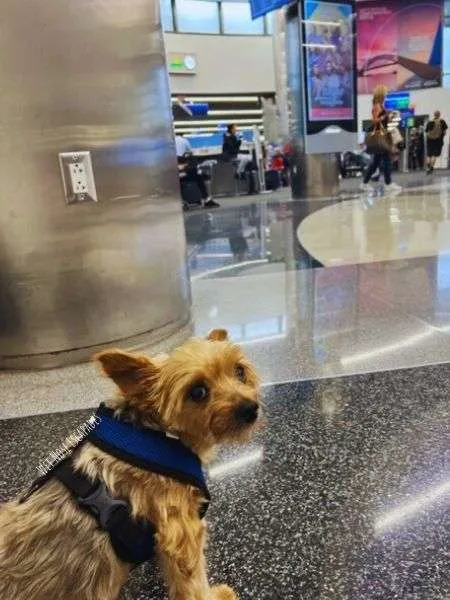 The truth is that more dogs have died on United than any other airline, a whoppin' more than 3x (at the time of the incident). But, it's because they were also the largest transporter of animals.
ARF course, we can never forget tragedies as every furry life is a unique, sentient individual.
However, the smiley-open-face news is that the past is the past. Since the incident, United made changes to its pet policy to prevent such tragedies from happening.
For instance, United started issuing bright-colored bag tags to customers traveling with in-cabin pets, which will help flight attendants identify pets in-cabin. They also STOPPED flying dogs in cargo (at least, as of now).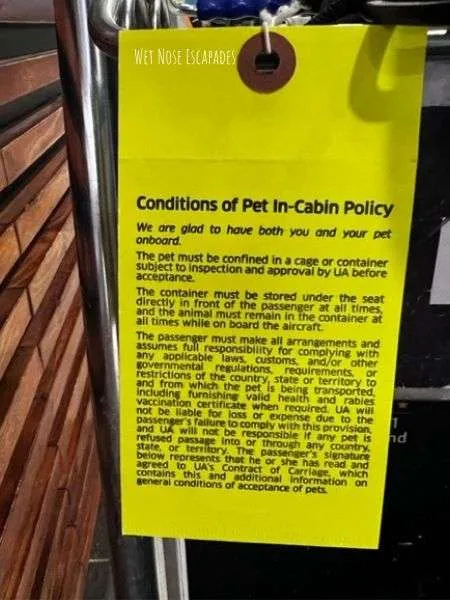 For over four years, my humans avoided flying United like a plague. They stopped flying United themselves – with or without me. As they consistently heard from satisfied traveling dog pawrents over the years, my humans decided to give United another try. Recently, I hopped on a United flight to Cancun from Los Angeles. Needless to bark, the flight went well (obviously, I'm still alive and well).
Besides brief annoyance at the counter check-in (keep sniffing below), I have no real growls or complaints to bark about the nearly 5-hour flight – my first flight with United in years. Overall, the journey was smooth without any PAWblems. Since then, we have added United back into our options for dog-friendly airlines.
Flying In-Cabin with Your Dog
What's PAWsome about flying United with a dog is that in-cabin reservations for your dog can be made online (at least for domestic flights), unlike other U.S. airlines. However, like other airlines, space for your dog to travel in-cabin is limited, so be sure to book as soon as PAWsible. When booking on united.com, select "Travel with a pet," OR you can add a pet to an existing reservation under My Trips. Just a BARK OF CAUTION that you cannot add a pet to your reservation on the United app.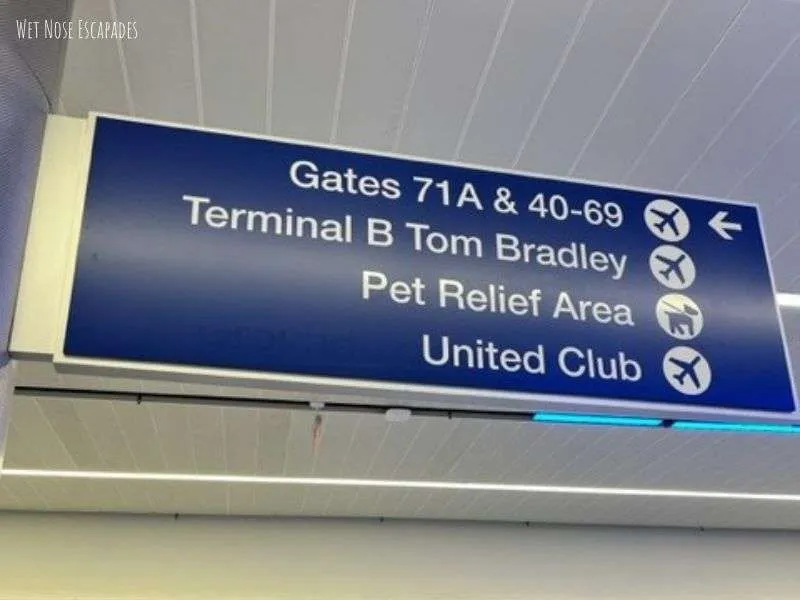 The limit depends on your cabin AND the type of plane. Here's the breakdown (I mean, BARK-down):
Up to 2 pets allowed in premium cabins
Airbus 319, Airbus 320, Boeing 737, Boeing 757-300ER, Bombardier CRJEMB 175, EMB 145
Up to 4 pets allowed in Economy
Airbus 319, Airbus 320, Boeing 737, Boeing 757-2002, Boeing 757-300ER, Bombardier CRJEMB 175, EMB 145
Up to 6 pets allowed in Economy
Boeing 767, Boeing 777, Boeing 787
1If you're traveling on a Boeing 737 MAX 9, your dog's carrier can be no more than 10 inches tall.
2If you're traveling with a dog in Economy on this type of plane, you must be in a window seat for a carrier to fit under the seat in front of you.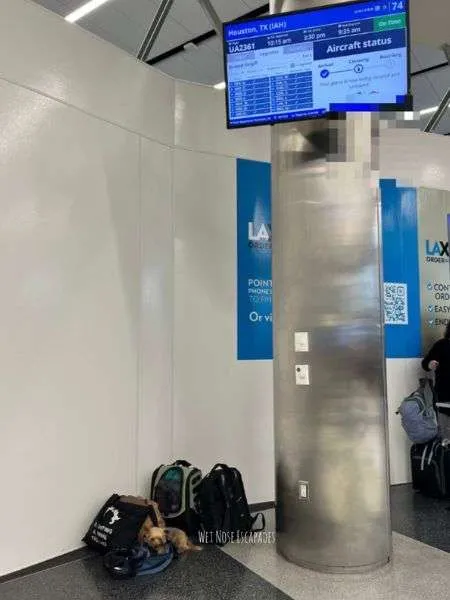 Like Delta Airlines, only small dogs can travel in-cabin with United (except for trained service dogs). Even though United technically doesn't have a weight or breed limitation, your dog MUST travel in a hard-sided or soft-sided carrier that meets its maximum dimensions. And yet, this carrier must fit under the seat in front. Hence, this means your dog must be small enough to fit in such a carrier. If you're thinking of stuffing your 23 lb. dog inside, think again! The policy clearly states that your dog must be able to stand up and turn around while inside. Besides, it would be an awful experience for your dog even if you are able to bypass the staff's scrutiny. And yes, flying can be stressful for dogs.
I've heard of people putting their dogs on a strict diet so they could lose enough weight to fit inside an airline-approved carrier. Depending on how much weight your dog has to lose, this may or may not be a good idea. It's OK if it's 2 or 3 pounds, which can be shed easily. However, I think it's best that you reconsider flying with your dog if it's a tight fit.
While I can choose between a soft or hard carrier to fly on United, I always prefer a soft carrier for extra wiggle room. Unfortunately, your dog and his carrier count as ONE carry-on item, meaning you lose your usual carry-on and may need to pay to check your baggage.
The COSTS of Flying Your Dog on United
Yet, this is ON TOP of the $125 pet fee one-way collected at check-in, which is more expensive than the in-cabin pet fees at Delta (currently priced at $95 one-way). ARF yeah, I should bark that there should only be one dog or "pet" per passenger.
Another BARK OF CAUTION: For each layover of more than four hours, within the U.S. and more than 24 hours internationally, you'll have to pay another $125 for your dog. GRRR, this makes no sense to me. It's one thing if we choose to book flights separately and have a long layover, but another thing if that's part of the itinerary set by United.
If you want to use points to pay for your dog's flight and extended layover, you're in for a surprise. Unfortunately, travel credits are NOT valid to pay pet fees on United, which sucks for frequent flyers. GRRR, this is where the costs of flying with your dog can add up quickly.
Even though United has gotten rid of change fees, you'll still want to be ARF-solutely sure about your flight before adding your dog. If you are unable to use your dog's reservation, you would have to request for a refund online (which will be done in the original form of payment). According to the agent we chatted with online, the pet fee is not transferable, which means you'll have to rebook your dog's reservation if you end up changing your flight, which is suPAW annoying.
So, let's bark about dog carriers that fit on United flights!
United's maximum dimensions for soft carriers are pretty much the standard for U.S. airlines. They're the same as Delta and American Airlines:
18 x 11 x 11 inches / 46 x 28 x 28 centimeters (length + width + height).
Their maximum dimensions for hard carriers or kennels are slightly lower:
17.5 x 12 x 7.5/ 44 x 30 x 19 cm (length + width + height).
If you don't already know, carrier training is the single most imPAWtant step in the world of air travel for dogs. The more comfortable your dog is in his carrier, the better he will fare throughout the journey. In my PAWpular E-Book How to Travel with Your Dog, I recommend starting carrier training at least a few months before your dog's first flight – the earlier, the better.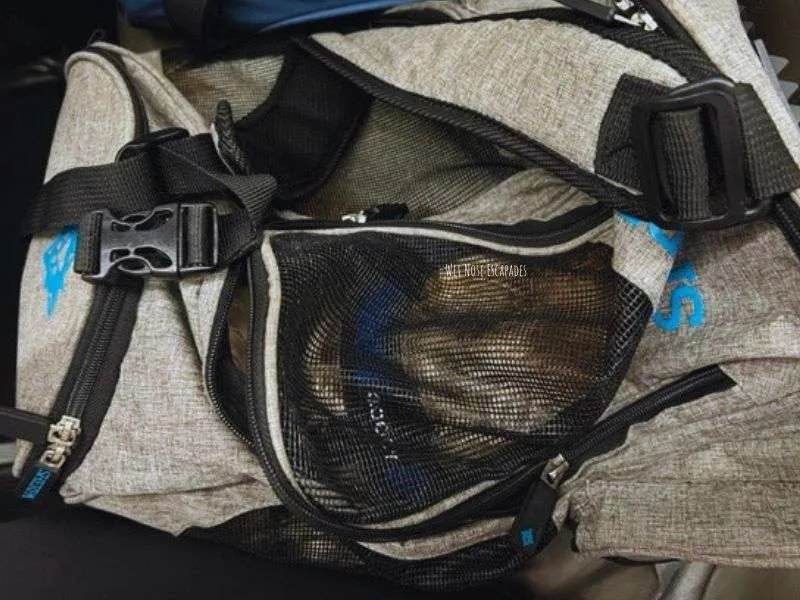 Sniff out my carrier guides NOW:
How to Choose the BEST Small Dog Carrier
How to Make Your Dog Feel Comfortable inside a Carrier
Grab my 2-in-1 Sherpa carrier, which meets United's carrier dimensions. This is my 2nd favorite carrier, which I've been lending to my sidekick Penny. It's a sturdy carrier/backpack with a Guaranteed On Board program.
Requirements to Fly with Your Dog on United
International Travel:
You must call 1-800-864-8331 to add your dog to your reservation. Alternatively, you can try texting to add (although we've always called). The agent will ask for your dog's breed and weight and advise you of the United pet policy. Payment will be processed over the phone, and you'll get an email confirmation. Again, only one "pet" is allowed per passenger (same for domestic). Your dog must be at least four months old – just a bark that you PAWbably should NOT be globetrotting with a puppy or young dog anyway.
The annoying part about flying internationally on United is that they require rabies and health certificates for dogs flying internationally – even when NOT required by the destination countries. The rabies vaccination must be administered at least 28 days before arrival in the U.S. ARF course, this is usually NOT an issue because most international destinations require vet health certificates anyway, and I'm always up to date with my shots.
However, flying to Mexico was a headache!
Even though Americans (and Canadians) are technically exempt from the health certificate (and this information is all over the official websites), my humans and I had trouble confirming it with United. We made three separate calls (and were placed on long holds) to clear up the confusion. The first two phone representatives asserted that a health certificate is needed for dogs to enter Mexico even when we advised that the rules on dog import have changed since December 2019. While the first rep responded with some doubt in her voice, the second rep persisted in rudely cutting us off as she was adamant that we would NOT be able to leave Los Angeles without a Vet Health Certificate.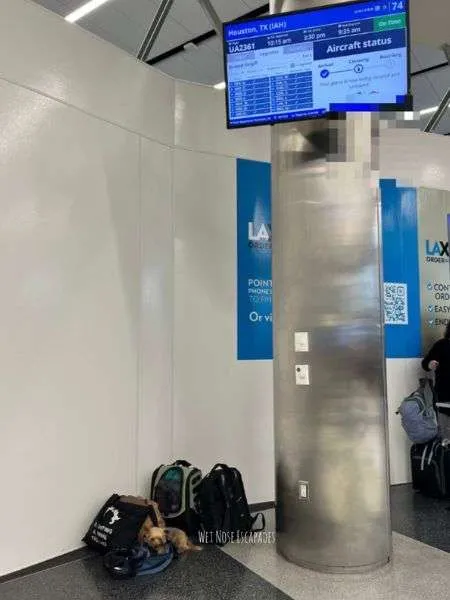 Upon further research, my humans discovered that both reps were merely referring to the first page of the requirements, and not reading the second page where it clearly states, "If you travel from the United States or Canada, it is NOT necessary to submit a health certificate for your pet." We did find a website claiming that an airline can demand a veterinary health certificate EVEN IF the country doesn't require one!!! GRRR. This is some crazy, head-tiltin' news to us! Fortunately, on the third try, we spoke with a supervisor who confirmed that we were correct (that a health certificate was, indeed, NOT needed), and proceeded to input notes into the system in case the airline counter rep gives us a hard time during check-in.
The days leading up to the flight were a bit nerve-wracking, knowing that my fate ultimately landed in the hands of the airline counter rep. Luckily, when travel day finally came, it was smooth sailing with the lady at the counter. However, she did ask if we had the "paperwork for the dog," but didn't actually ask to see it. We found it strange that she even asked since, again, no "paperwork" is supposedly required to enter Mexico with a dog, if traveling from the U.S.
So, lesson learned! Save yourself some headache with the United staff by getting a Vet Health Certificate for your dog, even if it's not required by your destination country.
Domestic Travel:
Your dog must be at least two months old. United "encourages" you to get a certificate of health from your veterinarian for domestic flights, as some states may request the certificate on arrival. The certificate should include your name, phone, and home address along with identifying information about your dog and his vaccine history.
Like international flights, one dog or "pet" per passenger is allowed on domestic flights.
My REAL Barks: Have I ever gotten a Vet Health Certificate for domestic travel? NEVER.
Checking In
For international flights, I recommend getting to the United check-in counter approximately 3 hours before departure. Be sure to have all your dog's paperwork handy, just in case. Besides the minor Mexico debacle, I haven't had any issues with the United check-in counter with my other flights (but obviously, your experience can depend on how experienced the staff is).
For domestic flights, 2-2.5 hours before departure should suffice.
Pet Relief Areas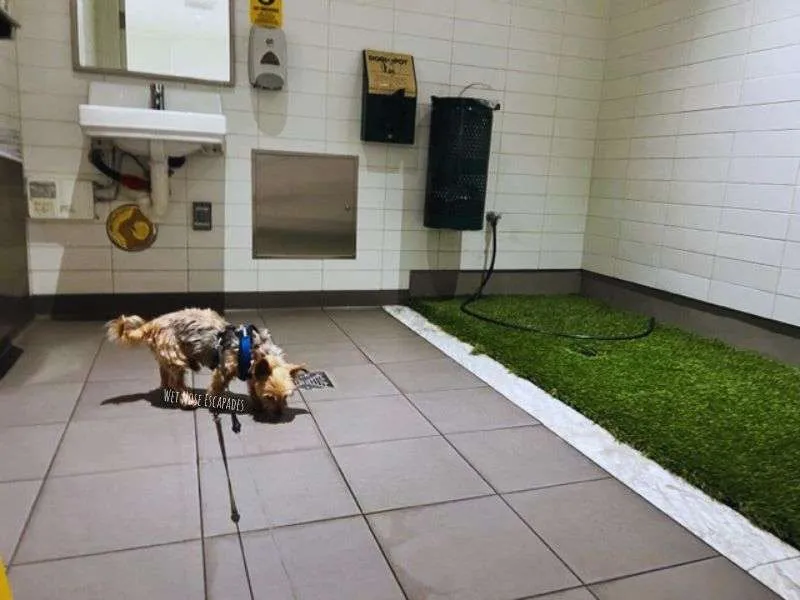 The tail-waggin' news about flying your dog on United is that most United terminals feature pet relief areas, ranging from a small room with artificial grass to a large gated outdoor area (at larger terminals). Even though Penny Gurl and I aren't fans of pet relief areas in general, I still widen my jaws to an open mouth smiley face to know that dogs are accommodated at airports. The easiest way to locate these relief areas is to use the airport maps feature on the United app.
Where You Can Fly with Your Dog on United
Given that your destination country allows dog import or entry of "pets," you can fly your dog on any United or United Express flight. Again, be sure to call 1-800-864-8331 to add your dog to your reservation ASAP to secure a spot (I mean, sPAWt). If you're traveling on multiple airlines, including United partners, you must check their dog or "pet" policy.
AWOOO, just a HOWL that United does NOT allow "pets" to fly to, from or even through the below list of states and countries.
Australia
Barbados
Cuba
Guam *
French Polynesia (Tahiti)
Hawaii
Hong Kong
Iceland
Ireland
Jamaica
Marshall Islands
Micronesia, Federated States of
New Zealand
Northern Mariana Islands (Saipan)
Norway
Palau
Panama
Philippines
Saint Kitts and Nevis
South Africa
Sweden
Tahiti
Trinidad and Tobago
United Arab Emirates (Dubai)
United Kingdom
*Although you can bring a "pet" on flights from Guam to Tokyo-Narita, you cannot bring your pet on the flight back to Guam.
However, United does offer exceptions for the U.S. military. Sniff them out HERE. Their PetSafe program (flying dogs as checked baggage or via cargo) is only offered under the military and State Department pet exemptions.
Service Dog Rules
Service animals are the only animals allowed without a pet carrier. Sniff out what you must know about flying with your service dog on United, including the required DOT forms.
United Club & Lounges
Unless you have a service dog, your dog must remain INSIDE the carrier while in the Club (although enforcement may be a hit or miss).
PROS:
*United's chat/text function is very helpful – my human loves how she can get help at any time on her phone
*You can book your dog's reservation online (either at the time of booking or after booking under My Trips), at least for domestic flights
*No United employee has ever checked or been nit-picky about my carrier
*Pet relief areas are generally plentiful and easily accessible at United terminals
*Relatively low dog fee for international flights, at only $125 one-way
CONS:
*Inconsistent customer service – depending on who you get on the phone, they may or may not give you the correct information when it comes to international dog import requirements (as I barked above about my experience)
*If you're flying with your big dog (or dog not small enough to fit inside a carrier that fits under the seat in front), United is NOT an option unless your dog is a legitimate service animal.
*Choosing United to fly your dog to Mexico may likely mean getting a Vet Health Certificate (unnecessarily) for your dog unless you're ready to battle with the counter rep. And yet, this goes for all countries that do NOT require a Vet Health Certificate, which is required by United on international flights.
*Relatively high dog fee for domestic flights, at $125 one-way (again, Delta is currently at $95. However, it's imPAWtant to note that even Southwest has increased its pet fare from $95 to $125 like other airlines, making $125 seem "standard" now. Grr.)
*If your layover is over 4 hours on domestic itineraries or over 24 hours on international itineraries, you'll have to pay an additional $125 for your dog.
So, is it safe to fly United?
So far, so good. Despite my human's worries earlier on, the flight attendants have been either nice or indifferent about me. I also snuck out for a quick carrier break – no PAWblem (although technically not allowed). SHH. But then again, I am a quiet and seasoned furry traveler who can fall asleep with four paws in the air. The best way to stay out of a flight attendant's radar is through silence. Since United has stopped flying dogs in cargo or checked baggage, flying with your dog in-cabin is pretty much as safe as it can get (inside a carrier) – given that there isn't any crazy flight attendant around.
ARF, how did you like flying United with your dog? BARK AT ME!
Get your furry paws on my E-Book – How to Travel with Your Dog: Roger Wellington's Expert Guide to International Dog Travel.
Watch me fly around the world:
Markin' it up,
Roger Wellington a.k.a. The Doob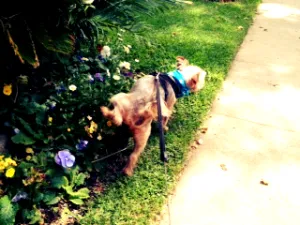 –
Like my post on "A Yorkie's Guide to Flying United with a Dog: What You MUST Know Before You Go"? CLICK TO PIN!