WOOF, do you plan on flying with a Yorkie?

As a seasoned world-traveling Yorkie, I'm delighted to bark out my expert tips on flying with a Yorkie. Since Yorkies are small in size (but, ahem, with BIG egos), they make such wonderful in-flight companions and

travel buddies

.
First Posted 6/10/20, Last Updated 7/2/23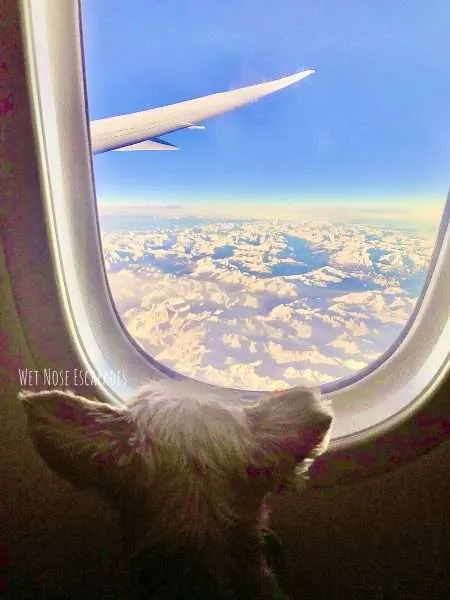 Whether you're planning to fly your Yorkie (or small dog) across the country or
overseas internationally
, I've got you covered with must-know Yorkie travel tips. After four years of a nomadic Yorkie life
with over 20 countries
under my furry paws, I've thoroughly sniffed the ins and outs of the international dog travel world.  
*Please note that this post contains
affiliate links
, and at no obligation or additional cost to you, my humans and I earn a small commission if you make a purchase. If you love the work that we do, you can show your support by making a purchase through an affiliate link. Proceeds will go towards
feeding homeless dogs (and cats) along with improving the lives of the neglected and abused
.
Perk up your ears and hear me bark out 10 tips on flying with a Yorkie:
#1 Don't fly your Yorkie Puppy
Many airlines will not allow puppies under ten weeks old to fly. And, frankly, you should not attempt even if the airline permits. Puppies should NOT separate from their mothers before eight weeks – PERIOD. 
Unless you
absolutely
must, I do not suggest flying Yorkie puppies until the 10-month mark. When Yorkies are under 10-months-old, they are likely still learning the ins and outs of potty training and getting used to their new home. Additionally,
young puppies generally cannot hold their pee for more than a few hours
. Furthermore, as dogs should be eased into air travel (keep reading below) for comfort and safety, Yorkies are no exception. 
Get 25 tips on how to fly with your senior Yorkie here!
*If you plan to buy a Yorkie puppy from
a "responsible" breeder
or pet store (a.k.a. evil puppy mills), I urge you to please consider adoption first. Sadly, millions of homeless dogs are euthanized every year. As a rescue Yorkie myself, I'll be the first to bark that Yorkies can be adopted. 
Take your time in choosing the
best carrier
for your traveling Yorkie! Always keep in mind the top priorities of
comfort, safety, and airline-compliance
. Since airlines may have different carrier dimensions, please be sure to check before shopping around. A careless or impulsive purchase of a
dog carrier
without thorough research may negatively impact your Yorkie's well-being AND get your Yorkie denied at the airline check-in counter.
Get your paws on my expert guide on how to choose the BEST Yorkie travel bag or carrier here
. 
#3 Start Carrier Training (or a Refresher Course)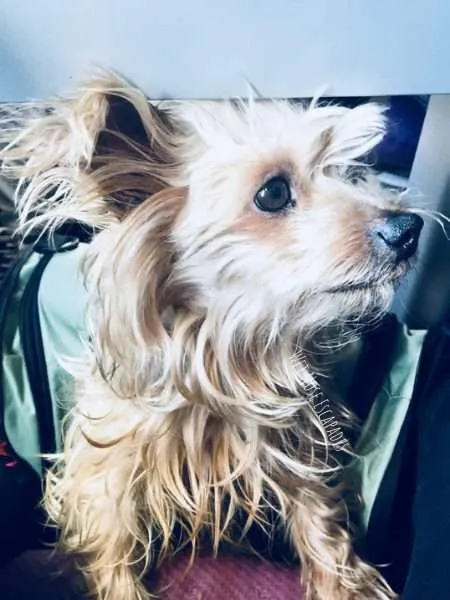 Do NOT skip carrier training, which is a crucial step before flying with your Yorkie. Start
at least
two months before your Yorkie's very first flight. From the moment you bring home the
airline-approved carrier
, place your Yorkie's favorite toys and treats inside. Hiding treats inside the carrier will entice them to go in to sniff around. Do NOT zip up
the carrier
for the first few days of training; instead, please allow your Yorkie to sniff around and explore at will. 
Gradually, zip up the
carrier
and increase the time inside 3-5 minutes daily. With utmost caution, slowly work up to 60-90 mins OR until they seem comfortable inside. Be physically present at all times. If your Yorkie starts barking or whining, take him or her out immediately and start fresh the next day. After consistent sessions, your Yorkie will perceive the
carrier
as a haven with treats and toys. 
My fabulous green carrier has been in more countries than the average human on Earth! Get yours HERE!
#4 Start out SLOW
Be practical! Don't book an international flight and expect your Yorkie to wing it, especially if he or she has never flown before. Unless your Yorkie is already an experienced world traveler like me, you'll have to take many tiny baby steps to ease him or her into international air travel. 
Dining out
, running errands, and socializing with your Yorkie is the very first step to get him or her comfortable with unfamiliar settings. As your Yorkie becomes used to going out and about, you can eventually graduate him or her to short car rides and then
road trips
and train rides. Once they've gone on a couple of
road trips
or train rides (which are super helpful to get dogs comfortable with the motion), then they can hop on a quick hour or two long domestic flights to get acquainted with the airport and plane environment. Gradually, increase the flight duration until they appear comfortable with the entire process. As for me, I went on countless 6-hour-long road trips (from San Francisco to Los Angeles) and at least six short domestic flights before hopping on my very first 10+ hour international flight to Paris.
With that said, some dogs (Yorkies or not) may simply have an easier time flying than others regardless of the amount of airport experience or carrier training. However, it's always ideal to do a short test flight before your intended flight to see how your Yorkie handles
air travel
and the airport environment.
Grab my exclusive guide on how to travel with your dog!
#5 Get a Vet check up
Before you book
any
flight with your Yorkie, make sure he or she is clear for air travel by a veterinarian. Ideally, this is a veterinarian who knows your Yorkie's medical history. Discuss your travel plans with the veterinarian and address any pending health issues or potential health risks. If you're flying with your Yorkie internationally from the U.S., you'll also need a vet health certificate signed off by an accredited vet within 10-days of travel. 
Find out what essentials to pack for your dog!
#6 Make reservations with airline ahead of time
Since most airlines will only allow two to four dogs in-cabin per flight, you must add your Yorkie to the reservation as soon as possible. While some airlines will allow you to add a "pet" online, others will require a phone call to secure a spot. Be prepared to pay anywhere from USD 95 to 125 ONE-WAY for domestic flights within the U.S., USD 200 to 250 ONE-WAY for
international flights from the U.S.
, and 50 to 100 € ONE-WAY within the European Union. Oh yea, even though you're already paying a fee to fly with your Yorkie, most airlines will still count your dog as
your one carry-on item
!
Depending on how much baggage you have, you may have to pay to check additional baggage. GRR – I know, this doesn't sound fair at all! 
#7 Be strategic with water and food
To allow time for digestion and relief, remember to
feed your Yorkie
at least
1-2 hours before heading to the airport. For flights 6 hours or longer, you'll want to be extra strategic with
water
and
food
before and after takeoff. You'll want to make sure your Yorkie gets fed enough, but not too much
food
and
water
intake that accidents are bound to happen. As I've flown on numerous 10+ hour flights, I find that eating light meals, small bites, and
treats
throughout the flight duration are
paws
down better than one large meal. 
Dog Travel Essentials: Part 2 – Make sure you grab everything you need for your travel dog!
Watch me and my sidekick Penny Gurl fly to Panama City from Cancun:
Please do NOT deny your Yorkie
food
or
water
on travel day in order to "prevent" accidents. I am begging you. Again, do NOT do this! You should NEVER deny your Yorkie of fresh, clean
water
. Instead, what you should do is to be strategic when
providing water
right before and throughout the flight since relieving him/herself on the aircraft is frankly frowned upon. As for me, I limit my water intake as soon as I arrive at the airport. Before (and after) checking in at the airline counter, I like to pee, mark, and walk around the airport grounds for a good 5 to 10 minutes. Most airports also have pet relief areas, either indoor or outdoor. I usually drink
some water
right after my walk (before heading to the airport), and then once every 4 hours or so until landing. 
#8 Exercise before the flight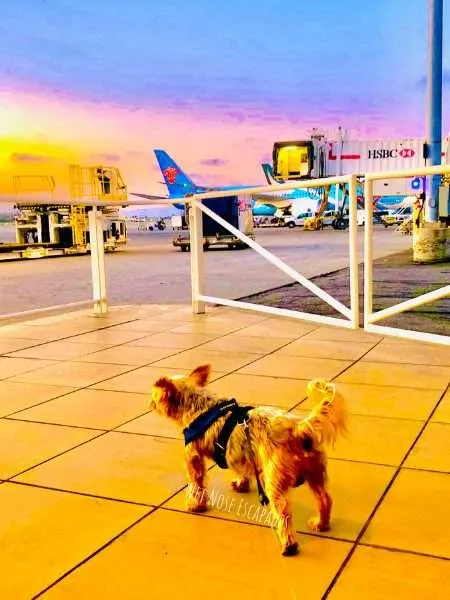 As the old saying goes, a tired dog is a happy dog. 🙂 Hence, a tired or sleepy Yorkie equals a happy Yorkie. Tiring out your Yorkie is arguably the best way to ensure a smooth flight. However, please do not force your Yorkie into any extreme physical activity. All you need to do is add an extra 15-20 minutes or so of exercise or playtime to help them sleep through the flight. About 45-60 minutes after my meal, I'll take an hour-long walk before heading to the airport. Again, I also walk around and relieve myself outside the airport before and after check-in. 
#9 Anticipate accidents 
Be a compassionate Yorkie
pawrent
by understanding that accidents could potentially happen. And, it's OK. Again, do not hit, yell, or abuse your Yorkie! Bear in mind that all dogs may relieve themselves during stressful or confusing situations. Therefore, it is NOT realistic to expect them to "hold it" until they can finally walk out of the airport. Remember, they have no idea what's going on and where they're going! Not only should you anticipate accidents, but you should also be understanding if they occur. Although I've never had an accident on the plane after over four years of international traveling, my human always comes prepared with a pee pad inside my carrier along with hand wipes,
dog wipes
, and
poop bags
for easy cleanup. Be realistic and prepare yourself for accidents!
Even with advanced carrier training, accidents could still occur as all confined dogs (whether in a crate or carrier) are essentially
trying their best
to hold it for as long as possible to avoid soiling their beds
. That is the foundation of crate training. As a regularly crated Yorkie in my former life, I will be the first to bark that
long-term daily crating can have disastrous effects on your dog's well-being
. While you have no choice but to temporarily put your Yorkie inside a carrier on a flight (as required by the airlines), you do have a choice back home. Plus there are
more humane ways to potty train
. 
Get more exclusive dog-friendly travel tips HERE!
#10 Praise your Yorkie for a job well done
Travel days are tough for anyone! Therefore, please remember to praise and reward your Yorkie for remaining calm. Never hit, yell, or abuse your Yorkie for
anything
– that is NOT the humane or effective way to train a dog. Animal abuse is for cowards. If your Yorkie starts barking, please say (not yell) "NO" with confidence. As soon as your Yorkie stops barking stops, reward with verbal praise and treats. Do this immediately so your Yorkie makes the positive affiliation. 
Positive reinforcement (and positive reinforcement only) is the most effective and humane way to train Yorkies or any dog
. Please be compassionate and empathetic – ultimately, your Yorkie is stressed, confused, and has no idea what's happening or where he or she is going! Do your part as a good
parent
by giving reassurance through gentle strokes and massages. 🙂
BONUS: Finding a dog-friendly hotel
As soon as you secure a flight for your Yorkie, you'll need some dog-friendly accommodations – well, unless you're staying with family or friends. Luckily, dog-friendly accommodations are easy to find these days thanks to the convenient "pet-friendly" filters on hotel-search sites and apps like Booking, Kayak, and Airbnb. From luxurious 5-star hotels like the Fairmont to motel chains like Motel 6, finding a dog-friendly hotel is easier than ever. Keep in mind that some hotels will charge a daily or weekly fee for your Yorkie's stay. 
Sniff out my tips on finding & saving money on dog-friendly accommodations HERE.
The good news is that I've found that it's possible to negotiate those pet fees (ranging from weekly to daily) whenever my humans and I intend on staying longer. Of course, talking to the right people or management helps secure better rates. Even if you find a suitable hotel or Airbnb with a NO PET POLICY, don't be afraid to give it a shot! The worst thing that can happen is that you get a BIG FAT NO. ARF – in that case, just move on with your search. Since Yorkies are such small dogs (not to mention, hypoallergenic), I've been pleasantly surprised to find how accommodating many places are with me. 🙂 
Most likely, YES – but the answer isn't that simple. As the world traveling
Yorkie who has battled collapsed trachea
for many years, I'll be the first to
bark
out my experience.
Sniff out the answer and all the precautions HERE.
What about the carriers?
As a frequent escapader, I have two carriers depending on the airline; my first one is a pretty spacious
roller bag/backpack that fits perfectly under most airline seats
. Since it comes with multiple features, it weighs approximately 3.4 lbs. I 
love
this carrier
 because its spacious design provides me with the most comfort. Although I have a green one, 
you can grab yours in a different color
.
My second carrier is the
Sherpa soft lightweight carrier
that has a Guaranteed On Board program. Even though it offers an opening in the front for me to stick out my head, it doesn't provide as much space (compared to the roller backpack). Hence, I resort to it if I have to meet stricter carrier dimensions (I once flew an airline that had a 5 kg./11 lb. maximum for both me and my carrier so I didn't want to take any chances!).
Need help packing for your traveling Yorkie?
Here are my MUST-HAVE items for flying with a Yorkie:
#1 Dog Carrier
– Sniff out my favorite carrier that has been with me on 60 flights to date! It's a carrier, backpack, car seat, roller bag, and tote: FIVE-IN-ONE. Plus, it's expandable!
My 2nd favorite carrier is a soft shoulder carrier,
and it's a sturdy 2-in-1 Sherpa carrier/backpack that offers a Guaranteed On Board program!
*Be sure to check with your airline for maximum carrier dimensions as they may vary, but both carriers meet MOST airline dimensions
#2 To-Go Bowls
– Save some space inside your carry-on by getting your paws on these collapsible to-go bowls.
#3 Dog Water Bottle
– Fill up this stainless steel, BPA-free bottle with water after passing through the security checkpoint! This
pawsome
portable bottle not only keeps water fresh and cold but also has a toxin-free polypropylene lid (which can also be used as a bowl). OR get this
supaw
convenient
2-in-1 Portable Dog Water Bottle/Detachable Food Container
!
#4 Dog Food & Container
– In case of unexpected flight delays or lost baggage, pack a couple days worth of dog food inside a
reusable to-go container
or large zip-lock bag to ensure freshness.
#5 Dog Treats
– Reward your dog for good behavior on the flight with some chops-lickin' goodies.
#6 Dog Toys
– Keep your dog busy and entertained with toys! *Be careful of chews during takeoff, landing, and turbulence due to potential choking. *Get your paws on my
favorite toy
.
#7 Blanket
– Make sure your dog is comfortable and warm on the flight.
#8 Pee Pads
,
#9 Poop Bags
,
#10 Dog Wipes
, &
#11 Sanitizing Wipes (for Humans)
– Be ready to clean up accidents quickly and easily!
#12 First-Aid Kit for Dogs
– Is there a veterinarian on the plane? Chances are NO. Prepare for emergencies by packing this 50-piece essential first-aid kit for your dog.
#13 Pet Travel Bag
 – This airline-approved tote organizer with multi-function pockets is
pawfect
for weekend travel with your dog. And, don't forget to get your paws on a
Gooby's no-choke Harness
(especially for Yorkies with collapsed trachea like myself) &
Flexi Retractable Tape Leash!
For more packing tips, sniff out my dog travel essential lists:
Part 1
and
Part 2.
ARF, I wish you safe travels with your Yorkie (or small dog). Want more Yorkie travel tips? Don't forget to get your paws on
my exclusive guide on how to travel internationally with your Yorkie!
Hit PLAY with your furry paw to watch "Flying with a Yorkie" NOW:
Subscribe to my YouTube Channel:
Wet Nose Escapades by Roger Wellington
for more fun dog travel videos!
Markin' it up,
Roger Wellington a.k.a. The Doob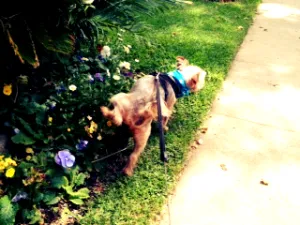 —
Like my post on "Flying with a Yorkie: 10+1 Tips on How to Travel with a Yorkie"? CLICK TO PIN!