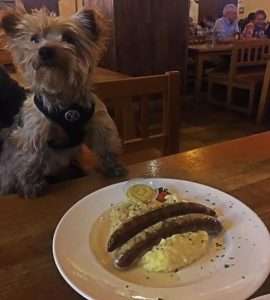 Hallo, escapaders! A visit to Munich is not complete until you've visited at least a couple of beer gardens or beer halls. They are an essential part of the German culture; beer gardens and beer halls are effervescent places to socialize and drink either outdoors or indoors. When in Munich, it's quite easy to overdo it with the beer garden culture while chatting over a few beers here and a few bratwursts there, and before you realize it, you've probably had one too many for the day. Traditional German food is an exceptional cuisine, but much to the dismay of us health conscious escapaders: many popular dishes are quite "meaty" to say the least. Beer and greasy food are the crazy married couple that everyone loves; they're bad for you, but yet they are irresistible. They are the guilty pleasures that one must indulge in when needing to experience some good ol' beer hall food. Just a warning – although everything looks absolutely enticing on the menu, don't get too excited and order more than what is reasonable; especially don't order more than 1 meat dish in a single setting (unless you plan on sharing) and perhaps order a side green salad to complement the meal. With that said, below are my 10 favorite beer garden foods in this charismatic and rowdy Oktoberfest city along with 5 simple ways on how to balance them out:
#1 Bratwurst (German sausage typically made from beef, veal, and/or pork)
It's a carnivore's paradise. Beer + sausage = Germany. Here are just a few bratwursts in the Bavarian capital:
This is one savory link: a large grilled pork sausage with my favorite sour delight, the ultimate sauerkraut, at Hofbräuhaus am Platzl. A sausage is hardly ever a lone wolf as fermented cabbage accompanies it as usual. Perfect to complement beers: Original and Dunkel.
https://wetnoseescapades.com/best-places-barcelona/
Woof Hoo! They're MY size! Would you call them "toy" sausages? 9 Nürnberger Bratwursts: mini pork bratwursts served on homemade sauerkraut at Augustiner Keller. Best beer to complement: Augustiner Edelstoff MaB.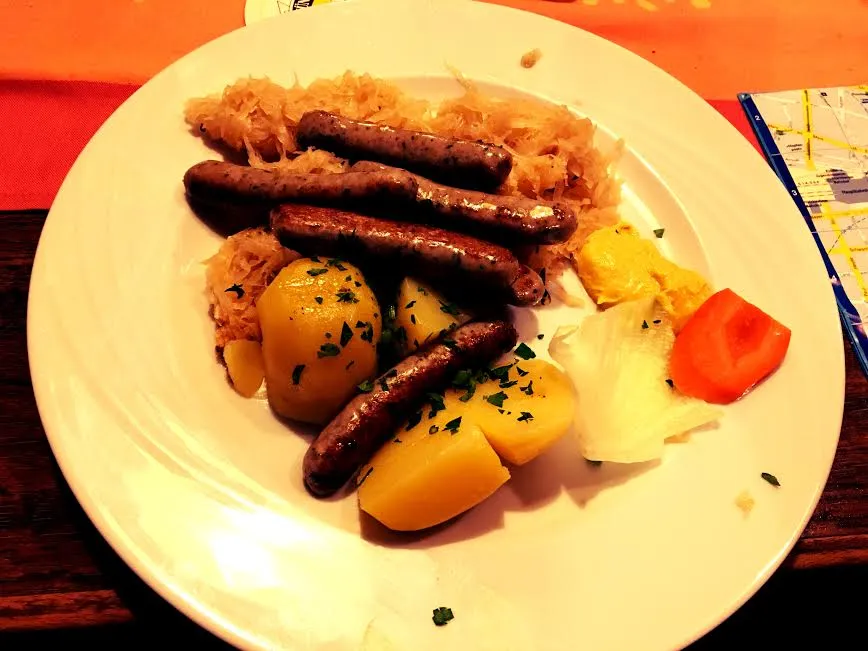 Nürnberger Bratwursts: succulent grilled sausages served with sauerkraut and boiled potatoes at Augustiner Braustuben. The luscious potatoes topped off with parsley are worth begging for. Mmm.
Fränkische Bratwurst: flavorful sausages over moist mashed potatoes and sauerkraut. The Franconian region sausages are longer and thicker than the norm, which means more MEAT!
Dog Travel In Athens, Greece: A Yorkie travels to the ancient city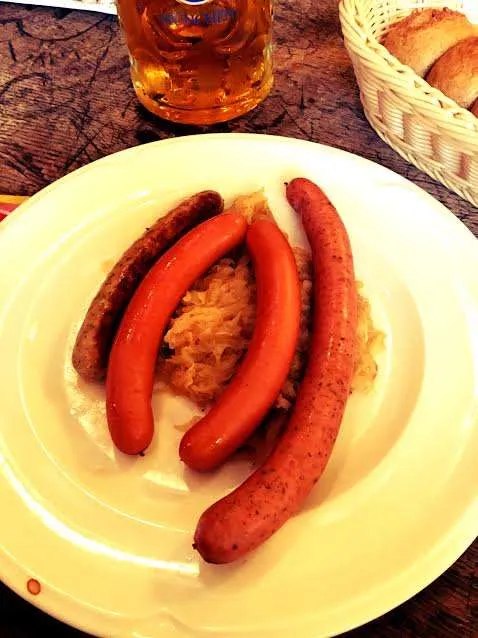 Can't get enough sausage? Lick your chops right here, right now. Try the Würstl Teller: a sausage sampler plate!
Just in case you don't get the point by now, a Munich beer garden is like a land of the sausages. And, sauerkraut (sour cabbage) is the sausage's much needed and beloved sidekick.
#2 Bavarian Potato Salad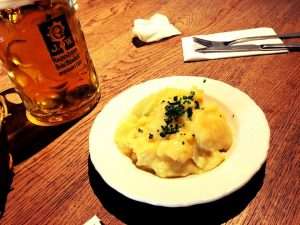 Germany is hailed as the origin of potato salads, so you'd better get one here. Creamy potatoes made with mustard, onions, and vinegar (garnished with parsley). Beer: Augustiner Original.
#3 Krustenschweinebraten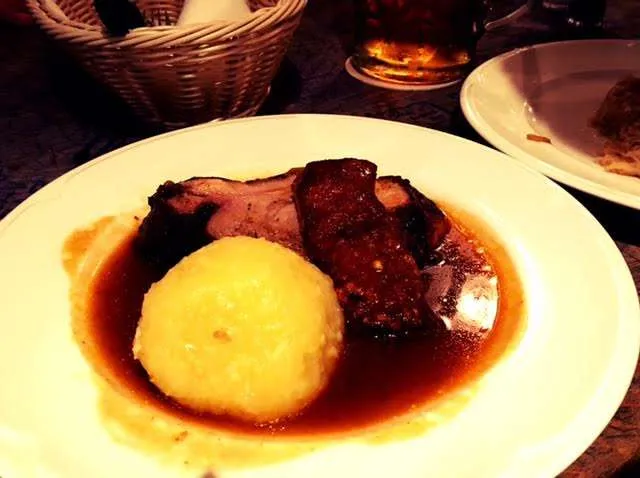 This is one heck of a fatty meal! Roast pork with dark beer gravy and one huge tender potato dumpling. So juicy and so stunning. Downright marvelous. It's that hot date that stood you up 5 years ago (and you still haven't gotten over it).
#4 Gekochtes Rindfleisch
Are you homesick? Well, this dish tastes like a home-cooked meal when you visit your Auntie Maggie's house for Christmas. A huge slice of mildly seasoned boiled beef shoulder served with diced veggies, kickin' horse radish, and splendid boiled potatoes.
#5 Munich Schnitzel
Arrrgh! I've never been too big on deep-fried food, but I had to try the Munich schnitzel. Why? Because it's pretty darn good! OK I lied, it's beyond good. I can't believe the Bavarians are outdoing the Austrians at their own game. So this is their version of the wienerschnitzel: breaded pork cutlet (made with horseradish before coating) served with no other than the Bavarian potato salad. Don't forget to squeeze that lemon wedge for a refreshing balance.
#6 Käsespätzle
SCREAM for mac n' cheese! Wow, I feel like a kid again. Well, I am only 4 yrs old (or is it 28?). I guess you can never be too old for the tasty German mac n' cheese – it's homemade soft egg dumplings with melted cheese and crunchy fried onions. Served with pickle slices.
https://wetnoseescapades.com/12-ways-to-get-better-sleep-while-traveling/
#7 Zürcher Geschnetzeltes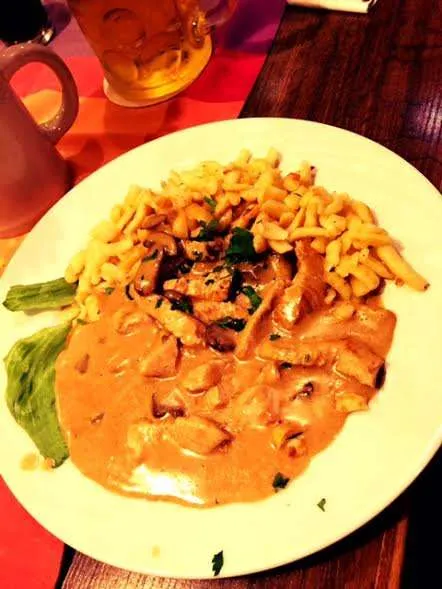 Ahh, I'd be dreaming about this one over beef jerky treats any day. Although it's originally Swiss, this sliced veal (you can also find other meat variation) dish with mushrooms in cream sauce served with spatzle is an appeasing delight to lick your plate clean in Munich.
#8 Leberkäse

It may look like spam, but it's not! This is the famed Bavarian meatloaf! It's a baked loaf made with finely ground corned beef, pork, and onions. It's one FINE piece of meat. The inside is soft while the outside is slightly crunchy. Best scarfed down with mustard to give it a kick and, again, the Bavarian potato salad for a balance.
#9 Pretzel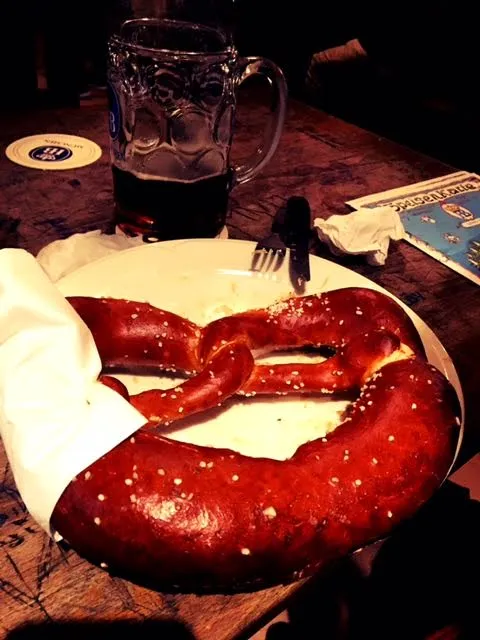 Freshly baked and straight from the oven. I can smell it from 5 miles away (in case you don't know, I'm quite a good sniffer). You haven't been to Germany unless you've had a pretzel there. It's true. And yes, this is one GIANT salted pretzel! CAUTION: VERY FILLING.
#10 Pfennigmuckerl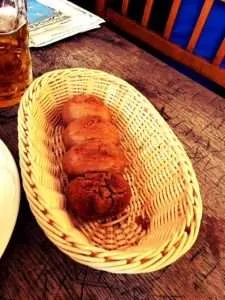 All right, I know what you're thinking, but don't underestimate these mundane pull apart rye rolls; they make a fun complementary snack while drinking big beers and talking too loudly with friends.
________________________________________________________________________________
5 Simple Ways to Balance (or Recover from) Beer Garden Visits:
After excessive drinking and eating at beer gardens, you should try to balance your system by flushing out the alcohol, grease, and salt.
#1 Drink LOTS of water – As soon as you wake up, drink at least 1-2 more glasses of water than you normally do to start your day. Alcohol makes you dehydrated, so drink at least a 2-3 extra glasses of water throughout the day to balance out your system.
#2 Do high intensity exercise for 30 minutes – Hit up a machine (elliptical, treadmill, or bicycle, etc.) at the gym or simply run around the city (or local park). Even doing jumping jacks in your room will suffice. Whatever it is, sweat off those beer and sausage calories! Keep moving and get that heart rate up.
#3 Walk it off – In addition to cardio, roam around the city and walk off those calories! Set a daily goal for grounds and distance to cover (e.g. cover 3 neighborhoods and walk at least 8 miles). In between meals and drinks, walk, walk, and WALK!
Top 3 places where I LOVE to walk to mark my territory:
A) Marienplatz – Walk to Marienplatz after breakfast to explore Munich's exuberant and bustling main square. Shop around and watch the famous clock show Rathaus-Glockenspiel at 11 a.m. Hofbräuhaus is only a couple steps away for lunch! If you want to take a longer walk from the square, go to Augustiner-Keller, which is a little over 1 mile away.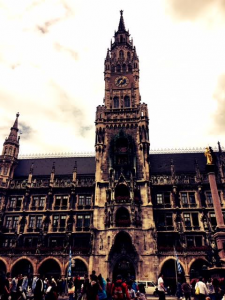 B) English Garden – After a hearty meal at the Hofbräuhaus, be ambitious and take a 1 hour walk (approximately 2.5 mi) to the beautiful English Garden where you can watch people surf in the river. You can simply experience the serenity of this garden for 1-2 hours or take a morning/afternoon jog.
C) Gärtnerplatz – After you've filled up your stomach at Augustiner Bräustuben, walk to the wonderful and flowery square of Gärtnerplatz (under 2 mi) to explore, socialize, and people-watch.
**Wherever you choose to go before and after your beer garden visits, remember to WALK IT!
#4 Abstain from alcohol – For at least the next day or two, lay off those beers! BUT if you are on vacation mode and feel like you just can't skip the "fun" entirely, LIMIT yourself to just one or two drinks (how can I blame you?).
#5 Order lighter and healthier food items – Again, try adding a side salad to your meaty meal! And, for every meal comprised of meat, skip the meat for the next meal or two. Gotta balance and compensate for the excessive intake of alcohol and heavy foods!
Have an extraordinary time experiencing (and balancing) the beer garden culture in Munich! Heading to Berlin before or after Munich? Read my post on cheap eats in Berlin!
Markin' it up,
Roger Wellington a.k.a. The Doob
—
Like my post? PIN IT!