Is the French Quarter dog-friendly? WOOF, perk up your ears to hear my alpha barks before you take your dog there!
Last Updated 10/4/22
After an epic residency in Spain last year, I was waggin' my stylish rat tail to return to New Orleans, Louisiana a.k.a. NOLA, where I could get a familiar sniff of some head-tiltin' Spanish architecture. Despite NOLA's ARF-so-famous French Quarter, the architecture is, SURPRISE, mostly Spanish. As a former Catalan Yorkie, I can bark with an upright tail that those balconies in the French Quarter surely resemble the paw-bulous ones in Gràcia, my neighborhood in Barcelona. The French Quarter is what makes New Orleans so pawsomely unique – the blending of different cultures throughout history, including the French, Spanish, African, and Native American. Not to bark, the chops-lickin' Creole & Cajun dishes derived from such rich mingling is enough to make any foodie traveler fall in love with the city. ARF-course, we can't forget about the spectacular music here! ARF-ter all, the city is the birthplace of jazz and legendary artists like Louis Armstrong and Fats Domino. Now, is the French Quarter dog-friendly? Should you take your dog to the French Quarter when visiting New Orleans? ARF, the answer is both YES and NO. Obviously, this is my second extended visit to The BIG Easy in three years, which can only mean that it has to be dog-friendly to some extent. Here are my barks:
The "PAWSITIVES": What makes the French Quarter Dog-Friendly?
DOGS ARE ALLOWED IN THE FRENCH QUARTER
First things first, you CAN take your dog here! Unlike the Las Vegas Strip, there is no ban on dogs from walking here during certain times. While dogs aren't allowed inside many indoor establishments like restaurants and bars, they are welcome to take a stroll and experience the vibrant streets and breathtaking architecture in the French Quarter. Dogs are generally allowed on the enchanting Spanish balconies (well, depending on the places), so get those beads ready to toss!
THERE ARE DOG-FRIENDLY RESTAURANTS & BARS
Even though dogs are technically not allowed inside restaurants and eateries, NOLA seems to have a pretty laid-back culture when it comes to dining with your dog indoors. It can be a hit or miss, depending on the restaurant staff. BUT ask politely, and you may be surprised! During my first visit here, I was waggin' my tail to find that most, if not all, bars graciously welcomed me inside with a water bowl. Nevertheless, finding a restaurant with dog-friendly outdoor seating in the French Quarter is not too difficult (although you may limit your options).
Try these TOP dog-friendly restaurants in the French Quarter: Cafe Amelie (as recommended by my Auntie) & Creole House Restaurant & Oyster Bar. For dog-friendly bars, be sure to hit up the Three Legged Dog and Local 718, where dogs can chill INSIDE with their humans.
Get your furry paws on more dog-friendly restaurants in New Orleans HERE.
CAFE DU MONDE IS DOG-FRIENDLY
ARF course, don't forget to take your dog to the famous Cafe du Monde, where you can grab mouthwatering beignets (French donuts) and coffee for cheap. With a dog-friendly dining area, you can order at the counter and then devour those goodies under the outdoor covered area – with your dog right next to you. Since dogs can't have those sweet, powdery donuts or drink coffee (GRRR), be sure to bring some treats so your dog won't feel left out (WOOFF, I've trained my humans well). As this is a pawpular tourist spot, it's best to avoid peak hours and the weekends to make it a more relaxing experience for your dog. Try going on a Tuesday or Wednesday afternoon to avoid long lines.
DOGS CAN WALK ALONG THE MISSISSIPPI RIVER
Besides stuffing my belly with po-boys and étouffée in the French Quarter, I love walking along the Mississippi Riverfront and sniffing out local dogs at Woldenberg Park. The Crescent City Connection (the bridge across the river) may not be as grand as the Golden Gate Bridge in my hometown but it is sure worth a photo or two, especially with the historical old-fashioned Steamboat NATCHEZ enhancing the backdrop.
DOGS CAN GO SHOPPING, LITERALLY
That's right – dogs can shop with their wet nose in the French Quarter. Besides the touristy yet charming shops found throughout the neighborhood, I've sniffed out several pet boutiques where my not-so-picky wet nose can do the shopping for paw-lickin' treats and goodies. If you know me well, you know that I am notorious for leading my humans into a store and REFUSING to leave until I get lured out with a treat! HAH! Here are three pet supply shops to sniff out – all within a 3-minute walk from Jackson Square:
633 Toulouse Street
Big Easy Petshop and Rescue (yes, it's also an adoption center!)
513 Dumaine Street
511 Dumaine Street
SMALL DOGS CAN VISIT MOST MUSEUMS
Unless you have a legitimate service animal, your large dog is likely to face entrance difficulty. However, small dogs like me who can be carried in their human's arms or transported via carrier are generally allowed inside museums at the French Quarter, including the Museum of Death and Voodoo Museum. ARF, please note that entrance varies from museum to museum. Hence, be sure to call ahead of time to get the green light.
DOGS CAN SPEND THE NIGHT
WOOF, wanna stay in the French Quarter with your dog? YES, you can! Here are 6 pawpular spots for dogs to rest their paws:
The Roosevelt New Orleans
$175 Non-Refundable Pet Fee per stay
Maximum of 2 Pets Allowed
25 lb. Weight Limit per dog
Dogs may be left in the room unattended
No pet relief area onsite, but there is a green space nearby
$150 Non-Refundable Cleaning Fee per stay, per room (not per pet)
One Pet Allowed per guest
No Maximum Weight
$100 Non-Refundable Cleaning Fee
$25 Per Night Pet Rate
Complimentary Pet Amenities Provided
$150 Non-Refundable Pet Fee
Maximum 2 pets per room
$100 Non-Refundable Pet Fee per stay + $25 Per Night Charge
Maximum 2 dogs per room
No Size Restriction
Furry travelers receive Monte's Pet Package: Sleeping mat, monogrammed water and food bowls, chew toy, gourmet treats, and poop bags
$75 Non-Refundable Pet Fee
Maximum 1 dog per room
40 lb. Weight Limit
Dogs cannot be left alone in the room
Pet relief area with poop bag Station onsite
The NEGATIVES: GRRR, What makes the French Quarter NOT Dog-Friendly?
THE FRENCH QUARTER IS PAWTY CENTRAL
So, you probably already know this – people come to NOLA to pawty! From bachelorette pawties to birthday pawties, NOLA invites people to drink up, appreciate some jazz, and have a good time. Sure, you may cross paths with a handful of senior tourists who walk through the French Quarter in the early afternoon, BUT most people who come to NOLA want to get down on Bourbon Street. What is Bourbon Street known for? WOOF, loud (great) music, crowded bars, dance clubs, strip clubs, beads toss – essentially, debauchery GALORE from screaming pawty people. This 13-blocks of craziness stretches from Canal Street to Esplanade Avenue. Even if you don't go inside a raunchy bar or club with your dog, you won't be able to avoid the loudness and craziness of Bourbon. Street performers are on every block trying to make a buck from tourists. The street musical artists are worthy of your attention as they are arf, so paw-bulous and talented! The music of New Orleans sure is legendary, but it's also super loud, which makes it painful on your dog's ears. Hence, taking your dog to experience the wonderful music of NOLA is not ideal.
Needless to bark, the streets are filthy and get only filthier as the night goes on. Avoiding second-hand smoke is nearly impossible. And, yes – second-hand smoke kills dogs too. Walking your dog here means you have to constantly keep your dog from being stepped on by drunks and avoid disgusting spit, cigarettes, ashes, and even syringes (yes, you sniffed that right).
BEWARE OF ANIMAL ABUSE ON BOURBON STREET
The worst part about Bourbon is the amount of animal abuse and exploitation, which breaks my little Yorkie heart to witness. From starving (and sometimes, abused) dogs and cats living with the homeless to snakes exploited for pictures (which ultimately equates to money) to horses forced to haul oversized carriages and tourists, the animal abuse here can be quite disturbing to compassionate animal lovers. And yet, NOLA Police will drive by or go through with their horses like all is well. Due to unpredictability, it's best to keep your dog from mingling with the animals here, even if it's another dog.
On several occasions, my humans saw a "homeless" man finding immense pleasure in torturing his six animals – two cats and four dogs who were all on short leashes. Whenever he is surrounded by potential "tippers" (compassionate animal-loving passerby who may give him money out of pity), he pretends to be nicer to the animals.
This sick man smacked a black kitten in the head, beat a Schnauzer in the chest, constantly dragged and yanked all the animals with force, repeatedly forced them to lay on their bellies to collect money, aggressively threw them around, and flipped them over like they were objects. He also smacked a Yorkie in the head when he was deliberately trimming her hair super close to her eyes – it sure looked like he enjoys torturing her. To make matters worse, he consistently blew smoke and ashes into her eyes as he groomed her obsessively.
It was very apparent that all six animals were suffering from immense distress based on their body language – the dogs have their tails down in between their legs and even shaking in fear at times, and the cats are always in their defensive position. They were afraid to move or do anything. They also had no access to water until a sweet, compassionate lady offered to get them some water from a nearby bar. This homeless man is clearly unfit to have any animals under his care – he is abusive to them and merely exploiting them for money from sympathizing animal-loving tourists.
It's sickening. And, another disturbing part is that he isn't even homeless! My humans saw him drive a new Chrysler through the French Quarter before he set up shop. 🙁 But yet, he had people fooled for their money.
With that barked, you can still take your dog to Bourbon Street – well, I don't recommend taking your dog there at night or over the weekend. And, keep in mind that no dog should ever attend Mardi Gras – it is overwhelming and dangerous! The ideal times to take your dog to Bourbon Street are "off" days like Monday thru Wednesday, in the morning or early afternoon before the crowd arrives and when the streets are the cleanest. Early evening (like 5 pm) isn't too bad either, depending on the day. As more people pass through and start pawtying, the streets get progressively nasty and essentially un-walkable for my little furry paws.
DOGS ARE NOT ALLOWED INSIDE JACKSON SQUARE
Just a few blocks from the Mississippi River lies Jackson Square, one of the most recognizable landmarks in NOLA and often considered the heart of the French Quarter. Interesting fact: public executions took place here in the past. Thinking about it makes even an alpha dog's tail go between his legs. ARF-my-DOG! Now, it's famous for housing the iconic statue of Andrew Jackson on a horse and the prestigious St. Louis Cathedral, which is the oldest Catholic cathedral in the country. Unfortunately, dogs are not allowed inside the gated area of Jackson Square. GRR, I unknowingly marched in with an upright tail only to get kicked out! The staff here does regulate, so don't test your luck. But, dogs are free to roam outside of the gated area – no pawblem!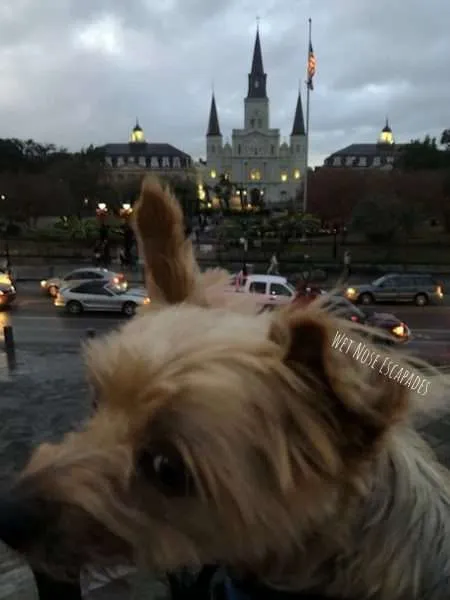 DOGS ARE NOT ALLOWED INSIDE THE FRENCH MARKET
Spanning six blocks in the French Quarter, the French Market is a former Native American trading post-turned food marketplace. Pawpular with both locals and tourists, the market boasts various vendors selling fresh seafood, fruit, vegetables, good ol' Southern meals, and desserts (Mmm, bread pudding, anyone?). Although dogs are technically NOT allowed inside this public market, it's not uncommon to see small dogs here. Although not suggested, you can probably get away with a quick walk-thru with a small dog inside a carrier.
FINAL BARKS
So, is the French Quarter dog-friendly? YES, you can certainly take your dog here, but always avoid the weekends and peak hours in the evening for your dog's sake. Nevertheless, there's so much to explore in NOLA with your dog outside the congested and grungy French Quarter. Be sure to sniff out my favorite neighborhood, the Garden District, where you can find antique shops, boutiques, St. Charles mansions, and ARF-mazing Southern eateries without the touristy feel.
WOOF, hope you enjoy visiting the "dog-friendly" French Quarter in New Orleans! Be sure to sniff out my favorite dog-friendly restaurants in NOLA.
Markin' it up,
Roger Wellington a.k.a. The Doob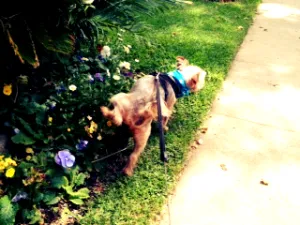 —
Like my post on "Is the French Quarter in New Orleans Dog-Friendly?" CLICK TO PIN!