Looking for tips to improve your sleep on the road? Sniff out my 13 ways to get better sleep while traveling:
#1 WAY TO GET BETTER SLEEP WHILE TRAVELING
NEVER lose sleep on purpose
So my yorkie ears always perk up whenever fellow travelers tell me that they would stay up all night or purposely shorten their sleep so they "could sleep on the plane" and/or "get on the new time zone by the time of arrival." Although their intentions are good, I am barking out, "NOOOOO!" It's NOT a clever idea to lose sleep on purpose. It does more harm than good as you're bound to feel lethargic, lose the ability to focus, and become easily irritable. Being jet lagged is an inevitable part of traveling across different time zones, especially if the time difference is significant; it takes time for your internal body clock to adjust to the new time zone period so it's best to let nature take its course instead of tiring out yourself on purpose.
#2 WAY TO GET BETTER SLEEP WHILE TRAVELING
Skip the meds
ARRRFFF, JUST DON'T DO IT – regardless of how miserable or weary you may feel due to the inability to fall asleep. Even if it's a rare occasion for you to take a sleeping pill, it can quickly create a state of dependency as you are likely to resort to it in the future when you have trouble sleeping again (whether or not you're traveling). It's also easy for your body to build up tolerance so you may need higher and higher doses if you continue to take them.
16 Ways to Stay Healthy while Traveling
#3 WAY TO GET BETTER SLEEP WHILE TRAVELING
Cut the caffeine
My detective wet nose will sniff caffeinated drinks with extreme caution when I'm traveling. No question – caffeine certainly increases my energy and focus; however, it also keeps me awake when I KNOW I'm tired and should be sleeping. Hence, it is imperative to listen to your own body when you're on the road. Caffeinated drinks offered on a flight can be GRRRR destructive to your sleep. If you cannot live without caffeine like many humans, be sure to cease caffeine intake by the early afternoon so it doesn't impact your ability to fall asleep at night.
#4 WAY TO GET BETTER SLEEP WHILE TRAVELING
Reduce alcohol consumption
I may be a sophisticated 7 lb. traveler who loves to wine and dine, but I am aware that alcohol doesn't do my sleep any good. Although unlimited alcohol is often provided on international flights, I stay away for better sleep on the plane. Alcohol may have an immediate effect of putting you to sleep, but that sleep has the odds of more awakenings throughout the night as it's not in the REM stage. In addition, alcohol also affects your ability to fall back asleep. I know it may be difficult to reduce your alcohol intake when you want to let loose on your vacation, but try your best to limit to only 1 or 2 drinks a day before bedtime. You'll have much better sleep with subsequent higher energy!
8 Ways to be Healthy on that Long International Flight
#5 WAY TO GET BETTER SLEEP WHILE TRAVELING
Say NO to smoking
Another flatout NO. I'll poop on cigarettes if I have to. In addition to apparent health risks, smoking disrupts your sleep; with nicotine as a stimulant, your body is likely to wake up to a craving once nicotine is withdrawn during sleep. Consequently, you're prone to wake up in the middle of the night to satisfy your cravings. Luckily, smoking is prohibited on planes and most modes of public transportation so that should help with the reduction, if you're a smoker. Nevertheless, please CUT the cigarettes if you want better sleep on the road!
#6 WAY TO GET BETTER SLEEP WHILE TRAVELING
Don't sleep when you're full or hungry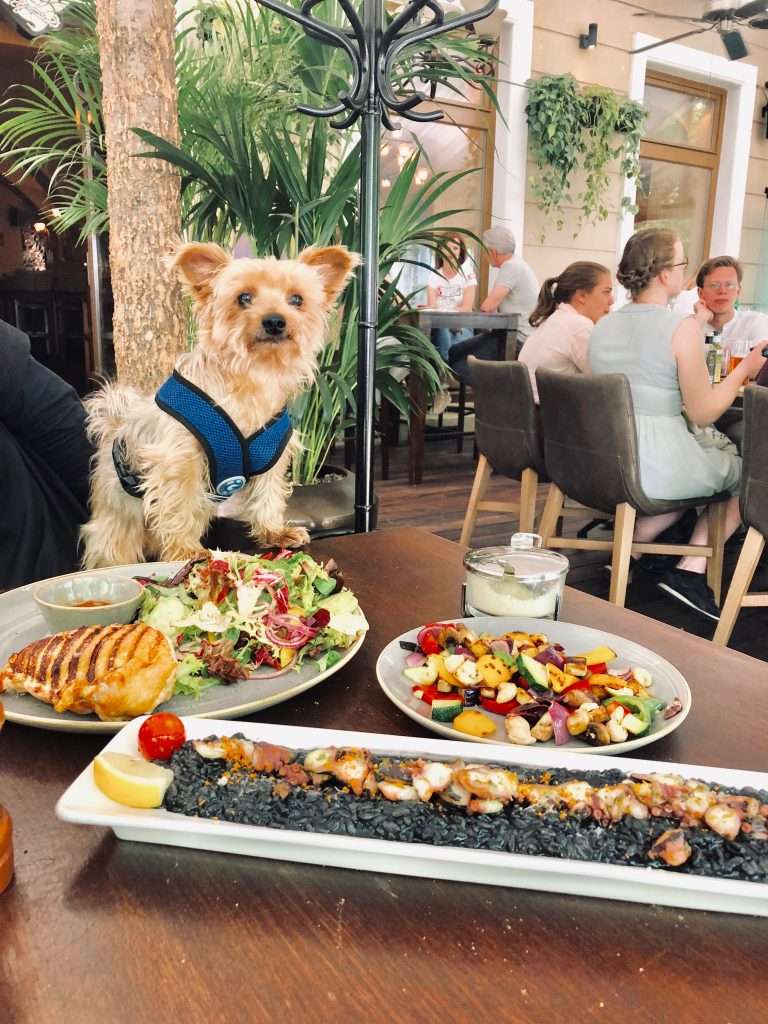 No brainer – don't wolf down a big meal close to bedtime or nibble on your last meal too early. When you're either full or hungry, it generally takes longer for you to fall asleep because, let's face it – you just won't feel that comfortable period. Hence, I never eat too early or too late before bedtime – I usually lick my dinner plate clean about 3-4 hours before bedtime (e.g. 6/6:30 pm dinner for a bedtime of 9:30/10 pm).
16 Dog Road Trip Essentials that You MUST Have
#7 WAY TO GET BETTER SLEEP WHILE TRAVELING
Stop drinking water 2-3 hours before bedtime
Don't get a yorkie wrong – I love to hydrate throughout the day (so I can literally mark up everywhere)! Hydration is the key to a healthy body, BUT be sure to cut the water intake at least 2-3 hours before bedtime; otherwise, you may be running to the bathroom in the middle of the night to relieve yourself. You also risk not being able to fall back asleep quickly. Less interrupted sleep = BETTER SLEEP.
#8 WAY TO GET BETTER SLEEP WHILE TRAVELING
Sleep whenever you can
Zzzzz. I'm quite the snorer. When I'm traveling or starting to transition to a new time zone, I do not follow a strict bedtime schedule. I listen to my body. If I'm tired, I go to sleep. I will not wait until it's "bedtime" to sleep when I feel tired or exhausted from all that traveling. If I feel awake and ready to go, I don't force myself to sleep. The physical act of traveling causes fatigue so allow your body to rest accordingly and naturally. Don't follow a strict schedule, especially in the beginning of your trip.
13 Ways to Work Out WITHOUT a Gym
#9 WAY TO GET BETTER SLEEP WHILE TRAVELING
Slowly transition into the new time zone
WOOOF! First things first, I accept the fact that it takes time to adjust once my circadian rhythm is disrupted by a new time zone. On my first two days of arrival, I tend to take things slow to allow my body to rest. My best advice for transitioning – please don't force yourself to overcome jet lag and/or conquer the town on your first day! Getting your body into a new circadian rhythm doesn't happen overnight, but typically over the course of a few days or sometimes even weeks. For extended or long-term stays, I take tiny yorkie steps by setting back or forward an hour or so each day for bedtime until my body is fully acclimated to the time change.
#10 WAY TO GET BETTER SLEEP WHILE TRAVELING
Set a cutoff time to unwind
Once (or even before) I land, I like to figure out the ideal bedtime based on my itinerary for the trip. As I barked out earlier, I always sleep whenever I can when approaching a new time zone; however, I also have a game plan in mind as to what new sleeping schedule works best for me on a regular basis. After I have slowly and naturally transitioned into the new time zone, I set up a cutoff time to unwind every night with my standard bedtime routine (powering down my gadgets, brushing my teeth, combing my beautiful hair, stretching, etc.), signaling bedtime to my body. As circadian rhythm works best with consistency, try to stick with a consistent bedtime to fully optimize your sleep.
5 Tips on How to Find a Gym while Traveling
#11 WAY TO GET BETTER SLEEP WHILE TRAVELING
Sleep earlier AFTER adjusting to the new time zone
Once I've gotten on the new time zone, I try my best to have an earlier sleeping schedule (usually by or around 10 pm) versus a later one. I know this can be challenging for night owls or nocturnal creatures who are suckers for nightlife, BUT it truly does pay to sleep earlier. If you can't sleep early every night, try to be consistently early for at least 4-5 evenings. Without fail, I get better and deeper sleep whenever I sleep early and wake up early. Even with the exact same amount of sleep, sleeping later and waking up later can hurt your health and put you at risk for some serious health complications.
#12 WAY TO GET BETTER SLEEP WHILE TRAVELING
Do light exercises
Yippee, I'm a yogi dog! I love doing my upward and downward dog right before bedtime as they relax my muscles (and mind) and subsequently improve my sleep. Of course, I don't want to do any intense exercises right before bedtime as they could have the reverse effect (and keep me up), BUT light stretches or yoga poses for 10-15 minutes are extremely effective for amazing sleep.
How to Incorporate a Healthy Routine while Traveling
#13 WAY TO GET BETTER SLEEP WHILE TRAVELING
Practice meditation
As I meditate regularly, I find that meditation works miracles to combat insomnia, even if my evening practice is only for 2-3 minutes. On a daily basis, my intelligent yorkie brain makes a conscientious effort to exercise mindfulness to help me relax emotionally and mentally. Give it a shot TONIGHT for 1 or 2 minutes – close your eyes, clear your mind, and focus on your breath and being in the present moment. Regardless of what meditation technique you use, you will find that it helps you feel more peaceful, making way for better sleep. You'll be happily snoozing in no time!
Want more healthy travel tips? Get your paws over HERE!
Markin' it up,
Roger Wellington a.k.a. The Doob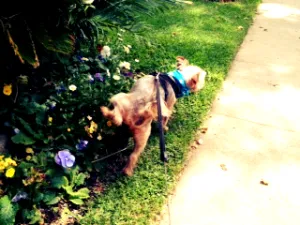 Like my post? PIN IT!