Thinking of getting a puppy under 8 weeks old? Keep on sniffing to find out why it's just NOT a good idea – for yourself and your new puppy.
*First posted 6/23/21, Last Updated 3/4/23
Since the pandemic, everyone seems to want a puppy these days. And yet, people want puppies as young as PAWsible so they can lengthen the bonding time and swoop in quickly to take the place of their biological mother. The earlier the puppy is separated from his mother, the more reliant he becomes on the human guardian. Such demand has paved the way for breeders (whether backyard or "reputable") and pet stores to charge outrageous prices for puppies – the younger the puppy, the higher the price tag. As puppies get older, they lose their market value.
Every single day that a puppy isn't sold equates to A LARGER LOSS OF PROFIT. Just take a moment to think about the breeding business (yes, it's a huge business) and the costs in housing these puppies and keeping them healthy and alive. For breeders, selling puppies as young as possible is the ultimate goal. The faster they sell, the more money they make. However, as the potential dog pawrent, you should NEVER consider getting a puppy before 8 weeks unless you're adopting from a shelter or legitimate rescue organization or have somehow found young feral puppies on the street.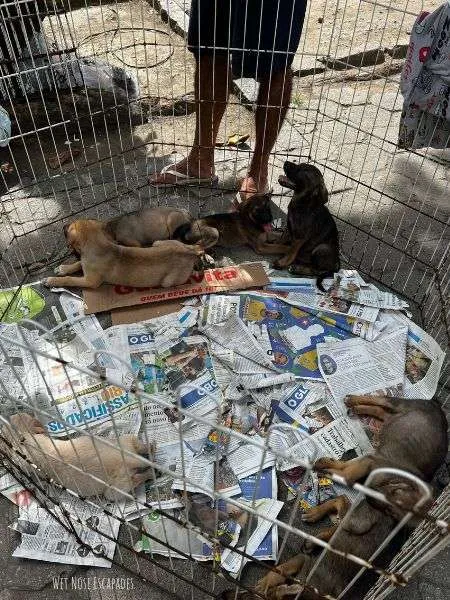 FIRST THINGS FIRST: When it comes to breeding dogs whether for "fun" or for sale, one thing is for sure – with hundreds of millions of stray, abandoned, neglected, abused, and euthanized dogs, this world just doesn't need another dog. Even if you have a home for all the puppies you've deliberately brought to this world, you are still contributing to the dog homelessness issue and potentially taking the home away from a homeless dog in dire need. If you feel that rescuing or adopting would never be an option for you, buying a dog still inevitably supports (and promotes) the for-profit breeding industry, which subsequently contributes to more unwanted lives.
If a breeder advertises puppies before 8 weeks for sale, please walk away and do NOT consider it. It's a RED FLAG. Separating puppies from their mother before the 8-week minimum can be truly detrimental with irreversible consequences. Keep on sniffing to find out why.
8 Reasons Why You Should NEVER Get a Puppy before 8 weeks:
*Again, the only exception is if you're rescuing!
#1 They are NOT fully weaned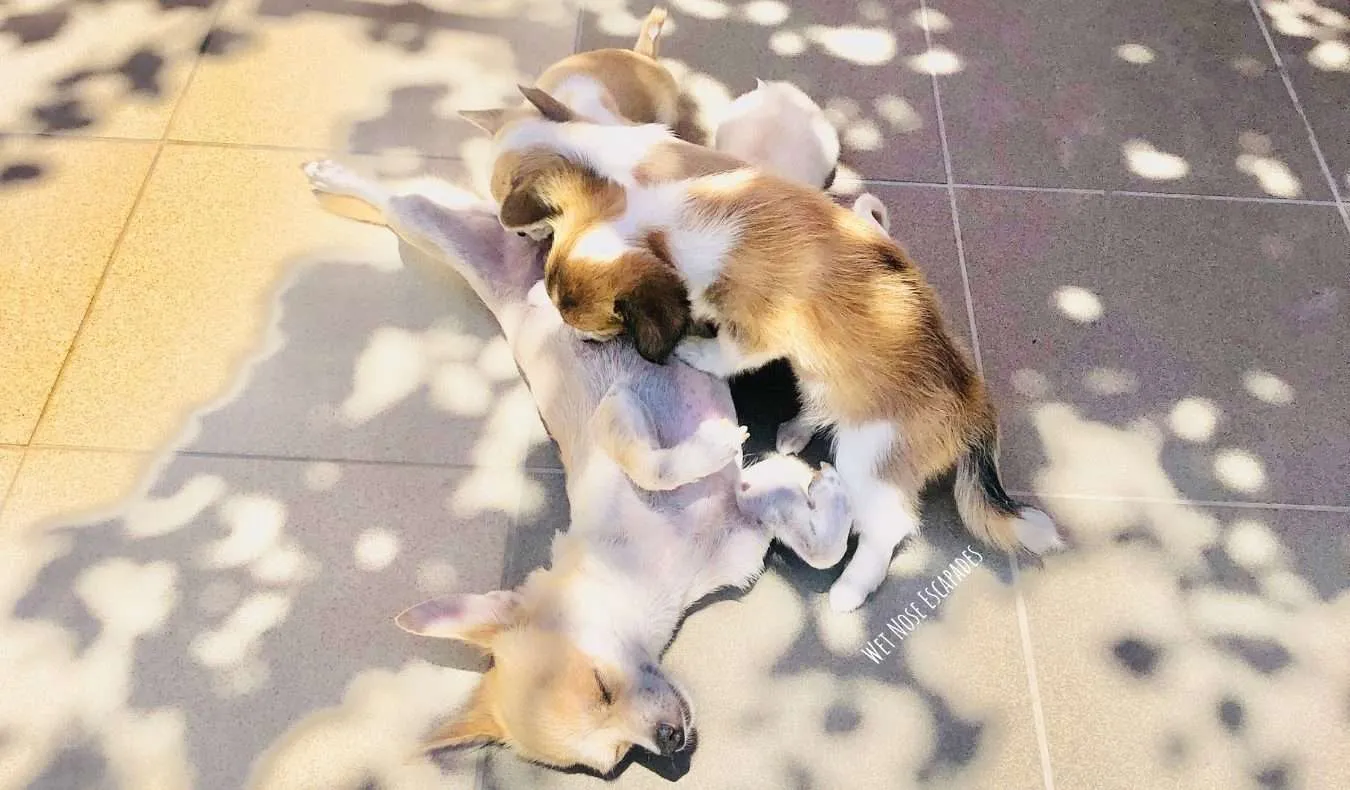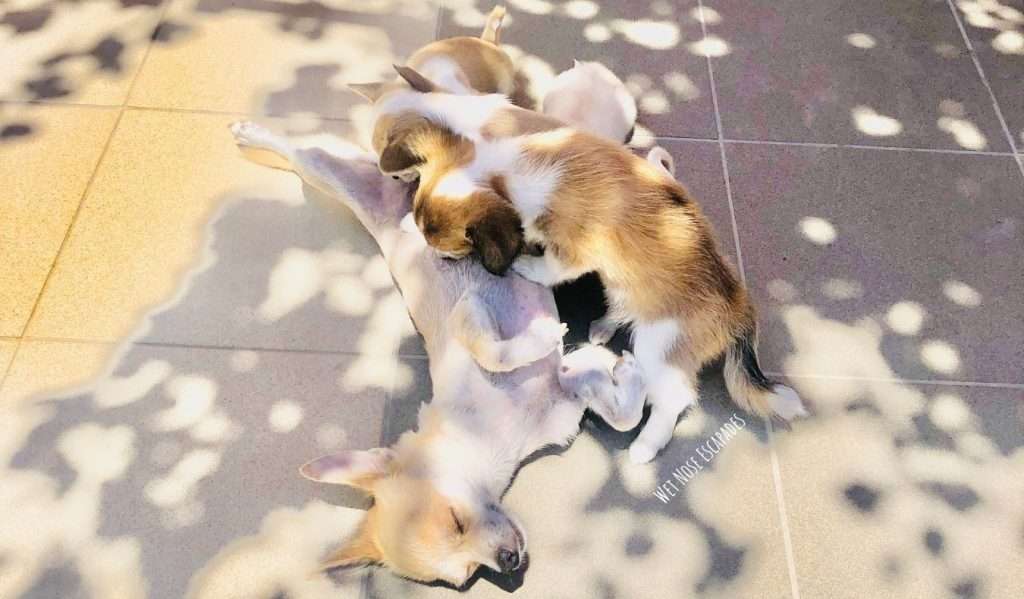 The recommended time frame for getting a puppy is when they're 8 to 12 weeks old, and no less than 8 weeks. The reason is simple – it takes a full 8 weeks for puppies to be completely weaned. The "weaning" process occurs when puppies switch from their mother's milk to solid food (e.g. kibble/dog food), which typically begins at the 3rd to 4th week and takes at least several weeks to complete.
Even if the mom starts growling at them towards the end (a sign that she's setting boundaries, which is a normal part of the weaning process), the puppies still need to stay close to her for 8 weeks to transition successfully. Puppies must become fully accustomed to taking solid food without nursing for some time (e.g. at least 5 days) for the weaning process to be considered accomplished. Any breeder willing to sell you a puppy earlier (even at 5, 6, or even 7 weeks) is simply NOT a responsible breeder and has no regard for a dog's well-being. Breeders who truly care for their dogs will NOT allow a puppy to leave his mother and littermates prematurely.
#2 They are NOT properly socialized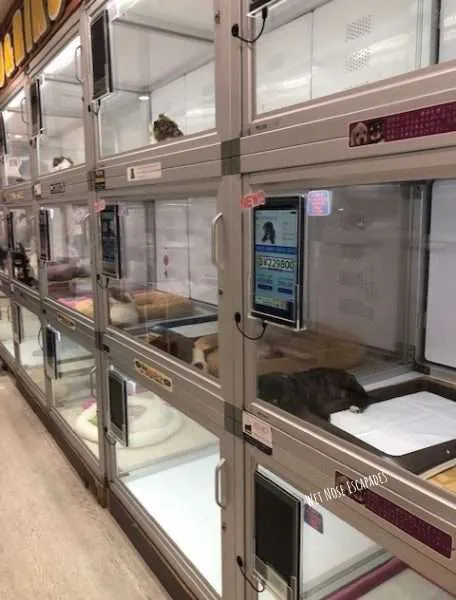 During the first 8 weeks, puppies learn about social ranking, order, and rules from interacting with their littermates. Those who get more milk from their mom establish dominance while the ones who get less become more submissive. One of the most important lessons that they learn from their mother and littermates is that biting is not welcome – simply based on the reaction they get from their mother or littermates for biting too hard. Learning social hierarchy and rules is especially crucial during the last two weeks of the weaning process (weeks 6 to 8) through social interaction with littermates. As they continue to stay with their littermates, they learn how to act and play.
Studies have shown that puppies who are removed from their mom and littermates too early tend to be more fearful, shy, and anxious when they become adults. Puppies who are removed from the litter too early tend to have a more difficult time coping in their new homes. Yet puppies only face more stress when they are transferred to a pet store where the social interaction is even more limited.
Often, I hear from dog pawrents that they got their dog from a breeder as a young puppy and are surprised to see timid behavior exhibited as if he came from a shelter (a common misconception about rescue dogs – that they have more behavioral issues). Just because you went to a breeder to handpick a puppy doesn't guarantee a PAWfectly socialized dog, particularly if the puppy is under 8 weeks.
18 Reasons Why You Should NOT Get a Dog
#3 They are prone to health issues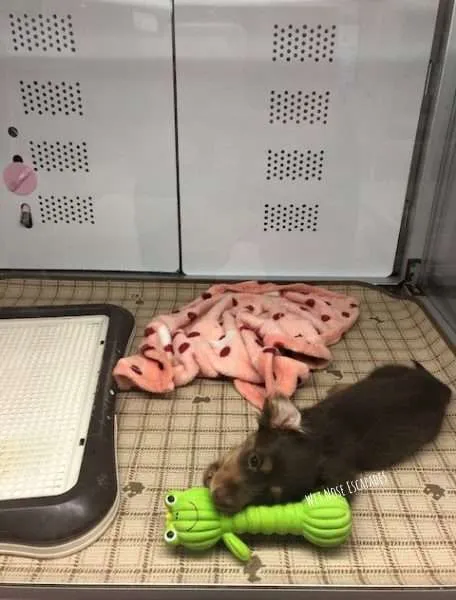 Based on innumerable studies, puppies not properly weaned are likely to suffer from more health issues (compared to the ones that stay with their mom for at least 8 weeks). Puppies separated too early from their mothers are generally malnourished with a weakened immune system. Due to such negative findings, the 8-week minimum has become a gold standard for separation from the litter. But really, it's no rocket science, and you certainly don't need to rely on studies to understand the reasoning behind it.
This is pure logic. It's mother nature! Just think about human babies – the ones who are breastfed tend to develop a stronger immune system than the ones fed formula. Not to bark, nutrients in breast milk are better absorbed by babies than formula or regular milk. Likewise, it is in the best interest of puppies to receive as many nutrients as possible from their mother's milk, which will provide protections against infections and a solid foundation for good health years to come. Simply put, it's not entirely safe for a puppy to leave his mother and littermates before 8 weeks. If you want a healthy puppy, then you must wait.
#4 They need the time to bond with their mother
When puppies spend more time with their mother, they learn to receive love, care, attention, and protection (and, ARF course, food) from her. Because puppies see their mother as the pack leader, they also learn A LOT from her during these 8 weeks – from discipline to social skills. Once properly weaned, they become more independent through direction and support of their mother who encourages self-reliance.
Sadly, a fearful mother is likely to produce fearful puppies while a calm and confident mother is likely to produce calm and confident puppies. Therefore, it's NEVER a good idea to get a puppy online or from a pet store (where they're supplied by evil puppy mills that breed dogs in horrific, deplorable conditions and treat them like pure commodities). Dogs who are forced to live in overcrowded, filthy, tiny wire cages (or even smaller windowless breeding boxes) are prone to breed fearful, anxious puppies with a host of health issues.
Due to human interference and the litter size, it's highly unlikely for a mother to stay with all her puppies for the rest of her life. 🙁 Regardless, when a mother is separated from her puppies all at once or before the 8-week mark, she suffers emotionally and psychologically. Yes, she will miss her puppies. It's a fact. Humans tend to believe that dogs do not remember their mothers after separation, which is NOT true. Studies have shown that adult dogs are capable of recognizing their mothers through scent after a long separation.
#5 They tend to have behavioral issues
When you're getting a puppy before 8 weeks, you may feel like it's easier to establish a bond. The earlier puppies get separated from their mothers, the easier they can bond with their human guardians, right? You might think the puppy won't be with his mom forever, but you will – so why wait? BUT, the truth is that a puppy who has been separated from the mother too early tends to have more behavioral issues, leading to headaches and even potential surrender later on.
Excessive barking, aggression, reactivity (e.g. to noises or strangers), biting/nipping, housebreaking/potty training difficulty, destructive behavior (e.g. destructive chewing), resource guarding (or the opposite – food passiveness), and attention-craving are all problematic behaviors that have been indisputably exhibited more in dogs who were not fully weaned or properly socialized with littermates compared to those who stayed the full 8 to 12 weeks with their mother. If you can wait 12 weeks, that's even better for the puppy.
Sure, dogs are individuals and can react differently; some may indeed fare better than others. However, the chances of having a dog with behavioral issues are significantly higher when removed from his mother too early. Of course, positive reinforcement training is a MUST whether you get a puppy at 6 weeks or 12 weeks. You must come prepared for additional time, training, energy, and patience when you bring home a puppy before 8 weeks. If you don't mind unnecessarily more work (and the headaches), go for it.
But, is it really fair for the puppy? Do you want to deny him the opportunity to learn from his mother and littermates? If you plan on being a guardian to this puppy forever, what's another month or a few weeks? Be patient – for your own sake and the sake of your new puppy.
#6 They tend to have psychological issues
Besides behavioral issues, puppies separated from their mother before 8 weeks are likely to exhibit social anxiety, social discomfort, fear of the outside world (e.g. on walks), poor communication skills, and lack of confidence. Again, the first 8 weeks of their life are pivotal moments because they're learning from their mother and littermates. As their mother provides food, love, comfort, security, and protection, early separation may lead to a timid dog with psychological issues.
Yet, how do dogs with psychological issues act? Psychological and behavioral issues go hand in hand (or paw in paw). Go back to #5 – aggression, reactivity, excessive barking, destructive chewing, etc. For instance, it is a fact that dogs don't bite for no reason. They bite out of fear, threat, stress, and annoyance (when enough is enough). When you have a puppy without a solid foundation, you are more likely to get a reactive, fearful dog who will bark excessively or be prone to bite. Such behavior can be dangerous to humans and other animals and must require additional training (and patience) for better control.
#7 It's morally WRONG
Removing puppies from their mother before 8 weeks is not only a LOSE-LOSE situation for everyone (the puppies, the mother, and YOU the dog pawrent who has to deal with the puppy's behavioral and psychological issues. FYI: Unwanted behavior is one the main reason millions of dogs are surrendered and abandoned every year), but it's also morally WRONG. Again, unless these underaged puppies were rescued or found as ferals or strays, you should NOT be intentionally seeking a puppy before 8 weeks – PERIOD. As a human, you have the moral obligation to do the right thing, especially regarding innocent beings.
And, NO, it's not just a dog. If you think that way, you should reconsider getting a dog in the first place.
Puppies and their mother will cry for days once separated – the psychological and emotional impact will only exacerbate when removed before the 8-week minimum. And, just because they eventually "get over" it and move on doesn't make it right. Ideally, the mother should stay with her puppies for 8 to 12 weeks to establish a healthy and stable foundation. Because dogs grow much faster than humans, the first few months of the mother-puppy bonding time is critical.
If you're a mother, you should be able to empathize. Would you ever want someone to forcibly remove your newborn baby from you after a few days? My guess is NO. Just thought is unimaginable because that would be utterly cruel and unethical. If you think dogs can't feel human emotions, think again! Dogs are sentient beings capable of feeling sad, lonely, depressed, withdrawn, happy, jealous, and excited.
Again, due to human interference and litter size, it's unlikely or unrealistic that puppies get to stay with their mothers from puppyhood through adulthood; therefore, it's only RIGHT to allow newborn puppies to spend adequate time to spend with their mothers and littermates. Now, you may think, even if you don't buy a puppy under 8 weeks, someone else will.
Just because other people are doing it doesn't mean YOU should. And yet, this is one of the most common lessons a parent teaches a child.
And, just because you CAN doesn't make it RIGHT.
As a responsible dog-loving citizen, you should NOT increase the demand for unethical practices exercised by irresponsible breeders and evil puppy mills purely motivated only by financial gains. Breeders who only see dogs as commodities producing fat paychecks will sell puppies before 8 weeks to meet the demand. The younger the puppies, the more these immoral businesses can charge. In addition, they save food, time, and money for those additional weeks when puppies are sold early. All in all, breeders are doing this because YOU are willing to buy. Don't fall in the trap!
Do the right thing. Don't support unethical practices.
Again, you have a whole lifetime to bond with your puppy so just wait it out.
#8 IT'S ILLEGAL (in many states)
Do I need to bark more? Even if you didn't know it was illegal and mistakenly purchased a puppy under 8 weeks, you still participated in illegal activity. In the U.S., ignorance of the law is no defense, and you could still get charged. Moving forward, please educate yourself and spread awareness.
States where it's ILLEGAL to sell a puppy under 8 weeks:
Arizona
California
Colorado
Connecticut
Florida
Georgia
Illinois
Indiana
Kansas – Must also be weaned, which means that an animal has become accustomed to taking solid food and has done so, without nursing for a period of at least 5 days.
Louisiana
Maryland
Massachusetts
Michigan
Minnesota
Missouri – Must also be weaned
Nebraska
Nevada – OR accustomed to taking food or nourishment other than by nursing, whichever is later.
New Hampshire
New York
Ohio
Pennsylvania
South Carolina
Texas
Utah
*Maine – at least 7 weeks
*Virginia – at least 7 weeks
*Wisconsin – at least 7 weeks
*DC – at least 6 weeks
If a breeder is willing to sell you a puppy before 8 weeks, you must WALK AWAY. Don't even consider it! Never trust a breeder advertising underaged puppies. Please do NOT buy a dog online (e.g. Craigslist, Facebook) – these places are flooded with irresponsible, money-hungry breeders and pet stores trying to make a quick buck without regard for the parents and puppies' well-being.
If the seller refuses to let you visit the facility and meet the parents, you must recognize that something is NOT right. Again, it's a RED FLAG. Most likely, the puppy came from a puppy mill, even if they advertise "ethical" breeding. Please note that puppies from pet stores almost always come from puppy mills. As a rule of thumb, you must visit the breeding facility or the breeder's home AND meet the parents of your new puppy. If you see dogs living in cages, on the ground, or in a crowded and filthy environment, please leave immediately. Contact the authorities to investigate as the breeder could also be breaking the animal rights laws.
If you're in a country where such laws don't exist, then it's up to you to make the right decision. From Brazil to Japan, I've seen young puppies (and kittens) for sale without their mothers in sight, and it's always heartbreaking to witness. In 2020, the Japanese government finally passed a law (effective 2021) prohibiting the sale of kittens and puppies under 56 days/8 weeks old. When unsuspecting customers are smitten by these cute puppies and make a purchase, they are simply uneducated and unaware of what happens when a puppy is separated too early from his mother. Hence, awareness is always the first step to change.
Rescue is always the BEST breed
Ultimately, rescue is, paws down, the BEST breed. With dog homelessness being a global issue, buying a puppy only supports breeding. Again, this world does NOT need another dog. Stray dogs, street/feral dogs, and shelter dogs are ubiquitous in the world, even in places with the most progressive animal rights laws. In the U.S. alone, 6.3 million companion animals enter the shelter every year – 3.1 million dogs and 3.2 million cats.
Although the number has declined over the years, a shocking 920,000 shelter animals are euthanized (yes, they are KILLED) every single year. These numbers skyrocket when looking at global homelessness. From Latin America to Africa to Asia, homeless dogs roam in packs looking for food and shelter. It's an everyday occurrence that homeless dogs suffer from human abuse, get hit by cars, or die from starvation or a medical condition that can be easily treated by a veterinarian. When you rescue, you save a life. From puppies to senior dogs, you can adopt and make a pawsitive impact! As a rescue Yorkie, I can only bark that rescues rock!
Sniff out more as to why you should NOT buy a dog from a breeder
ARF, hope you now understand why you should NEVER get a puppy before 8 weeks! For health, behavioral, psychological, and ethical reasons, you should NEVER consider getting a puppy under 8 weeks old. Always consider adoption first – ADOPT, DON'T SHOP.
Sniff out how to potty train your new puppy without a crate NOW.
Markin' it up,
Roger Wellington a.k.a. The Doob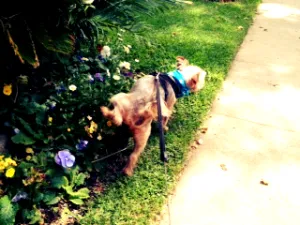 —
Like my post on "8 Reasons Why You Should Never Get a Puppy under 8 Weeks"? CLICK TO PIN!