ARRRFF, escapaders! Keep your nose wet on the road and sniff out my 10 additional picks for healthy travel:
#1 Healthy Destination: 
Amsterdam, Netherlands
Amsterdam ROCKS! The dynamic city of Amsterdam barks out more than the stereotypical coffee shops, colorful crooked houses, and intriguing Red Light District. My rat tail wags excitedly to the healthy and active lifestyle ingrained in their very hip society. With biking as a popular mode of transportation (with both residents and visitors alike), Amsterdam boasts bike-friendly streets along with spectacular green spaces and parks. In addition, I can easily get organic, whole grain, and veggie options in most restaurants, which are usually dog-friendly (BONUS POINT). Dogs are even allowed in markets, but not bikes! So WOOF, Amsterdam sure treats me and my furry pals right! PAWS UP for this healthy and dog-friendly city. 
#2 Healthy Destination: Tokyo, Japan
In a world where humans respectfully abide to traffic rules and pooches look stylish like Hollywood stars, Tokyo is a DREAM. With clean streets, organized traffic, litter control, and high degree of sanitation, Tokyo has sure gained global recognition for superb quality of life, high longevity rates, fabulous green spaces, and systematic on-the-go lifestyles. Their notably smaller meal portions and lower red meat consumption contribute to their slim waistlines and good health – imagine a small bowl of rice accompanied by a piece of fish or plant-based protein and a side of veggies. Overeating is NOT encouraged (gotta remember "hara hachi bu"). Oh yea, I love wiping my paws clean before a meal with a warm wet towel (a standard restaurant courtesy)!
#3 Healthy Destination: Auckland, New Zealand
WOOF! Auckland, the largest urban area in New Zealand, is not one of the most expensive cities in the world for no apparent reason. Consistently ranked as one of the most livable cities around the globe, Auckland is a vibrant international city that will give me exactly what I pay for; mild climate, beautiful beaches, volcanic islands, stunning parks and hikes, LOTS of outdoor activities, healthy fresh cuisine, and delicious yet clean drinkable water just to bark out a few. Explore this indisputably healthy destination with four paws and an upright tail and I'm sure you'll quickly adjust to their healthy living society, even as a short-term visitor!
#4 Healthy Destination: Munich, Germany
The energetic capital of Germany is FUN, and trust the yorkie – I don't compromise fun for healthy traveling. Don't be fooled by the stereotypical beers and sausages as I sniff out healthy options all over the city, even on beer hall menus! No meat, no problem (let's give the land animals a break plus it's healthier to reduce meat intake). Vegetarian and pescetarian alternatives will surely save the day. With such massive and well-maintained green spaces, I roam around the city parks until I tiredly mark up every single bush. I stop to take a break at the famous English Gardens after the the heavenly sound of waves perk up my ears; to my utmost surprise, surfers are happily riding the waves as tourists stop to gaze in awe.  
#5 Healthy Destination: San Diego, California
As a native Californian, I am a sucker for America's FINEST city (and, it sure is). It is one of my favorite places in the world, and ARRFF, I've set paws on too many to count. Breathtaking coastline, relaxing beaches, running trails, city view parks, and dog-friendly neighborhoods (omnipresent dog bag stations, water bowls outside of every other storefront, and dog-friendly restaurant patios) make one extremely active, health-conscious, and dog-loving population. Do you see a correlation yet? The more dog-friendly a city is, the more active the population! Healthy living and eating are very much part of the San Diegan culture; everyone tries to lead a healthy lifestyle regardless of age – from the young 20s & 30s urban professionals to retirees. Maintaining a healthy diet is effortless as organic and vegetarian options are offered virtually in every restaurant and market!
#6 Healthy Destination: Stockholm, Sweden
Stockholm is one pawsome place to keep my nose wet. Sweden's capital city Stockholm comprises of a whopping FOURTEEN islands. What does that mean for a health-conscious traveler? LOTS of outdoor activity and island-hopping! From Vaxön to Grinda, I can keep myself active with hiking, biking, sailing, swimming, kayaking, and the list BARKS on (and yes, dogs CAN get on the ferry!). Bike-friendly Stockholm is a wonderful destination that has earned bragging rights to clean water, high level of sanitation, healthy living and diet, and farm-to-table restaurants. Don't forget to sniff out the ABBA: The Museum on the island of Djurgården!
#7 Healthy Destination: Edinburgh, Scotland
With famous castles and a medieval "Old Town," Edinburgh takes me to back to gothic times that can create some mysterious and mesmerizing feelings. Beyond the gothic experience, I find myself falling in love with their stunning green spaces, hiking trails (one of my favorites? Arthur's Seat in Holyrood Park!), fun summer festivals at the University of Edinburgh, and chops-licking vegetarian food. I don't feel bad for skipping the Sunday Roast and trading it for a tasty veggie biryani as Indian food is also very much ingrained in the culture. Don't forget to say hello to my four-legged pal Greyfriars Bobby with one super popular nose!
#8 Healthy Destination: Hong Kong, China S.A.R.
The world-class city of Hong Kong offers a comprehensive and efficient public transportation system, accessible parks, serene hiking trails, and some of the best food I'll ever taste. Although residents often face stress from high real estate prices and long work hours, they also enjoy one of the highest life expectancy rates in the world, most likely due to their balanced cuisine, systematic on-the-go active lifestyle, quality hospitals, and strong family values. As a visitor, I can take in the beauty of the world's most impressive skyline from Victoria Peak, indulge in dim sum and yummy street food, increase my blood circulation with a tai chi or qi gong class (or simply emulate a senior practicing at a public park), and explore the densely populated city by foot and subway.
#9 Healthy Destination: Brugges, Belgium
Coined as "Venice of the North," the capital of West Flanders Brugges is fairytale land straight out of a child's story book. Without the congestion and overcrowded crowds from Venice, Brugges is a romantic city is that it is entirely walk-able and bike-able. No matter which cobblestone I choose to make a paw print on, I'm taken back in time with the beautiful canals and incredible medieval architecture. Fresh, organic, and gourmet veggie options can easily be found in restaurants, even at burger joints (and no, I'm not barking about "Belgian" fries or waffles. THINK chops-lickin', succulent grilled portobello mushroom burger with delectable grilled onions, bell peppers, and tomatoes. YUM!). Remember to explore Old Town by foot and give those overworked horses a break. Your body (and the horses) will thank you.
#10 Healthy Destination: Dubrovnik, Croatia
Health-conscious travelers are pleasantly surprised by the painless ways they could be healthy in the tourist-dominated city of Dubrovnik. With such gorgeous scenery, Dubrovnik is a marvelous place to get movin' – I'm surrounded by medieval architecture, limestone pathways, LOTS of steps, and stunning views of the Adriatic. From Lapad to Old Town, the city provides pedestrian-friendly walkways, innumerable hiking trails, laid-back beaches, and refreshing air from the coast. There are nearby islands (I love Lokrum!) where I can keep stay active with more outdoor activities. In addition, a myriad of healthy eating options and well-balanced meals are enjoyed in restaurants, from fresh seafood to sautéed veggies (gotta try the grilled sea bass with Swiss chard and potatoes. It's a dream!).
WOOF-HOO! That's a wrap (for now). I'll be adding more to the list as my wet nose journey continues!
Did your nose somehow miss Part I? Sniff it out HERE!
Markin' it up,
Roger Wellington a.k.a. The Doob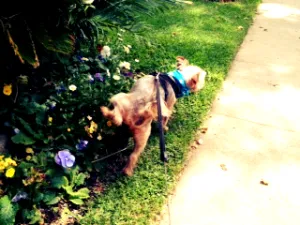 —
Like my post? PIN IT!