ARF, are you planning to take your dog to Hermosa Beach, California? Is Hermosa Beach dog-friendly? Keep on sniffing!
*Please note that this post contains
affiliate links
, and at no obligation or additional cost to you, my humans and I earn a small commission if you make a purchase. If you love the work that we do, you can show your support by making a purchase through an affiliate link. Proceeds will go towards
feeding homeless dogs (and cats) along with improving the lives of the neglected and abused
.
The short answer is NO, Hermosa Beach does NOT allow dogs on its beach. One of Los Angeles County's three beach cities in the South Bay, Hermosa Beach prohibits animals on OR off-leash in the beach area. In addition to the beach, the pier overlooking the Pacific Ocean is off-limits for dogs. In case visitors don't pay attention to the ubiquitous signs throughout the area, there's also a gigantic flashing LED sign at the Pier entrance that reads "NO DOGS ON THE BEACH. VIOLATORS WILL BE CITED." GRR. And, this policy applies to the other two beach cities, which are Redondo Beach (to the south) and Manhattan Beach (to the north). 
Just a bark of CAUTION that dogs are, unfortunately, not allowed on any beaches in all of Los Angeles County, except for the following:
Long Beach's Granada Beach – Dogs can go off-leash on Rosie's Dog Beach
Malibu's Leo Carrillo State Park – Dogs are allowed on-leash dogs in North Beach 
However, don't lower your tail or get discouraged! Despite Hermosa Beach's no-dog policy, your tail-waggin' beach companion will still frolic over an abundance of gratifying dog-friendly activities throughout the laid-back city of Hermosa Beach. As a furry California native and SoCal resident, I'm happy to bark out, WOOF, my favorite things to do in Hermosa Beach, California!
#1 Stroll along The Strand
OK, just because dogs are technically NOT allowed on Hermosa Beach doesn't mean that they can't walk alongside the beach. Whenever I set my tiny furry paws in this surfer beach city, my robust wet nose leads me straight to The Strand. The Strand is a smoothly paved two-way walkway along the beach that allows dogs to get a sniff of the ARF-so-fresh Pacific Coast breeze. Let me just bark that it's dogs GALORE here so be prepared to stop to do some butt-sniffing. As this popular path is shared with pedestrians, bikers, skateboarders, rollerbladers, runners, and joggers, you should keep your dog on a leash for safety. For a more peaceful experience, I like to get here before 9:30 am for my morning walk.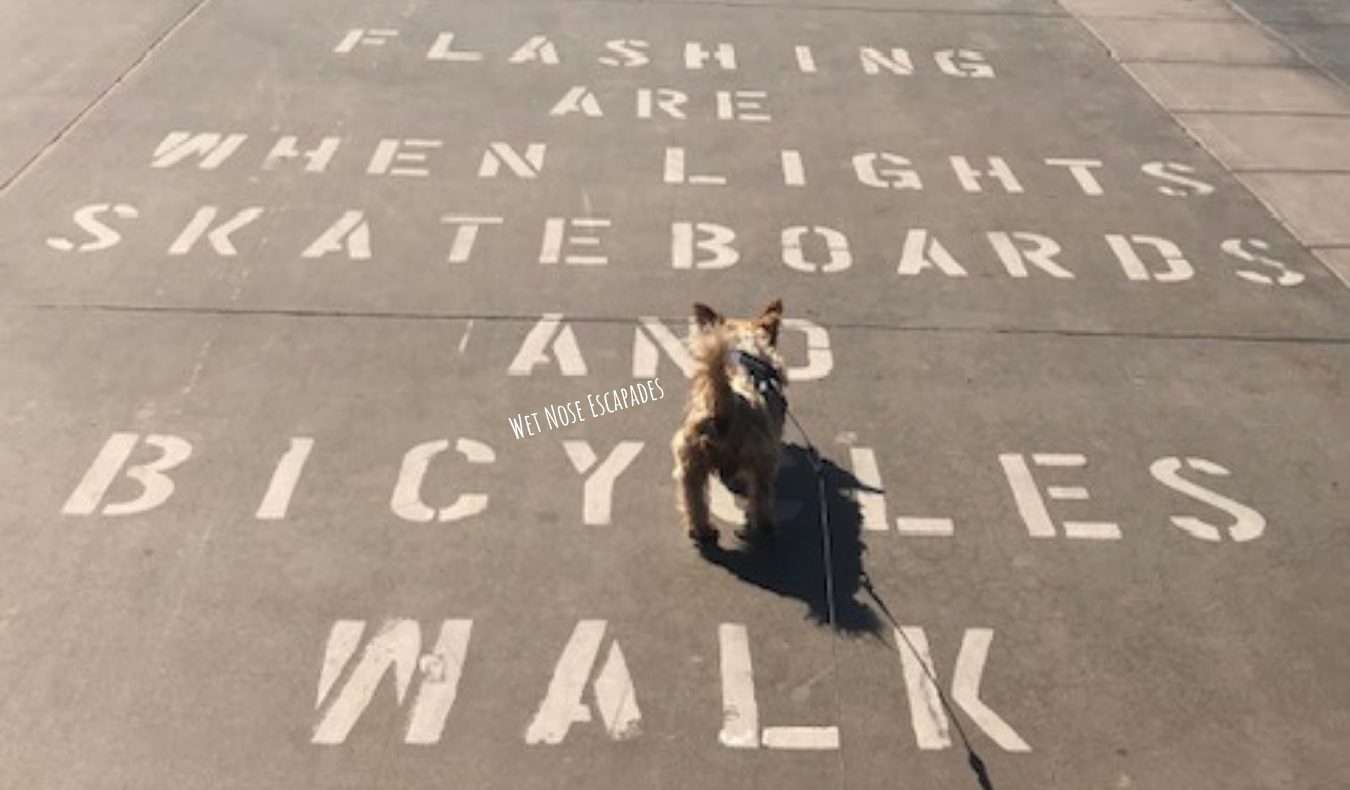 This genteel walkway connects Hermosa Beach to its neighbors Redondo Beach (to the south) and Manhattan Beach (to the north), both of which are only 1.5 miles away. If you want a quick change of scenery from Hermosa Beach, take the pathway to either direction for some fun Pacific Coast exploration.
While I quenched my little Yorkie thirst at dog fountains adjacent to human water fountains, my human grabbed free poop bags from the dog waste stations sprinkled throughout the route. 
#2 Go off-leash at Noble Park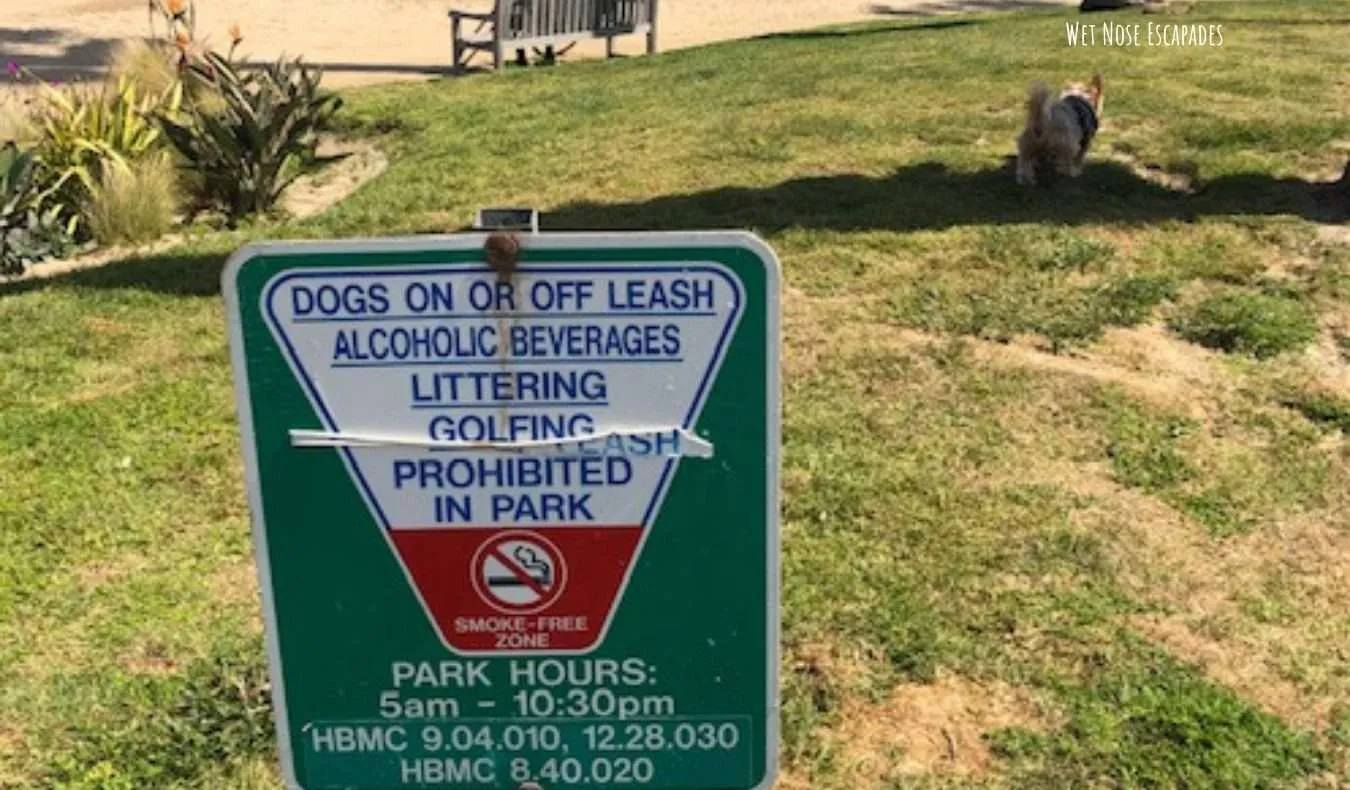 Located on 1400 The Strand, Noble Park is THE SPOT for dogs! Although dogs aren't allowed on the beach, they can still enjoy the stunning Pacific Coast views and irresistible sniffs at Noble Park. Unlike the beach, dogs are welcome to roam around here either on or off-leash during the park hours of 5 am to 10:30 pm. This compact beachfront park offers dirt paths, grassy patches, wooden benches, and ample shade from the overarching leaves of tropical palm trees, making it a pawfect place to rest my tiny alpha paws and enjoy a water break after a long walk. This park may be mostly dogs' territory, but cats are welcome too! During my first mark at Noble Park, I saw an adorable Siamese kitten climbing a tree under a close watch of his humans watching nearby.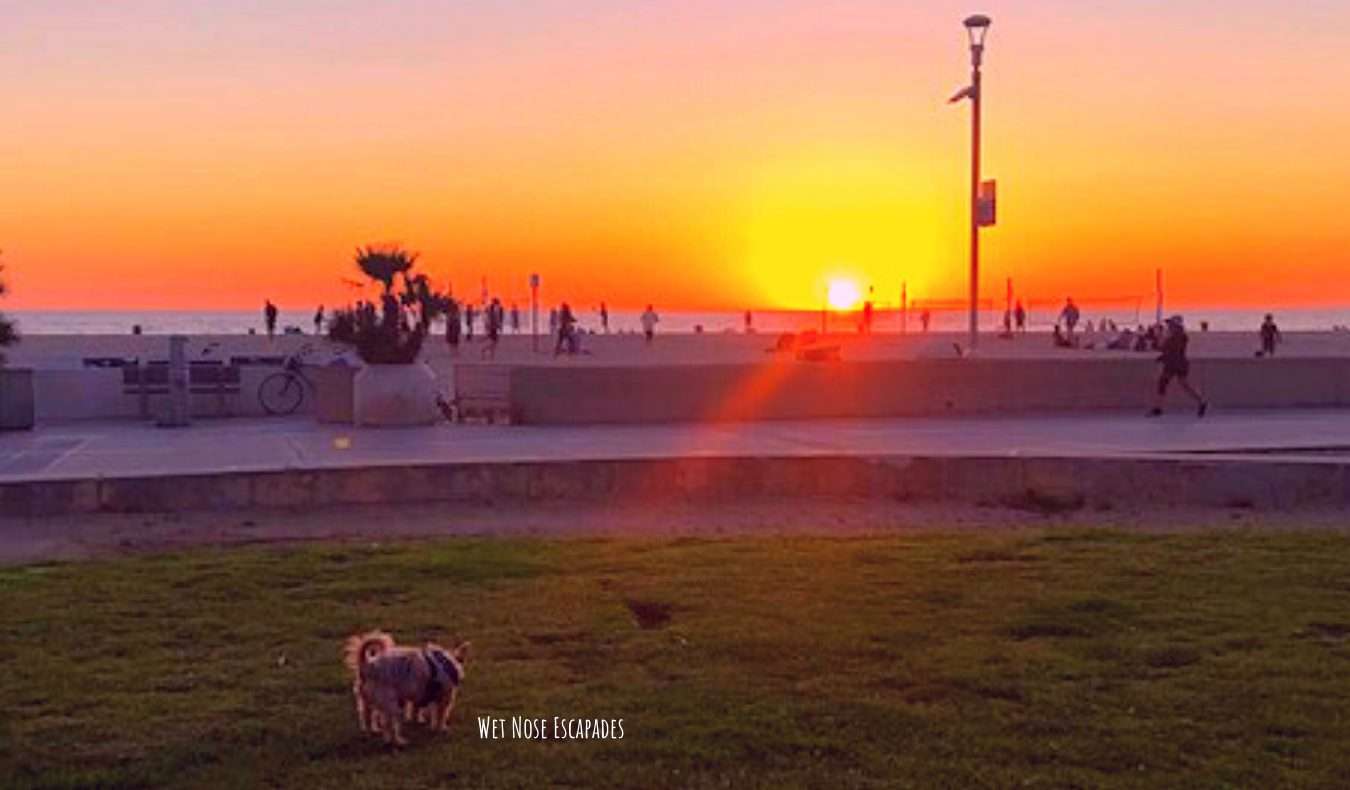 My other sniff-worthy parks:
Valley Park – 2521 Valley Dr.
South Park – 425 Valley Dr. 
*Both are inland community parks offering spacious grassy fields for your dog to investigate and mark it up!
#3 Devour Mexican food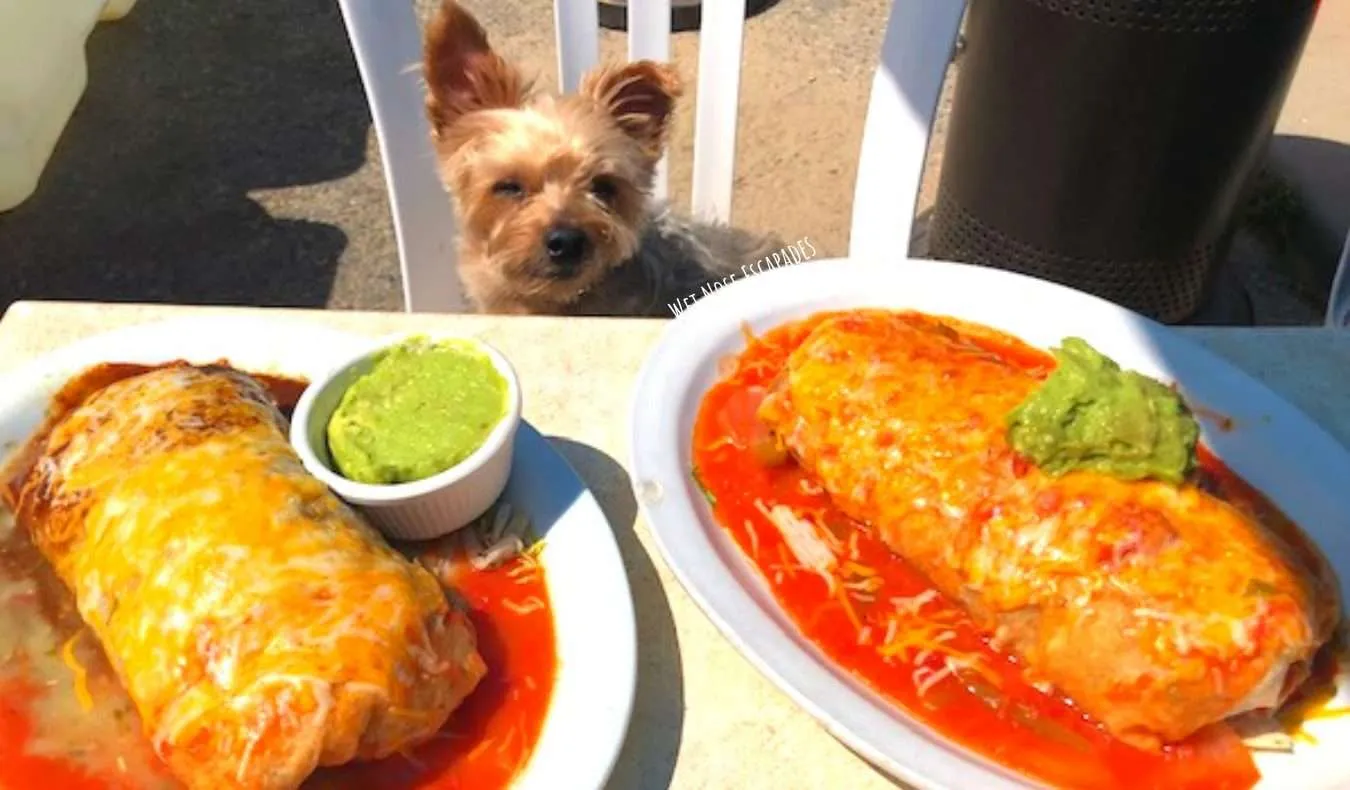 With Mexico just south of the border, a visit to SoCal is never complete without chomping on some succulent fish tacos (or grilled veggies, if you're more like my humans) or a ginormous California burrito. Yet the lively Mexican food culture only skyrockets in the beach cities. In Hermosa Beach, you'll find more than just Taco Tuesdays as family-run Mexican joints often boast daily specials, from enchilada lunch specials to discounted California burritos packed with fluffy golden-brown fries. As most restaurants in Hermosa Beach offer dog-friendly outdoor seating, I can always hop into a prime human chair to slurp up some rice and beans with my anaconda neck!
My Go-To Dog-Friendly Mexican restaurants:
La Tarasco – 337 Pier Ave
La Playita Mexican Cafe – 37 14th St, right next to Noble Park
*Don't forget to pack a bag of treats, dog-safe food, bottled water, and to-go bowls for your dog!
#4 Shop on Hermosa & Pier Avenues 
Unlike Santa Monica, Hermosa Beach is not overflooded with tourists and mainstream commercial fluff. Because most shops here are small businesses or family-owned, this beach city sets off a pawsomely charming small-town vibe. The two main drives for restaurants and shops are Hermosa Avenue and Pier Avenue, which are perpendicular to each other.
From antique markets to colorful vintage stores to surf shops, Hermosa Beach has a plethora of intriguing stores to delight you and your dog in some window shopping (well, at the very least). My stylish rat tail wagged as I sniffed out plenty of dog communal bowls outside of shops and restaurants on these two streets. Generally barking in California, dogs are allowed on-premises as long as food and beverage are not sold. 
#5 Walk Greenbelt Park Trail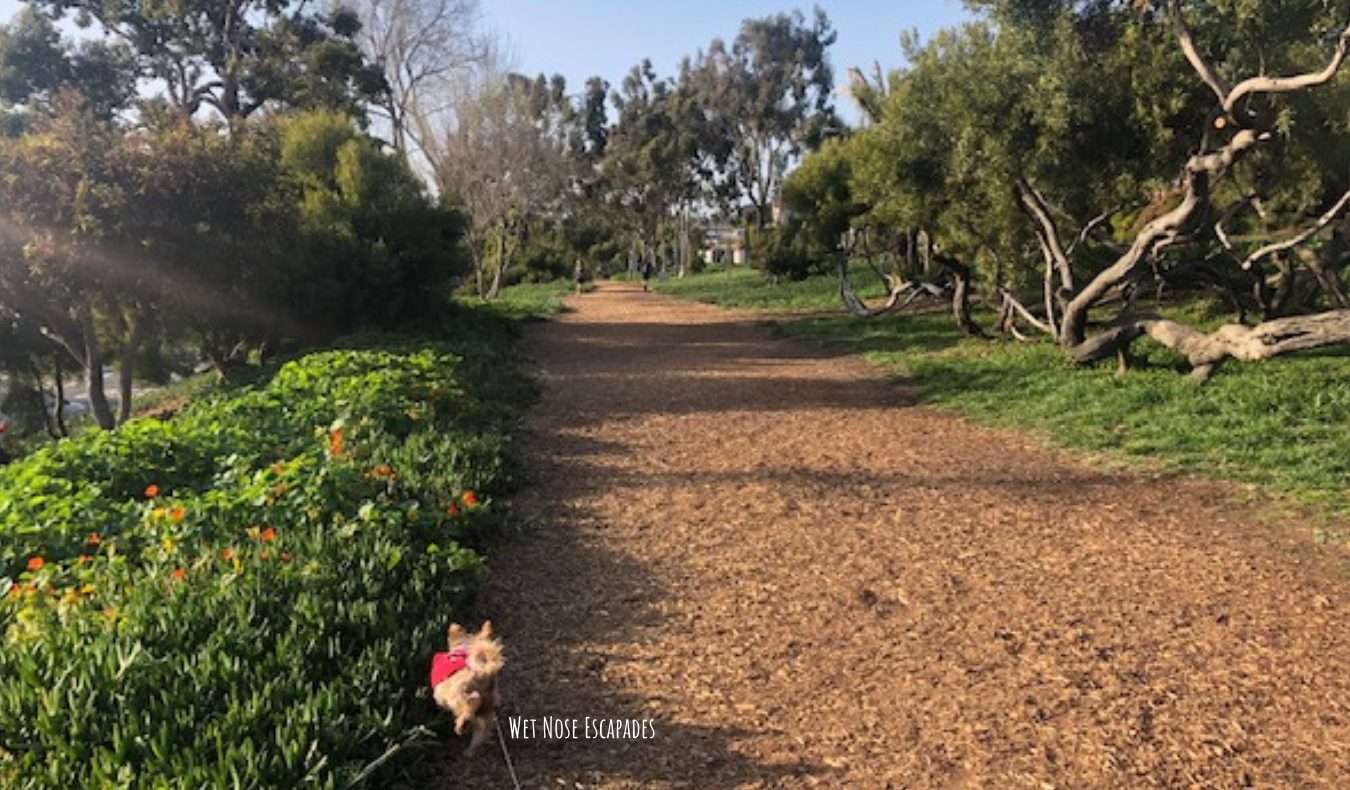 ARF, don't get me wrong! The Strand is great, but it can get pretty congested during the afternoon and early evening. Plus, if you have a bossy dog who loves to lead (like me), a long walk along The Strand can get a bit overwhelming. During peak hours, I've had to dodge rollerbladers, bikers, and ARF, obnoxious kids (sorry, children just stress me out). For a more serene walk, take (or shall I bark, FOLLOW) your dog to Greenbelt Park Trail (1645 Valley Dr.). Ending at Herondo St. & Valley Dr. (Redondo Beach) and SR 1 nr. Rosecrans Ave. (Manhattan Beach), this 3.5-mile wood chip-covered dirt path is lined with the gorgeous landscape – bushes, trees, flowers, an outdoor gym, and heartwarming memorials (including a 9/11 Memorial). 
Your dog will not have to worry about speedy rollerbladers or bikers (as they're prohibited), but will still have more than enough to sniff out. Not to mention, this sniff-worthy trail is easy on the knees for both humans and dogs. After all, I'm already a senior dog (still one very athletic beast). With adequate shade, benches, dog waste stations, and dog fountains, this trail is ideal for a short walk or a trek to Manhattan or Redondo Beach, which are both 1.5 miles one-way in the opposite direction. I like to split up this trail into two separate excursions – I'll head to Manhattan Beach one day and then to Redondo Beach another day. 
#6 Watch the California sunset
As a former furry Greek Island beach bum, I'll be the first to sit my furry butt in the front row seat of one ARF-mazing sunset. In my hometown California, sunsets over the Pacific Ocean are no joke – they're top dog cool, especially in Hermosa Beach. Pretty much anywhere along The Strand, I love watching the vibrant California sun slowly creep over the horizon with the splashy, breezy Pacific Coastal waves and omnipresent palm trees gracing in the backdrop. WOOF, besides food, have my soft brown puppy eyes ever gazed at anything more mesmerizing? The dynamic radiant, fiery colors are something to watch so kick back your paws and drop your jaws to an open mouth smiley face. Heck, I may even bark that the Pacific Coast sunset experience is PAWS down better than the Santorini's overhyped Oia, which is almost always overcrowded with tourists. 
#7 Sniff out creative art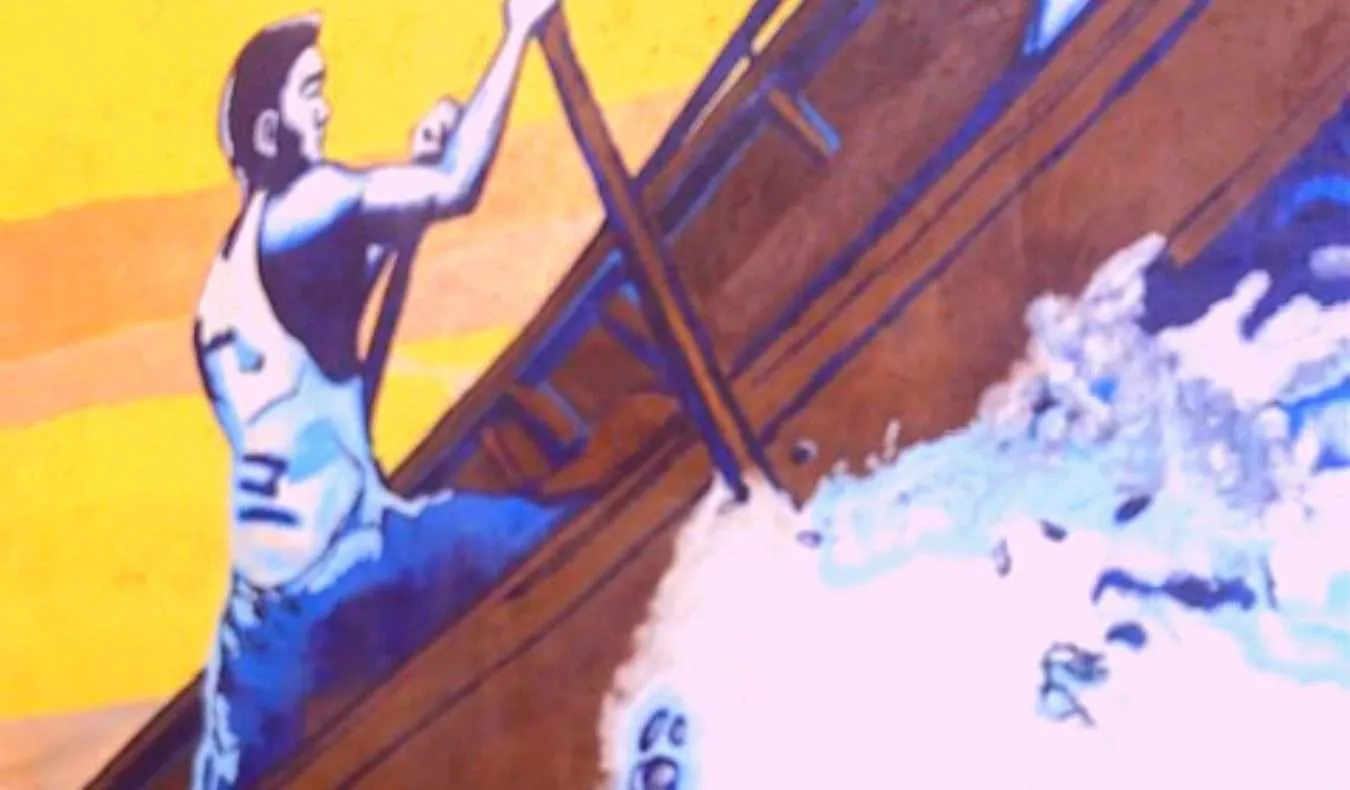 Hermosa Beach may be a laid-back beach town, but it has surely left an alpha mark in the art world. Founded by long-time resident Chuck Sheldon in 2009, the non-profit Hermosa Beach Murals Project has gifted residents and visitors with 10 head-tilting colorful murals sprinkled throughout the city. Primarily found on Hermosa Avenue and Pier Plaza, these murals depict different moments from the city's long rich history, going back to 1909. Besides these commissioned murals, my wet nose also sniffed out random eccentric wall paintings by local artists at various corners in the city. ARF, the dedication to art in Hermosa Beach is respectable to bark the least. 
#8 Snap pictures with the Surfer memorials
Even if you're no surfer like me (I don't like to get my paws wet), you can still appreciate Hermosa Beach's fabulous surfing culture by visiting their legendary Surfer memorials. It's time to snap a selfie or pictures with the surfer statues of Hermosa Beach. Resting at the corner of the Pier right next to the beach, the bronze Tim Kelly Memorial is the most iconic surfer statue in Hermosa Beach. Kelly was a 24-year-old lifeguard from Hermosa Beach who was tragically killed in a car accident by a drunk sailor while heading home from a surfing trip. 🙁
At the Hermosa Beach Community Center, I also sniffed out the lesser-known Dewey Weber sculpture based on a picture taken by surf photographer Leroy Grannis in 1966. Created by artist Phil Roberts, this life-size statue of the surf icon was unveiled as part of the Surf Legends Memorial Ceremony in 2015. Popularized by Hollywood, Weber died in Hermosa Beach and was acclaimed for his distinguished surfing techniques that were pawfected in Hawaii.
ARF, so is Hermosa Beach dog-friendly? Well, YES and NO! While the beach and pier are technically off-limits for dogs, you'll still find a myriad of fun dog-friendly activities throughout the city. 
Feel free to share your dog-friendly Hermosa Beach experience with me. BARK AT ME.
Markin' it up,
Roger Wellington a.k.a. The Doob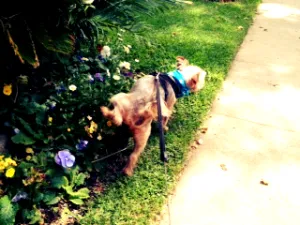 —