WOOF, what's the deal with homeless people with dogs and cats? What should you do when you encounter homeless people with dogs and cats? Should you take action if you witness animal abuse? Or should you walk away? Keep on sniffing!
As this can be a controversial topic, I'll first bark that all opinions are my own (just like all the posts on this website).
Whether you live in any metropolitan area or have traveled across the U.S., you have likely come across homeless people with dogs and sometimes even with tethered cats. Los Angeles, San Diego, NYC, New Orleans, San Francisco, Sacramento, Las Vegas – and the list barks on endlessly since it seems like every city in the States has a notable homeless pawpulation or TENTS GALORE. From the lack of affordable housing to drug addiction to mental health issues to lack of family support, many circumstances explain why people become homeless.
Sadly, I can't bark out how many times I've seen a pitbull standing patiently on the side of a freeway during traffic hour while tethered closely to a human with a cardboard sign asking for money. With homelessness on the rise more than ever, especially since the pandemic, it is estimated that 5-10% of homeless people have dogs and cats (although the percentage can jump to an unbelievable 25% in some regions). Is this legal? It sure is.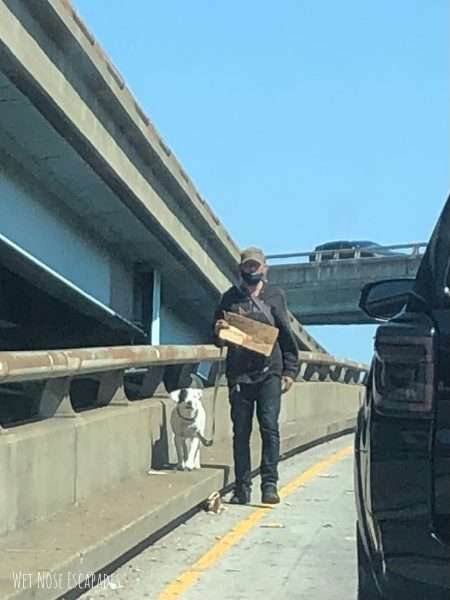 Homeless people with dogs and cats have become so common that even my progressive home state of California is dedicating $5 million for veterinary care of animals of homeless people. While some homeless dogs and cats may appear to be living a not-so-bad life snuggling with their human companions on the streets, others aren't so lucky and are blatantly suffering from daily physical and emotional abuse. Despite being sentient individuals, dogs and cats are merely considered "personal property," which means that homeless people have a legal right to "own" these animals – like anyone else. Hence, removing these innocent animals from any abusive or neglectful "owner" is not always easy. All in all, it's pawfectly legal for homeless people to have animals even though they are clearly struggling to find their next meal.
SHOULD HOMELESS PEOPLE HAVE DOGS AND CATS?
ARF course, the first question that arises is why do homeless people have dogs and cats when they can barely take care of themselves? Nonprofit homeless organizations have consistently avowed indisputable benefits for homeless people to have a dog or cat. After all, dogs and cats provide companionship, love, warmth, protection, acceptance (no judgment, right?), and most notably, a reason to LIVE. Suffering from invisibility and marginalization in today's society, homeless people can benefit from having a furry companion at their side. Oftentimes, they're a day away from committing suicide, and having an animal to care for may be their only means of living. Nevertheless, it sounds like the advantages are way more one-sided – meaning the human on the street benefits more than the animal itself. PAWS DOWN.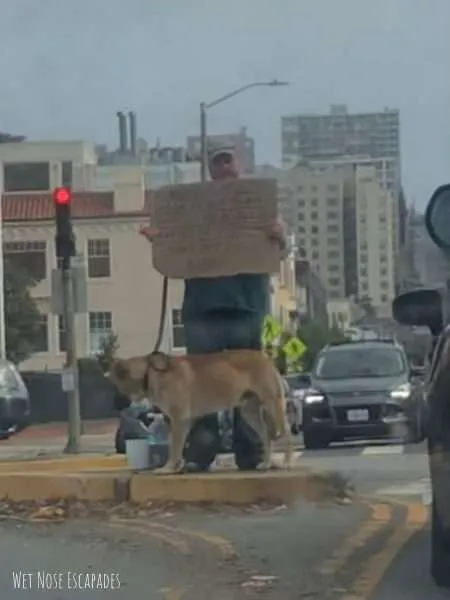 It's not to say that dogs and cats don't gain from their homeless human companion – heck, some argue that these animals are much happier than the ones who live inside a home but are left alone all day while their financially established human goes to work. They claim that the #1 priority for dogs IS human companionship, not shelter, food, or veterinary care. And, supposedly, homeless people will even feed their dogs and cats first BEFORE themselves. I personally find it hard to believe based on the countless interactions that I've witnessed, but hey, a professor from the University of Colorado Boulder wrote a whole book about it called, My Dog Always Eats First.
Sorry to be the Debby Downer here, but WOOF, I am barking out my doubts about this so-called beautiful bond between homeless people and their animals. While it's true that domesticated dogs originally came from the wild and may have successfully adapted to outdoor living in the last thousands of years, it doesn't necessarily mean that they are better off outdoors their entire lives. Think about extreme, even deadly temperatures!
Besides extreme temperatures, dogs also have to battle parasites and cruel passersby while living on the streets with their humans. Not to bark, excessive exposure to sunlight causes cancer in dogs over time. And, I haven't even begun to bark about environmental pollution! I know some of you would ask, what's the difference between lonely backyard dogs and these homeless dogs? At least the "homeless" dogs have human companionship, right?
OK, people who leave their dogs outdoors really should NOT have dogs, to begin with – whether they live on the filthy streets or inside a multi-million dollar house.
ARF, it is a consensus that dogs provide unconditional love to humans and would do anything for them; nonetheless, if homeless people can't provide basic needs (such as food and clean water) for dogs regularly, then is it really fair to the dogs? If you don't know where your dog's next meal would be, it seems as though these poor innocent animals will live a life of starvation or slow death with health pawblems in development along with the lack of veterinary care. Neglect is a form of cruelty.
So, should homeless people have dogs and cats? To be fair, it's the same answer for anyone, really – with or without a home.
Penny for my barks? Perk up your ears!
Homeless people should NOT have dogs or cats under these circumstances:
If they cannot properly take care of the animal and provide for their daily basic needs
If they cannot keep them away from extreme temperatures (e.g. no dog should live outside in the 90s/triple-digit Las Vegas summer heat no matter how much "love" is given to the dog just as no dog should live outside in the extreme cold, snow, or rain)
If they are abusing drugs and/or alcohol, which may put the animal in potentially abusive situations
If they are suffering from extreme mental health disorders that lead to physical or emotional abuse of the animal (to me, it's less about homelessness but more about mental health when it comes to treating animals well)
If they stole the animal (unfortunately, theft is a common way for the homeless to attain dogs although some may have had the animal before life on the streets)
If they force animals into doing abusive tricks, especially for money
If they cannot or will not pay for basic veterinary care to keep the animal healthy
AND, lastly and most importantly, if they are physically or emotionally abusing the animal
Sniff out "18 Reasons Why You Should NOT Get a Dog"
You may ask, "Why not?" The answer is simple – BECAUSE IT'S NOT FAIR TO THE DOG OR CAT TO LIVE THAT WAY. It's abuse. Dogs and cats are sentient individuals with their own needs. Just because they are attached to their homeless human companion doesn't mean they should be subjected to a subpar, miserable life.
Yet, I recognize that many dogs who live inside the home can also suffer from neglect, abuse, and lack of proper veterinary care. PAWS DOWN, many dogs and cats suffer from abusive guardians inside the house, causing them to live in misery every second. However, I can only bark about what I've witnessed. Obviously, I don't have access to most people's homes to see how they treat their dogs and cats; therefore, I can only bark about what I've observed in homeless people with dogs and cats throughout my residency in major cities across the U.S. and around the world where homelessness is a visible issue.
To be completely frank, I have never come across homeless people with dogs and cats AND feel that the animal is properly taken care of. I may be wrong. I may be right. And, it's not to bark that I don't feel the same way about some non-homeless people with dogs and cats. After living in more than several metropolitan areas with a significant homeless pawpulation, I've been quietly observing homeless people with dogs and cats for years, which was a common sight even before the pandemic. From being utterly filthy to visibly in distress (e.g. dogs with their tails between their legs, tethered cats in defensive position), the sight of dogs and cats of homeless people can be heartbreaking, to bark the least.
I've witnessed a seemingly demented homeless person swinging a small dog up in the air while screaming on the streets. I've seen dogs cower in fear and yelp in pain as the homeless person strikes them in the head. I've seen homeless people blow cigarette smoke and ashes into their dog's eyes out of enjoyment.
I've observed leashes so short that the dog is barely keeping up with the human on a bicycle. I've seen cats with a rope wrapped at least 6X around their necks to prevent escape. Sadly, I have so many more cruel acts stored in my memory forever, e.g. forcibly dragging, slapping, kicking, and yanking animals as if they were objects, not living, breathing sentient individuals. Unfortunately, such actions tend to be the norm whenever I witness a clearly mentally unstable homeless person with a dog or cat. 
Even though Dr. Leslie Irvine's critically acclaimed book, My Dog Always Eats First: Homeless People and Their Animals, provides a refreshing perspective on how homeless people can take good care of their animal companions, her research is based on interviews of roughly 70+ homeless people out of a pawpulation of over half a million to 3.5 million in the States alone (based on various estimates). And, regardless of how well a small number of dogs and cats are treated by their homeless guardians, the abuse inflicted on the animals of the homeless is both indisputable and indespicable.
On Bourbon Street in New Orleans, I saw a homeless man finding immense pleasure in torturing his 6 animals – 2 cats and 4 dogs who were all on short leashes. Whenever he is surrounded by potential "tippers" (compassionate animal-loving passerby who may give him money out of pity), he pretends to be nicer to the animals.
This sick man smacked a black kitten in the head, beat a Schnauzer in the chest, constantly dragged and yanked all the animals with force, repeatedly forced them to lay on their bellies to collect money, aggressively threw them around, and flipped them over like they were objects. He also smacked a Yorkie in the head when he was deliberately trimming her hair super close to her eyes – it sure looked like he enjoys torturing her. To make matters worse, he consistently blew smoke and ashes into her eyes as he groomed her obsessively.
It was very apparent that all 6 animals were suffering from immense distress based on their body language – the dogs have their tails down in between their legs and even shaking in fear at times, and the cats are always in their defensive position. They were afraid to move or do anything. They also had no access to water until a sweet, compassionate lady offered to get them some water from a nearby bar. This homeless man is clearly unfit to have any animals under his care – he is abusive to them and merely exploiting them for money from sympathizing animal-loving tourists.
It's sickening.
Am I supposed to keep quiet and assume that the animal is well taken care of, that the benefits of their "bond" justify the abuse?
Are there homeless people who love their dogs just like people who have homes?
ABSOLUTELY.
Do some people with homes abuse their dogs like some homeless people?
ABSOLUTELY.
Animal abuse is NOT acceptable PERIOD, whether the perpetrator is a homeless person or billionaire.
But the truth is that we cannot help what we don't know (or can't see).
And, what I do know and see is the cruelty and abuse inflicted on dogs and cats by many homeless people. Now, do all homeless people abuse their companion animals?
NO, but many DO – from what I've observed. If you beg to differ, perhaps you haven't spent enough time walking the streets where I've lived. I can only bark about my own first-hand experience and not rely solely on a professor's research. I would think it's safe to say that most homeless people CANNOT adequately provide for their animals' basic needs as they cannot provide for themselves. It's not just about food and shelter but also about veterinary care in times of sickness.
What should you do when you witness abuse of dogs and cats by homeless people?
NEVER GIVE MONEY – GIVE DOG OR CAT FOOD & TREATS INSTEAD
Giving money doesn't always go directly to helping the animal. Most of the time, it's an act to get your attention, sympathy, and ultimately, MONEY. Don't support acts of animal cruelty and exploitation. Money or donations will only generate more of the behavior!
PLEASE don't try to buy the animal – the person will most likely get another one, sometimes through theft. If you want to offer help, please only give dog food, NOT money. You won't know what the homeless person ends up buying with your money or donation, which perpetuates the act of exploiting animals for sympathy.
For instance, I saw a "homeless man" driving around with a new Chrysler with dogs and cats – just right before he set up his deceiving, disturbing acts of animal cruelty on the streets to gain sympathy and money.
Besides giving food directly to the abused animal, you can also donate to Pets of the Homeless, a national nonprofit organization with a mission to feed and provide veterinary care to animals of homeless people.
DON'T REACT
ARF course, you need to hold your composure if you really want to help abused animals. Act as normal as possible! Don't try to take the animal away – it's illegal! Again, homeless people with dogs and cats often want your attention and sympathy as that equates to MONEY. Don't fall for the trap!
DON'T EXPECT SOMEONE ELSE TO HELP
Most people, even animal lovers, will pass by and have their hearts broken for a second and forget about it. Don't expect someone else to step in for the animal – BE THAT PERSON!
HOW TO HELP: CAPTURE THE EVIDENCE
If you suspect the animal is being mistreated, observe carefully and capture videos from a safe distance. If recording footage is not possible, be sure to note all the details – date, time, location.
NOTIFY LOCAL AUTHORITIES
311 is the "non-emergency line" for many cities in the U.S. used to report cases of animal abuse. If the animal is injured or in imminent danger, call 911 immediately! Acting fast can save a life.
RESEARCH THE LAW
Some cities are more progressive in animal rights than others, but researching animal rights laws in the area can help prepare you for half the battle.
CONTACT ANIMAL RIGHTS ORGANIZATIONS
If local authorities fail to respond or act, please reach out to local and national animal rights organizations for help, such as SPCA, Humane Society, Animal Victory, PETA, etc.
SPREAD THE WORD
If nothing gets done, you can try to take matters into your own hands by promoting it on social media and starting a petition on change.org. Applying external pressure is KEY – any agency that receives enough bad publicity will take action! Tag everyone on the post, including all the local authorities, animal rights organizations, and animal-lovin' celebrities (as they have the power to make it viral and make change happen quickly). 
WOOF, what do you think about homeless people with dogs and cats?
Markin' it up,
Roger Wellington a.k.a. The Doob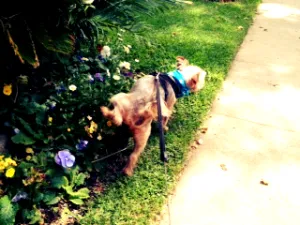 —
Like my post "What I REALLY think about Homeless People with Dogs and Cats"? CLICK TO PIN!