Is your Yorkie acting a little naughty? Want to know to discipline a Yorkie? Let's get our sniff on!
Whether you've welcomed a Yorkie puppy or adult Yorkie into your home, chances are some behavioral PAWblems may arise. From housebreaking challenges to excessive barking, Yorkies are known to be stubborn, and even a little fiesty. As the 7-lb pack leader, I'd be the first to bark with an upright tail that I like to do things MY WAY, and my way only! However, there are some strange, head-tiltin' rules that I'm obligated to follow that my inferior human servants came up with, like I'm not supposed to dart across the street, steal my crab-legged sidekick Penny Gurl's foodies, or bark at the housekeeper. GRR.
Nevertheless, wag those tails because there is hope for stubborn Yorkies like myself and humans to live in peace together! BUT it's not going to happen overnight. To avoid repercussions, disciplining a Yorkie should be done so gently, carefully, and thoughtfully. ARF-ter all, Yorkies are tiny furry sentient beings capable of feeling human emotions.
Seek to Understand before Disciplining a Yorkie
Before thinking about how to discipline a Yorkie, you must understand that there is no right or wrong in a dog's world, and Yorkies are no exception. In the eyes of a Yorkie, peeing on your expensive oriental rug or barking at your selfish, low EQ mother-in-law is not "wrong." The same goes for attempting to bite your finger as you reach for a pat on his head, which is often the reaction of a Yorkie with a history of physical abuse. A Yorkie does what he is conditioned to do UNTIL he learns that the behavior is not desired by humans. If you can understand this simple concept, you're on the right path to disciplining your Yorkie. Hence, you need to focus on reconditioning your Yorkie to do things YOU deem desirable. Again, there is no right or wrong.
Contrary to PAWpular belief, no breed is born aggressive – it's how they were raised and (again) conditioned by humans to behave a certain way. Even if you're bringing home a Yorkie puppy at the 8 week minimum, you still don't know the exact living conditions of your Yorkie, littermates, and mom during such a pivotal period. Unless you're breeding Yorkies yourself (which I do NOT recommend), you won't truly understand what occurred during the most crucial period of your Yorkie's life, which impacts personality and health. It's imPAWtant to note that a fearful mom will give birth to fearful puppies. Additionally, early separation from their mom (e.g. before the 8-week minimum) is often the cause of many behavioral issues.
NEVER Use Physical or Emotional Abuse
WOOF, how does a Yorkie learn that a behavior is not desired by humans? Up until the 1970s, dog training tactics incorrectly zoned in on punishment and negative reinforcement such as yelling, screaming, isolating, and worse, physical abuse. In the last few decades, our society has made progress in dog guardianship and now acknowledges that positive (I mean, PAWsitive) reinforcement is the most humane, effective way to train a dog and correct unwanted behavior. In a PAWfect world, all Yorkies (and dogs) thrive in an environment where only PAWsitive reinforcement is used. BUT, as we all know, this world is far from PAWfect – especially for animals.
Unfortunately, there are still way too many bad dog "owners" or pawrents who utilize negative reinforcement and abuse their dogs. Why? Because that's pawbably what they know and how they grew up. Often, they were victims of an abusive household themselves, and it's their way of feeling control and superiority over an innocent, helpless being. Regardless of your dog's size, exerting any type of physical force or abuse is out of the question! You would think tiny Yorkies, a toy breed, can escape physical abuse. That is wrong. As a matter of bark, because Yorkies are so small and easy to grab (and step on), they become common victims of physical injury and abuse.
First bark first: If you want to discipline a Yorkie, you must leave your violent urges and anger issues behind. If you come from an abusive childhood or household, the first step is to have self-awareness of your past. Second, you must seek help with a therapist before adding an innocent being to your life. Disturbingly, due to the lack of legal protections, dogs do not require official background or health checks for sale or adoption. When they end up in the wrong hands, Yorkies will suffer a life of misery, filled with inhumane disciplinary actions. Despite their small stature, Yorkies (as barked earlier) are sentient beings capable of feeling human emotions. So, the next time you think it's "just" a dog, think again.
As I set my tiny alpha paws in over 25 countries across three continents, I lower my undocked tail whenever I sniff out awful interactions between other Yorkies and their humans. On my routine walks in different parts of the world (from Europe to Latin America to home in the U.S.), I've seen humans slap Yorkies on the nose and cheek for barking and violently yank (and even kicking) them just because they want to go the other direction. I've even witnessed obnoxious toddlers step on a Yorkie's paw intentionally, and the parents stand around and do absolutely nothing as if it's acceptable. Worse, I've seen children hit Yorkies on the head or the cheek.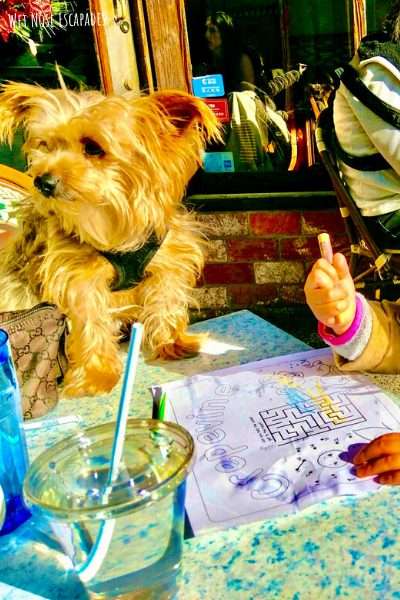 In Dubrovnik (Croatia), I was slapped on the head by a 2-year-old in front of his dad, who claimed that the demon child wanted to say "hi." Can you imagine if it were the other way around? I'd be killed or euthanized in a heartbeat – no questions asked! GRR. Regardless of age, a child or human's act of physical abuse (whether inflicted upon humans or animals) is a learned behavior. It's imPAWtant not to disregard the instances of children inflicting harm on dogs as such acts tend to breed domestic abusers, mass murderers, and serial killers. Don't believe me? AWOOO, believe the FBI who have found animal cruelty to be a precursor to a larger crime.
Use Positive Reinforcement, and Positive Reinforcement ONLY
Instead of figuring out how to discipline your Yorkie, you should redirect your energy to training your Yorkie. When you shift your focus to training, you and your Yorkie have a less frustrating time AND develop a deeper bond. Training allows a Yorkie to learn what YOU want him to do, whereas disciplining focuses more on trying to show him who's boss and what he's not supposed to do, often leaving him confused and scared.
Positive (I mean, PAWsitive) reinforcement is, PAWS DOWN, the most humane and effective way to train a Yorkie. It's simple! All you need to do is offer plenty of rewards, in forms of verbal praise and chops-lickin' treats, whenever your Yorkie does something you want. When he doesn't, you don't give a treat or praise.
TOP DOG TIP: Spend 5-15 minutes training your Yorkie daily. Take your Yorkie to an area where he feels comfortable with few distractions. Don't burn out yourself or your Yorkie with unnecessarily long training sessions. It's best to keep them short, but train every day!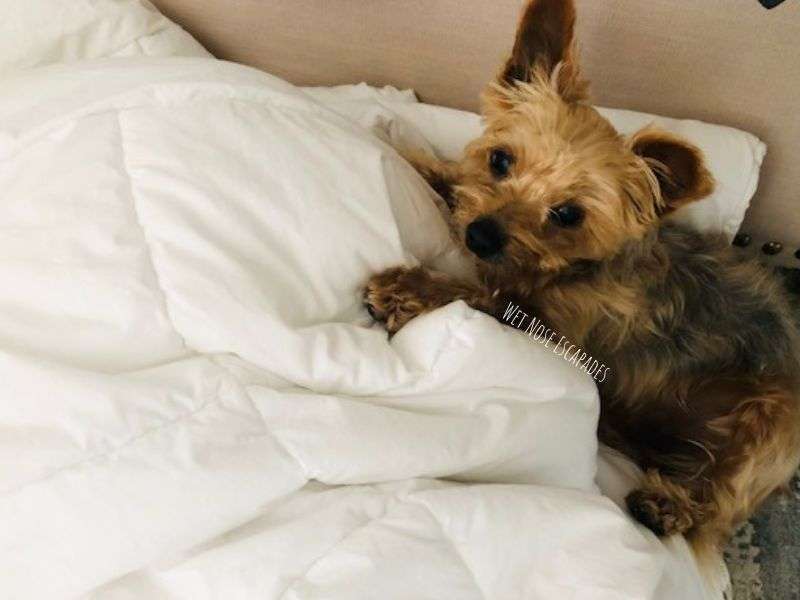 When you praise and reward him for the desired action (or in your eyes, "right"), he learns to associate the specific action with something positive. Hence, the term positive reinforcement. Scolding, screaming at, or hitting your Yorkie makes him confused and TERRIFIED OF YOU.
Again, Yorkies don't understand what they did was "wrong." Although they are capable of feeling sadness and happiness, dogs do NOT feel secondary emotions like guilt or shame. Your Yorkie only sees you acting crazy and starts hiding from you out of fear – not because of what they've done, but because of your REACTION.
In addition to yelling, hitting, and slapping your Yorkie, the techniques listed below are NOT acceptable! Hence, please do NOT resort to them – be the kind, compassionate pawrent your innocent Yorkie deserves.
Shaking your Yorkie's scruff (the loose skin around his neck) = ABUSE with a high risk of inflicting pain and injury
Smacking your Yorkie's nose = ABUSE with a high risk of inflicting pain and injury
Tapping on your Yorkie's nose = May not necessarily be considered abusive, but the nose is a very sensitive area and most dogs do not like it. It may trigger fear and self-defense.
Using a crate as punishment = ABUSE
Doing an alpha roll on your Yorkie = ABUSE with a high risk of inflicting pain and injury
Grabbing your Yorkie's tail = ABUSE with a high risk of inflicting pain and injury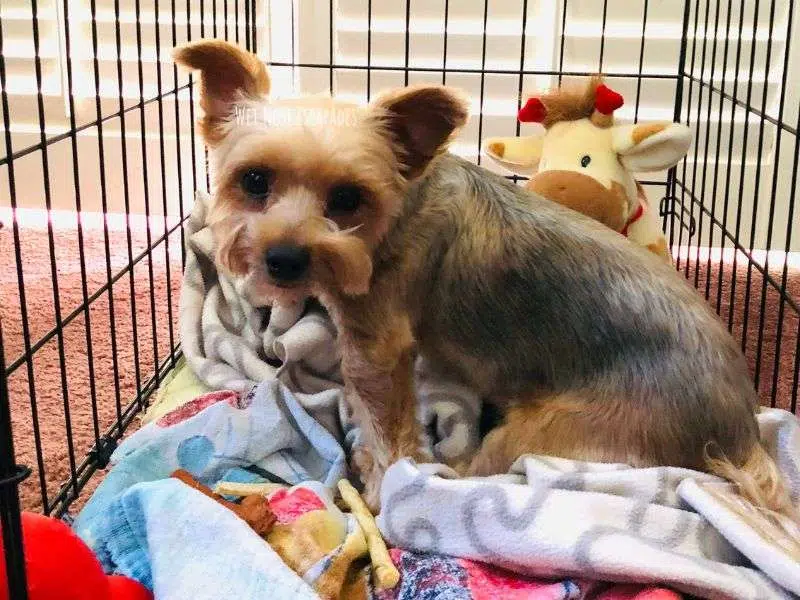 Disturbingly, I've seen such cruel acts performed on Yorkies one too many times. Please don't be that person who abuses their dog – you can do better. ANIMAL ABUSE IS FOR COWARDS! REAL BARKS: True leaders are fair and don't need to use force. If you use force to discipline your Yorkie, YOU are the PAWblem.
Be Consistent with Training
In addition to investing time daily to train your Yorkie, you must keep your verbal commands and rewards system consistent. Don't confuse your Yorkie by using different commands or negative markers each time. Choose one and stick to it! For example, if you want your Yorkie to stop barking, you must always use the same phrase or word to motion him to stop, such as "Stop," "No," or "Uh uh," which is PAWpular with dog trainers. Don't change it by saying something different like, "Hey! What's the matter with you?"
Once your Yorkie stops barking (or starts doing what you want him to do), reward him with verbal praise and/or a treat. If you change the reward system (let's say you give him nothing when he stops barking), your Yorkie will feel confused. At the same time, you should be careful with rewarding him too quickly as he may associate barking with the rewards, which only generates more barking.
As all Yorkies are individuals, it's your resPAWsibility to find the right commands and rewards system that work for your Yorkie. This takes time, so be patient and take accountability for failures. No dog is PAWfect – accept that! Just as a human, you're FAR from perfect yourself.
The same goes for verbal commands or hand signals. For instance, when potty training your Yorkie without a crate, you can repeat the words, "Potty, good!" each time he relieves himself on a walk. Again, whatever phrase or hand signal you choose, just stick to it because consistency is KEY to success. My human will say firmly, "Go pee pee" consistently throughout my walk. As soon as I urinate, she'll praise, "Pee pee – GOOD! Good job!"
Whatever you do, don't punish your Yorkie for peeing indoors! Trust me, your Yorkie will be puzzled and subsequently find other spots to pee in that are more secretive. Sniff out my guide on how to potty train your Yorkie without a crate HERE.
Like verbal commands, you should choose a different hand signal for each command or action. However, you must be suPAW careful with hand signals by using a simple finger, gentle hand wave, or gentle hand gesture. Whatever you choose, please make sure it's not an abusive one or one that suggests violence. For instance, it is NEVER acceptable to motion to hit or slap your dog! In Barcelona, I saw an obnoxious teenager putting up his hand in front of his dog (as if he were going to hit her) just because she didn't want to get off the bench at the park. GRR, utterly sickening! A total power trip from a child who wants to feel control over someone. The poor dog cowered down in fear, which means she has suffered from a history of abuse.
Strive to Redirect Unwanted Behavior
Instead of using punishment or negative reinforcement whenever your Yorkie does something YOU deem wrong or undesirable, redirect him. Start by choosing a non-abusive negative marker, which can be as simple as a firm, confident "No," "Leave it," "Drop it," or again the PAWpular "Uh uh" that dog trainers like to use. Again, no screaming, yelling, scolding, or using any physical force on your Yorkie!
Now, I've heard of Yorkie PAWrents shaking a jar with pennies, dog deterrent sprays, slapping/banging on the table or wall, all of which I find scary and utterly unnecessary. REAL BARKS: There's no need to create shock or fear in your Yorkie. A simple, firm "No" is sufficient as long as you maintain consistency. While you don't want to sound abusive, you also don't want to sound wishy washy. Hence, practice your firm tone of voice.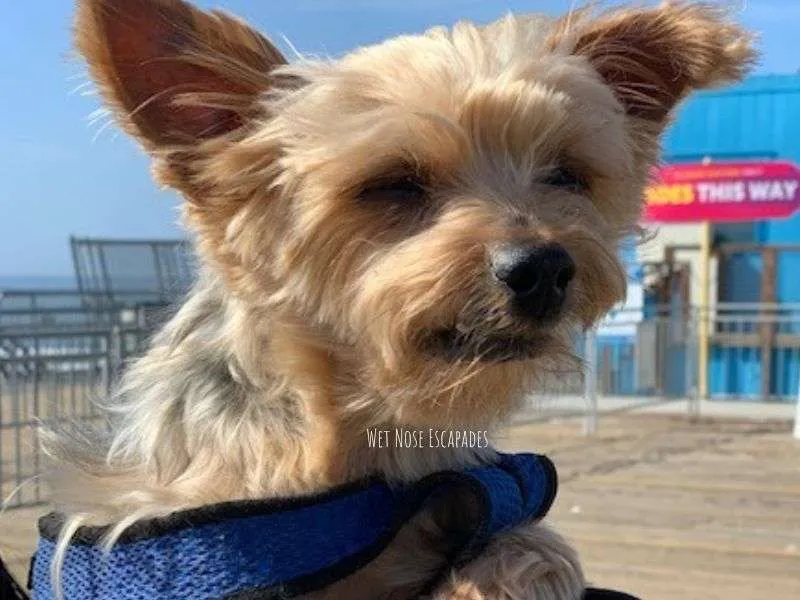 ARF-ter using your non-abusive negative marker, redirect your Yorkie to something else. For instance, if you're trying to stop him from running ecstatically to another dog or barking nonstop at your neighbor's dog, say "NO" firmly, stop and redirect his attention to you. Eliminate as many distractions as PAWsible. Once he stops, reward him with verbal praise (and/or treats) and continue on your merry way.
Figure out the Root of the Problem (I mean, PAWblem)
What if your Yorkie ignores you and continues to do things you don't want him to do? Again, you must find the right rewards system that motivates him. Are you using food that your Yorkie finds irresistible? For example, I'll be the first to turn my nose up at doggie cookies, no matter how luxurious the bakery is. I love meat, veggies, and fruit – but cookies? NO THANKS!
Sniff out the BEST human food for Yorkies.
Sniff out what food Yorkies must avoid.
Additionally, focus on the root of the problem instead of disciplining your Yorkie.
For instance:
Why is your Yorkie being yappy or barking excessively?
Have you exhausted his energy by giving him at least 2-3 walks daily? Are you putting him in a stressful environment, such as locking him up in a cage or forcing him to stay outside the backyard? Is he hungry? Does he need a potty break? Are there strangers in his home? Does he hear scary noises?
Before disciplining, attempt to stop your Yorkie from barking by removing any stressful stimulants.
Sniff out why your Yorkie is barking inside a crate + how to stop it.
Why is your Yorkie peeing inside the house?
Are you investing enough time in potty training? Are you taking him outside at least 2-3X a day to provide opportunities to relieve himself?
Sniff out how to potty train your Yorkie the right way.
Why is your Yorkie trying to bite you?
Yorkies don't bite for no reason, but due to fear, stress, and annoyance. Have you or anyone hit him? If so, he's biting due to fear of getting hurt. If you know that your Yorkie has not suffered from physical abuse, it is likely that he was separated from his mom and littermates way too early. Again, early separation can lead to a host of behavioral issues.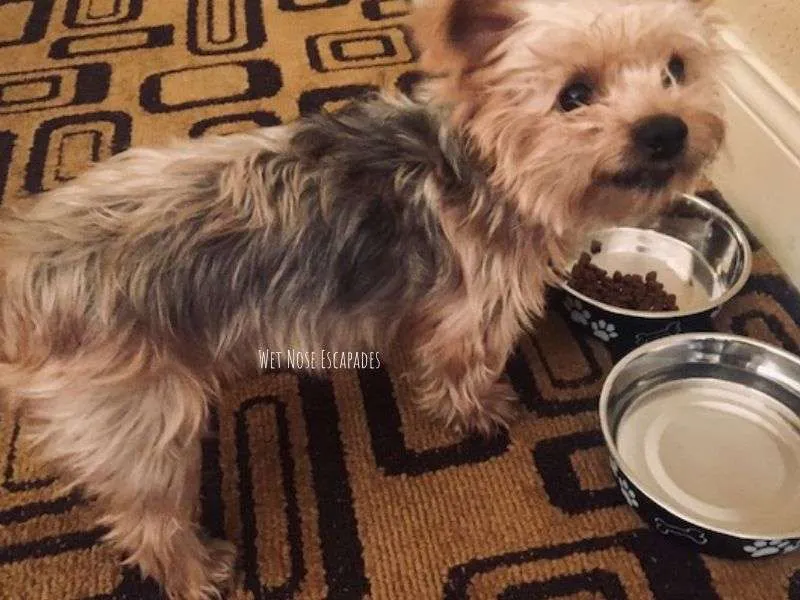 Why is your Yorkie stealing your other dog's food?
Are you giving your Yorkie enough food? Are you feeding your dogs in a space too close together? Provide a safe, comfortable space for mealtime for each animal. Since I love taking down Penny Gurl's bowl, my humans separate us during meals. Plus, I usually jump down when I smell foodies (because I want to be as close to the action as PAWsible), Penny tends to eat on the bed or couch while I eat on the floor.
Why is your Yorkie nipping or growling at your child?
Are you unknowingly or knowingly allowing your child to terrorize your Yorkie, thinking it's "harmless" or even cute? You may think your snot-shooting child chasing after a Yorkie seems harmless, but this is just one of the many awful things a child can do to a dog that often leads to stress, followed by nipping and biting.
Whether your child is teasing your Yorkie by messing with his food OR grabbing your Yorkie's ear or tail, you are the PROBLEM. But the barkworthy, tail-waggin' news is that YOU are also the solution. As the parent and pawrent, you must teach respect and boundaries to your human child and Yorkie. Prevent dog bites by sniffing out why your Yorkie HATES your child and learn how to foster a healthy relationship between your human child and furbaby.
AWOOOO, the answer to "How do you discipline a Yorkie?" ultimately boils down to investing adequate time into understanding your Yorkie AND training him with rewards that he finds enticing. Be patient and empathetic, and you and your Yorkie will prevail!
Sniff out my videos:
WOOF, forget about disciplining a Yorkie! Sniff out how to spoil your Yorkie instead:
Be sure to subscribe to my YouTube Channel for more dog videos!
Markin' it up,
Roger Wellington a.k.a. The Doob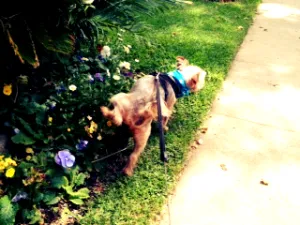 –
Like my post on "How Do You Discipline a Yorkie?" CLICK TO PIN!