WOOF, WOOF! I'm calling all the dogs out there. Do you want to get what YOU want every single time? If so, perk up your ears now and read on to find out how dogs can train humans! Yes, for once – it's DOGS training humans and NOT humans training dogs!
Contrary to popular belief, dogs can make better "trainers" than humans. This special post is written for the dogs out there experiencing a hard time with their "disobedient" humans who aren't giving them the delicious treats, dog-leading walks, relaxing belly rubs, and long playtime, etc. ON-COMMAND. As the #1 Human Trainer, I'm excited to bark out my expert tips and secrets to my furry friends so they can live the same spoiled, pampered, and bossy life that I'm living (that every dog deserves). Find out exactly how dogs can train humans and get what they want every single time!
Watch "How dogs can TRAIN humans" below by pressing PLAY with your furry paw:
ARF, I hope you start implementing my expert human training tips immediately so you can get as many walks as you want, as many treats as you want, as many massages as you want – ANYTHING and EVERYTHING that YOU want! Remember, humans aren't as smart as dogs so please be patient with them *wink wink. 🙂 Feel free to let me know about your human training experience by shooting me a quick comment or email. I'm more than happy to answer any questions on human tips, psychology, and behavior. Humans can be very complicated, but yet "trainable" – just don't give up on them!
Also, sniff out 8 Ways Dogs Keep People Busy INDOORS. And, don't forget to subscribe to my YouTube Channel: Roger Wellington for more human training tips!
Markin' it up,
Roger Wellington a.k.a. The Doob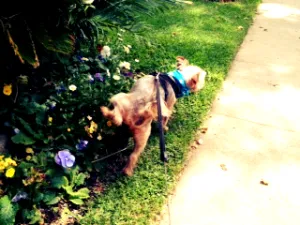 Like (or LOVE) my post on "How dogs can TRAIN humans"? PIN IT!