Wanna find out how long Yorkies can hold their pee? Keep on sniffing!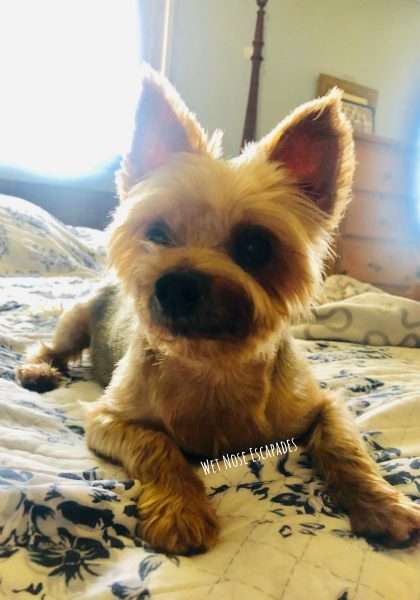 Posted 1/19/21
*Please note that this post contains
affiliate links
, and at no obligation or additional cost to you, my humans and I earn a small commission if you make a purchase. If you love the work that we do, you can show your support by making a purchase through an affiliate link. Proceeds will go towards
feeding homeless dogs (and cats) along with improving the lives of the neglected and abused
.
Just because they can doesn't mean they should
Before I answer your question, let me ask – how long can YOU hold your pee? How long was the longest time you've gone without peeing? 3 hours? 8 hours?
As a child, my human went camping one summer with a youth group in Sequoia-studded Yosemite. Shortly after hydrating and resting from her hike up to the waterfalls, she faced one of her worst nightmares – the PORTA POTTY. After using a malodorous, feces-clogged toilet with a slippery urinated floor for a mere 60 seconds, she scrambled to get out to exhale a big breath of disgust. NEVER AGAIN, she thought! Since that was only the first night of a 2 night/3 day camping trip, she prepared mentally to fight her bladder the rest of the weekend. A long story short, she ended up "holding it" for over 24-hours until she departed the campground the final morning. A whoppin' TWENTY FOUR HOURS! Of course, now a grown woman in her 30s, she would never repeat such stupidity that could have done some damage to her urinary tract. The point of barking out this story is to demonstrate this point: Just because you can hold it for a long time doesn't mean you should. And yet, the same logic applies to dogs. 
As long as you understand firsthand the difference between CAN and SHOULD, we can SAFELY proceed with this post. Just think about all the times when you were "dying" to use the bathroom! Or when you felt like your bladder was about to "burst." Remember when you just had to go and ran to the nearest public restroom only to find five other people standing in line? Or worse, remember the times when you were stunned by the "Out of Order" sign on the bathroom?
Ability vs. Expectation: Just because my human held it for more than 24-hours does NOT mean that she should. Training or expecting a dog to hold it in for a long time is inherently cruel, even if it seems like everyone around you does the same. How long is long? Keep on reading!
Can Dogs Feel "Human" Emotions?
How long can Yorkie puppies hold their pee? 
This is roughly the timeline for Yorkie puppies to hold their pee:
8-10 weeks (2-2 ½ months): Under 1 hour. Expect puppies to go whenever and wherever as they are unable to control their bladders. Puppies at this age can only hold it for 1 hour or less, if at all. Please note that you should NOT have a puppy under 8-weeks as puppies should not separate from their mothers before then. Early separation may lead to health issues and behavioral problems. 
10-12 weeks (2 ½-3 months): 1-2 hours. As puppies are introduced to potty training, they can probably hold it for 1-2 hours. However, do NOT expect them to hold it in for more than 2 hours. 
3-4 months: 3-4 hours, respectively. If you've dedicated the time, effort, and patience into potty training your Yorkie, you can expect them to hold it for up to 3 hours at 3 months and up to 4 hours at 4 months. 
5-6 months: 5-6 hours, respectively. At 5-6 months, Yorkie puppies should be getting a hang of things and can most likely hold it up to 5 hours at 5 months and up to 6 hours at 6 months.
After 6 months: 6 hours. After months of consistent proper potty training, Yorkie puppies at this age should be more or less housebroken and can hold it for a good 6 hours.
After 10-12 months: 8 hours. Yorkie will be reaching adulthood around 10-12 months, which means that they should be able to hold it up to 8 hours with, again, consistent proper potty training. 
*Please note that these are solely guidelines as every Yorkie (like every dog) is different. Your time and dedication also play a vital role in your Yorkie's potty training success. 
Expect Accidents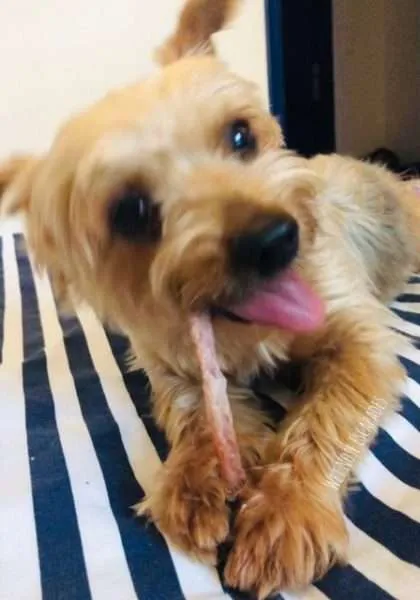 Regardless of what stage of potty training your Yorkie is going through, you should still expect accidents to happen occasionally – it's perfectly normal. Whether you are potty training a 6-month-old puppy or a 10-year-old rescue senior Yorkie, accidents are part of the process! Be patient, empathetic, and always use positive reinforcement. Never hit, yell, or abuse your Yorkie for peeing inside. Such abusive tactics are ineffective, outdated, and frankly, barbaric as they only induce fear and confusion instead of correcting the behavior.
Why healthy adult Yorkies should NOT hold their pee for more than 8 hours:
It's DANGEROUS to their Health
While young Yorkie puppies must be taken out once every 1-2 hours during the potty training process, Yorkie adults who are fully potty-trained should be able to hold it for 8 hours. Although healthy adult Yorkies can probably hold it in for longer (10-12 hours), they should NOT be expected to do so. As it IS cruel to expect any dog to hold it for more than 8 hours, you should almost expect accidents after 8 hours. You should also consider the amount of water consumption – obviously, the more water consumed, the less likely they can hold it for a "long" time. It's common sense! With that barked, clean water should be available to your Yorkie at all times. Forcing Yorkies to hold their pee longer than 8 hours can cause urinary tract infections, urinary stones, and behavioral issues. In the long run, Yorkies who hold their pee for long periods regularly may develop incontinence and even urinary cancer. 
Even though I've been on countless 10+ hour international flights, I am never expected to hold it for that long. My human leaves a pee pad inside the carrier in case of accidents and comes prepared with dog wipes, poop bags, and human hand wipes for easy cleaning. 
It's INHUMANE
The right to relieve oneself is a natural right of life. If you can run to the toilet whenever YOU want, then why shouldn't your dog have the same right? If you are expecting your Yorkie to hold it indefinitely until it's convenient for YOU to take him or her outside for a potty break, then you are ultimately denying a natural right. Instead of training your Yorkie when to pee, you should be more focused on training where to pee.
Should you crate train your Yorkie?
Crate training is founded on the concept that dogs do NOT like to spoil where they sleep. That's why crates must be small enough in size. Once locked inside a crate, Yorkies will hold their pee until you finally let them out or until it is physiologically impossible. Hence, crate training your Yorkie is to essentially force them to hold it until it's convenient for YOU to take them out for a potty break. 
Can You Crate Train Your Older Dog? FIND OUT HERE!
While crate training is recommended by most dog trainers in the U.S., crating your dog is ILLEGAL in countries like Sweden and Finland, where anti-animal cruelty laws are much more progressive. Think about it – would you like it if you were locked up in a cage for hours every day, waiting for someone to let you out to pee? My guess is No. Find out 10 reasons why you should NOT crate your dog. 
Potty Training Solutions
Instead of expecting your Yorkie to hold it for longer than 8 hours while you're away, you should provide areas or opportunities for relief. Keep in mind that ALL dogs (big or small) should go out for exercise at least 2x a day, ideally 3 walks IN ADDITION to several opportunities to relieve themselves in the backyard (if you have one) or on a pee pad/artificial lawn indoors. With indoor relief areas or backyard access (through a doggy door), your Yorkie can then pee or poop whenever nature calls – just like YOU do. Learn how to potty train your Yorkie WITHOUT a crate.
How often should you walk your Yorkie?
Most people think that Yorkies are such small dogs so they don't need much exercise, which is false. Although Yorkies don't need long walks or hikes like my Weimaraner cousin, they should still be taken out at least 2, preferably 3x a day for exercise, socialization, and mental stimulation. Depending on your Yorkie's age and health, each walk should be at least 20 to 30 minutes. Bear in mind that your Yorkie may not poop right off the bat when taken outside as physical movement is needed to facilitate defecation. It's not just about potty breaks or exercise, but it's also about giving your Yorkie opportunities to meet other dogs and sniff out what's going on in the world. A nice walk around the neighborhood is how dogs (small or big) catch up on "the news" and learn about their surroundings. Please don't deny your Yorkie of such benefits!
Why does your Yorkie need potty breaks in addition to walks?
While it's perfectly OK to combine potty breaks with walks, it's crucial to provide relief areas or opportunities – just in case your Yorkie cannot hold it in time for the next walk. In a perfect world, your adult Yorkie should be taken out for a walk at least once every 8 hours. However, with workday commute, bedtime routine, and attempted 8-hours of sleep along with whatever little things that get in the way of life, most people cannot walk their dogs at least once every 8 hours. Even if you can do so with the help of a dog walker or partner, it's still essential to offer potty breaks in case your Yorkie cannot hold it in time. Again, there's ability vs. expectation. If you have a back or front yard, you can easily offer your Yorkie a 5-minute potty break in between walks. If you live in an apartment or leave your Yorkie home alone without doggy door access, then you should train your Yorkie to use a pee pad or artificial lawn. That way, your Yorkie has the freedom to eliminate whenever nature calls. Also, if you don't trust your Yorkie to have the run of the house, then the best solution is to create a safe dog-proof room. 
Common Response:
"BUT my Yorkie holds it for more than 10 hours all the time – it's not a problem."
Perhaps you've been crate training your Yorkie to hold it in for more than 10 hours every day and you know plenty of dog pawrents who do as well. Your Yorkie seems healthy and happy with no issues whatsoever. Does that mean it's OK to continue? Do you really think your Yorkie loves the crate?
Again, just because they CAN doesn't mean they SHOULD. Also, just because they seem perfectly healthy now doesn't necessarily mean that such practice won't lead to detrimental health problems in the long run. As barked out earlier, dogs who hold it in for long periods regularly are likely to develop incontinent and urinary cancer. 
Besides potential health risks, think about what kind of life you're giving your Yorkie. All dogs should not be spending the majority of their lives in a cage PERIOD. As a Yorkie who was crated for more than 16-18 hours daily before adoption, I will be the first to bark out that crating your dog only makes things convenient for YOU, not for your dog.  
Common Question:
"What if I can't take my Yorkie out every 8 hours and don't trust him to not make a mess inside the house?"
No problem! Train your Yorkie to use a pee pad or artificial lawn inside a dog-proof room or area, which will provide him or her with plenty of freedom while you're away. Additionally, you can seek help from a dog walker or family member to take your Yorkie out when you can't do so yourself. 
If you feel like you just don't have time to invest in potty training your Yorkie, then you must learn to manage your time. Nevertheless, the truth is it's never about having enough time, but it's about what you choose to make a priority. Remember, you've chosen to have a dog who is now entirely dependent on you. Thus, please find it in your heart to do the right thing! I can only bet that your utmost love, care, and patience to your beloved Yorkie will only return tenfold. 
Change your focus to WHERE:
In short, don't ask how long Yorkies can hold their pee! Instead of training your Yorkie to hold it for as long as possible, please train him or her to eliminate on designated potty areas. However, don't forget those essential daily walks. 🙂 
Subscribe to my YouTube Channel: Wet Nose Escapades by Roger Wellington for fun Yorkie videos!
Markin' it up,
Roger Wellington a.k.a. The Doob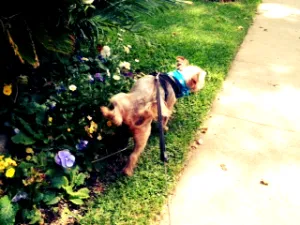 —
Click to pin my post on "How Long Can Yorkies Hold Their Pee?"