ARF, how stressful is flying for dogs? As the world traveling Yorkie, I get this question quite often (if only I get a treat each time!). And, I've got the answer. Just be ready to hand over a tasty treat. Keep on sniffing!
Posted 12/8/21, Last Updated 7/4/23
*Please note that this post contains affiliate links, and at no obligation or additional cost to you, my humans and I earn a small commission if you make a purchase. If you love the work that we do, you can show your support by making a purchase through an affiliate link. Proceeds will go towards feeding homeless dogs (and cats) along with improving the lives of the neglected and abused.
Thanks to the pandemic, it seems as though everyone has a dog these days. ARF-my-DOG! Although the shelters are also filling up as normality returns, the good humans who fell in love with their dogs during the pandemic are determined to travel with their pooches post-pandemic. And yet, dog travel is way more of a "trend" than in 2016 when my furry butt first flew to Paris from Los Angeles. But the BIG question lies how stressful is flying for dogs? From the hassle of getting to the airport to shuffling through security screening to deboarding a congested plane, it's no contest that the entire air travel process can be, PAWS DOWN, stressful for dogs.
Now, while humans conscientiously choose to hop on a flight (whether it'd be a quick hour-long domestic flight or a 10+ hour long-haul overseas flight), dogs do not knowingly get to choose! Even though a nomadic Yorkie like myself may have transformed into a seasoned vet when it comes to world travel, my humans still take their time to decide whether to take me along or leave me at home with family. After over five years of traveling and 50 flights later, here's what I can bark out about the stress of flying for dogs:
"There is some degree of stress whenever your dog gets on a flight."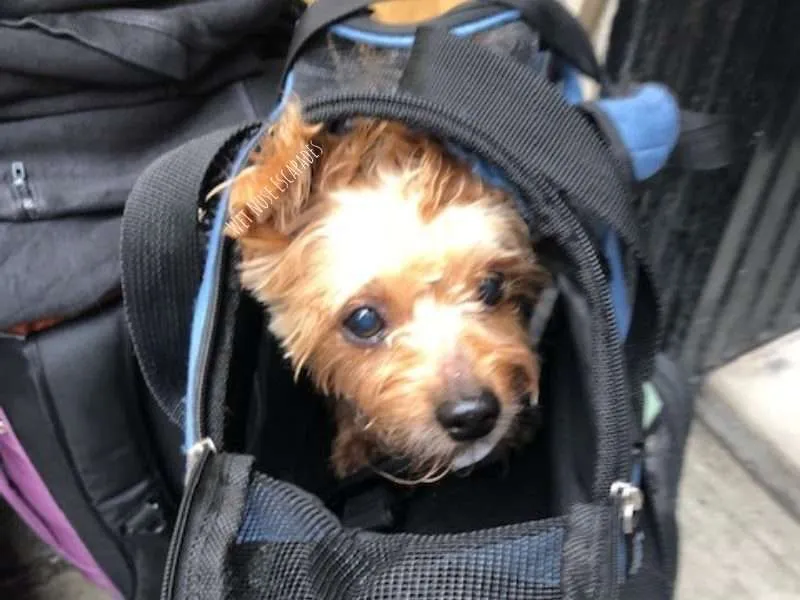 So the answer is YES, arf-course – there is certainly some degree of stress whenever your dog gets on a flight. Again, it's not just about the flight itself, but the entire airport experience – from checking in at the counter to waiting to board to deboarding the plane. And, if you are flying your dog via cargo, then the stress level inevitably skyrockets 10X versus flying your dog in-cabin.
ARF, just imagine getting loaded and unloaded into the cargo hold when you're stuck all alone inside a kennel a.k.a. cage. It sounds so scary that my tail is in between my legs just thinking about it! GRRR. Cargo transport is not only stressful for your dog, but the circumstances can also be dangerous with unpredictable outcomes. For such reasons, I do not recommend cargo transport for your dog unless the flight is for a permanent or long-term move. 
Now, if you are wealthy enough to own or charter a private plane, then you can luckily cut out some of the steps to decrease your dog's stress level. However, even on a private plane, there may still be some signs of stress when your dog flies for the first few times. Essentially, whenever your dog feels unfamiliar and uncertain about a new or different environment, he or she will exhibit signs of distress. However, going through the airport is probably not drastically different than taking your dog to a shopping mall for the first time.
"Some dogs will travel better than others."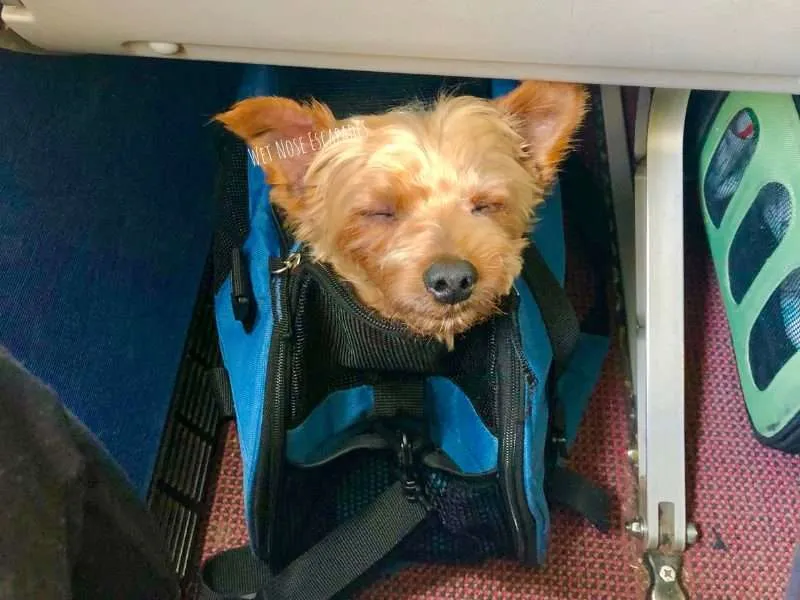 BUT here's the catch…
Although flying can be stressful for dogs, it's NOT necessarily immensely stressful for every single dog, especially when it comes to in-cabin air travel. WOOF, what do I mean by such barks? It's simple – it just depends on the dog. Like humans, some dogs will travel better than others. It depends on their anxiety level and general health condition, first and foremost. Then, you gotta factor in their reaction to motion and noises, comfort level inside a carrier, behavior in public settings around strangers, and quickness to adapt to changing environments – just to bark a few more factors. ARF-course, there are many things that you can do to prepare your dog for flying, but ultimately, some dogs will simply fare better than others based on their history, personality, and temperament.
Take me, for instance – as a rescue dog with separation anxiety, most would assume that I would freak out on a flight. HAH WRONG! That cannot be further from the truth. Believe my alpha barks or not, but I was a born furry traveler (otherwise, I would not have joined my humans' nomadic escapades)! Even though I perked up my ears with confusion during takeoff and landing, I slept through most of my first flight, which was just a quick one-hour flight from Los Angeles to San Francisco. Nonetheless, the more flights I took, the more familiar I was with the airport environment and takeoff and landing, arguably the scariest parts. All in all, familiarity breeds comfort. 
"Carrier training can help decrease your dog's stress level."
Carrier training is PAWS DOWN the single most important step to decreasing your dog's stress level on an airplane. Start at least two months before your dog's very first flight. From the moment you bring home the airline-approved carrier, place your dog's toys and treats inside. Hiding treats inside the carrier at the beginning of each training session will entice them to go in to sniff around. Allow your dog to sniff around freely for treats during the first few days of training.
Gradually, zip up the carrier and increase the time inside 3-5 minutes daily. Work up to 60-90 mins OR until they seem comfortable inside. Always stay right next to the carrier so your dog knows you're just right there. After consistent sessions of uncovering goodies, your dog will eventually affiliate the carrier as a happy, safe place. The more relaxed your dog is inside the carrier, the better he or she will fare on the flight.
Sniff out how to choose the right carrier here.
My fabulous green carrier has been in more countries than most humans on Earth! Get yours HERE!
And, the good news is that the more your dog is used to flying, the easier it gets. Once your dog survives his or her very first airport experience and flight, the nerves should start to calm down a bit.
BUT what if your dog is blatantly freaking out on the very first flight? Tail between the legs, shaking uncontrollably, and licking chops/lips? 🙁 Why would you want to repeat such horror? In that case, you shouldn't! That's where prepping and planning come into full effect. BEFORE your dog's very first flight, you gotta do some work and training.
Your dog's success in flying is directly dependent on your time investment and patience. AWOOOO, it's imperative to recognize that your dog's first flight should NEVER ever be a long-haul flight (sorry, I know all you fellow Americans who are dying to take their dogs to Paris). Road trips and train rides can be a good starting point to observe your dog's response to motion and shorter travel days. Ease your dog's way in!
ARF yeah, regardless of your dog's age and health condition, you should always consult with a veterinarian to address any concerns before flying your dog. If your dog is flying internationally, vet health clearance is typically mandatory. Sniff out my step-by-step guide HERE for more expert tips and tricks.
Can your dog's ears pop on the plane? Are dogs affected by high altitude?
The answer is YES, your dog's ears can pop at high altitudes like in the case of humans. And yet, this could mean a slight discomfort to real pain for your dog (to be clear, I have yet to exhibit any related signs after 50 flights in over five years, but again, every dog is different). Chewing toys may help relieve the discomfort in their ears. And, arf course, giving your dog a gentle ear rub always feels good – I know I love it! Due to the lack of oxygen, dogs CAN get sick from high altitudes; luckily, it's not as common as it is for humans. Regardless, you must keep an eye on your dog at all times and monitor any behavioral changes.
"Learn to read your dog's emotions by observing his or her body language."
Since dogs cannot verbalize the human language, we may never truly know how they feel about flying. Fortunately, dogs can communicate with humans on how they're feeling through body language. If you don't already know, you can learn to read your dog's emotions through observing body language. Keep on sniffing below:
*Note – below lists are not all inclusive
Happy dog
Relaxed body
Relaxed eyelids and gaze
Relaxed mouth (loosely closed or slightly open)
Upright tail (exemplifies confidence)
Wagging tail (bear in mind that it doesn't always mean that they're happy – it just means they're excited)
Sleeping on back with paws up (worry-free as this is their most vulnerable position)
Fearful dog
Flattened ears
Stiff tail (between hind legs) or lowered tail
Crouching down (in fear)
Licking lips (with no food around)
Stressed or tense dog
Pacing around
Shaking (when it's not cold)
Whining
Barking
Yawning
Drooling
Licking lips (with no food around)
Sad or depressed dog
Sleeping more than usual
Sad eyes
Loss of interest in food and in general
Paw licking
Withdrawal or in hiding
Dropping ears (farther back)
Mad or upset dog
Flattened ears
Turns back on you
Walks away from you
Yawning
Licking lips (with no food around)
Growling
Showing teeth
No eye contact
Stiff body
WOOF, and it's not just about monitoring your dog's behavior during the flight, but it's also about closely watching them AFTER the flight. Dogs certainly DO need time to recover from a travel day, just like humans (if not, even more time than humans as they are smaller in weight and size). From extra rest to potty breaks to playtime outside, dogs will need at least a day or two to recover from the flight. Imagine how you'd feel after being confined inside a tiny airplane for hours on end – you'd go nuts just for some fresh air!
"NEVER allow your dog to struggle physically on the flight."
And, please remember that no flight is ever worth your precious dog's life! If you see your dog panting or struggling inside the carrier, take him or her out immediately – even if this means going against the airline rules. When I flew to Geneva from Madrid a few years ago, I started panting inside my carrier shortly after takeoff. The plane became stuffy quickly due to the lack of air conditioning. My humans immediately unzipped the carrier so I could have more ventilation, but the flight attendant subsequently demanded them to zip it up.
Seeing that I was still panting, my humans refused to jeopardize my life. My humans pleaded that I would be in a life-threatening situation if I were forced back into the carrier due to the lack of ventilation. After FOUR TIMES of going back and forth, the flight attendants finally left us alone. Always check on your dog throughout the flight (nap with an open eye). Never put him or her at risk. If it means technically or temporarily breaking the airline rules, so be it. 
Acting fast can save a life. Most flight attendants are pretty lenient about having dogs out of the carrier for a few minutes while others are stricter and by-the-book. Regardless, your dog's health and safety always come first.
"The stress level can be low or manageable."
In closing, yes – flying CAN be stressful for dogs! However, the stress level can be low or manageable if your dog is relatively healthy, a natural-born traveler like myself, AND/OR you've prepared everything to ease your dog into the air travel process. Although I'm unable to express myself verbally to my humans, it seems as though I fare very well on flights (except for that horrible flight to Geneva. GRRR.).
My body usually appears relaxed, and most importantly, I can sleep through the majority of the flight inside the carrier – sometimes even on my back with my paws in the air (until I hear or smell food)! Well, except during takeoff and landing, and that's when my human gently makes contact with me through the carrier to let me know everything will be OK. And, since I've been on 50 flights in over five years, I know the drill at the airport. Again, familiarity breeds comfort! 
To answer the question "How stressful is flying for dogs?" is the equivalent of "How stressful is flying for humans?" Ultimately, everyone reacts and responds differently. With that barked, you know your dog BEST. If your dog is always anxious, air travel may not be the most suitable option. BUT the good news is that you can do A LOT to prepare him or her for air travel. If you think flying is too much for your dog to handle a flight, then please DON'T DO IT! Nevertheless, even though I teach dog pawrents how to fly with their dogs, I don't always recommend it. Just because YOU like to travel doesn't necessarily mean that your furry family member does as well. Be a responsible pawrent and make the decision carefully!
Get your furry paws on more information on how to fly with your dog HERE!
Markin' it up,
Roger Wellington a.k.a. The Doob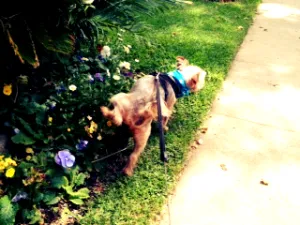 —
Like my post on "How Stressful is Flying for Dogs?" CLICK TO PIN!