WOOOF, at some point in your Yorkie's life, your Yorkie will need to take pills or meds of some form, whether it's for an acute illness or long-term health condition. OR perhaps it's just routine flea/tick meds for a pawfectly healthy Yorkie. As a senior Yorkie who is supaw stubborn when it comes to swallowing those yucky pills, I've got you covered with all the best tips and tricks to get your Yorkie to take his meds.
Posted 9/24/22
*Please note that this post contains affiliate links, and at no obligation or additional cost to you, my humans and I earn a small commission if you make a purchase. If you love the work that we do, you can show your support by making a purchase through an affiliate link. Proceeds will go towards feeding homeless dogs (and cats) along with improving the lives of the neglected and abused.
From collapsed trachea to gastrointestinal issues, there are, unfortunately, a host of health issues commonly found in the Yorkshire Terrier breed as they age. The tail wagging news is that many of the ailments that Yorkies are prone to can be managed successfully with proper veterinary care, diet, and lifestyle, and are not necessarily life-threatening. A key factor in helping your Yorkie is to ensure he takes his meds as directed by his veterinarian. From pills to liquids, meds are rarely fun for a Yorkie to devour as is, without a bit of masking or coating. It's impawtant to keep in mind that Yorkies, like any other dog, are equipped with some robust wet noses, which means they can often sniff out a nasty-tasting pill even if well-hidden.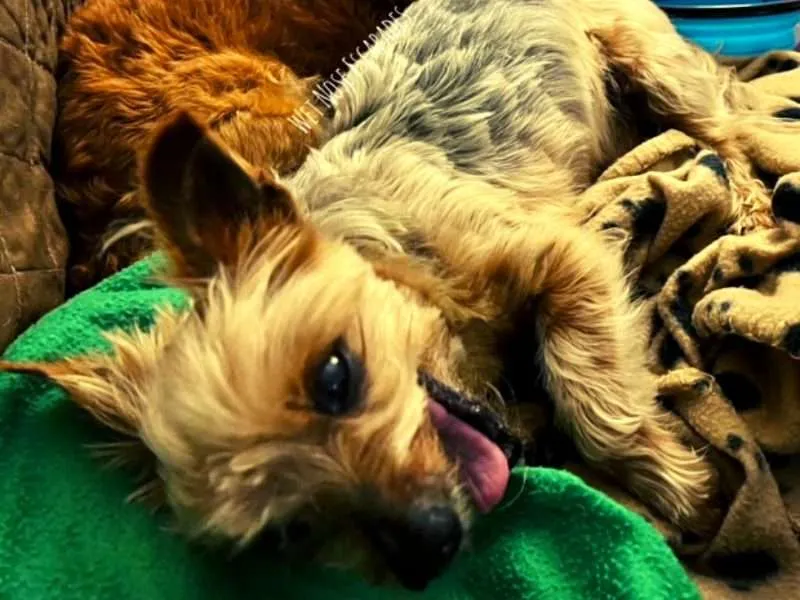 Some veterinarians may ask if you prefer liquid or pill form, depending on the type of medication. While you may think it's easier to mix liquid meds into wet food, your Yorkie can pawbably sniff it out from a distance and may not want to touch the bowl at all. Much to my humans' dismay, I've done it many times! And, forcing a syringe with nasty-tasting liquid into your Yorkie's mouth is a stressful experience – for yourself and your Yorkie.
Here's my real BARK – unless you know for a fact that it's easier for your Yorkie to take in liquid, it's best to start with a pill. The reason is that there are, PAWS DOWN, more ways you can "trick" your ultra-smart Yorkie into taking that pill – well, relatively barking. Not to bark, a pill is much more salvageable should your first few methods fail.
Please note that my humans and I are NOT veterinarians! We are simply barking out our personal experiences to help other Yorkies and their pawrents. When in doubt, be sure to consult a veterinarian.
How to Get a Yorkie to Take Liquid Meds
#1 Mix the liquid in irresistible wet food or a home-cooked meal like chicken with rice. Make sure you put at least 5X more food than the amount of the liquid. If you got a picky eater, sprinkle some delicious toppers like chicken strips, cheese (if your Yorkie isn't lactose intolerant), or your Yorkie's favorite treats. The only pawblem with this method is that if your Yorkie refuses to touch the bowl, then there is no way to salvage the medicine. It's going to waste! ARF-ter all, you cannot force that bowl of food down his throat.
#2 Squirt the liquid onto a small juicy slice of meat or something indisputably delicious. Make sure it's entirely absorbed, and then wrap it around with more meat until it's fully masked. Since this works best when you hand feed, keep the portion small enough for your Yorkie to swallow as a treat. If the treat is too big, then your Yorkie will tear it apart, exposing the undesirable taste of the liquid.
When using food to give meds to your Yorkie, it's best to do it when your Yorkie hasn't eaten in the last few hours. Arf course, it's a no-brainer that tricking your Yorkie with food works best when he is on an empty stomach.
#3 LAST RESORT – Squirt the liquid into your Yorkie's mouth with a syringe. A BARK OF CAUTION: I'm not a fan of this practice as it thoroughly stresses me out, so I would only recommend trying this as a last resort. This method does require holding your Yorkie down, which means a less pawsitive experience for him, especially if he's already not feeling well. Meds are no fun period, and it's your job to make it as painless as pawssible for your dog. Hence, the use of syringes is my last resort.
How to Get a Yorkie to Take Pills
Unlike liquid meds, pills are much easier to hide, and again, more salvageable. If your Yorkie still has a good appetite, hiding pills can be very effective. If you are trying to give more than one pill to your Yorkie, please be sure to do them separately. If you're giving everything to him all at once and your Yorkie ends up spitting out one of the pills, it could be a massive headache trying to figure out which one he still needs to take. Bear in mind that you should not be doing any med preparation in front of your Yorkie!
Here are the methods that have worked for me, the stubborn Yorkie med taker who is notorious for spitting out pills and eating around them:
#1 WRAP IT UP: Wrap the pill with a slice of meat, cooked skin, or cheese. Roll it up, and then double roll to hide the scent.
*If your Yorkie must be on a low-fat diet (e.g. for acute and chronic pancreatitis), please speak to the veterinarian for food alternatives.
#2 BALL IT UP: Ball up the pill with meat, cheese, cream cheese, or soft treats. Make a ball out of something utterly delicious that your Yorkie loves, carefully insert the pill inside, and close off any openings.
*If your Yorkie must be on a low-fat diet (e.g. for acute and chronic pancreatitis), please speak to the veterinarian for food alternatives.
#3 STUFF IT UP: Cut up a hot dog or sausage into ½" chunks and stuff the pill inside a single chunk. Hide it well, and make sure the pill doesn't reveal itself on any side.
*If your Yorkie must be on a low-fat diet (e.g. for acute and chronic pancreatitis patients), you can try soaking his daily kibble until it becomes soft and large enough to stuff a pill inside.
#4 HIDE IT: Hide the pill in wet food. Unfortunately, if the pill disintegrates into the wet food and your Yorkie refuses to touch or finish it, it quickly becomes non-salvageable. It's best not to stir or mix the pill into wet food, but instead, try to hide it inside a piece of meat (or even between two slices of meat) in the bowl of wet food.
JUST A BARK OF CAUTION: Remember that foods like cheese, hot dogs, and sausages should NEVER be part of your Yorkie's regular diet, and should only be used sparingly for the purpose of getting him to take his meds. Check the ingredients to ensure that these foods do not contain dog-toxic ingredients.
I'm more of a meat guy and not a fan of peanut butter and yogurt, but some dogs will jump for joy for such goodies. Hence, what you want to use to hide the pill ultimately depends on what your Yorkie likes. You know your Yorkie best.
If your Yorkie is recovering from pancreatitis, please do NOT use fatty foods to give him meds. For pancreatitis patients, your Yorkie must be on a strict low-fat diet as prescribed by the veterinarian, usually Hills I/D Low Fat. Consult the veterinarian for acceptable foods to give a Yorkie recovering from pancreatitis.
If you give peanut butter to your Yorkie, make sure it doesn't contain the artificial sweetener XYLITOL, which is toxic to dogs.
#5 KEEP IT GOING: Hide the pill inside a soft treat, but don't give it to your Yorkie until the 4th or 5th treat. This "tricks" your Yorkie into thinking that all treats are the same. Start by giving him one treat at a time, then give him the 4th or 5th treat with the hidden pill, and close it off with one more treat as a reward afterwards.
#6 MARINATE THE PILL: Using the stew or gravy from wet food, marinate or lubricate the pill to make it simply irresistible for your Yorkie to devour. I'm a sucker for my poultry-favored enzymatic toothpaste, in which a little bit works supaw well to coat the pill.
#7 USE Pill Pockets®: WOOF, these greenies are designed for dogs to take their pills! Hide the pill inside a pill pocket and feed it to your Yorkie as a treat. YUM!
#8 LAST RESORT: Gently open your Yorkie's mouth by holding his upper jaw, place the pill inside (as far down near his throat as pawssible without hurting your Yorkie), and close his mouth with your hands until he swallows it. Exercise extreme caution when trying this method. Be wary of choking hazards and potential biting (if you hurt your Yorkie by accident :()! I would only suggest this as a last resort (let's say that your Yorkie is refusing to eat anything, or you've exhausted the previous methods) because it is the least pawsitive experience for your Yorkie, in my opinion.
Other Tips to Get Your Yorkie to Take Pills & Liquid Meds
*To make it a pawsitive experience for your Yorkie, always give him a tasty treat BEFORE and AFTER the pill intake.
*Be sure to wash your hands before and arf-ter handling meds. One – for safety reasons, and two – so your Yorkie cannot smell the medicine on your hands, which would deter him from consuming or trusting the food in front of him.
*If your Yorkie is still having trouble taking his meds, talk to the veterinarian or pharmacist for options to get the meds compounded and flavored to his liking.
*Unless your Yorkie is used to getting treats just because (like I do), it's best to have him do a few tricks before giving him treats with meds. Otherwise, he may be suspicious! Remember, Yorkies are supaw smart beings!
ARRRRF, hope my tips and tricks can get your Yorkie to take pills and meds! Let me know how these tips work out for you. BARK AT ME!
Remember to subscribe to my YouTube Channel: Wet Nose Escapades by Roger Wellington for fun dog videos!
Markin' it up,
Roger Wellington a.k.a. The Doob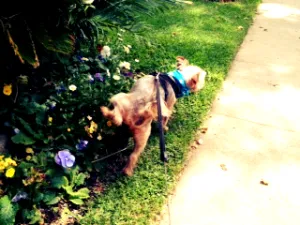 –
Like my post on "How to Get a Yorkie to Take Pills (& Meds)"? CLICK TO PIN!