ARF, wanna know how to incorporate dogs into a wedding? Keep on sniffing!
Last Updated 4/1/23
Whether or not you decide to include your dog in your wedding, there are many fun, unique ways to incorporate dogs into a wedding (without their actual presence). WOOF, a dog-themed wedding is totally doable, even if your dog can't make the wedding. With a little creativity and planning, the presence of your precious dog can be felt throughout the wedding process without them attending the ceremony or reception. OR you can do both like my humans – include your dogs in the wedding ceremony AND have a dog-themed cocktail hour and reception.
Sniff out some dog-themed wedding touches here:
Click HERE if you're looking for ideas on how to INCLUDE your dog in a wedding.
And, if you are still undecided on whether or not to include your dog on the BIG DAY, ask yourself these crucial questions before making a decision.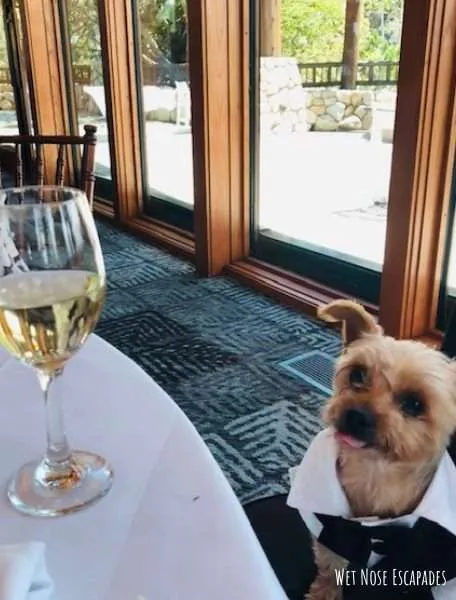 Sniff out 12+1 Ways to Incorporate Dogs into a Wedding NOW:
#1 Take "getting ready" photos with your dog at the dog-friendly BRIDAL SUITE or room
Even if your dog isn't participating in the actual wedding, he or she can still partake in the photoshoot at the bridal suite. Dog-friendly accommodations are a MUST. A doggie photoshoot not only makes for captivating "getting ready" pictures of the bride (or groom) but also makes for a much more memorable day, even if your dog isn't part of the actual wedding.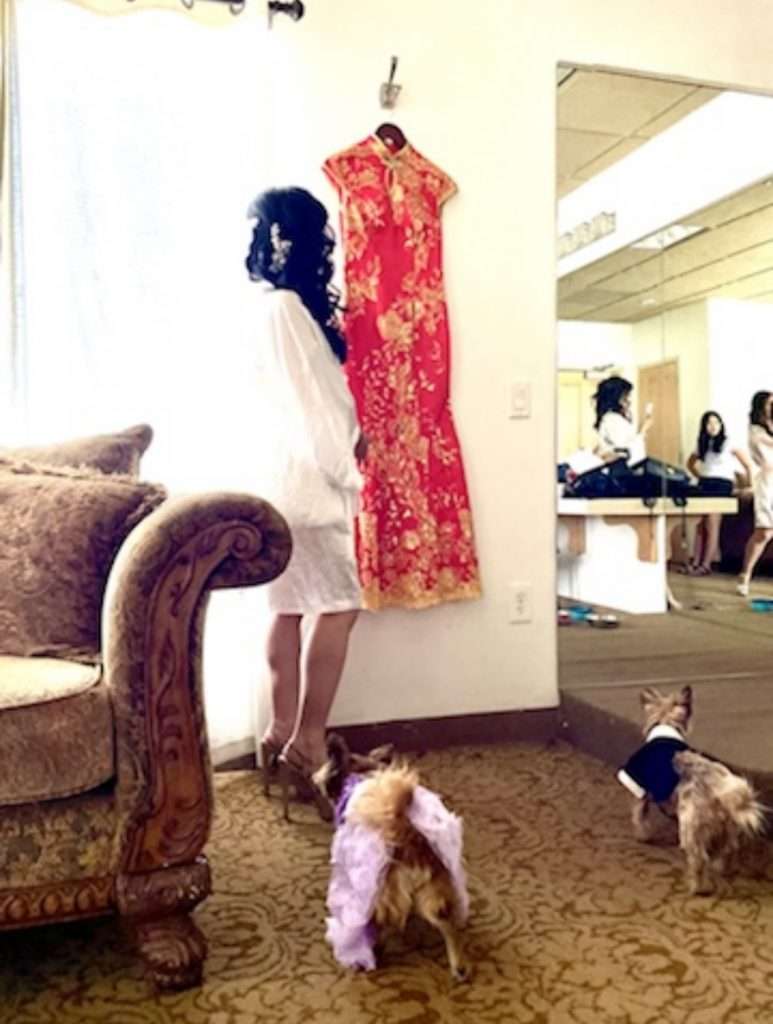 Please don't force your dog to pose like a model and stare at the camera for long periods. Since photoshoots can be strenuous for dogs, the candids of your dog will make the cutest natural wedding pictures. Allow his or her unique character and quirks to show up!
#2 Take photos with your dog AFTER the wedding (and make THANK YOU cards)
WHY NOT? It gives you an excuse to wear that expensive wedding dress one more time before you put it to rest. Whether you have a professional photographer or a family member, having a wedding photoshoot to include your dog is a festivity in itself. The best-case scenario is to take the pictures a day or two after the wedding day so the momentum is still strong and the stress has gone down. Even if the photoshoot is in the comfort of your home, these bonus wedding pictures will make lasting memories. These photos will also make some ARF-mazing thank you cards!
#3 Send out dog-themed INVITATIONS
An easy way to incorporate dogs into a wedding is to send out dog-themed invitations! From puppy head drawings to paw prints, you can have some creative fun in customizing your wedding invitations. Another way is to have your dog request the honor of your guests' presence.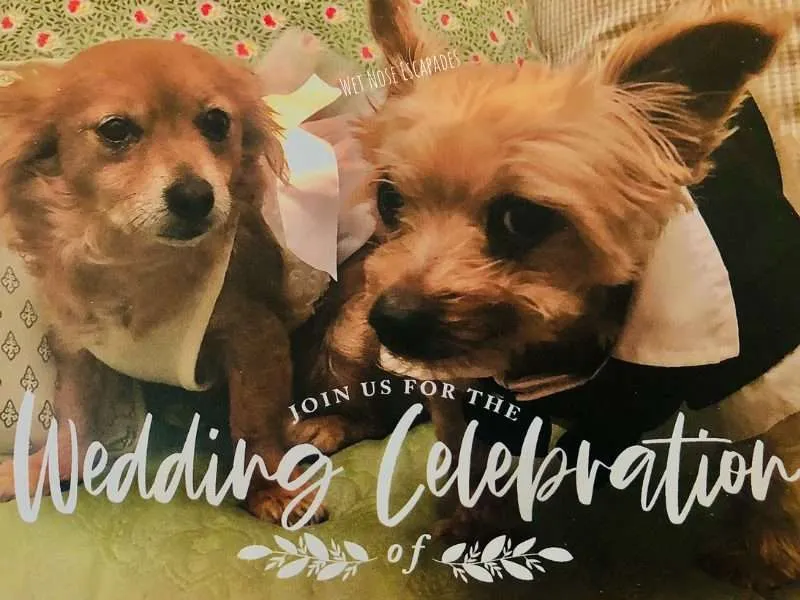 #4 Include your dog in the ENGAGEMENT photos
OH, YES! Your dog is a huge part of your life (and hopefully, the life that you have with your future spouse as well) so please include him or her in your engagement photos. And, did I bark that dog engagement photos tend to melt people's hearts?
Again, go for more candid photos – don't force your dog into awkward poses!
#5 Send out dog-themed SAVE THE DATE cards or magnets
After that legendary dog engagement photoshoot, pick out a gorgeous photo for your SAVE THE DATE card or magnet. Alternatively, you can incorporate dogs into a wedding through the use of cute paw prints on the cards.
Get my guide on how to train your dog to walk down the aisle!
#6 Take your dog DRESS shopping
Just because your dog can't attend the wedding doesn't mean he or she can't be part of other wedding festivities. If you want unforgettable wedding planning memories with your dog, you may consider taking him or her along while you go dress shopping! As long as your dog has a trusted familiar adult looking after him or her at the store, dress shopping can be a fun historical event for your dog to partake. Be sure to call the bridal shop ahead of time to ask for permission. Since bridal shops are not food and drink establishments, they will most likely allow your dog.
Nevertheless, you know your dog best – Skip this option if you're concerned with excessive barking, signs of stress, or simply unenjoyment. In that case, it's best to leave him or her home where it's comfy. You can always take pictures with your pooch at home after the dress is ready!
As the BEST Dog at my Auntie's wedding, I chilled by the dressing room while the bride tried on one glamorous white dress after another. If only I could ring the bell.
#7 Sprinkle the wedding WEBSITE with your dog's presence
From tiny paw prints to dog-themed language (e.g. Are you ready to PAWTY? My PAWRENTS are getting hitched!), you can create a strong or light dog presence on the wedding website. Don't forget to add family photos and introductions!
#8 Provide dog PHOTO BOOTH props
It never hurts to ask! See if you can work out something related to your dogs with the photo booth vendor. If the vendor desperately wants your business, they'll do their best to deliver. OR you can get some printed yourself – check with Kinkos!
#9 Order a dog-themed CAKE
Adorn your wedding cake with a dog cake topper OR take it up a notch by making it a full-out doggie cake! You'll get a taste of the unlimited possibilities by performing a quick Google search on "'Your dog's breed' + cake" or "dog wedding cake." Try Etsy for a specific breed cake topper like Yorkies.
#10 Accessorize EVERYWHERE
From customized doggie cocktail napkins to bar menus to bridesmaids gift bags to seating charts to framed photos, you can easily incorporate your dog anywhere and everywhere at the wedding. It's the small touches that matter!
Sniff out these pawbulous ideas: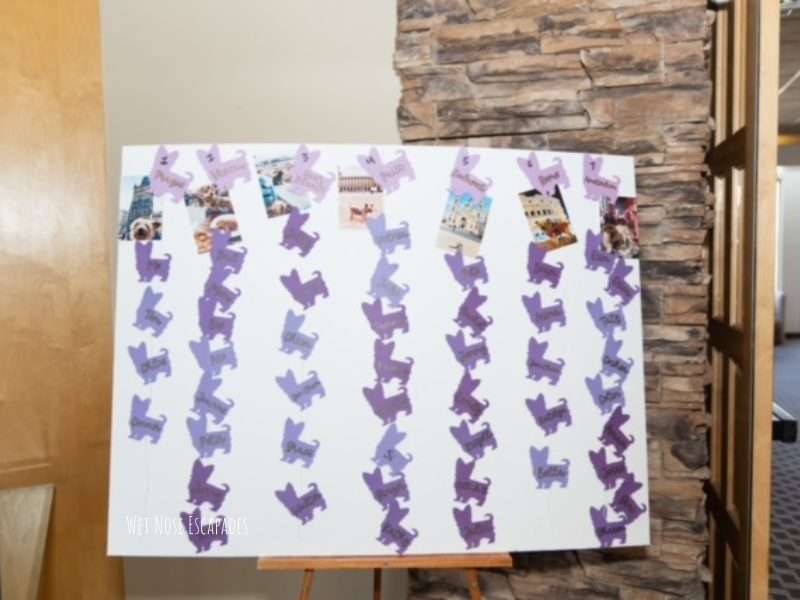 #11 Pass out dog-themed wedding FAVORS
Dog shot glasses, treat bags to go, cookies, cookie cutters, gift wrap, and so on – you'll be both amused and amazed by all the dog-themed items that you can order online these days. 
Sniff out the Penny & Roger coaster!
Get my ultimate packing list for your wedding dog!
#12 Send out dog-themed THANK YOU cards
Just like invitations, you can send out doggie THANK YOU cards! If your dog was the wedding "host," you can thank your guests for coming by adding his or her name and paw print at the bottom.
BONUS: Advocate for dog ADOPTION
Forgo wedding gifts by asking for donations to a local animal rescue or animal rights organization on your dog's behalf. Educate and spread awareness to your wedding guests on saving lives by ADOPT, DON'T SHOP. And, yes – even Yorkies like myself can be rescued. After all, I am a rescue myself. 🙂
Got a new idea on how to incorporate dogs into a wedding? BARK AT ME! Sharing is caring. Put your furry paw HERE for over 15 tips on how to actually INCLUDE your dog in a wedding!
Grab tips on how to choose the PERFECT wedding outfit for your dog!
Watch me have the BEST time at my Auntie's wedding! Don't forget to subscribe to my YouTube Channel: Wet Nose Escapades by Roger Wellington.
Markin' it up,
Roger Wellington a.k.a. The Doob
Like my post on "How to Incorporate Dogs into a Wedding"? PIN IT!