WOOF, my little Yorkie tail is wagging to present to you my latest human training tips – How to raise a PACK of Humans. Raising a pack of humans is certainly a challenge for any alpha dog (including myself), but it's more than possible if you are strategic, determined, and patient. Oh yes, as any furry pack leader knows, patience is a MUST when dealing with humans (who just don't always get it)! Whether you are raising a small pack of two humans or a large pack of seven or more, I will show you exactly what to do to create the ultra-PERFECT humans. As the #1 Human Trainer, I am proud to share with you my SEVEN expert tips and tricks on how to raise a pack of those strange, yet loving two-legged creatures. Sniff out all seven of them in my quick 3-minute video below. ARF, #6 is a MUST!
Press PLAY with your furry paw to watch "How to raise a pack of HUMANS":
Wanna learn more human training tips? Feel free to sniff out my Yorkie buttocks a bit longer to find out how you can effectively train your humans HERE! If you are having trouble running away from those terrifying, disgusting baths, you must watch my exclusive How to Hide from a Bath tutorial! Be the pack leader that you've always dreamed and never let your human boss you around EVER AGAIN!
And, don't forget to subscribe to my YouTube Channel: Roger Wellington for more training videos and my current life in quarantine in Spain!
If you have some human training tips to share, please feel free to message me or leave a MARK – oops, I mean, comment BELOW.
Markin' it up,
Roger Wellington a.k.a. The Doob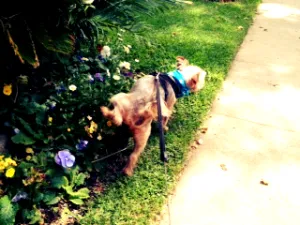 Like my post on "How to raise a PACK of Humans"? PIN IT!