WOOF, is Hungary dog-friendly? Do you plan on traveling to Hungary with your dog? Perk up your ears NOW!
Posted 3/30/22, Last Updated 5/3/23
OK, the central European country Hungary is rarely a country that comes to mind when it comes to international dog travel, BUT it is a supaw dog-friendly destination that should NOT be left unmarked. As a nomadic Yorkie who has marked up plenty of dog-friendly countries, I'm barking with an upright tail that Hungary can join the ranks of Italy and France in terms of dog-friendliness.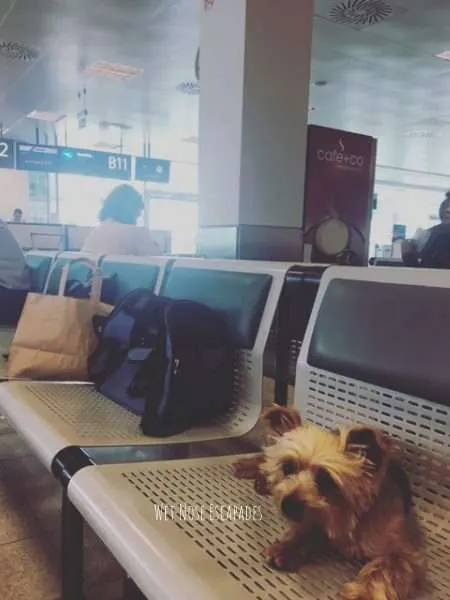 With influences from Turkish and Roman cultures, Hungary is one of Europe's oldest and most unique countries with hot springs and thermal spas GALORE, mouthwatering goulash, paprika, and ruin bars. Although this country is small in size, Hungary is bordered by a whoppin' SEVEN countries and has bragging rights to numerous World Heritage Sites, Lake Hévíz (the second largest thermal lake in the world), and Lake Balaton (the largest lake in Central Europe) – to bark a few.
But what I love about Hungary is its dog-friendly culture. ARF-ter landing my furry paws at Budapest Ference Liszt International, I hopped on a cab ride to my neighborhood Terézváro, which has bragging rights to the State Opera, theatres, upscale shops, eateries, bars, and coffee shops. I quickly learned from my host that the Hungarians love dogs so much that they would often bring out a fresh dog water bowl for dogs before humans at restaurants. WOOF-HOO! Let's sniff out just how dog-friendly Hungary is…
Is Hungary Dog-Friendly?
AWWWOOOOO! The short howl is YES, Hungary is a VERY dog-friendly country where many residents have dogs and generally treat them well. With a human pawpulation of 7.6 million, the dog pawpulation is estimated at 2.05 million (2020). On a typical day in the dynamic capital city of Budapest, I can't finish my investigative walk without sniffing out the furry buttocks of at least several other dogs (whether big or small, I don't discriminate as long as I maintain my alpha status).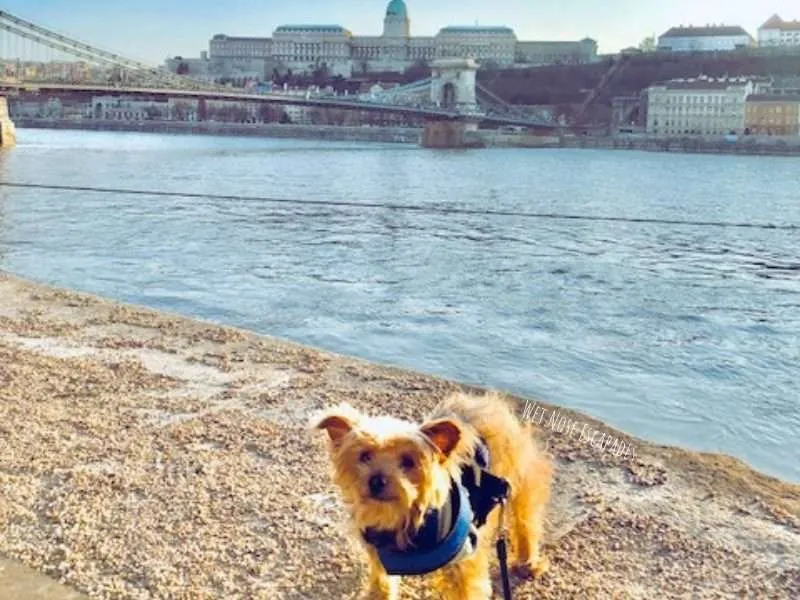 ARF-ter two extended stays in Budapest, I think I've sniffed enough action from these furry Hungarians and their humans. It's not rare to see dogs walking off-leash alongside their humans. Like in most big cities in Europe, Budapest's dog culture is about going out and about with your dog, including running errands, meeting up with friends over a couple of cold Drehers, and chomping on a plate of chops-lickin' Nokedli for dinner.
Although dogs are treated well for the most part here, I would still bark that there's a blatant level of inferiority as second-class citizens, even for city dogs in Budapest. While waiting at the vet for my E.U. passport, I saw a mother walk in with a baby in a stroller and a sweet pitbull mix dog leashed to it. It was a hot day in Budapest (ARF, in case you don't know, summers can be deadly for dogs in this landlocked country), so the dog was panting heavily with his tongue out, desperate for some water.
As this mother walked over to the water cooler in the waiting room and grabbed a cup of water, the dog went crazy for a sip. However, instead of feeding the water to her dying-of-thirst dog, she offered it to the baby who refused to drink it. To be exact, the spoiled little human didn't even take one look at it while her dog was desperately whining and motioning for a sip. Finally, she offered the same cup of water to the deserving dog. No joke, everyone in the waiting room cheered in relief.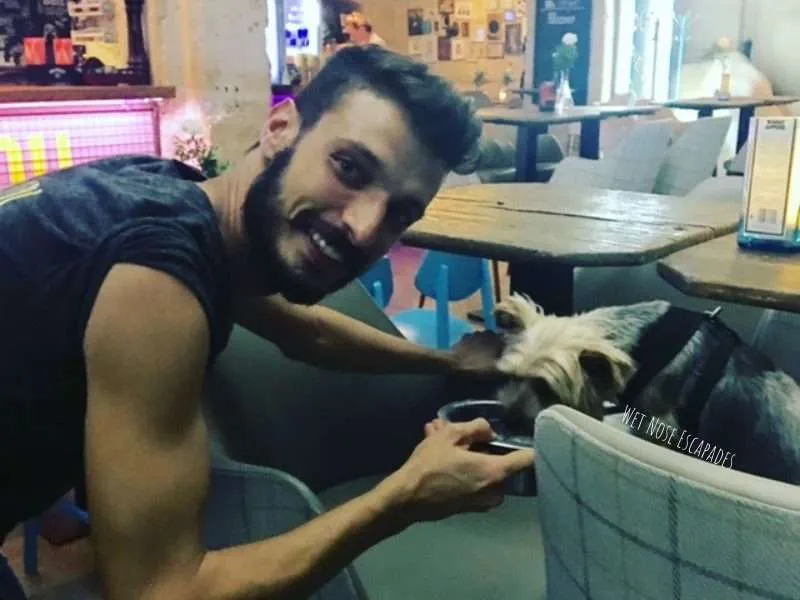 Although I've never sniffed out a stray dog in the city, the countryside is a different story. Like anywhere else, most people tend to dump unwanted animals in the middle of nowhere. ARF-ter all, dogs are intelligent creatures and can use their robust wet nose to find their way home – unless you drive them far enough where it's nearly impawssible for them to trace back. Their only hope is to get found by a compassionate animal lover or local rescue organization. 🙁 If not dumped, then dogs are mainly used as guard dogs in the rural areas, where they live lonely and neglected lives outside.
In 2016, the son of the deputy mayor of Detek posted a video of himself killing a puppy while giggling at such an inhumane, cruel act. Since then, proposals for stronger animal protection laws have arisen, including heavier punishment for underground breeding, animal fighting organizers and participants, and animal poisoning. If passed, offenders will face longer jail time and a ban from keeping animals. PAWS CROSSED.
Where are dogs allowed in Hungary?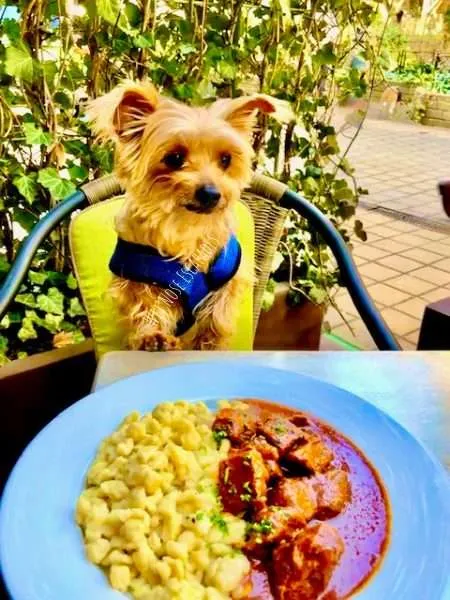 Eating & Drinking Places – YIPPEEE, dogs are allowed in most (if not, all) restaurants, eateries, bakeries, and coffee shops. Real bark – indoor or outdoor, I've never been denied a seat at the table! From hip vegan cafes to burrito joints to traditional Hungarian restaurants, I've walked my furry paws into them all. Not to bark, sat my furry buttocks onto many human chairs – no pawblem. I quickly confirmed that my host is right – dogs are often given water before humans (although not at every single restaurant). Most of the staff I've encountered has been either dog-lovin' or dog-indifferent.
Most impawtantly, I've never gotten any disgusted looks or interrogation of my furry little presence. Some supaw dog-lovin' places will even take it a paw further by providing me with a warm blanket, treats, and gentle head massages! Gotta wag my tail to those dog-lovin' Hungarians. 🙂 Unless you see a "No Dogs Allowed" sign in front, chances are you can take your dog inside.
Even most bars are dog-friendly, whether indoor or outdoor. The only time that I was ever denied entry was at Szimpla Kert, one of Budapest's most famous "ruin pubs." GRRR, it seemed too congested from the outside anyway. Found mostly in the Jewish Quarter, a "ruin pub" is a hip drinking establishment restored from abandoned warehouses, buildings, and parking lots. Their interior walls are ARF-so-artsy, in the sense that they're plastered with graffiti from many moons ago, and their decayed character is preserved to maintain their uniqueness.
Considered Budapest's coolest hidden treasures, ruin pubs remind me of all the hipster spots back home in California where warehouses are converted into ultra-cool lounges and event venues. If you wanna hit up a ruin pub with your dog, be sure to find some backup spots in case. My two go-to ruin pubs are Kőleves Kert (Kazinczy u. 37) and Pótkulcs (Csengery u. 65/b). Just a bark of caution that these pubs can blast loud music at night, which is NOT a good idea for your dog's sensitive ears. Hence, it's best to visit when it's more laid-back in the early evening with your dog (before the debauchery begins).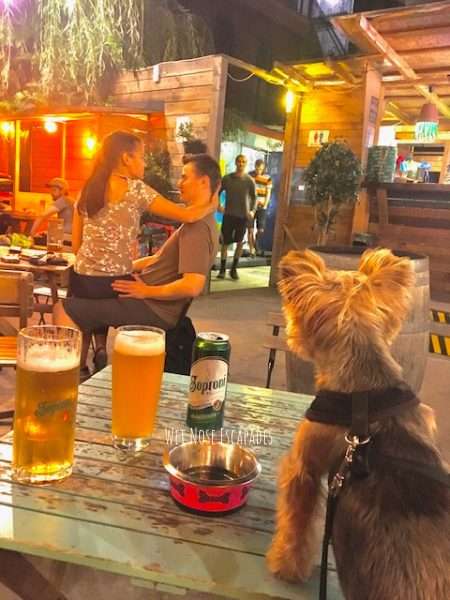 Parks – While parks are plentiful in Hungary, not all are dog-friendly. Certain areas of the park may have signs prohibiting dogs from entering. BUT, what I've sniffed is that some locals will disregard the "No Dogs" signs and play ball with their dogs in these non-designated dog areas. ARF course, I don't recommend that you break any rules as a foreigner. BUT, nevertheless, if you unknowingly take your dog to a dog-prohibited area, chances are you're not alone.
If you have a more athletic dog who prefers to leave marks on long trails (like my little BIG Weimaraner cousin Sonny), be sure to sniff out these pawpular dog-friendly trails:
Normafa Park – Buda Hills, located in Budapest
János hegy – Highest point of Budapest
Kevély-nyereg – Mountain peak, located in Budapest
Vihar-hegy – Mountain peak, located in Budapest
Tábor hegy – Camp Hill, located in Budapest
If you have a small dog like me, then you may want to bring a dog backpack or carrier in case your dog needs to rest his little paws. Regardless of your dog's size, remember to pack a water bowl and bottled water for water breaks. And, of course – always be careful of steep or slippery steps. Safety comes first!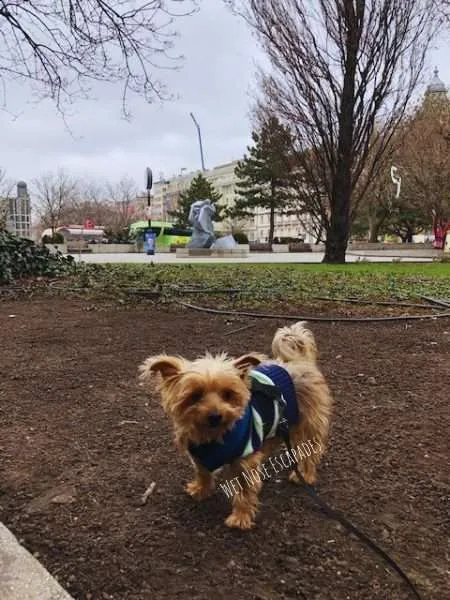 Squares – WOOF, living in Europe, I've sniffed that one of the most ARF-mazing ways to spend an afternoon is chillin' at a public square watching humans and chasing furry passerby. Squares are pawpular gathering places to do some canine mingling and butt-sniffing. While some squares are massive with aesthetically pleasing fountains and sculptures, other squares are quite small.
Paw-bulous squares to set your furry paws in Hungary:
Heroes' Square (Hősök tere) – Constructed to celebrate the Millenium of Hungary, Heroes' Square is Budapest's largest and most pawpular square. It has statues of the Seven Chieftains of the Magyars along with other prominent Hungarian leaders.
Liberty Square (Szabadsag ter) – This gigantic rectangular-shaped square in Budapest boasts monuments dedicated to the Soviet soldiers who helped liberate Hungary from German occupation. In 2020, the square added a life-sized statue of President George H. W. Bush.
Kossuth Square (Kossuth Lajos ter) – Situated on the bank of the Danube, this heavily frequented square is home to the Hungarian Parliament building and Palace of Justice.
Széchenyi Square (Szechenyi Istvan ter) – In the old town of Pécs, this square dates back to the Middle Ages as the marketplace with the city hall and parish church. The square's main attraction is the phenomenal Mosque of pasha Qasim the Victorious.
Vigado Square (Vigado ter) – Home to the famous concert hall "Vigado," Vigado Square is on the Pest side of Budapest next to the Danube River. Be sure to sniff out my favorite statue in the city – Girl with her Dog, a bronze sculpture of a girl playing ball with her dog. WOOF, gotta wag my tail to the dog-lovin' culture in Hungary.
St. Stephen Square (Szent Istvan ter) – Located on the Pest side of Budapest, this iconic square features the neoclassical Basilica of St. Stephen, which is PAWS DOWN one of the most impawtant churches in the country. It's also named after the first King.
Cathedral Square (Dóm tér) – One of the largest squares in the country, Cathedral Square is approximately 12,000 square meters and found in the city of Szeged, the third-largest city in the country. It's named after the Church of Szeged, which is part of the square.
Siofok Water Tower (Siófoki Víztorony) – In the charming small town of Siófok, the Siofok main square boasts a historical water tower that offers ARF-mazing views of the town and countryside. Near the lake with cute statues and a water fountain display, this area is a pawsome place to give those furry paws a break.
Public Transportation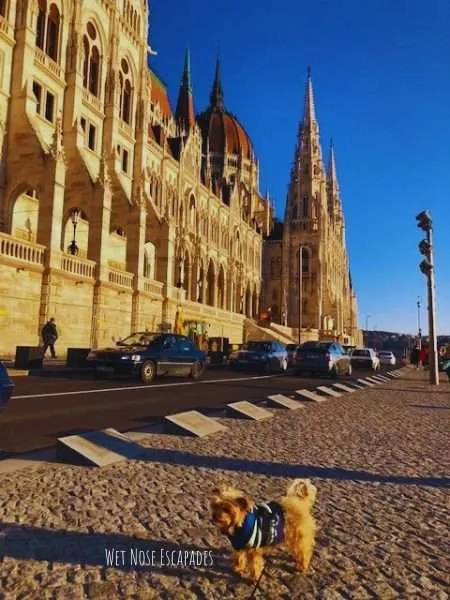 On the Hungarian State Railways, small dogs like myself (up to 30 cm in height) can ride the train FOR FREE as long as they're transported inside a carrier or can be kept on their human's lap. Dogs higher than 30 cm can also hop on board only if they have a veterinary booklet that indicates microchip and vaccination information. These dogs must be muzzled and remain on a short leash and NOT occupy a seat. You must pay 50% of the second-class regular ticket for your larger dog. 🙁 Dogs, whether big or small, are NOT allowed in dining coaches.
As for buses, only small dogs in transport boxes are allowed to board. YAY for me, but NAY for my bigger canine friends.
Sniff HERE for more info on dog-friendly Budapest public transportation.
Shops and Boutiques
YEP, dogs are allowed! Unless otherwise noted, dogs are welcome to shop alongside their humans inside retail stores, souvenir shops, and fancy boutiques. ARF course, making sure your dog is well-behaved goes a long way.
Pharmacy
Like other European countries, Hungary allows dogs to enter pharmacies with their humans. Whether you need to grab sunscreen or pain relievers, your furry companion can accompany you on these errands. WOOF-HOO!
Markets & Grocery Stores
Dogs are usually not allowed inside markets and grocery stores in Hungary (although the rules or enforcement may be laxed depending on the individual retail establishment). From what I've sniffed, small dogs like myself who can be carried by their human or transported inside a carrier shouldn't have a pawblem entering. However, this may vary depending on the staff of the hour.
Open-air Markets
AWOOOO, get those paws movin' through these street markets! Dogs are generally allowed to experience open-air markets, even where food is sold or served. However, I wouldn't recommend walking your dog in a busy open-air market for the safety of his precious little paws.
Uber/Taxi
Currently, Uber and other ridesharing companies are not operating in Hungary since their ban in 2016. While local taxi services can be a hit or miss with dogs (just like Uber, it's dependent on the individual driver), I've never run into any issues with them, even though my experience has been mostly going to and from the airport. Regardless, if you have a small dog like me, I would bark that the easiest way is to keep your dog inside a carrier during the ride to avoid any fuss.
Tourist Sites/Museums
Dogs are not allowed at indoor tourist sites or museums, including churches. However, they are always welcome to explore the exterior grounds and get in on some IG-worthy photos.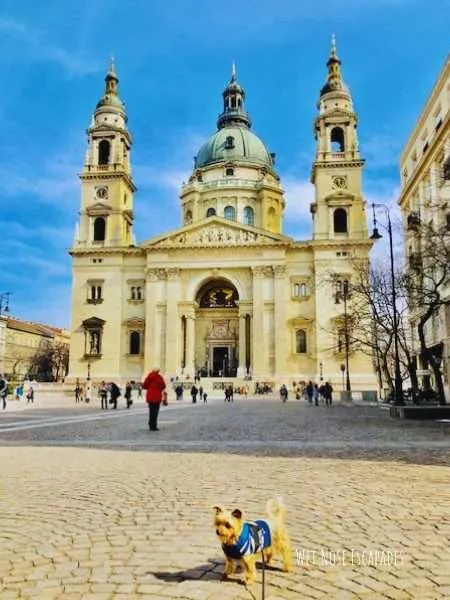 Accommodations
WOOF-HOO! Budapest has over 700 dog-friendly accommodations alone, which makes traveling with your dog easy peasy. My two previous stays (including one long-term, over a month long stay) in Budapest did not charge extra for my furry presence, which is a major WIN for my human's bank account. If you are seeking accommodations outside of Budapest or other cities, it may be a little difficult to find dog-friendly places to stay (due to limited choices in smaller towns). If necessary, a little negotiation may go a long way.
ARF, hope you enjoy visiting dog-friendly Hungary! How was your experience visiting Hungary with your dog? BARK AT ME!
Subscribe to my YouTube Channel: Wet Nose Escapades by Roger Wellington for fun dog videos!
Markin' it up,
Roger Wellington a.k.a. The Doob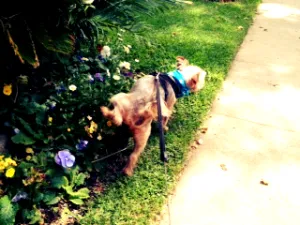 —
Like my post on "Is Hungary Dog-Friendly? A Yorkie's Guide to Visiting Hungary with Your DOG"? CLICK TO PIN!