WOOF, are you planning to include Yorkies in a wedding?
Through careful planning, Yorkies (or any dog) may be the cutest showstoppers in a wedding! Just imagine the adorable Yorkie wedding pictures and funniest memories that will melt your heart for years to come.
Last Updated 11/25/22
As Yorkies are known to be energetic, bold, and confident (ARF, guilty!), they can fulfill various important roles on the BIG Day:
Honorary Wedding Guest (or as I would bark, a VID – Very Important Dog)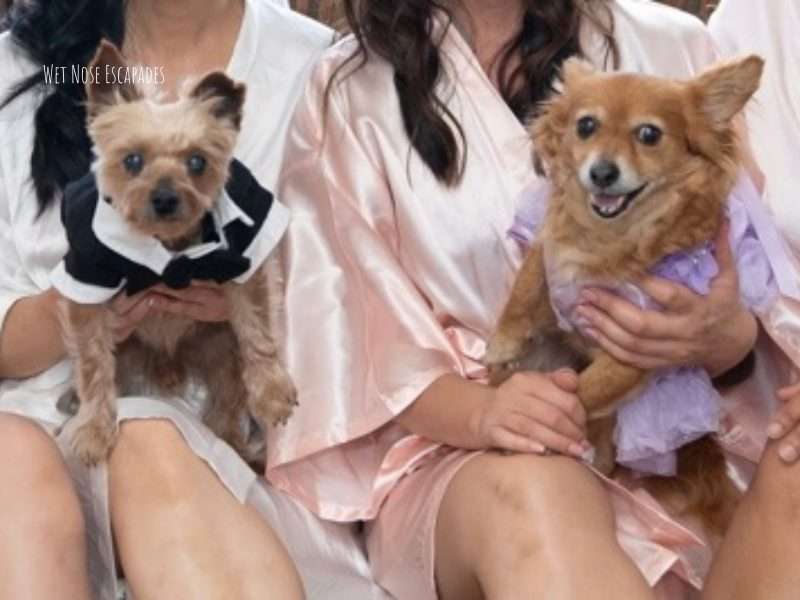 *Please note that this post contains affiliate links, and at no obligation or additional cost to you, my humans and I earn a small commission if you make a purchase. If you love the work that we do, you can show your support by making a purchase through an affiliate link. Proceeds will go towards feeding homeless dogs (and cats) along with improving the lives of the neglected and abused.
Sniff out 17 Tips on How to Include Yorkies in Weddings:
#1 Book a dog-friendly VENUE & ACCOMMODATION
Outdoor weddings are ideal for your Yorkie's participation. Although most indoor venues are not dog-friendly, it may be PAWsible to work out some type of arrangement ahead of time. After all, weddings are expensive and money barks!
Unless you plan on having your Yorkie attend the entire wedding (ceremony and reception), it's best to have a dog-friendly room (within walking distance to the venue) ready for your Yorkie to relax after making a glamorous appearance at the wedding. Please designate a responsible individual to check on him or her once every 3 hours or so throughout the event.
#2 Decide HOW you want your Yorkie to participate
Due to all the unfamiliar people, commotion, and loud music, the reception may be overwhelming to Yorkies. Hence, giving Yorkies a role at the ceremony is the easiest and most common way to include them in a wedding.
Again, the popular roles are:
Honorary Wedding Guest (or as I would bark, a VID – Very Important Dog)
Since my Auntie had a more quiet, intimate afternoon wedding, I attended the reception ARF-ter the ceremony. While dance music was still played, the volume was rather low. Also, I stayed in a sweet corner spot away from the speakers and snoozed shortly after my meal.
If the reception is small, intimate, and quiet enough, your Yorkie may participate in the reception. Nevertheless, please work out the arrangements ahead of time to ensure comfort and safety. Having the hotel within walking distance from the venue is a HUGE plus in case things don't work out and your Yorkie needs to resort to his or her space.
On the other paw, my humans had a loud dance pawty at their wedding reception in Las Vegas so Penny Gurl and I couldn't join. We hung out inside the bridal suite while the humans were getting crazy on the dance floor.
Get my guide on how to train your dog to walk down the aisle!
#3 Assign your Yorkie to a DATE or CARETAKER
Yep, your Yorkie needs a date for the wedding! Ideally, the date is a responsible adult whom your Yorkie is familiar with AND likes (if not, loves :)). If no suitable adults are available, please do NOT give the responsibility to any young child, regardless of how responsible the child is or how adorable the pictures will turn out. To ensure safety and comfort for your Yorkie, the qualifying age of your Yorkie's date should be at least 14-years-old.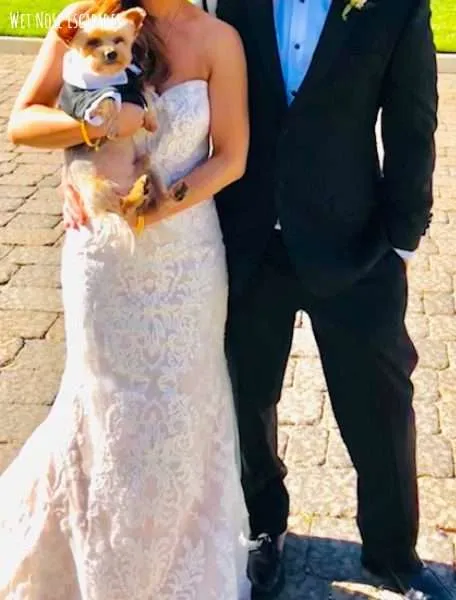 At my Auntie's wedding, I was fortunate to have my human #2 look after me the whole time while my first human was busy with her Maid of Honor duties.
However, at my humans' wedding, Penny Gurl and I were under the watch of my human cousins (who we were familiar with).
#4 PREPARE your Yorkie's date
What annoys your Yorkie? What calms your Yorkie? Well, you know your Yorkie best! Prime your Yorkie's date on what to do AND not to do. Pack your Yorkie's essentials for the day (food, water, bowls, etc.) the night before.
#5 Hydration is KEY
Make sure your Yorkie has access to fresh, clean water at all times throughout the event. For easy access, be sure to place his water and food bowls in a designated area. Grab to-go bowls and water bottles here!
Check out how fancy I look while quenching my thirst!
#6 Plan out MEALS
Even if your Yorkie is not attending the entire wedding, he or she must eat throughout the BIG day! Advise the assigned date of your Yorkie's meal schedule. Get your paws on delicious food and tasty treats here!
#7 Keep your Yorkie AWAY from young children
Arrgggh, like most Yorkies, I do NOT mesh well with young children. Children can easily stress me out. Seemingly "innocent" play for children may be nightmares for dogs, particularly small dogs like Yorkies. I am NOT a toy! I hate being carried, hugged, chased, and teased.
Make sure your Yorkie gets plenty of breathing room away from obnoxious children who have nothing better to do without their gadgets. Teach children at the wedding to respect a dog's boundaries to avoid any mishap or added stress during an already chaotic wedding day. Find out 16 things children do that dogs HATE + Prevention Tips, including how to properly approach a dog.
#8 Provide multiple POTTY BREAKS
Prepare your Yorkie's date to ensure that one potty break is provided every 3-4 hours. If your Yorkie is known for peeing during stressful situations, he or she may need more frequent potty breaks.
My Auntie's stunning lakeview reception was only a glass door away from the breathtaking outdoor scenery, which makes for convenient potty breaks.
#9 FORGET the flowers
Besides the risk of allergies and skin irritations from flowers, Yorkies would not enjoy having real flowers on their bodies. Even if Yorkies are "flower dogs," they don't need to have flowers adorn their little bodies, which may be prone to skin allergies.
Consider these alternatives:
-Decorate the leash with flowers – leave the bottom quarter undecorated as it will make contact with your Yorkie's body
-Have the assigned date scatter rose petals while walking your Yorkie out
-Have the assigned date wheel out your Yorkie on a flower garden wagon or wheelbarrow
The PAWSibilities are endless if you think creatively. Regardless of the execution, always keep your dog's safety and comfort in mind. Your Yorkie is already cute enough! Even if not "properly" adorned, his or her mere presence is sufficient.
#10 FAMILIARIZE your Yorkie
This is an often overlooked step when people include Yorkies in a wedding. Familiarity decreases stress! Take your Yorkie to the wedding venue at least 1 day in advance so he or she can familiarize the area by doing a sniff out (or as I would bark, a thorough Sherlock investigation). Include your Yorkie in the rehearsal dinner so he or she can feel a bit more comfortable with both the people and the environment before the BIG DAY.
#11 Don't forget to take "getting ready" photos at the BRIDAL SUITE (make sure it's dog-friendly)
Whether or not your Yorkie is included in the ceremony or reception, he or she should partake in the "getting ready" photoshoot. Remember to select a dog-friendly bridal suite or accommodation. This not only makes for timeless "getting ready" pictures of the wedding party but also a much more synergizing day. Even with a "no pet policy," venues may be open for negotiation – it doesn't hurt to ask.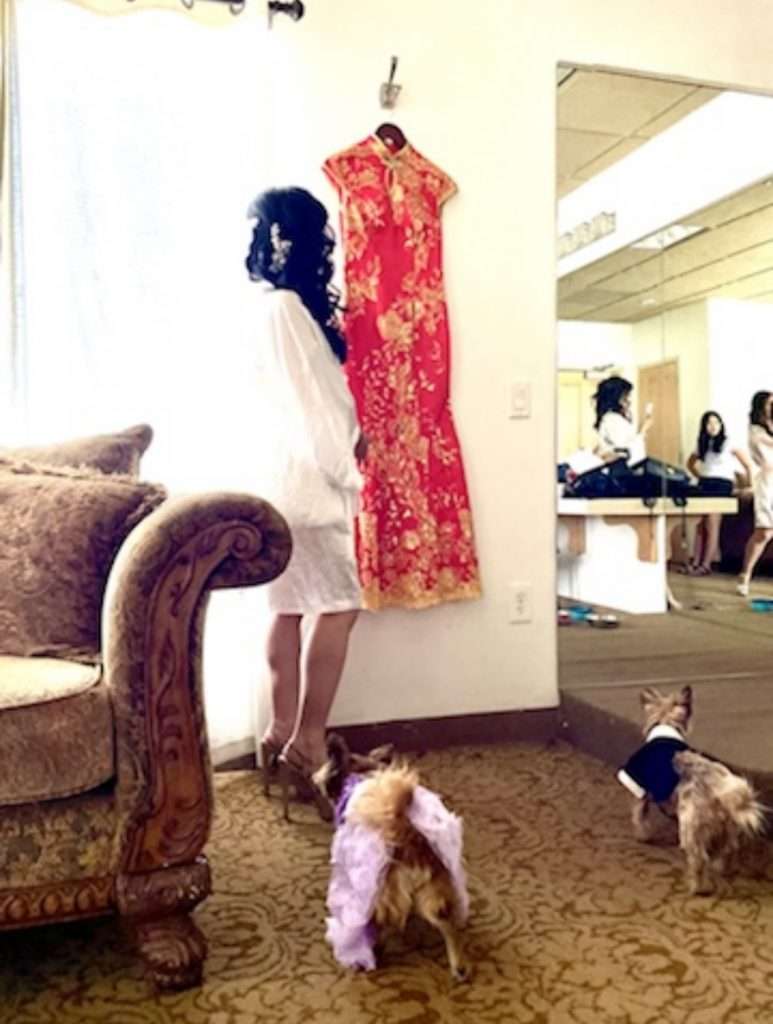 Also, please don't force your Yorkie to pose like a model and stare at the camera for long periods. Since photoshoots can be strenuous for dogs, the candids of your Yorkie will make the cutest natural wedding pictures. Allow his or her unique character and quirks to show up in the pictures!
#12 Include your Yorkie in family and wedding pawty PHOTOS
After your Yorkie makes an epic entrance at the wedding ceremony, be sure to include him or her in those timeless family and wedding pawty photos (during cocktail hour).
Get my ultimate packing list for your wedding Yorkie!
#13 GROOM your Yorkie in advance
The rule of CLAW is don't groom too early or too late! My suggested timeline is roughly 4 days to 1 week before the wedding day. If you groom your Yorkie too early, the haircut may not keep fresh on the wedding day. Yet, if you groom him a day or two before, your Yorkie may risk subsequent allergic reaction (or worse, injury). Besides, it's strategic to spread out the stress as grooming sessions can be taxing for most dogs. Essentially, you don't want your Yorkie to be stressed again soon after the grooming session.
*Arf-ter seeing that the professional grooming visits continuously caused both allergic skin reactions AND immense stress to me, my human started grooming me herself two years ago.
#14 Schedule a FITTING in advance
For most people, to include Yorkies in a wedding means dressing them up in wedding attire. Make sure your Yorkie feels comfortable and relaxed in the tux or dress you've carefully selected for him. Have your Yorkie try on the wedding attire at least 3-4 weeks in advance. As a lot of material may cause allergic reactions or create discomfort for dogs, please make sure the outfit is loose enough and without irritating fabric.
If you plan to order his or her outfit online, you should do it at least 1-2 months beforehand for some wiggle room (in case things don't work out). To ensure comfort, have your Yorkie wear the outfit for 10-15 minutes during the first fitting and slowly work it up for 2-3 hours over a week. Check for any negative reaction. Remove immediately if your Yorkie starts itching in it.
Get my Dos and Don'ts when choosing the PERFECT wedding outfit for your Yorkie!
Before you start shopping for the cutest Yorkie wedding attire, ask yourself these questions to decide if you should even include your Yorkie in the wedding.
#15 TAKE OFF the outfit after 3-4 hours
After the necessary photos are taken, take off the outfit from your Yorkie. Make sure your Yorkie's date is keeping an eye out for negative reactions. Like Halloween costumes, most dog outfits should not be worn for long hours, typically 3-4 hours at most. Again, safety first!
#16 Use a wagon (or carrier) for SENIOR Yorkies
Senior Yorkies or those with underlying health conditions must be given extra attention, comfort, and care. Transport your senior Yorkie with a wagon or carrier during the wedding. Put a soft pillow/cushion or a familiar blanket inside the wagon to make a comfy bed or resting place.
Even for younger Yorkies, a wagon or carrier is an awesome way to protect them from potential injury and human clumsiness (e.g. getting stepped on).
My fabulous green carrier has been in more countries than the average human on Earth! Get yours HERE!
#17 Don't OVERDO it
However you choose to include Yorkies in a wedding, please do NOT overdo it (no matter how cute your Yorkie looks). I will bark out over and over – consider your Yorkie's safety and comfort first and foremost. Give your Yorkie plenty of breaks. Remember that they are valued family members, NOT wedding props!
WOOF-HOO! Can't wait until your Yorkies see their humans say "I DO"! Got a new idea on how to include Yorkies in a wedding? BARK AT ME! Sharing is caring.
Watch me have the BEST time at my Auntie's wedding:
Don't forget to subscribe to my YouTube Channel: Wet Nose Escapades by Roger Wellington.
Markin' it up,
Roger Wellington a.k.a. The Doob
—
Like my post on "How to Include Yorkies in a Wedding"? PIN IT!