Wooooof, escapaders! As a four-legged world escapader, I often get intrigued looks from humans and dogs as soon as they hear that I flew well over 10 hours just to mark up their neighborhood poles and tree stumps and devour all the chops-lickin' food that their hometown has to offer. A long-haul flight is never easy for any dog, even the most-experienced escapader like myself. There's indisputably more anxiety for dogs than humans when it comes to traveling; it's simple – we dogs don't necessarily have a choice when it comes to traveling. It can be daunting since the road ahead of us is typically unknown. Hence, the more you prepare your dog for travel, the smoother the journey will be. The bark-worthy news is that I've sniffed out 6 easy ways to make in-cabin air travel easy and healthy for my four-legged pals. Follow my paw prints below to discover 6 MUST-KNOW Tips for in-cabin international dog travel:
*This is my original guest post submitted to Fetch Pet Care in November 2017.
#1 MUST-KNOW Tip for in-cabin international dog travel
EASE THEIR WAY IN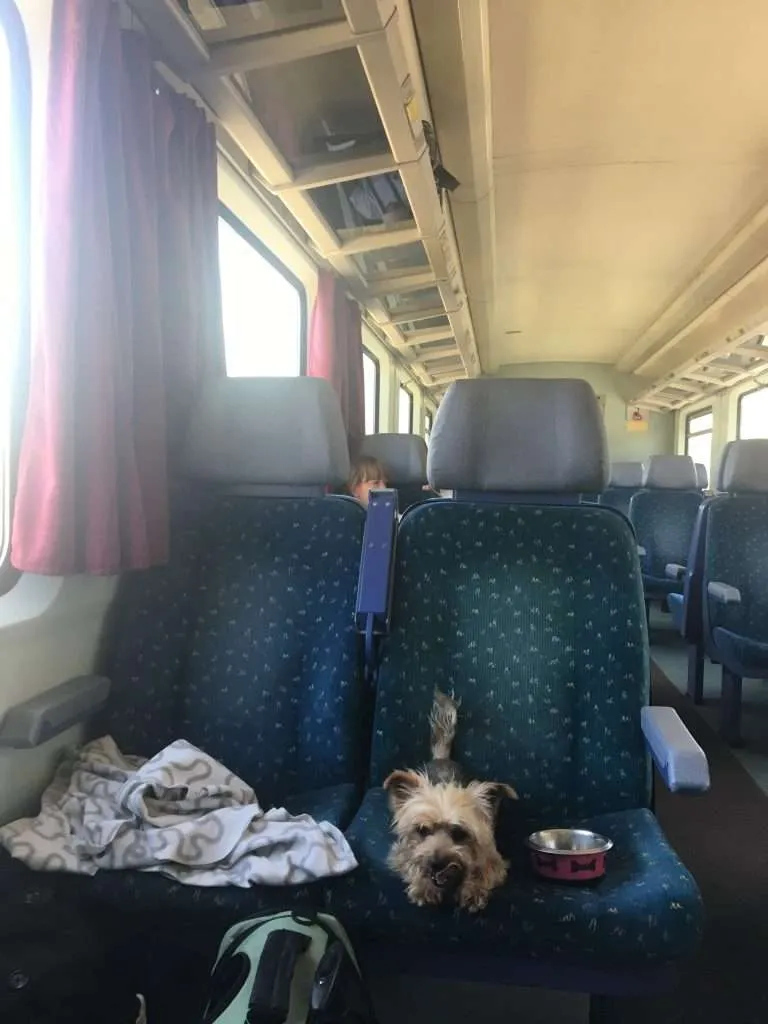 Be a savvy escapader! First things first, don't book an international flight and expect your dog to wing it, especially if he/she has never flown before. Unless your dog is already an experienced world escapader like myself, chances are he/she needs to be eased into air travel. Road trips and train rides are ideal ways to get dogs comfortable with the motion. Once they've gone on a couple road trips and/or train rides, they can advance to quick hour-long domestic flights to get acquainted with the airport, and of course, the plane itself. Gradually, increase the flight duration until they are familiar and comfortable with the entire process. As for me, I went on countless 6-8 hour long road trips and at least 6 domestic flights before hopping on a plane to Europe.
Get my Step-by-Step Guide on How to Travel with Your Dog
#2 MUST-KNOW Tip for in-cabin international dog travel
CHOOSE THE RIGHT CARRIER
Choosing the right carrier is KEY.  When shopping around for a carrier, bring your dog with you for a "test-sit." Make sure there's enough room for your dog to wiggle a bit, sit, and lay down. If your dog appears tense in it, he/she is probably uncomfortable; thus, do your homework and search diligently until you find the right one. A soft durable padding is also crucial for maximum comfort. Keep in mind that airlines (especially if you're hopping around from continent to continent) may differ in acceptable carrier size so always check the airline website for maximum dimensions before purchase. Some airlines also have a total weight limit for the carrier PLUS your dog. It's a matter of finding comfort AND meeting the airline dimensions at the same time.
As a frequent escapader, I have two carriers depending on the airline that I'm flying; the first one is a pretty spacious roller bag/backpack that fits perfectly under most U.S. airline seats. As it comes with multiple features, it weighs approximately 3.4 lbs. Get yours HERE!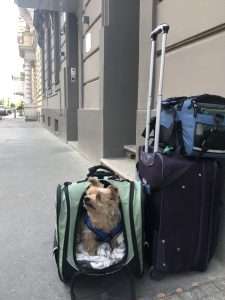 My second carrier is the typical soft lightweight carrier that weighs a little over 1 lb.; although it offers an opening in the front, it doesn't provide as much space so I only resort to it if I have to meet any strict weight limit (I once flew an airline that had a 5 kg./11 lb. maximum for both me and my carrier so I didn't want to take any chances!).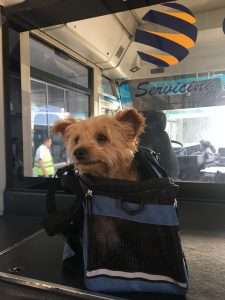 Watch me FLY all around the World + More Tips!
#3 MUST-KNOW Tip for in-cabin international dog travel
START CARRIER TRAINING EARLY
Once the right carrier is selected, it's imperative to start carrier training as early as possible to assure that they feel familiar and comfortable in it long before the scheduled flight. The concept is to transform the carrier into a wondrous haven. From the moment you bring the carrier home, place their favorite blankey, toy, and treats inside. Hiding treats inside the carrier at the beginning of each training session will entice them to go in to sniff around. After several sessions of uncovering yummy treasures, they will eventually affiliate the carrier as a place worthy of their wet noses. Allow them to sniff around freely for treats during the first few days of training. Gradually, increase their time inside the carrier 3-5 minutes daily and work up to an hour OR until they appear to feel comfortable and secure inside.
25 Tips on How to Fly with Your Senior Dog!
#4 MUST-KNOW Tip for in-cabin international dog travel
GET AN EVENING FLIGHT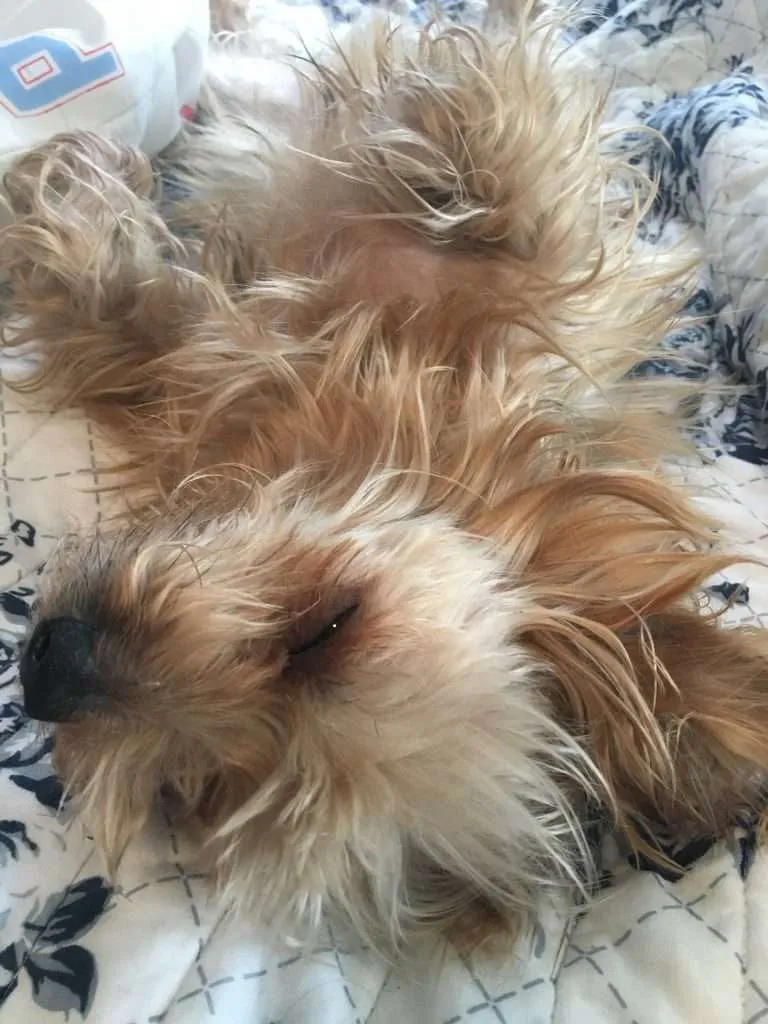 It's no secret that dogs thrive on routines. Dogs wag their tails with open-mouth smiley faces when they know it's time to walk, play, eat, and sleep. Hence, the act of traveling can easily cause stress as they are thrown out of their daily grind without certainty of the road ahead. One effortless way to help them through a long flight is to opt for an evening flight so they could at least retain their sleeping schedule. Booking a flight near or during their bedtime will likely help them sleep through the flight. The more they sleep on the flight, the shorter and smoother the flight seems. As I generally snooze for more than half the flight duration (this is an understatement), I tend to feel pretty rested by the time I arrive at my destination.
Find out What to Pack for Your Dog Traveler
#5 MUST-KNOW Tip for in-cabin international dog travel
EXERCISE BEFORE THE FLIGHT
It's a common saying that a tired dog is a happy dog; therefore, it's probably fair to say that a tired traveling dog is also a happy traveling dog. I don't suggest excessive exercise or extreme physical activity, but adding a couple extra minutes of exercise or playtime could help ease their way into air travel. Feeling tired during the flight normally equates to superb sleep. Again, the more sleep they obtain, the shorter and smoother the flight seems. I take my usual 60 minute walk (yep, I'm quite the 7 lb. athlete!) right before heading to the airport for a long international flight so I can then lick my chops while dreaming about beef jerky treats thousands of miles up in the air.
#6 MUST-KNOW Tip for in-cabin international dog travel
LIMIT WATER INTAKE RIGHT BEFORE AND DURING THE FLIGHT
After exercising your dog, offer him/her fresh clean water (and food) as usual. NEVER deny a dog of fresh clean water, but DO be strategic when providing water right before and during the flight since it may be difficult to relieve him/herself on the plane. I limit my water intake as soon as my four paws hit the airport grounds. I always pee (or shall I say, mark?) and walk around outside one last time for about 5-10 minutes. Most airports have pet areas for dogs to relieve themselves outside (and sometimes even inside). Offer your dog water (and some food) right after his/her walk before heading to the airport, and then once every 4 hours or so until landing. My vets advised me that healthy adult dogs (myself included) shouldn't have a problem holding their bladder for 10 hours, but I still exercise this practice with extreme caution. An option is to place a pee pad in the carrier just in case your dog cannot hold it.
Read my 10 Favorite Moments as a Traveling Yorkie
Have a safe and healthy journey, escapaders! Want more tips on healthy air travel for your furry pals? Get your paws on my E-Book on How to Travel with Your Dog  now!
Markin' it up,
Roger Wellington a.k.a. The Doob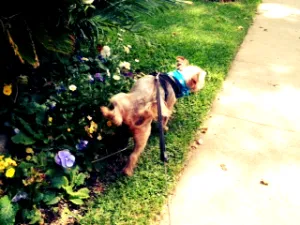 *Please note that this post contains affiliate links, and at no obligation or additional cost to you, my humans and I earn a small commission if you make a purchase. If you love the work that we do, you can show your support by making a purchase through an affiliate link. Proceeds will go towards feeding homeless dogs (and cats) along with improving the lives of the neglected and abused.
—
Like my post on "6 MUST-KNOW Tips for International Dog Travel"? PIN IT!