Want tips on how to keep dogs safe during winter in NYC and on the East Coast? Keep on sniffing!
Posted 2/3/21
WOOF! As a West Coast native from sunny California, I had no idea what my furriness was up against spending a chilly winter in NYC. Even though I've been traveling the world since 2016, I never experienced a scary blizzard until I set my furry paws on the East Coast. Dog, is it cold out here! For years, I've heard about East Coasters moving to California, but now ARF – I really get it. Winter in NYC is no joke! Just like the heat, the extreme cold can be life-threatening for all dogs (and cats). Whether you have a Goldendoodle puppy or a senior Yorkie like me, you must take the necessary measures and precautions to keep your dogs safe during winter in NYC or on the East Coast. As a recent furry transplant, I'm excited to bark out what I've learned about surviving the winter here.
10 Tips to Keep Dogs Safe During Winter in NYC:
#1 Keep up with the Weather Forecast
Don't keep up with the Kardashians! Instead, keep up with the weather forecast. Checking the weather consistently may sound like a no brainer. However, for California natives like myself and my humans, preparing to get snowed in had never been on our to-do list. After sniffing out the weekly and daily forecast to identify potential snowy and rainy times, my humans plan my walks accordingly. If we anticipate a snowstorm starting at 4 pm, my humans will take me out for a walk at 2:30/3 pm, even if my routine walk is not due until a few hours later. Although forecasts are not always accurate, you should still prepare and act on the safe side for your dog's sake.
#2 Train Your Dog to Eliminate INDOORS
GRR, I may troop it out in the rain, but I will turn my nose up at the snow. Even masculine, alpha dogs like me hate getting their paws wet in the snow. On snowy days, I'd run back to the door as soon as my tiny dry paws make contact with the ice-cold snow outside. Solution? Train your dog to eliminate him or herself indoors! The use of pee pads or artificial lawns is a win-win situation; it's convenient during normal times (whenever you're unable to take your dog outside in time) while serving as a crucial backup during rainy or snowy days when your dog refuses to walk outside. 
If your dog ends up relieving somewhere else inside the house, please understand and recognize that any dog training takes time. Your dog simply couldn't hold it in any longer! 🙁 If you're not devoting the necessary time and effort into potty training your dog, don't overreact when you find pee and poop around the house! Also, don't forget to use only positive reinforcement, which is the most humane and effective way to train a dog. 
Get your paws on my extensive guide on how to potty train your dog without a crate!
#3 Offer Your Dog Plenty of Opportunities 
Despite the many advantages of living in a big city, access to a backyard is usually NOT one of them. Therefore, city dogs need ample opportunities for relief. If it's snowing or raining lightly, you should keep the routine walks going as much as possible – even if it stops right outside your building. Even on snowy days, I would still pee a couple of times right outside the door before running back inside – some relief is better than none! The key here is to provide plenty of opportunities for relief for your dog, given that it's NOT dangerous to walk outside. As most dogs are trained to only relieve themselves outside during walks, they may end up "holding it" until the storm clears, which can pose dangers to your dog's health – from tummy-aches to urinary tract infections.
#4 Make the Outings Short
While it's important to offer your dog frequent opportunities for relief, it's equally important to make sure your dog doesn't stay out in the cold longer than he or she should. As temperatures drop below 40s degrees Fahrenheit, dogs are likely to start feeling discomfort. In NYC, the coldest month is January when it's typical for temperatures to drop to 20s degrees with chilly winds. This past January, there were some days when the temperature even dropped below 20! Even for East Coast furry natives, 20 degrees is still freakin' cold! Since I take charge on all my walks, I can bark that I hardly stay out longer than 15-20 minutes during ultra cold days. It's vital to keep a vigilant eye for signs of discomfort, including shivering, whining, and seeking shelter (e.g. wanting to walk back home). In such an event, you should get your dog home or indoors ASAP. If kept outside in the extreme cold for a long time, dogs are at risk of developing hypothermia and/or frostbite. ARF, NOOOOO!
#5 Protect the Paws on Walks
Besides the risk of hypothermia and frostbites, dogs can also suffer from irritation, burns, or injury on their paws from rock salt, antifreeze, or any snow-melting chemicals. As rock salt is nearly ubiquitous after a snowstorm (we learned it the hard way), my human keeps a keen eye on the path to sway me away from them. To combat rock salt and harmful chemicals, she has a pack of tissue paper or a towel ready to wipe my little paws on walks (if I step on it by accident). Whatever you do, do NOT let your dog ingest rock salt – it's hazardous!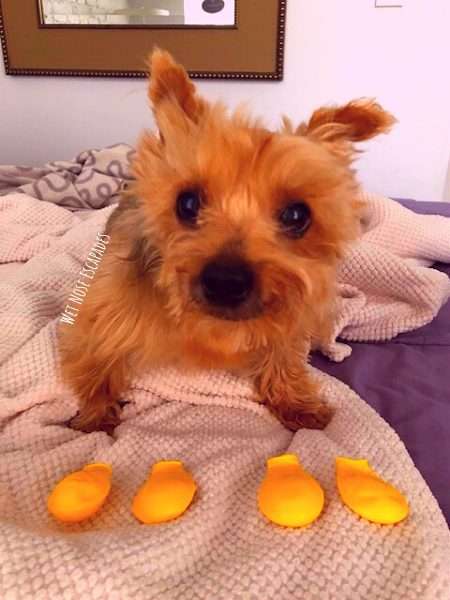 While I see many dogs in NYC rockin' those rubber booties to protect their paws, I do NOT find them comfortable or safe for use. I wished they worked for me! Even after measuring my paws and purchasing the correct size, I couldn't walk in those "balloon"-type boots that snap on airtight at the ankles. Nonetheless, this is only my experience. My human has talked to other dog pawrents who swear by them. Be sure to get a bigger size, slowly introduce the boots to your dog, and monitor their behavior when in use. I've also seen "real" winter boots or shoes for dogs, but I must bark the truth – most dogs do NOT like wearing shoes! It's unnatural and likely to throw off their balance on walks. 🙁
#6 Clean the Paws
This is probably the single most important tip to keep dogs safe during winter in NYC! Upon return from my walk, my human will clean my paws with a warm wet towel or dog-safe wipe. OR she would dip each paw into a bowl of clean water and then pat it dry. Do NOT to skip this! Otherwise, your dog is likely to feel irritation on the paws from rock salt, which can easily spread to other parts of the body through licking and scratching. 
#7 Bundle Up
Just because dogs (and cats) have fur does NOT mean they can stay outdoors in the extreme cold. Sure, some breeds like the Siberian Husky can cope better with the cold weather than others, but you should still provide a few layers of protection for your dog. All dogs are vulnerable to the cold PERIOD. Even with my long silky hair, I started shivering when I set paws on the streets of Lower Manhattan in November – before the arrival of winter! When the temperature drops to 20 degrees, I may even sport three layers – two warm sweaters plus a jacket. Nevertheless, you should test out comfort first and foremost before piling on the layers. Perhaps observe your dog's behavior when wearing one layer vs. two or three.
#8 Moisturize the Paws
As they hit the ground, your dog's paws are subject to cracking or blistering from excessive cold exposure. Additionally, since you'll be wiping your dog's paws frequently during the winter, you'll want to do everything to prevent your dog's paws from cracking, chapping, and dryness. Hence, keep your dog's paws hydrated with moisturizers, conditioners, and oils. However, it's imperative to use only dog-safe moisturizers or products approved by your veterinarian. Do NOT apply human lotion or over-the-counter Vaseline on your dogs, which can potentially be dangerous if licked and ingested. When in doubt, always check with the veterinarian first.
#9 Keep Your Dog Warm Inside
Even indoors, your dog can feel cold during the winter months! Ensure a comfortable home for your dog by providing a heater (if necessary), a warm blanket, and a comfy bed. Since I'm too spoiled for a "dog bed," I take over the King bed and allow my humans to join me only at night – well, only if I feel like it. Whenever you blast the heat, it's a good idea to add a humidifier to alleviate your dog from dry skin, seasonal allergies, and breathing problems (especially for dogs with collapsed trachea like me). A humidifier may work miracles for many dogs, but again, it's best to consult with your veterinarian before purchase.
#10 Play Indoor Games
Ultimately, wet and cold winters mean fewer walks and outdoor playtime for your dog. It's essential to keep your dog physically active and mentally stimulated through indoor games and exercise. Since you're not taking those long walks with your dog, you can effectively reallocate that time with 15-20 minutes of fetch or other active games your dog loves. Otherwise, your dog could quickly pack on some pounds by the end of winter. If possible, you can also arrange for a playdate with his furry friend (well, post-Covid – of course). I also love running up and down the staircase inside our apartment building with my human, making it a pawsome substitute for the cardiovascular activity that I usually get from chasing furry butts at the dog park. Not to mention, I love teaching my humans some new tricks (yes, you read that right!).
Hope you like my 10 Tips to Keep Dogs Safe During Winter in NYC + East Coast! Got a new tip? BARK AT ME!
Subscribe to my YouTube Channel: Wet Nose Escapades by Roger Wellington for fun dog travel videos!
Markin' it up,
Roger Wellington a.k.a. The Doob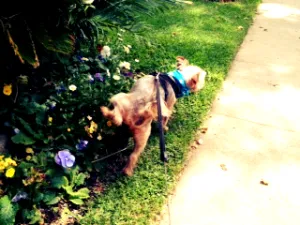 —
Like my post on "10 Tips to Keep Dogs Safe During Winter in NYC + East Coast"? Click to PIN!