Are you thinking of keeping your dog in a cage all day? OR have you been doing it and wondering if it's OK or the right thing to do? Sniff out why excessive caging or crating is cruel, and why such cruelty must STOP.
Posted 3/15/23
You may call it a crate, but it's basically still a cage. And, yes – it is CRUEL to keep a dog in a cage all day. In some countries like Sweden and Finland, caging your dog is even ILLEGAL unless done for temporary reasons like transportation. Whether you think it's the most effective way to keep your dog from destroying your furniture or peeing all over the house while you're away, caging or crating your dog more than 8 hours TOTAL DAILY is considered excessive, cruel, and downright abusive. As sentient individuals capable of feeling human emotions, dogs caged excessively long-term suffer physically, emotionally, and psychologically. Besides being able to feel happiness and excitement, dogs can also feel loneliness, grief, and sadness. And just like humans, dogs have the ability to suffer.
GRRR, I'm barking as a dog who was crated for 16-18 hours daily before my rescue and adoption by my FURever pawrents. It was RUFF. I mean, can you imagine getting locked up in a cage yourself – all day (or the majority of the day), every day? Even if you're able to keep up with some exercise routine inside your cage, I am sure it'll drive you crazy sooner or later, even if you have all your electronic devices. Dogs are no different – even with all their favorite toys and chews, they will suffer detrimental effects if confined in a cage long-term. If you're thinking, "Who cares? It's just a dog or animal," then you should NOT have gotten a dog in the first place. It's a fact that dogs provide many benefits to humans, including affection, unconditional love, emotional support, security, and comfort. But, at the same time, dogs are a lot of work – they must be exercised, fed, and given attention DAILY. In addition, they must also be potty trained, groomed, and taken to the veterinarian (for routine check-ups).
The real pawblem is that many new pawrents have underestimated the amount of work and time that it takes to raise a puppy or adult dog. That's right, they were in over their heads. They want to reap the undeniable benefits of having a dog, but don't necessarily want to put in the work. They keep saying they don't "have time," which basically means they don't care enough because it's never about having enough time, but what is being prioritized. And yet, the seemingly easiest or most convenient way to deal with a "misbehaving" dog is to lock him up in a cage where he's out of sight, out of mind. You know he's not running around the house peeing everywhere or scratching your hardwood floor. However, such practice is not only cruel but has detrimental effects that can lead to more behavioral issues. When you keep a dog in a cage all day, you are denying him basic freedoms – to walk around and relieve himself when necessary.
"IF YOU REALLY WANT TO DO SOMETHING YOU'LL FIND A WAY. IF YOU DON'T, YOU'LL FIND AN EXCUSE." – JIM ROHN
Besides the lack of physical activity (which hurts his health in the long run), dogs who are caged all day do not get an opportunity to socialize with other dogs (and humans) or receive stimulation needed for good mental health. In addition, they are more likely to be afraid of the world outside of the cage because the cage is pretty much all they know. And, just because he keeps running back to the cage doesn't mean that he loves it – it's usually because he's uncomfortable or fearful of the environment OUTSIDE of it. And yet, this is the environment that YOU'VE created for him. Fear leads to aggression, hyperactivity, and even more behavioral pawblems; the truth is that dogs don't bite for no reason, but only bite out of fear, threat, stress, or annoyance. Keeping a dog in a cage all day means forcing the dog to live in isolation, which causes anxiety, depression, and withdrawal.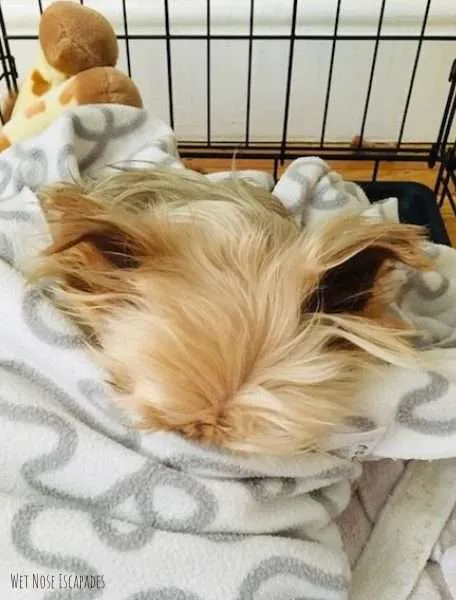 Excessive licking, chewing, or other types of self-grooming (often to the point of self-mutilation due to boredom), excessive barking or howling, and consistent hyperactivity are common signs exhibited in dogs caged for too long. Dogs caged since birth may even exhibit limb abnormalities and muscle atrophy. Larger dogs not used to being caged may even attempt to escape by chewing the metal material, leading to injury and toxicity. There's also a risk of potential obesity if caged dogs are continuously fed well without proper exercise.
Instead of investing the time into training a dog (or seeking help), you can't help but think it's easier to keep him in a cage and only take him out when you feel like it. OK – dogs are NOT toys you can put away whenever you're done playing with them. What's the point of having a dog and subjecting him to a life of isolation and misery? Did you get a dog so you can keep him inside a cage most of the time? It's unfair to the dog. Your dog deserves so much more. If you think you have a "bad" dog, think again. It's not that the dog is "bad," but it is YOU who failed to invest time in training your dog humanely and have resorted to inhumane measures to control your dog. Take accountability as a flawed dog parent instead of taking the easy way out of blaming the dog.
Again, 8 hours TOP daily is what is considered acceptable. Not a minute more! 9 or 10 hours to lock your dog inside a cage is too long. What if you have to cage your dog for 10 hours during the day? At that point, you must consider alternatives like training your dog to use a pee pad (while enjoying the run of the house), dog-proofing a room, or getting a dog walker (if you don't have money, ask a family member, neighbor, or friend for help). It's no secret that dogs are pack animals and do not do well in isolation (nor do humans). Cages or crates are easily misused, frequently crossing the line into animal cruelty, neglect, and abuse. If you're doing 8-10 hours during the day while you're at work and another 8 hours while you sleep, your dog is spending a whoppin' 16-18 hours getting locked up. Even though such practice may be considered legal where you live, you've still crossed the line into animal cruelty, neglect, and abuse.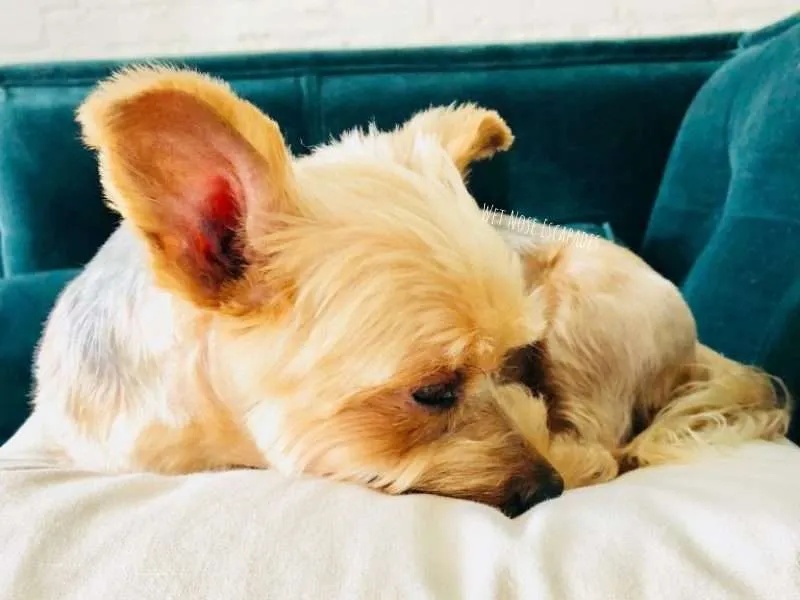 And, if you're ever trying to cage your dog as "punishment" for an act that YOU deem "wrongful" (e.g. barking, relieving themselves inside the house, biting your obnoxious child who has shown little boundary or respect for dogs, messing with the garbage while you're away, and so forth), please reconsider your behavioral correction methods. "Punishing" a dog is not only cruel but largely ineffective. In a dog's world, they don't see "right" or "wrong." The root of misbehaving dogs always stems from human conditioning. Just because you start screaming hysterically at them for chewing up your brand-spankin' new Air Jordans and subsequently locking them inside the cage doesn't mean they understand what they did was "wrong." Their pitiful stance of cowering down with their tail in between their legs only demonstrates how much they're AFRAID of you. Yes, you – their closest family member, guardian, best friend, partner-in-crime, all of the above.
On the flip side, if you are justifying excessive caging by providing your dog a safe place or "wolf den," you should recognize that no real wolf den is locked by someone else. lt's pawfectly fine to use cages but to leave them unlocked so your dog can come and go as he pleases. If you claim to love your dog but cage him for more than 6-8 hours a day, you have misunderstood the true nature of dogs, which is to be with people. Even if it's a shelter dog who has a history of long-term, excessive crating, it doesn't make it right for you to perpetuate such cruel practice. Give that dog a better life.
Alternatives to keeping your dog in a cage all day
Whether it's a 90 lb. Weimaraner (like my cousin Sonny) or 7 lb. Yorkie (like myself), there are alternatives to caging your dog all day.
–Hire a dog trainer to correct behavioral issues (make sure that the trainer only practices positive reinforcement and humane techniques)
–Enroll your dog in group behavioral classes taught by trainers (who, again, only practice positive reinforcement and humane techniques)
–Train your dog to relieve himself during walks
–Train your dog to relieve himself using a pee pad or artificial lawn
–Train your dog to relieve himself in the backyard using the doggy door (if you have a house)
–Hire a dog walker or ask family/friends for help to give your dog an opportunity for elimination, exercise, and socialization
*When you initially give your dog the run of the house or dog-proof a room, be sure to set up Furbo Dog Cam, and observe your dog's actions and behaviors while away so you can make necessary adjustments. In the first 4-5 monitorings, you should stay nearby in a room next door to your dog in case of destruction. It may take more than several adjustments and attempts to safely dog-proof the house, area, or room. Be patient, as your efforts will pay off.
With a full HD camera, 160-degree wide-angle view (day & night), and 2-way audio, Furbo Dog Cam is arguably the best way for humans to monitor (a.k.a. "spy") on their dogs and interact with them virtually. Heck, humans can see, talk, and even toss TREATS to their dogs through the camera. As you see what your dog is likely to do in confinement, you can make then adjustments accordingly.
All in all, you can find other ways to keep your dog under control without caging him all day. You may think: "Well, I don't have money to hire a dog trainer or dog walker. I don't have time to train my dog." Here's the deal: If you don't have money, you should not have gotten a dog in the first place because raising a dog costs money, from dog food to vet bills. Not having money is NO EXCUSE for your poor treatment of your dog. While I can't bark about your financial situation, I can bark about time because everyone, whether you're a billionaire or a bum on the streets, has the same 24 hours in the day. If you can't put your dog as priority, you don't deserve to have a dog, and again, shouldn't have gotten a dog in the first place. But, now that you have already brought a dog into your life (and vice versa), do the right thing by giving him the love and attention he deserves, and I can assure you that the love will return tenfold. If you're a new parent and suddenly "don't have time" for your dog (or find your dog to be in the way), sniff out this post about why giving up your dog for a baby is another cruel act that must be stopped.
Other dog crate posts to sniff out:
Keeping a Dog Confined in One Room: Dos and Don'ts for Dog-Proofing a Room
10 Reasons NOT to Crate Your Dog
How to Potty Train Your Dog WITHOUT a Crate
Why Does Your Dog Keep Wanting to Go in the Crate? 7 Reasons Why Your Dog Refuses to Come Out
Do Dogs REALLY Love Their Crates: Dog Crate Misconceptions DEBUNKED
Why is Your Dog Barking in the Crate & How to STOP it
Can You Crate Train an Older Dog?
WOOF, hope you are convinced to STOP keeping your dog in a cage all day. All in all, it's cruel and has detrimental effects for your dog, and ultimately, doesn't truly solve any behavioral issues. In addition to physical, emotional, and psychological consequences, such practice will lead to more behavioral pawblems.
Do the right thing by taking the time to train your dog to correct behavioral pawblems. Do better, humans!
Markin' it up,
Roger Wellington a.k.a. The Doob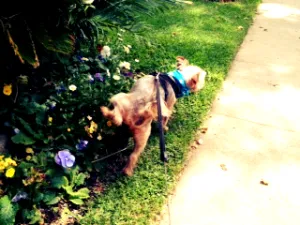 –
Like my post "Keeping a Dog in a Cage All Day: It's Cruel & Has Detrimental Effects"? CLICK TO PIN!