WOOF, is Las Vegas dog-friendly? Are you thinking of traveling to Las Vegas, Nevada with your dog? Perk up your ears to this post!
First posted 12/29/20, Last Updated 6/5/23
*Please note that this post contains affiliate links, and at no obligation or additional cost to you, my humans and I earn a small commission if you make a purchase. If you love the work that we do, you can show your support by making a purchase through an affiliate link. Proceeds will go towards feeding homeless dogs (and cats) along with improving the lives of the neglected and abused.
Known for world-class casinos and resorts, massive upscale nightclubs, celebrity chef restaurants, exhilarating shows, and Elvis impersonators, Las Vegas is a dynamic playground for anyone looking to get loose and have a good time. From bachelorette & bachelor PAWties (for those looking for a Hangover-ish weekend) to fun weddings and spur-of-the-moment elopements to weeklong holidays for international travelers, Vegas is the spot (I mean, SPAWT). ARF-ter all, the city only drew a whoppin' 38.8 million people from all over the world last year (2022 stats). Plus, it has the most hotels in the country. ARF-my-DOG, it's Vegas, baby!
Situated in the Mojave Desert, Las Vegas a.k.a. the Entertainment Capital of the World is a heavily frequented destination for Californians, whether you rest your furry paws in Northern or Southern California. As California natives, my humans have visited Sin City over 40 times and brought me along over 10 times so far, including two one-month-long stays. Before you book a trip with your dog to hit those slots, sniff out what you need to know about Las Vegas' dog-friendly culture:
The Las Vegas Strip is dog-friendly, BUT only at certain hours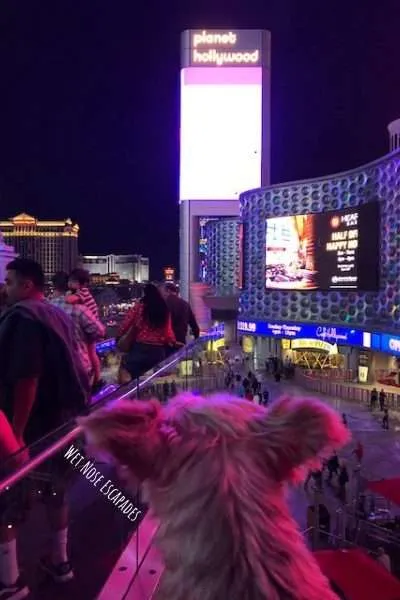 Unfortunately, playing tourist with your dog is not ideal on the Las Vegas Strip, the city's most famous attraction that draws millions of visitors from all over the world each year. Illuminating lights, 24-hour access to alcohol, sounds from endless rows of slot machines, and the inescapable EDM music from various corners – the Vegas Strip is stimulating, to bark the least. Shortly after my first furry visit to Las Vegas, I learned that the city passed an ordinance to ban dogs on the Strip to prevent panhandlers from keeping dogs in the summer heat. 
Besides the fact that dogs are NOT allowed to walk on the Strip from Noon to 5 am (from Sahara Avenue to Sunset Road, and from 200 yards on each side of Las Vegas Boulevard – 7 miles), the Strip is raunchy, filled with screaming, stumbling drunks and blasting music. During the hours between 5 am to Noon (before the rowdiness returns), dogs can walk on the Strip but must be on a leash 3 ft or shorter. So, if you want to "legitimately" walk the Strip with your dog, you have a 7-hour time frame of 5 am to Noon.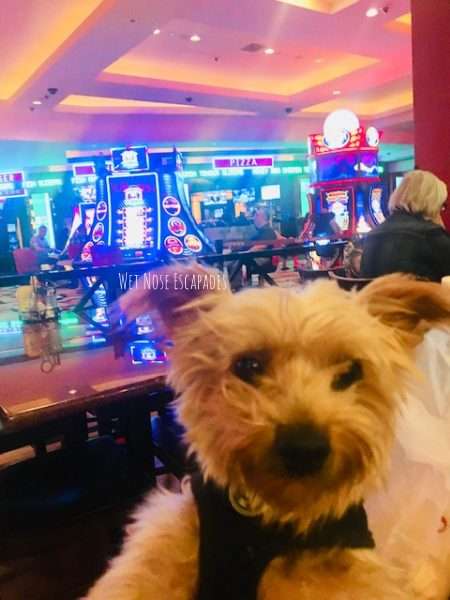 Despite the law, don't be surprised to encounter a few dogs while on walking the Strip. The homeless PAWpulation in Vegas is notorious for exploiting dogs for sympathy from tourists and passerby (due to the likelihood that sympathy equates to money). While you are tempted to give money to help the dog, please DON'T DO IT because you won't know how the human will spend the money (if any of it even goes to the dog). If you want to help, go to CVS, Walgreens, or Target (which are all on the Strip) and get the dog some packets of wet dog food instead. Besides dogs of the homeless and panhandlers, I've also sniffed out dog travelers and their humans exploring the Strip, knowingly or unknowingly that the Strip is off-limits for dogs from noon to 5 am.
Even if you plan on carrying your dog during those hours, the Strip's strategic over-stimulation can still be distressing for your dog (and his ears), especially if exposed for a long time. With that barked, it should be okay if you're passing through rather quickly with your dog.
Second-hand smoke is unavoidable on the Strip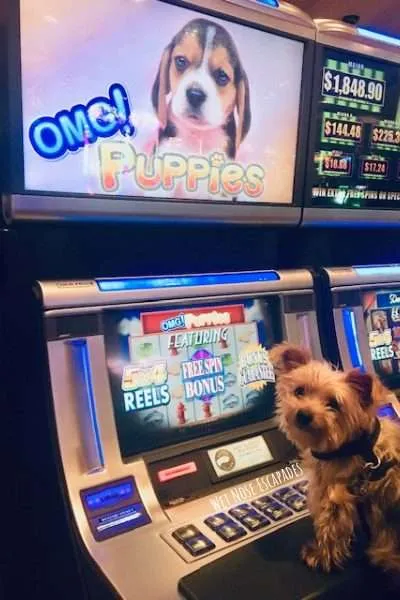 In addition to the Strip's dog walking ban and ubiquitous debauchery, it can be difficult to avoid second-hand smoke, in which long-term exposure can be detrimental to your dog's health (and yours). If your dog has a respiratory condition or collapsed trachea like me, second-hand smoke can trigger coughing or wheezing bouts. Limiting your adventure indoors with your dog doesn't necessarily stop the exposure since smoking is allowed INSIDE casino resort properties (which boast their own set of retail shops and high-end restaurants).
Just a side bark: Dogs are generally NOT allowed inside casinos (unless you're merely passing through) although many casinos on the Strip may have a more lenient enforcement policy. Have I set my furry paws on a casino floor in Las Vegas? WOOF, you betcha, and I've never been asked to leave. However, my time spent is limited to just passing through to get to my hotel room or destination. Gotta keep my nose clean and away from second-hand smoke!
Is Fremont Street in Old Las Vegas Dog-Friendly?
If you're thinking of visiting Fremont Street in Old Las Vegas, be sure to leave your dog at home. Home to some of the city's oldest casinos, the five block Fremont Street in Downtown Las Vegas (DTLV) boasts iconic neon signs and the former glory of the original strip. In the past, there wasn't technically a legal ban on dogs (although the foot traffic and noise still posed a stressful environment for your dog). However, a recent dog traveler reported back that a cop on Fremont Street told her that dogs are NOT allowed (as of 2023). Nonetheless, dogs are still allowed in the surrounding area (despite being prohibited on Fremont Street).
Here's my REAL Bark about Fremont Street – If your time is limited in Vegas, skip Old Las Vegas! This may be where the Vegas Strip started, but it's definitely not where it ended up. While there's a lot to experience here (not to bark, affordable prices) with historical casinos, live music, bars, street entertainment, and restaurants, the Strip is, PAWS DOWN, way more invigorating and glamorous. Plus, Old Vegas is undoubtedly grungier (feels a lil' trashy TBH. I gotta keep those paws clean too).
The summer heat is utterly DANGEROUS for dogs
Considering Las Vegas is in the Mojave Desert, you can only imagine the scorching heat that creeps through the city over the summer. From June to September, high 90s degrees Fahrenheit to triple-digit temperatures often take over the days (even up to 110 degrees Fahrenheit) and sometimes even the evenings. Like second-hand smoke, the unbearable heat can cause respiratory conditions to flare up and exacerbate coughing attacks for small dogs predisposed to collapsed trachea like me. However, even for my furry pals without any respiratory condition, the high temperatures can cause heat strokes, burn paws, and kill even the healthiest dogs. 
Therefore, if you take your dog to Las Vegas, avoid the summer months or keep your dog safe inside an air-conditioned room on a non-smoking hotel floor. If your dog has a collapsed trachea or respiratory condition, it might be a good idea to bring a small humidifier/air purifier for the room as the AC can dry up the air (leading to respiratory distress). I've found that the most comfortable weather is usually in the late Fall or early Spring. Winter months are doable as well – if your dog doesn't mind the cold with temperatures going down to 30s degrees Fahrenheit (still like nothing for East Coasters). 
10 Tips for Summer Travel with Your Dog
Outdoor Dining on the Strip is NOT so Dog-Friendly
GRR, dining on the Las Vegas Strip with your dog can be tricky! Even restaurants with outdoor patios have flat out denied my entry. And, the ones that reluctantly allowed me on their patio REFUSED to give me a small bowl of water after my humans pleaded (so be sure to pack your own to-go dog bowls). From my furry escapades in Vegas over the years, I'd bark loudly that the higher end restaurants on the Strip seem to enforce a stricter, by-the-book dog policy while casual, lower-end restaurants are more laxed with dog diners. Heck, I've even dined indoors at quite a few restaurants OFF THE STRIP without nasty glares or questions. My stylish rat tail is wagging as I bark that I've never been denied entry at outdoor patios of any restaurant OFF THE STRIP. 
As the law permits restaurants to decide whether or not dogs are allowed on their outdoor patios, I've sniffed that restaurants OFF THE STRIP are generally more dog-friendly (or essentially more lenient with their dog policy). If you want to eat out with your dog on the Strip, call ahead to check on their dog policy – don't assume that the restaurant is dog-friendly simply because they have an outdoor patio. And, ARF course, service dogs are exempt and always allowed entry.
My REAL Barks: Due to over-stimulation and poor experience, I don't usually eat out with my humans on the Strip. However, if I do, it's usually off the Strip (since dogs are technically NOT allowed on the Strip starting at noon to 5 am). For instance, my humans' favorite restaurants on the Strip are NOT dog-friendly despite having outdoor seating, including Mon Ami Gabi (Paris) and Bouchon (Venetian). However, I've been able to sit my furry butt on a human chair at the outdoor patio of Trevi – Caesar's Palace and at the casual indoor fast food restaurant Earl of Sandwich inside Planet Hollywood with no PAWblems or questions (despite a no dog policy on Yelp).
Get my 8 tips on how to dine with your dog!
Dog-Friendly Restaurants in Las Vegas
Tacos Pastor – 3049 S Las Vegas Boulevard: Located at the south end of the Strip, this classic taco joint with a colorful dog-friendly outdoor patio boasts some of the yummiest tacos al pastor (well, outside of Mexico) I've ever slurped! Expect some long lines.
Trevi – 3500 S Las Vegas Blvd (Caesar's Palace): I may no longer be living in Italy, but Trevi offers some real tasty Italian goodies to satisfy my little BIG Yorkie appetite. Just a bark of caution that I was able to dine on their lovely outdoor patio without any PAWblems or questions, but their Yelp policy does indicate that dogs aren't allowed.
Ocean One Bar & Grille – 3663 Las Vegas Blvd S Ste 620 (Miracle Mile Mall): Although the food here was just so-so, the friendly staff allowed me on their outdoor patio, which is essentially the Miracle Mile Mall pathway.
Earl of Sandwich – 3667 Las Vegas Blvd (Planet Hollywood): This causal order-at-the-counter joint may have a no-dog policy on Yelp, but I was able to line up and chomp on some toasty sandwiches with my humans. WOOF-HOO!
Slater's 50/50 – 7511 W Lake Mead Boulevard (OFF THE STRIP): Slater's 50/50 is one of my favorite burger SPAWTS! The staff was so sweet to clean up their outdoor dog-friendly patio (followed by delivery of a bowl of clean, cold water) so Penny Gurl and I could make ourselves at home. My go-to location is on Lake Mead in Summerlin, about 20 miles from the Strip. 
Lazy Dog Restaurant – 6509 Las Vegas Boulevard South (OFF THE STRIP): With "dog" in the restaurant name, you can only imagine how dog-friendly this American eatery is! Located at Town Square, Lazy Dog boasts a sizable inviting dog-friendly patio, making it a haven for dog-lovin' diners! Get ready to sniff butts here.
Crown and Anchor Pub – 1350 E Tropicana Avenue (OFF THE STRIP): If you want some pub food with your dog, Crown and Anchor is your SPAWT. There's a white-fenced outdoor area where dogs can chill while their humans drink a pint. Water bowls are also delivered with smiles. 
Can you take your dog to a Las Vegas buffet? 
Unfortunately, NO since most buffets only have indoor dining. GRRR. My humans always have to hit up the ARF-mazing Bacchanal Buffet at Caesar's (PAWS DOWN, the BEST buffet in town at the moment) every time they're in Vegas, but they have to leave me behind to indulge in all the goodies due to a no dog policy. GRRR. 
Get my 8 tips on how to dine with your dog!
Is Chinatown Las Vegas Dog-Friendly?
Not so much – only because restaurants in Chinatown rarely offer outdoor seating. Again, the law prohibits dogs from entering indoor food establishments (except for service dogs). If you're lucky, you may find a place with one or two tables outside next to the parking lot. However, it's still rare, to bark the least. Located on Spring Mountain Road just 2 miles from the Strip, Chinatown Las Vegas is a true hidden gem and home to plazas galore with some of the best restaurants in the city. Want authentic Chinese food? Skip the pricey places on the Strip and hit up Chinatown! Nevertheless, if you want to explore this dynamic neighborhood, be sure to leave your dog at the hotel.
Dog-Friendly Shopping in Las Vegas
In terms of shopping on the Strip, bringing your dog into high-end retail stores and souvenir shops is generally not an issue given that your dog is clean and well-behaved (and food and drinks are not sold on the premise). That's right – I've been greeted with many smiles and gentle pets. However, some places may still have a (rarely enforced) corporate policy for only allowing service dogs, which means it's usually up to the discretion of the staff. Hence, don't be surprised if you're asked to leave or stopped at the door. With over 250 shops, 8 department stores, and 30 eateries, the massive 2-million square feet Fashion Show Mall is officially dog-friendly, as of 2021! On National Make it a Dog's Day, this PAWbulous property on the end of the Strip opened its doors to furry shoppers and even hosted an adoption event to celebrate. WOOF-HOOO! If you wanna shop on the Strip with your dog without any stress or dirty looks, Fashion Show Mall is THE SPAWT.
Other dog-friendly shopping venues (OFF THE STRIP):
Town Square (6605 S Las Vegas Blvd.) – One mile south of the Strip, Town Square is an open-air shopping, dining, and entertainment center spanning nearly 100 acres. Leashed dogs are welcome with open paws to explore the grounds and enter many retail shops. I always make sure I leave some alpha marks on their two green grassy fields – The Green (northwest side) and The Square (middle of the complex). 
Las Vegas Premium Outlets (North: 875 S Grand Central Pkwy. South: 7400 Las Vegas Blvd. S.) – Whether you hit up the outlet in the North or South, you can bring your dog along to shop at many of the 150 designer and retail stores. Leashed dogs are also allowed in the common areas.
The District at Green Valley Ranch (2240 Village Walk Drive Henderson, NV) – About a 20-mile drive from the Strip, The District at Green Valley Ranch in Henderson makes for a fun dog-friendly stroll on cobblestone. Besides a plethora of dog-welcoming stores and outdoor dining, this open-air shopping complex also hosts occasional dog events, including adoptions and fundraisers for homeless doggies. 
Dog-Friendly Hotel Fees on the Strip can be pricey
Since the Las Vegas Strip is known for some of the world's largest luxurious 4 and 5-star hotel resort properties, you gotta be ready to fork out some cash to stay with your dog. ARF course, you can book at dog-friendly Motel 6 (where two dogs always stay for free) for a quarter of the price or an Airbnb without those hefty daily resort fees, but one of the best parts about Vegas is their iconic, top-of-the-line hotels that dominate the Strip. Although not all of Vegas' famous hotels allow dogs, opulent dog-friendly accommodations are relatively easy to find – if you're willing to pay extra. There is currently only ONE hotel on the Strip that doesn't charge extra for your dog's stay, and that is NoMad (located in Park MGM 3772 S Las Vegas Blvd). Sniff out my TOP Dog Picks for dog-friendly hotels on (or near) the Strip.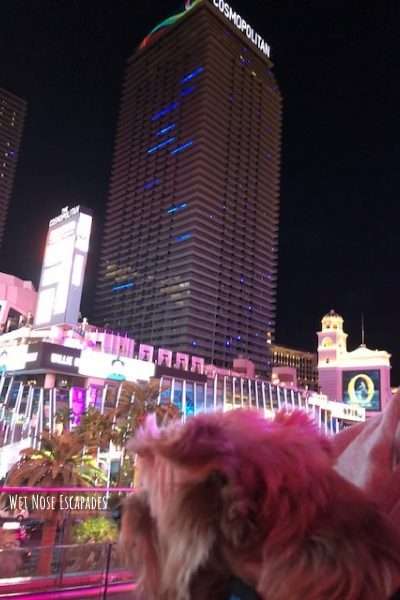 100.00 USD plus tax per dog nightly, up to 2 dogs max. My favorite hotel in Las Vegas! This posh, classy hotel also offers 2 outdoor dog runs, an exclusive daycare rate of $65 at Lux Pet Hotels, and a complimentary all-natural PupJoy gift box to welcome your furry friend. Dogs are technically NOT allowed in restaurants, food and beverage areas, the casino floor, gaming areas, pool areas, or fitness center (although the policy is not always readily enforced). Dogs left unattended must also be placed in "acceptable" kennels.
Up to 2 dogs weighing 50 lbs or less are allowed under the PetStay program, covering all hotels operated by Caesar's Entertainment Group in Las Vegas. Dogs ARE allowed to walk through designated common areas while on-leash and accompanied by their humans. Pet Relief Areas are also on the properties. They also provide a welcome package with food, water dishes, mats, poop bags, and treats! Check-in time for PetStay rooms is 4 pm, and dogs left unattended in the room must be in a crate/kennel. Taxes are NOT included in the rates.
Just a BARK that these hotels require a nightly refundable 100.00 incidental (security) deposit in addition to the dog fee.
Caesar's Palace – 100.00 USD per night 
Planet Hollywood – 75.00 USD per night
Rio All-Suite Hotel & Casino (off the strip) – 85.00 USD per night
Harrah's – 75.00 USD per night
Paris – 85.00 USD per night 
The Cromwell – 100.00 USD per night
Horseshoe (formerly Bally's) – 75.00 USD per night
Linq Hotel + Experience – 75.00 USD per night 
Flamingo – 75.00 USD per night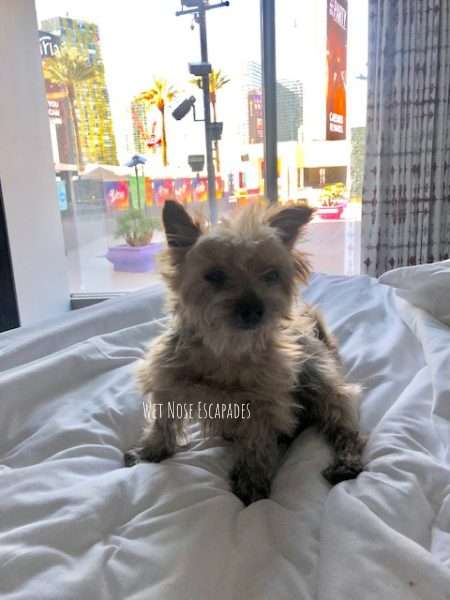 Up to 2 dogs allowed with a maximum combined weight of less than 100 lbs. Doggie butler services (dog sitting, walking, check-in) available for additional fees! Dogs are not allowed in public areas like food and beverage outlets and pool areas EXCEPT to pass through. Dogs must be placed in crates/kennels if left unattended in the room. Taxes are NOT included in the rates.
NoMad – Dogs stay FREE!
MGM Grand – 100.00 USD per dog per night for rooms, 150.00 USD per dog per night for suites
*The Signature at MGM (All-Suites) is no longer dog-friendly, as of September 2022. Service dogs are still permitted. MGM Grand remains dog-friendly.
The Mirage (soon to be Hard Rock in 2024) – 100.00 USD per dog per night for rooms, 150.00 USD per dog per night for suites 
Bellagio – 150.00 USD per dog per night for rooms, 200.00 USD per dog per night for suites
New York-New York – 50.00 USD per dog per night for rooms, 100.00 USD per dog per night for suites
Vdara – 150.USD per dog per night for rooms, 200.00 USD per dog per night for suites
Mandalay Bay – 100.00 USD per dog per night for rooms, 150.00 USD per dog per night for suites 
Park MGM – 100.00 USD per dog per night for rooms, 150.00 USD per dog per night for suites 
Luxor – 50.00 USD per dog per night for rooms, 100.00 USD per dog per night for suites
Delano (3940 S Las Vegas Blvd) – 150.00 USD per dog per night for rooms, 200.00 USD per dog per night for suites
Excalibur – 50.00 USD per dog per night for rooms, 100.00 USD per dog per night for suites
Trump International (off the strip) – 50.00 USD PER STAY (THIS IS A STEAL!!!) *25-lb weight limit per dog
Find out what essentials to pack for your dog!
Dogs are NOT allowed in the pool area 
Although dogs are technically NOT allowed in the pool area, a few hotels may make exceptions or simply lax in enforcement during the slow hours or season, like during the Winter and Fall (given that it's not a busy week or weekend due to major events). At a 4-star resort, I've been warmly welcomed into their trendy pool area and invited into the fitness center. ARF, it ultimately depends on the staff of the hour!
Dog-Friendly Transportation
Besides my humans' private vehicle, I've also ridden on Uber and Lyft in the city. To date, I haven't experienced any issues with rideshare drivers, even when outside my carrier. Although I don't recommend taking public transportation in Vegas, it's nice to know that small dogs are allowed on public buses as long as they're inside a carrier.
25 Tips on How to Fly with Your Senior Dog!
Is Las Vegas Dog-Friendly? The Bottom Line!
OK – if Las Vegas doesn't seem so dog-friendly, why have my humans taken me there more than once? To be exact, over 10 times! As world nomads, we do NOT travel as ambitious tourists who must hit up the top 10 attractions within 72 hours. We enjoy the art of slow travel so we can experience each destination like locals. Sure, you may see pictures of me posing with slot machines and hanging out on the Strip, but the truth is that I'm usually just passing through (and am rarely inside a casino for more than 5-10 minutes straight). Bottom line – the Las Vegas Strip isn't so dog-friendly, but there are parts of the city that are. If you can keep your dog relaxed and happy in a comfortable hotel room with at least 2-3 walks daily (not in the scorching heat, of course), then go for it!
And, if you opt for a luxurious stay on the Strip like I have, then please make sure that the hotel has dog relief areas since, again, dogs can only walk on the Strip from 5 am to noon (on a 3-ft or shorter leash). Avoid visiting Las Vegas with your dog from June to September, when the temperatures can climb up to triple digits. OR if you do, take extra precautions to keep your dog comfortable and safe. If you want to take your dog everywhere with you, then you're better off going OFF THE STRIP. Keep sniffing below for some suggestions.
Watch me celebrate Lunar New Year at the Bellagio:
My 10 Favorite Moments as a Traveling Yorkie
Off the Strip Dog-Friendly Activities
GRRR, so you're probably getting the idea that the Las Vegas Strip isn't so dog-friendly, but what about the rest of the city? For dog parks (like real dog parks, not just the ones on hotel grounds) and dog-friendly hikes, you'll have to go off the Strip. And WOOF, there's more to Las Vegas than the Strip, but you'll most likely need a car as the city is not so walkable. Also, bear in mind that homelessness and litter are quite noticeable throughout some parts of the city. Here are a few PAWpular dog-friendly spots off the Strip:
Charlie Frias Park (4801 S. Decatur Boulevard) – Near Excalibur, this is a PAWsome 32-acre park with canyon and mountain views and two dog parks.
Town Square – (6605 S Las Vegas Blvd) – Near McCarran International Airport, this 93-acre shopping district welcomes all leashed dogs. At this fantastic shopping and entertainment center, your dog will sniff out water stations, poop bags, and dog-friendly grass areas. Most restaurants also have dog-friendly patios: Lazy Dog (offering a dog menu), Brio Tuscan Grille, CPK, Crazy Pita, Loco Cantina, and more!
Downtown Summerlin (1980 Festival Plaza Drive) – Approximately 20 minutes by car from the Strip, Downtown Summerlin is a 106-acre dog-friendly outdoor shopping and strolling area in the 400-acre development, Summerlin. Dog-friendly restaurants include Lazy Dog Cafe (yes, again), Grape Street Cafe, CPK, Andiron Steak & Sea, and many more.
Western Trails Park (7355 S Rogers St) – With a giant shade that comes in handy on hot summer days, this is a 7-acre neighborhood park near the Strip with a well-maintained clean grass area. 
Sunset Park (2601 E Sunset Rd.) – One of the largest parks in the city! Located on the eastern end of McCarran International Airport, this regional park has numerous dog-friendly walking and running trails and a dog park.
Dog-Friendly Hikes and Recreation Areas:
Lake Mead National Recreation Area
Desert Breeze Park (8275 W. Spring Mountain Road)
Lorenzi Park (3333 W. Washington Ave.)
Floyd Lamb Park at Tule Springs (9200 Tule Springs Road)
Red Rock Canyon National Conservation Area
Spring Mountains National Recreation Area
Lake Las Vegas – Dogs are even welcome to take a dip with supervision!
*Don't forget to clean up after your dog. 🙂
WOOF, hope you enjoy your trip to Las Vegas with your dog! If you've decided NOT to take your dog to Las Vegas, take a deep sniff at these dog-friendly destinations.
Watch me make my mark in Las Vegas HERE. Don't forget to subscribe to my YouTube Channel: Wet Nose Escapades by Roger Wellington for more fun dog travel videos!
Markin' it up,
Roger Wellington a.k.a. The Doob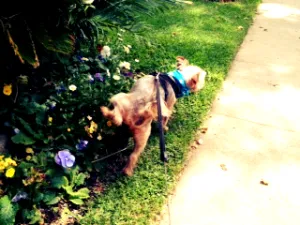 —
Like my post "Is Las Vegas, NV Dog-Friendly? A Yorkie's Guide to Taking Your Dog to Vegas"? CLICK TO PIN!