Is Ljubljana, Slovenia Dog-Friendly? Keep on sniffing!
WOOF, escapaders! What can a Yorkie bark out about Ljubljana? As the largest city AND cosmopolitan capital of Slovenia, Ljubljana rests along the curving river Ljubljanica. Despite its famed Old Town, art galleries, and distinguished museums, the city is often overlooked as a bark-worthy destination by international travelers. Notably the wealthiest city ($$$) in the Balkans, Ljubljana is truly captivating; it is the city of dragons, a dynamic college town, and one of the greenest, most sustainable cities in Europe. With a history dating back to the Romans and remnants of a medieval past, this city boasts a rich culture and intriguing architecture that can tilt any dog's (or human's) head. So, is Ljubljana, Slovenia dog-friendly? ARF, you betcha! From buzzing dog-friendly restaurants and cafes to meticulous dog-friendly parks, this charming castle town has welcomed my furriness with open arms.
Last Updated 2/1/21
Take a long sniff to discover my experience in dog-friendly Ljubljana, Slovenia:
I secretly studied humans walking along the Ljubljanica River.
The countless bars, restaurants, and cafes along the Ljubljanica River are the best places for some prime people and dog-watching. As most (if not, all) restaurants, cafes, and bars in the city are dog-friendly, I love being able to choose where I'd like to dine – whether outdoors or indoors. Since I set my furry paws here right before summer when the weather is still comfortable, I prefer to warm my furry little butt outside to observe Slovenian humans and their dogs stroll along the Ljubljanica River. Once a major trade and supply route, Ljubljanica is the renowned heart and soul of the city. After all, the river bed is one of the city's most prominent archaeological sites, with uncovered relics and artifacts dating back to the Stone Age. Perhaps its majestic past sets off a contagious, undeniable serenity. Even though I'm always on the go with my robust wet nose, I can sure appreciate the slower pace as I rest my paws, chillax by the river, and take in the scene.
https://wetnoseescapades.com/best-food-budva-top-10-picks/
I wolfed down some amazing, chops-lickin' Slovenian food.
WOOF, the Slovenians sure know how to fill up w Yorkie's little tummy! Trying Slovenian food is a MUST when marking up Ljubljana. Again, most restaurants are dog-friendly, which means it's time to get those furry paws dirty!
Complemented by a bit of mustard, mayonnaise, and horseradish, the homemade Carniolan sausage a.k.a. Kranjska klobasa is so succulent and flavorful that I licked my plate clean. I was hesitant to offer a bite to my humans but eventually gave in after seeing them beg by my chair. Don't worry – I made sure they did a couple of tricks (smile and say thank you) before I graciously fed them a bit of this heavenly treat.
I also licked my chops to a bowl of tasty potato goulash infused with sliced Carniolan sausage. YUM, slurp it up like there was no tomorrow!
MORE sausage for me…(I'll let my humans beg a little longer this time). Other to-beg-for Slovenian food that you must try – Potica (Slovenian dessert rolled dough with different types of fillings), Štruklji (rolled dumplings, also made from dough with various fillings but can be salty or sweet), and Žganci (corn mush/spoonbread) among many others!
All I can bark is that Slovenian food is ARF-mazing! 
*Don't forget to pack a bag of treats or dog or dog-safe food, clean water, and to-go bowls whenever dining out with your dog.
https://wetnoseescapades.com/bratislava/
I was completely mesmerized by the city's architecture.
OK – I may be small, but I can gaze upwards whenever I sniff some stunning architecture! In Ljubljana, its buildings and bridges make me wag my tail and drop my jaws for an open-mouth smiley face. The city's colorful architecture covers Baroque, Viennese Secessionist, and Modernist styles, dating back many centuries. Whether I set my paws along the Ljubljanica River (like above) or on Old Town, I am utterly mesmerized, completely out of barks! From the country's renowned architect Jože Plečnik's home (Plečnik House) to The Triple Bridge to the river embankments (all of which designed by Plečnik), I keep tilting my head to discover more sniff-worthy architecture.
I discovered that I AM a bit afraid of dragons.
ARRRFFF, the alpha dog in me did NOT come prepared as I come face to face with such a ferocious creature. Legend has it that one of the founders of the city killed a dragon. ARF-NOOOOO! With an open mouth way bigger than mine, this mythical creature appears both terrifying and intriguing, to bark the least. As the leader of my pack, I fronted a loud growl (GRRR) and marked up his perch as my paws hurriedly walked past his territory known as the Dragon Bridge. Whew – I may have been scared, but I still had to leave my alpha mark!
One of the seventeen bridges in the city, the triple-hinged arch style Dragon Bridge crosses the Ljubljanica River – between Kopitar St. and Ressel St. on Resljeva Cesta 2, 1000. Opened in 1901, this scary iconic bridge built when Ljubljana was part of the Austro-Hungarian Empire stretches 109 ft long.
I attempted to conquer every single park.
The greenery doesn't seem to end in Ljubljana. Again, it IS one of Europe's greenest cities. Needless to bark, I had A LOT of work to do! Sniffing out the scene, marking up the spot, and then scratching the grounds with my hind legs – REPEAT until I conquered all, from Tivoli to Argentinski. HAH, these Slovenian dogs have nothing on me! In addition to flawlessly landscaped green parks, Ljubljana offers abundant off-leash dog parks and runs where dogs can freely chase butts.
Here are some of my favorite dog-friendly parks in Ljubljana:
Tivoli Park – The city's LARGEST park, covering the city center, Šiška District (north), Vič District (south), and Rožnik District (west). I sniffed out head-tiltin' architecture here, including the Renaissance Tivoli Castle and Cekin Mansion along with a pond, botanical garden, and lots of sculptures.
Argentinski Park – This is a lesser-known, but equally pawsome park that's mostly visited by locals and their dogs. Located in the city center, this park was formerly Lenin Park but was renamed to celebrate the friendship between Argentina and Slovenia. 
Koseze Park – Surrounding the Koseze Pond lies a delightful pathway and green space. This area is perfect for a peaceful stroll with a dog. Nearby at Bratov Učakar St., my wet nose stumbled upon a dog park where I sniffed out plenty of furry Slovenian cuties.
Šmartinski Park – In the northeast of the city, Šmartinski Park is a relatively new park with its own water park and dog park. Due to its age, it's a little harder to find a shade which makes it tough on hot summer days. Otherwise, it's a nice park – clean and well-maintained!
Castle Hill – Castle? Where?? Keep sniffing it out below…
I felt bigger than the gigantic Ljubljana Castle.
Resting majestically on Castle Hill, the Ljubljana Castle is a real treat once my four furry paws made the 15 to 20-minute hike up. Since the clearly marked path to the castle is dog-friendly and relatively easy for dogs (even small ones like me), I raced my humans for the grand prize and won! WOOF, I then caught my breath and smoothed out my silky hair for some iconic Instagram posts. After posing with this 11th Century former medieval fortress (until my humans ran out of edible treats to pay me), I still didn't realize how small I am – compared to the gigantic castle. As the top dog, I always come to conquer!
Fortunately, this marvelous city landmark is dog-friendly! I couldn't believe how many dogs I sniffed out on my walk up to the castle. Dogs are allowed on all Castle grounds, except for the museum and cafeteria. Also, dogs are allowed on the funicular as long as they are muzzled or held. YIPPEE!
The stunning city views captured my little BIG Yorkie heart.
And YES, my hike up to Castle Hill paws down meets my top dog expectations. Just alongside the castle, I discovered some spectacular scenic views of the city. And, of course, the air is ARF-so-refreshing from the top. What I can bark – top dogs love those top views.
https://wetnoseescapades.com/best-food-rome-10-greatest-eats/
I used a human armrest for the first time.
Never felt the need to use an armrest that's made specifically for humans, but I tried one for the first time here in Ljubljana! While my humans were sipping on ice-cold Laško (Slovenian beer) at a dog-friendly bar (well, nearly all bars are dog-friendly here), I perked up and made excellent use of the armrest. OK – I may have some small arms (ARF, I mean legs), but I can sure get used to the support – especially for my paws. Not to mention, it makes me feel like the BOSS.
Their international food scene impressed my little tummy.
And, the Yorkie eats – again! DOG, did I eat A LOT here. Like A LOT of yummy paw-lickin' goodies. And yet, every restaurant embraced my furry appetite as I belonged. it's not just about Slovenian food in Ljubljana. As a cosmopolitan city, Ljubljana has an esteemed international culinary scene that delights any foodie traveler, even the furry ones like myself. From veggie gyozas to chicken masala wraps, I happily gobble them down into my little tummy!
https://wetnoseescapades.com/coolest-places-in-budapest/
I shopped at the dog-friendly Central Market.
Unlike most open-air food markets in the U.S., dogs ARE allowed to walk thru alongside their humans. As you may already know, I'm a HUGE veggie and fruit fan despite being a descendant of the carnivore wolves. I just love sniffing out fresh produce at the open-air Central Market (and forcing my humans to pay for my exclusive wet nose picks). Besides locally grown fruit and vegetables, I got my furry paws on some full-blown bright flowers and homemade pastries.
Sniff out the dog-friendly Central Market:
Weekdays 6:00-18:00 and Saturdays 6:00-16:00 (summer hours). Monday to Saturday 6.00-16.00 (winter hours). The market is closed on Sundays and holidays.
Dog Travel In Athens, Greece: A Yorkie travels to the ancient city
I wanted to lock my love on Butcher's Bridge.
Paris is NOT the only place where you can lock your heart in Europe! Argh, I stumbled upon some love padlocks here but couldn't find the right girl to lock up my little Yorkie heart. Perhaps it's due to my perpetual commitment issues. Yes – it's me, NOT you. It's not easy being so such a hot commodity.
Don't let the name fool you, this bridge is not about butchering your heart. Opened in 2010, the Jože Plečnik-designed Butcher's Bridge connects the Ljubljana Central Market to the Petkovšek Embankment, occupying former butchers' booths. Spanning 108 feet over the river, this lovers' bridge has plenty of space for more locks! Hopefully, someday I'll be back with my furry Mrs. Wellington to lock our hearts here. 
https://wetnoseescapades.com/best-places-barcelona/
Oh yea, I can ride the trains FOR FREE.
In Slovenia, small dogs are allowed to ride the trains with their humans FOR FREE. Small dogs like me can sit on their humans' lap OR inside a carrier on all trains. However, bigger dogs aren't so lucky. :/ For the purchase of half a 2nd class fare in domestic or international routes, dogs larger than 30 cm must be muzzled and sit or lie down on the floor.
That's it, escapaders! Hope you enjoyed sniffing out my wet nose escapade in dog-friendly Ljubljana, Slovenia. As you can sniff, Ljubljana IS very dog-friendly! How did you like visiting Ljubljana with a dog? BARK AT ME!
Looking for more travel tips? Put a furry paw HERE!
Markin' it up,
Roger Wellington a.k.a. The Doob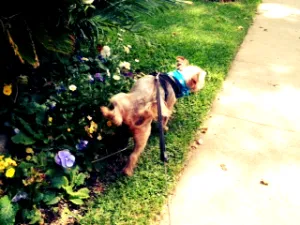 *Please note that this post contains affiliate links, and at no obligation or additional cost to you, we earn a small commission if you make a purchase. If you love the work that we do, you can show your support by making a purchase through an affiliate link. Proceeds will go towards feeding homeless dogs (and cats) along with improving the lives of the neglected and abused.
—
Like my post on "Is Ljubljana, Slovenia Dog-Friendly"? Click to PIN!