Is the Louvre dog-friendly? Keep on sniffing!
Last Updated 2/17/21
Bonjour, escapaders! Paris holds a special place in my little Yorkie heart as my very first international escapade. Despite the unavoidable second-hand smoke that disgusts me every second, it's hard not to like a top dog cool city like Paris. After all, it's widely acclaimed as one of the most dog-friendly cities in the world. As soon as I set my tiny furry paws along the banks of the Seine, I tilted my head to the 1000+ feet wrought-iron Eiffel Tower across the river. The centuries-old French Gothic architecture of Notre Dame then widened my mouth into an open mouth smiley face. And, of course, the Latin Quarter knew how to sneak into a Yorkie's heart – through the stomach with their chops-lickin' Greek crepes that allure never-ending lines. 
BUT, the best attraction in this romantic city is paws down the Musée du Louvre. Resting majestically on the Right Bank, the Louvre is the world's largest and most visited art museum (pre-pandemic) with a collection of over 380,000 impressive pieces of artwork. Whether or not you're into art, the Louvre is still a must-sniff. WOOF, who doesn't want to take a peek at the Mona Lisa, the Italian Renaissance masterpiece by legendary Leonardo da Vinci that's arguably the best artwork in the world?
ARF, so is the Louvre dog-friendly? Can you visit the Louvre with your dog? Qui et non. YES and NO. Except for service dogs, dogs are NOT allowed inside museums in Paris, including the Louvre. Although I haven't tried myself, I've been told by some locals that you could try to take or "sneak" your dog in via a soft carrier. Well, given that your dog is small enough like me. Nonetheless, I still would NOT recommend breaking the rules of the museum. Besides, such an experience is simply not enjoyable for your dog. If you are adamant about visiting the museum, it's best to leave your dog at home or with someone you trust.
However, don't you fret! Even though dogs aren't allowed inside the Louvre, they are welcome on the magnificent grounds of the Louvre Palace (Palais du Louvre) where you drop your jaws to one of Paris' most iconic architectural beauties with your pooch by your side. 
Conquering 40 hectares with two quadrilaterals, the Louvre complex features two magnificent courtyards: Square Courtyard (Cour Carrée) and Napoléon Courtyard (Cour Napoléon) – both of which are dog-friendly. The Napoléon Courtyard is the most popular one as it houses the Louvre Pyramid (Pyramide du Louvre). Designed by Chinese American architect I.M. Pei during the late 1980s, the Pyramid is a massive modernist glass and metal structure located in the central courtyard. It reaches 71 ft in height with a square base of 112 ft and a base surface area of 11,000 sq ft. Initially constructed as a fortress during medieval times, the Louvre went through quite a bit of transformation and expansion over the years.
Initially constructed as a fortress during medieval times, the Louvre went through quite a bit of transformation and expansion over the years. From a royal residence with a gigantic library in the 14th century to the present-day public museum brought about by the French Revolution. Expanded through different architectural styles over various centuries (Gothic, Renaissance, Louis XIII, Baroque, Neoclassicism, Neo-Baroque, Napoleon III, and Modernism), the Louvre Palace experienced dramatic changes or additions every time a new ruler came into power. To bark the least, the Louvre Palace's dynamic facades and stunning grounds can take you back in time – from Philippe-Auguste (medieval fortress) to Charles V (royal residence) to King Francois I (Renaissance style) and his heirs (additional wings to connect with Tuileries Palace) to King Louis XIII & his successor King XIV (public museum) to President Francois Mitterrand (pyramid). 
Due to such a long rich history, the Louvre compound is divided into the "Old Louvre" and "New Louvre." The "Old Louvre" consists of the medieval and Renaissance architecture surrounding Square Courtyard (Cour Carrée) and the Grande Galerie. On the other hand, the "New Louvre" is the newer architecture from the 19th century on the north and south sides of Napoléon Courtyard (Cour Napoléon).
WOOF! Even an alpha dog like me will bow down to the Louvre Palace – it's freakin' huge! As you can see in my video, I like to roam around this grand palace just like it's MINE and strike a pose in front of the Louvre Pyramid and its graceful waterfall. 
Located to the west on the open end of the Napoléon Courtyard (situated between the museum and Tuileries Garden), Place du Carrousel is a dog-friendly public square where Arc de Triomphe du Carrousel (dedicated to the mighty Napoléon's victories) stands.
GRR. Unfortunately, pets are technically not allowed in Carrousel and Tuileries Gardens (Jardin du Carrousel and Jardin des Tuileries) EXCEPT at the entrance of the cafe. 
However, dogs are allowed at the nearby Domaine National du Palais-Royal, which is minutes away from the Louvre and noticeably less congested. With 260 black and white striped octagonal columns, this former 17th-century royal palace sets off a cool contemporary vibe that makes a fun place to take pictures and hang out with your dog.
Follow my paw prints to see how I made my mark at this world-renowned landmark in Paris. Just take a peek below!
Dog Travel in Paris: An American Dog explores the Louvre:
Now if you choose to visit the
Louvre Museum
on your own, my tail is wagging to bark out some useful info!
From the official Louvre website:
Tickets purchased online: €17
Quick entry to the museum in less than 30 minutes
Tickets purchased at the museum: €15
Once visitors leave the museum (through the Pyramid or the Porte des Lions), they will not be able to re-enter.
A ticket gives you free admission to Musée Eugène-Delacroix within 48 hours. 
All visitors under the age of 18 and 18 to 25-year-old residents of the EU Economic Area can enjoy free admission year-round. Additionally, Friday evenings from 6 pm to 9:45 pm are free for all visitors under 26-years-old. 
Museum Opening Hours:
Monday: 9 a.m.–6 p.m.
Tuesday: Closed.
Wednesday: 9 a.m.–6 p.m.
Thursday: 9 a.m.–6 p.m.
Friday: 9 a.m.–6 p.m. 
Saturday: 9 a.m.–6 p.m.
Sunday: 9 a.m.–6 p.m.
Rooms begin closing at 5:30 p.m.
The museum will close at 5 p.m. on 24 and 31 December. Rooms will begin closing at 4:30 p.m.
Wanna see more of my furry paws take over the City of Lights? Watch me find the BEST food in Paris and study the Parisians!
Be sure to sniff out my step-by-step guide on How to Travel with Your Dog (on in-cabin flights)! And, don't forget to get your paws on DOG TRAVEL ESSENTIALS:
Dog Travel Essentials (PART 1)
Dog Travel Essentials (PART 2)
Markin' it up,
Roger Wellington a.k.a. The Doob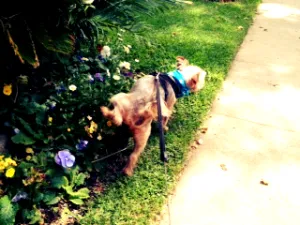 *Please note that this post contains affiliate links, and at no obligation or additional cost to you, we earn a small commission if you make a purchase. If you love the work that we do, you can show your support by making a purchase through an affiliate link. Proceeds will go towards feeding homeless dogs (and cats) along with improving the lives of the neglected and abused.
—
Like my post on "Is the Louvre Dog-Friendly? An American Dog goes to the Louvre in Paris"? CLICK TO PIN!