ARF, are you planning to take your dog to Manhattan Beach, California? Is Manhattan Beach dog-friendly? Let's get our sniff on below!
My simplest bark is NO, Manhattan Beach does NOT allow dogs on its beach. The wealthiest community of Los Angeles County's three beach cities in the South Bay, Manhattan Beach prohibits animals on OR off-leash in the beach area. GRRR. In addition to the beach, the pier overlooking the stunning Pacific Ocean is entirely off-limits for dogs. And, probably for safety reasons, dogs are not allowed on the bike path. This beach policy also applies to the other two beach cities lying south – Hermosa Beach and Redondo Beach.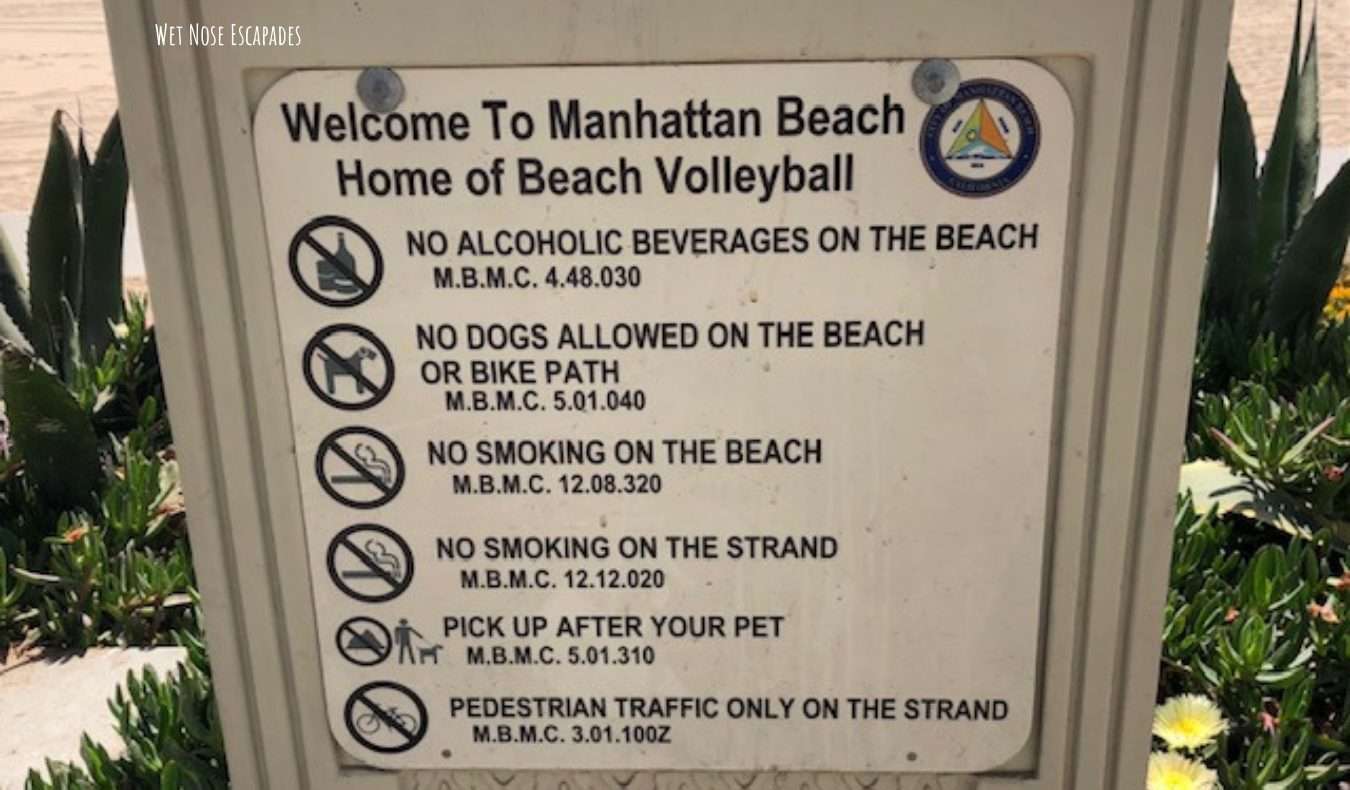 Just another bark that dogs are, unfortunately, not allowed on any beaches in all of Los Angeles County, except for the following:
Long Beach's Granada Beach – Dogs can go off-leash on Rosie's Dog Beach
Malibu's Leo Carrillo State Park – Dogs are allowed on-leash dogs in North Beach 
However, don't lower your tail or flatten your ears! Despite Manhattan Beach's no-dog policy, your furry beach companion will still love visiting this upscale beach community with a huge dog-lovin' vibe and plentiful dog-friendly activities. As a furry California native and SoCal resident, I'm happy to bark out my 8 favorite dog-friendly things to do in Manhattan Beach, California!
*Please note that this post contains
affiliate links
, and at no obligation or additional cost to you, my humans and I earn a small commission if you make a purchase. If you love the work that we do, you can show your support by making a purchase through an affiliate link. Proceeds will go towards
feeding homeless dogs (and cats) along with improving the lives of the neglected and abused
.
8 Things to do in Dog-Friendly Manhattan Beach, CA:
#1 Hit up The Strand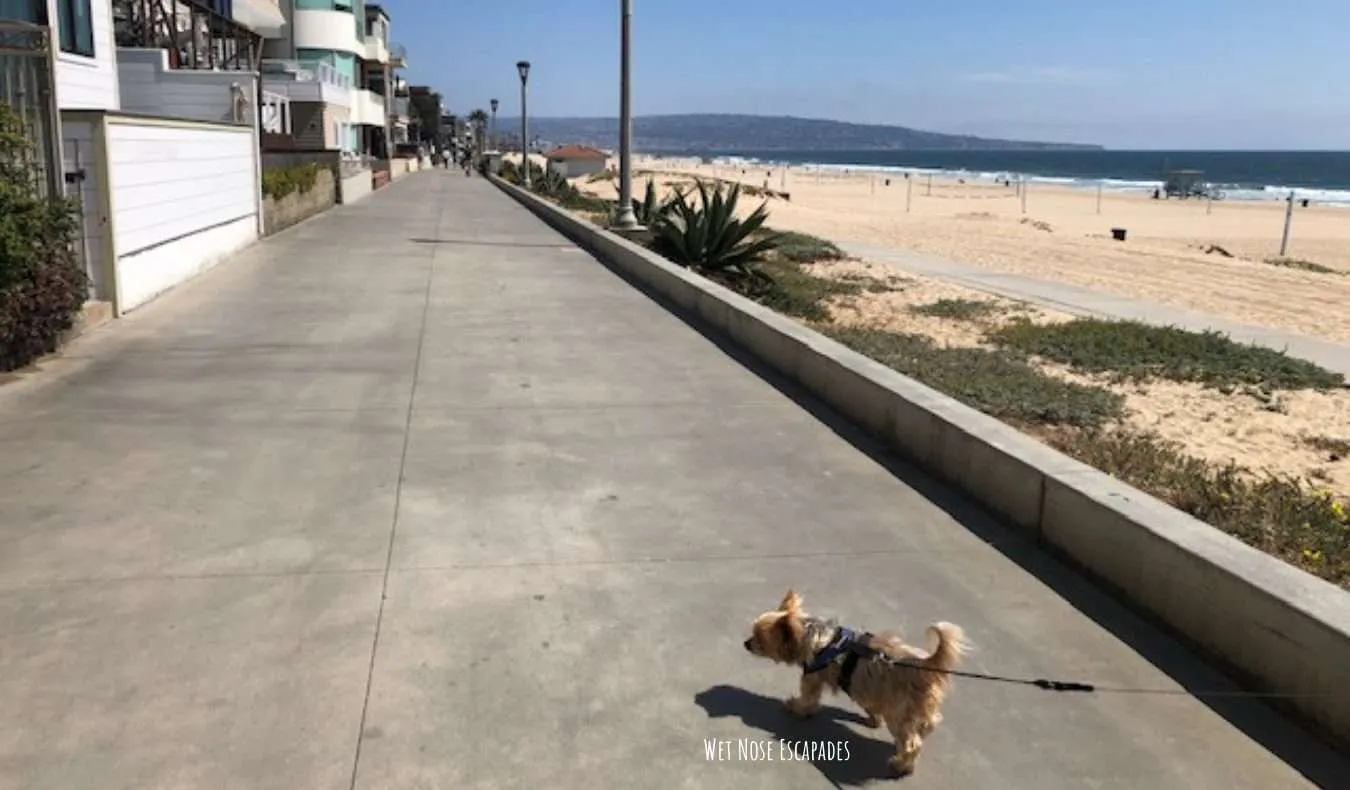 The Strand is where I set my furry paws to leave my alpha mark! GRR, that's right – the entire path is MINE. Even though dogs aren't allowed on the beach, they are welcome to stroll along this scenic two-way walkway along the Pacific Ocean. Local SoCal dogs and furry visitors dominate The Strand so you'll find numerous poop bag stations, which makes it ultra-convenient if you ever run out of poop bags during the walk. As you follow your dog's lead and head south on The Strand, you'll run into LA county's two other beach cities with a whole different attitude – Hermosa Beach (1.5 miles away) and then Redondo Beach (3 miles away). 
If I ever need to rest my tiny paws, I can find abundant cement benches along the way. My humans can watch super-tanned locals battle it out with a good ol' volleyball game while my robust wet nose tries to sniff out a furry SoCal cutie from a mile away. After all, Manhattan Beach is known as the birthplace of beach volleyball, and of course, beautiful creatures (dogs included) have always been SoCal's claim to fame!
Ahh-woooo, remember to follow the rules and keep your dog on a leash.
#2 Grub at El Sombrero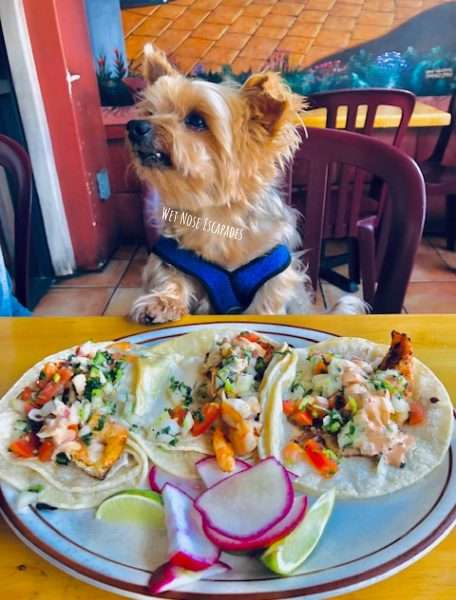 ARF, we all know that Mexican food is a MUST-EAT in SoCal. And, it's not just one of those When in Rome moments – with such proximity to the border, SoCal lives and breathes Mexican food. With ubiquitous Mexican restaurants in the area, it's hard to find a true alpha dog that stands out from the pack. But luckily, I've found my go-to place for Taco Tuesdays, which starts at 3 pm every Tuesday. El Sombrero on Manhattan Avenue is PAWS DOWN the best dog-friendly Mexican restaurant to get my paws and chops greasy in Manhattan Beach. 
Since 1975, "El Som" or "The Hat" has been an integral part of the community; locals know that this unpretentious, family-run traditional joint is a true gem in the city. Besides mouthwatering shrimp, fish, and potato tacos, they have plenty of outdoor seating to welcome your dog along with a communal dog bowl (although I usually prefer to bring my own water bowl :)). Being a family-run business, the staff is super friendly and makes you feel at home – my pal Jose warmly greets "Welcome Home" to every single guest. Even though they've added El Sombrero 2, I recommend going to the original one for its prime Downtown Manhattan Beach experience. 
El Sombrero #1 – 1005 Manhattan Ave, Manhattan Beach
*As dogs are pack animals who'd LOVE to experience meals with you, don't forget to pack a bag of treats, dog-safe food, bottled water, and to-go bowls for your dog! Don't make your dog feel left out.
Get my 8 tips on how to dine with your dog!
#3 Explore Downtown (& grab desserts)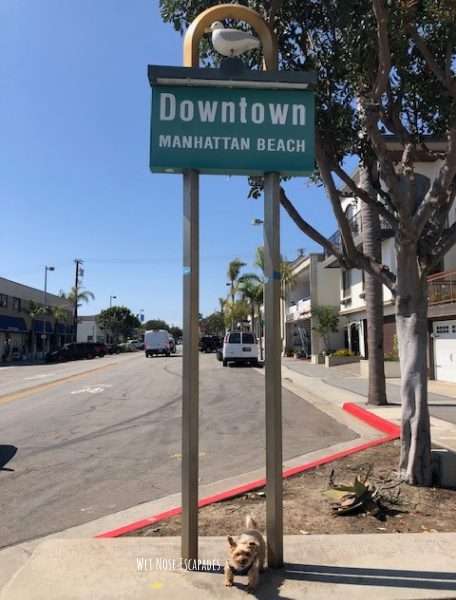 After getting my grub on at El Sombrero, I like to burn my Yorkie belly calories with a nice long walk in Downtown. With an upright tail, I'd march up and down the main thoroughfare of Manhattan Avenue like I belong. YESSS, I'll mark it like it's MINE. Running parallel to the Pacific Ocean, Manhattan Avenue has everything from locally-owned boutique shops to trendy eateries to cutesy dessert shops. Many shops will have dog bowls for your dog as well, making it a fun dog-friendly area to visit. Even if you're not much of a shopper like my humans, you'll feel charmed by the small-town vibe that's quaint but yet so posh. My wet nose tends to stop at the super pink Manhattan Beach Creamery (1120 Manhattan Ave) for a chops-lickin' Cream'wich (their special Artisan ice cream sandwich)! I dig their dog-friendly patio with pink umbrellas, chairs, and tables, BUT I just wish that they bring back those mini doggie cupcakes.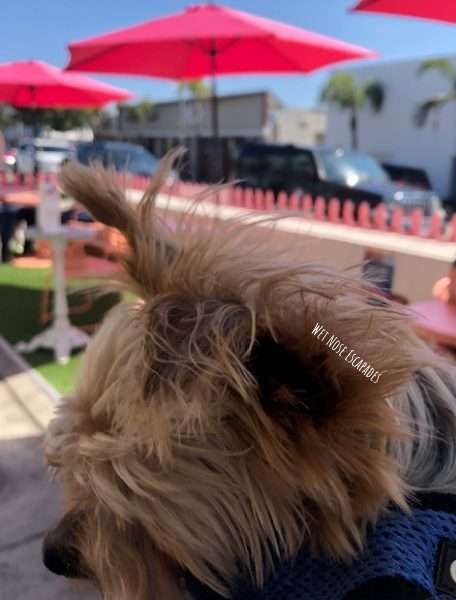 Sniff out my 10 favorite dog-friendly activities in Los Angeles!
#4 Watch surfers against the California sunset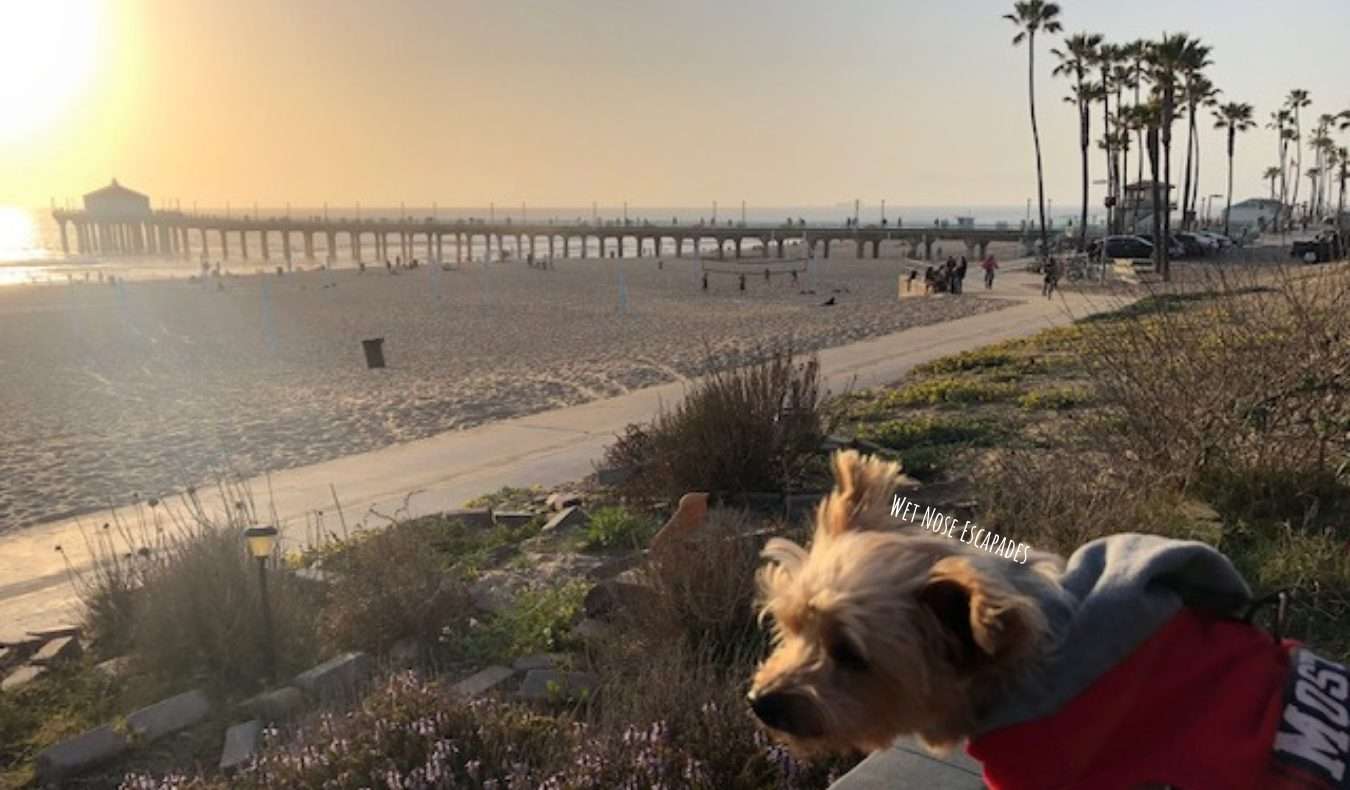 Known for its pristine white water and best-surfing waves, Manhattan Beach is the pawfect place to slow down and take a paws (Oops, I mean "pause"). You know life is good when you're watching surfers ride waves with the backdrop of the beaming California sunset over the breezy Pacific Ocean. Manhattan Beach has long been considered one of the best beaches for surfing newbies to catch a wave or two. Since it's lesser-known to tourists, the beach is clean and less congested, making the 2.1 miles of beachfront more than just a scenic resting spot for you and your dog. For softie humans like my own, the sight of the brilliantly red and orange sunset over the pier along with the sound of the waves gently drenching the sand can easily warm their hearts (and my little BIG Yorkie heart too). 
#5 Learn about Bruce's Beach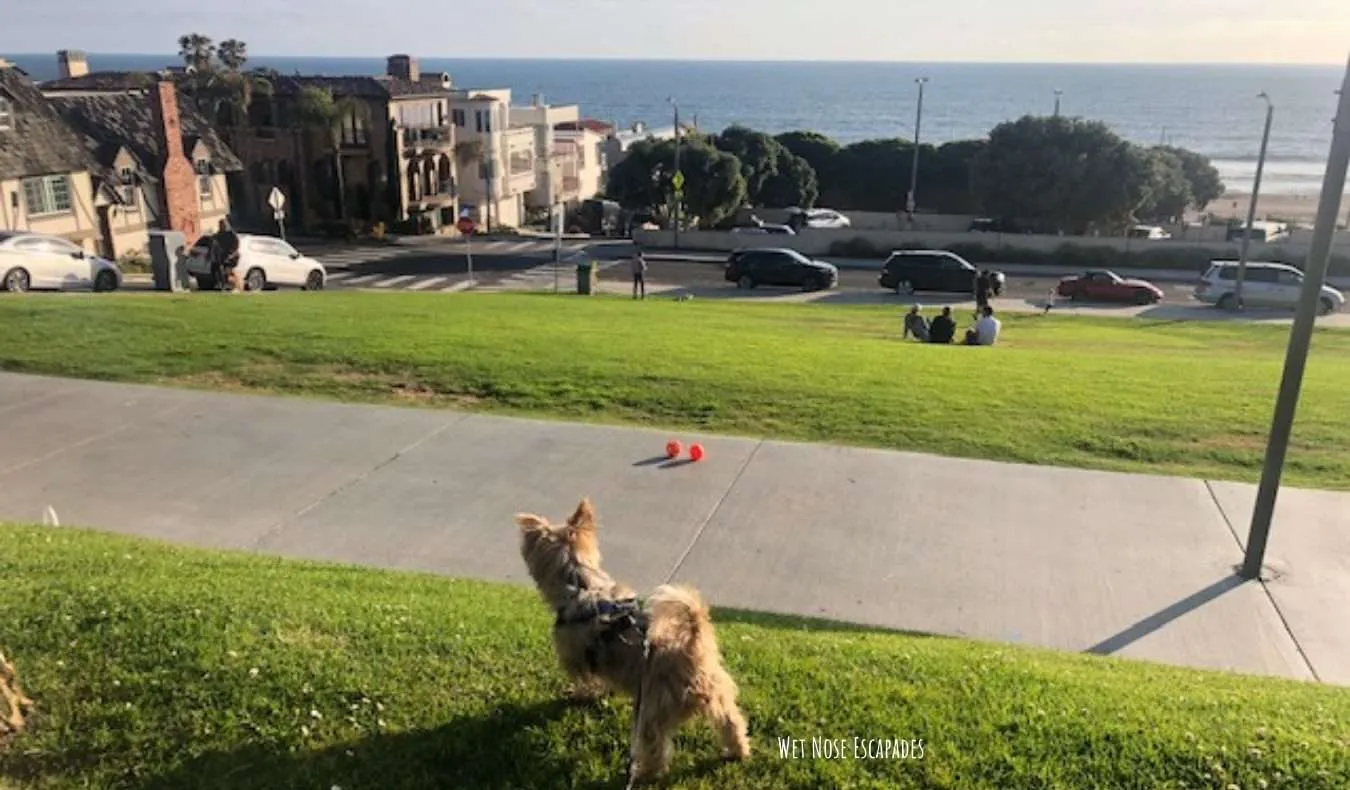 WOOF, Bruce's Beach is the off-the-beaten-path place for dog-lovin' visitors with ARF-mazing coastal views and furry butts galore! Situated on an incline that overlooks the Pacific Ocean, Bruce's Beach boasts an inviting dog-friendly grassy area with plentiful shade and a few benches. Historically owned and operated for African Americans, Bruce's Beach has a dark past filled with racism and racial segregation. After purchasing the land to establish a resort in 1912, Willa and Charles Bruce were evicted by the city in 1929 through eminent domain. 🙁 The land remained vacant for decades until a city park was finally built. In April 2021 (after all the BLM protests sparked by the murder of George Floyd), the LA county supervisors approved the ownership transfer of this 6,999 square feet beachfront property to the Bruce family's descendants (rightfully so), which means this area may be off-limits in the future. However, for now, your dog can still walk through and frolic around the on-leash dog area located on the lower west end of the park (west of the basketball court).
Bruce's Beach – 2600 Highland Ave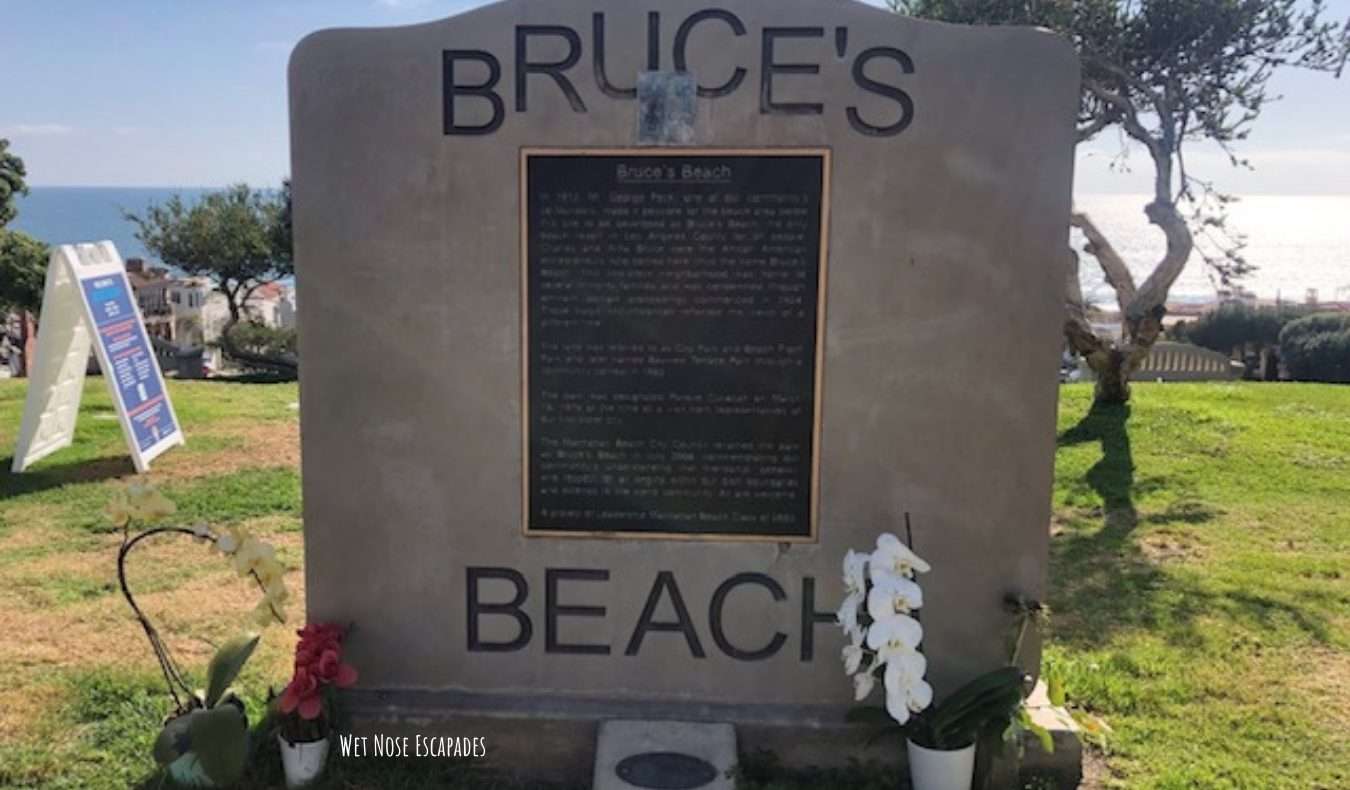 Is your dog ready for an epic road trip? Get these 16 Dog Road Trip Essentials!
#6 Mingle at a dog-friendly park
In addition to Bruce's Beach, Manhattan Beach has an abundance of dog-friendly parks and trails. Sniff out these pawsome parks to take your dog!
Veterans Parkway – 201 S Valley Drive
ARF, dogs are allowed on the scenic 3.5-mile-long green belt trail that runs through Hermosa Beach and Redondo Beach – well, as long as they're leashed. In addition to the gorgeous landscape, your dog will happily stumble upon dog water fountains sprinkled throughout the trail.
Polliwog Park Dog Park – 1601 Manhattan Beach Blvd
WOOF, Polliwog Park has the LARGEST dog run in the city! Located on the west end of the park adjacent to Begg Field, this dog run is super popular with the locals. Dogs are also permitted on designated pathways.
Live Oak Park Dog Run – 1901 N Valley Drive
This small park with tennis courts and picnic areas has a small dog run just north of the tennis courts. Hours are 8 am-9 pm daily.
Sand Dune Park – 3299 Bell Ave
Wanna get those paws sandy? Dogs are permitted on a leash along with the designated walking areas in Sand Dune Park. Let's go from wet nose to sandy nose!
Marine Avenue Park Dog Run 
East of the racquetball facility, this 7.5-acre park has a small, but well-maintained dog run. Hours are from 8 am-9 pm daily.
For more information, visit Dog-Friendly Parks in Manhattan Beach
"No dogs, ponies or any other animals in any park, with the exception of leashed dogs which are permitted on Veterans Parkway, leashed dogs passing through Bruce's Beach, Live Oak Park, Polliwog Park and Sand Dune Park, on paved walkways or otherwise designated areas (MBMC 12.48.050)."
#7 Fall in love with multi-million dollar beach homes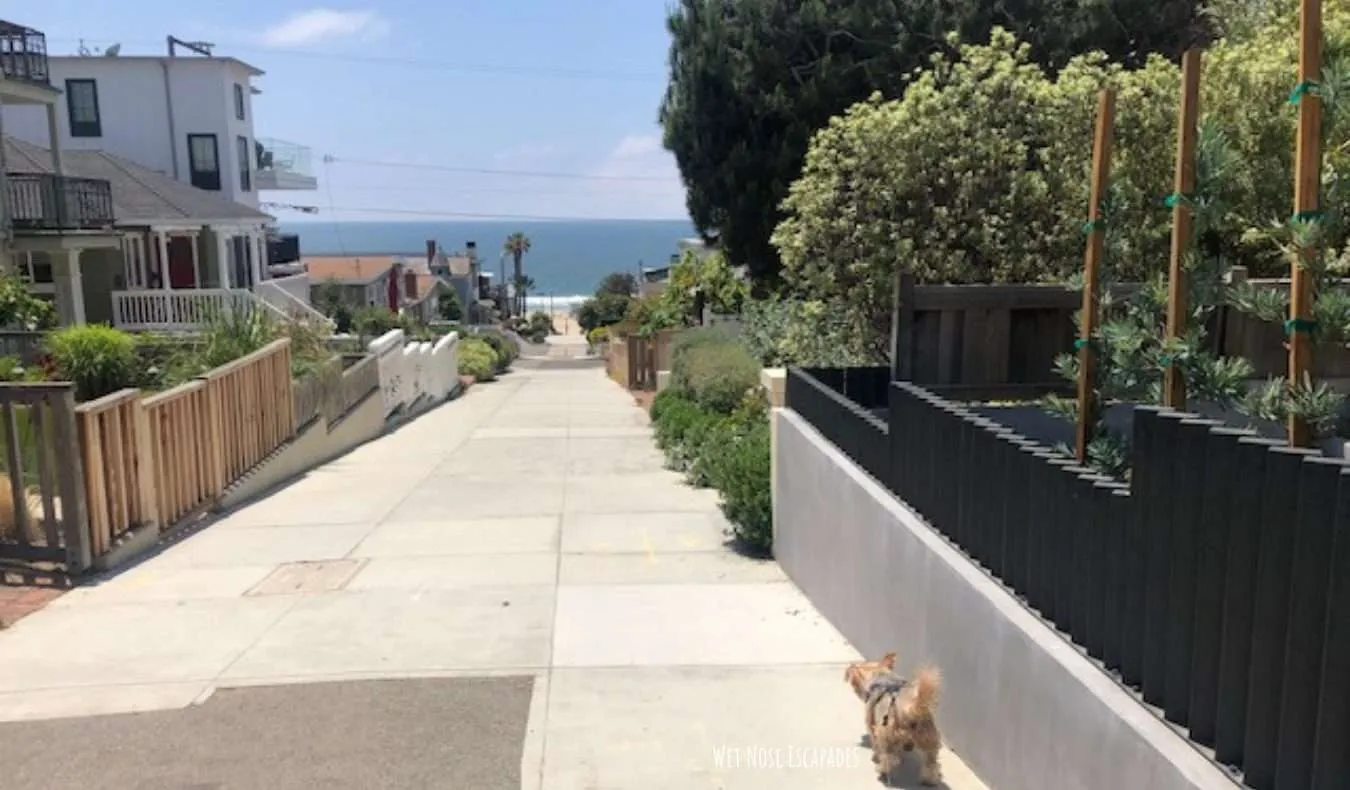 Manhattan Beach may not be as glamorous or internationally renowned as Malibu, but it has surely attracted enough Hollywood A-listers to make a Top Dog name for itself. Vince Vaughn, Owen Wilson, Maria Sharapova, and Zooey Deschanel are among the Hollywood elite who have owned multi-million dollar properties here. Again, Manhattan Beach is the most affluent of the three beach cities. ARF, I just love setting my furry paws in the posh residential neighborhood and sniffing out a mix of beautiful contemporary Art Deco style and Spanish architecture homes.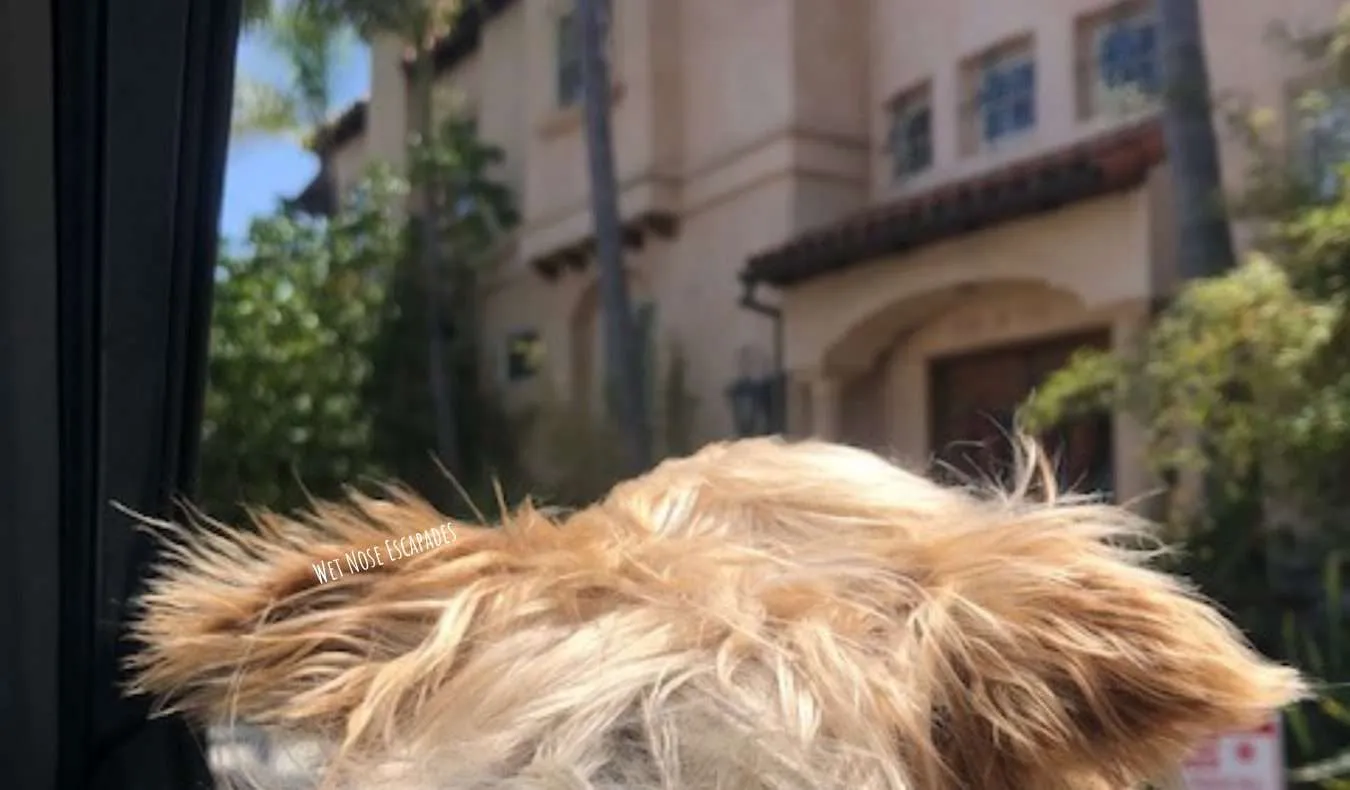 Want a beach house here? Be prepared to drop at least a couple of million dollars for a prime location. While the exclusive multi-million dollar homes in the Hill Section are quite private (with some stunning views, of course), the ARF-so-dreamy beachfront real estate on The Strand and around Downtown is more accessible to aspiring eyes (and noses) of the passerby. However, you choose to admire these spectacular homes, be sure to respect the residents' privacy and property. Also, be a respectful visitor by always cleaning up after your dog!
#8 Hang out in Manhattan Village
This modern indoor-outdoor shopping plaza is one fabulous place to spend an afternoon or early evening with your dog in Manhattan Beach. Completed in Spring 2018, Manhattan Village is an open-air 53,300-square-foot commercial development situated on Sepulveda Blvd. and Rosecrans Ave. near Downtown. From big box retailers like Macy's to the Apple Store to chain restaurants like Islands and CPK, Manhattan Village is far from unique in terms of shopping options. Regardless, it does offer a beautiful, clean common area to relax and hang out. Although dogs are technically NOT allowed inside the shopping plaza (enforcement may or may not be laxed depending on your luck), there's ample outdoor pavement and grassy area for your dog to walk around and let that wet nose get to work. Not to bark, many restaurants onsite also offer dog-friendly dining with outdoor patios like Joey Manhattan Beach (3120 N Sepulveda Boulevard).
Manhattan Village – 3200 Sepulveda Boulevard
WOOF, hope you enjoy visiting dog-friendly Manhattan Beach, California! Feel free to share your experience with me – BARK AT ME!
Markin' it up,
Roger Wellington a.k.a. The Doob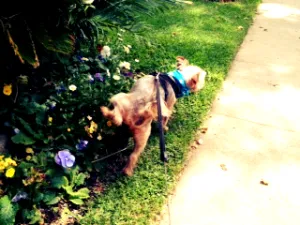 —
Like my post on "Is Manhattan Beach Dog-Friendly? 8 Things to do in Manhattan Beach, CA with Your Dog"? CLICK TO PIN!