Is Milan, Italy dog-friendly? Your nose can stop here!
Posted 2/11/21
Ciao, escapaders! As a former furry Italian resident, I can bark pretty loudly about Milan. Located in the northern Lombardy region, Milan is no beta dog. Sure, it wasn't the center of the Roman Empire like Rome, but Milan was, indeed, the capital of the Western Roman Empire. With a long economic and industrious history, it is the financial capital of the country. Today, it hosts the Italian stock exchange, bank headquarters, and international corporations. Since the 16th century, Milan has been the esteemed fashion capital of the WORLD (so be sure to sport your most stylish wardrobe). Not to bark, its Santa Maria delle Grazie is home to Da Vinci's internationally renowned The Last Supper. 
WOOF – just like me, Milan is alpha dog status. What goes down when an alpha dog sets his paws on an alpha city? WOOF, it's time to mark up and conquer the town! Like the rest of Italy, Milan is dog-friendly. And, I mean VERY dog-friendly. Paws down – especially for city boys like myself, this is one of the best cities in the world to live or visit with your dog.
*Please note that this post contains
affiliate links
, and at no obligation or additional cost to you, my humans and I earn a small commission if you make a purchase. If you love the work that we do, you can show your support by making a purchase through an affiliate link. Proceeds will go towards
feeding homeless dogs (and cats) along with improving the lives of the neglected and abused
.
Sniff out my guide to visiting dog-friendly Milan: 
Don't skip aperitivo!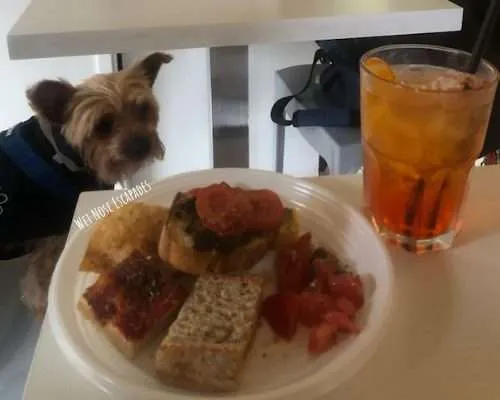 As this fabulous Italian tradition originated in Northern Italy, there's no better place to try aperitivo than in Milan. What the heck is aperitivo (or apéritif)? ARF, it's a cocktail (or wine) with light snacks (typically finger foods) to warm up your appetite before dinner. Since the Italians tend to eat dinner late around 8 or 9 pm, aperitivo usually happens around 7 pm. Although it's a way to socialize after a long day at work, it's important to not confuse this Italian tradition with the happy hour that we are accustomed to in the U.S. With a history of intention to stimulate the appetite before a meal, aperitivo is perfected through careful convergence of bittersweet liquors like Aperol Spritz (my human's favorite drink) and salty finger foods. 
For an international foodie like me, it's hard not to stick my little wet nose in those sniff-worthy aperitivo lines. ARF, I must get my paws on those chops-lickin' olives, bruschetta, and crostini! Whether you go to a local or upscale aperitivo spot, you can take your dog with you! Unlike the U.S., dogs are allowed INSIDE restaurants and bars in Italy. Come to think of it, after several years of living and traveling throughout the country, I was denied once and only once – at an upscale touristy restaurant in Rome. 
Get my 8 tips on how to dine with your dog!
Stuff your mouth with risotto
When in Italy, I like stuffing my little mouth with tagliatelle and pizzas. BUT, a trip to Milan is never complete without a Milan original – the RISOTTO. Mmm, I'll lick the plate clean to this creamy rice dish any day! Cooked with butter, white wine, onion, and parmesan cheese, this risotto is a true Milanese specialty. Try my favorite, the porcini mushroom risotto for that chops-lickin' smokey flavor. Again, since all or most restaurants in Milan allow dogs to dine indoors, don't leave your furry diner behind!
*Remember to pack treats and dog-safe food for your dog so he or she has something to enjoy too! Restaurants in Milan are usually willing to provide water bowls, but I always bring bottled water and a to-go bowl – just in case.
Mingle with the furry Milanese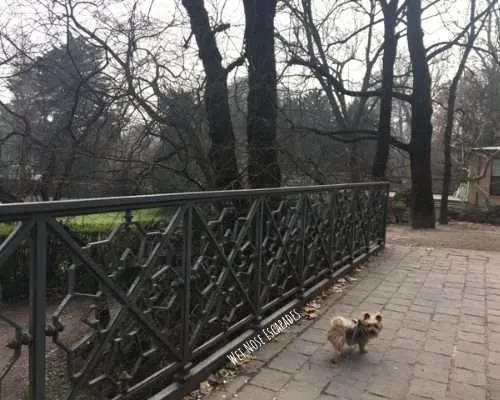 Time to chase those furry Milanese butts! As dog-friendly parks and dog runs are nearly everywhere in Milan, your dog will have plenty of furry butts to sniff out. ARF, sniff out my list of sniff-worthy parks:
Giardini Pubblici Indro Montanelli (Via Palestro, 14, 20121) – Home to the Natural History Museum and Planetarium, Giardini Pubblici Indro Montanelli is the oldest public park in the city dating back to 1794. It's located in the Porta Venezia district, boasting beautiful gardens and notable monuments. I love how peaceful it is despite the many local dogs who come here for their daily sniff. 
Sempione Park (Piazza Sempione, 20154) – Constructed in 1888, this is the largest park in Milan! Located right next to the iconic Sforza Castle, Sempione Park has over 116 acres of bark-worthy fun with lakes and lots of green space. The best part is its two large dog parks – one designated for big dogs and the other for small ones like me (with a BIG personality :)). 
Parco Alessandrini (Via Monte Cimone, 11, 20137) – In the Calvairate district, this park is dedicated to a prominent Italian judge named Emilio Alessandrini who was assassinated in the late 70s. It comes with a pawsome dog park and agility course.
Franco Verga Park (Via Carlo Perini, 20, 20157) – With 54-acres of green space, this park holds barking rights to a well-maintained, clean dog park. For the human athletes, you can find basketball and football fields here. 
Park of the Basilicas (20121 Milan) – Connecting two famous basilicas in the city (San Lorenzo and Sant'Eustorgio), Park of the Basilicas or Pope John Paul II features an enchanting water fountain, Roman ruins, gorgeous trees, and most importantly, a dog park.
Vittorio Formentano Park (20135 Milan) – Besides the WWII memorial, water fountain, and remarkable sculptures, this shady park has trees galore with several separate dog parks.  
Don Giussani Park (Viale Coni Zugna, 6, 20144) – Mainly a residential park, this less congested park offers several enclosed dog areas.
*Don't forget to pack poop bags to clean up after your dog. Find out what other essentials to pack for your dog!
Sniff out Leonardo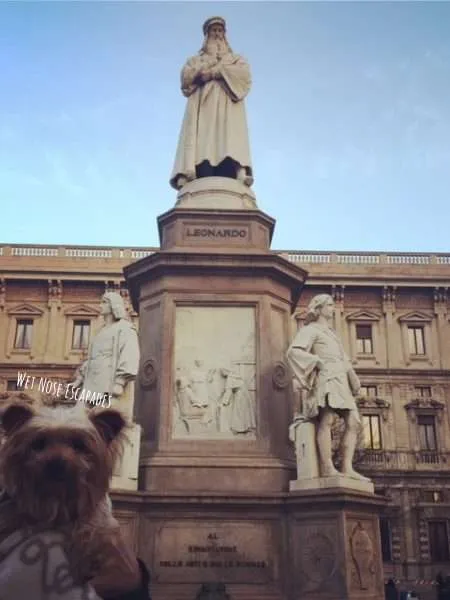 WOOF! You cannot leave Milan without taking your dog to see Leonardo at Piazza della Scala. Constructed in marble and granite by Pietro Magni, this magnificent 1872 statue of Leonardo da Vinci with his four disciples at the base of each corner. As I barked out earlier, Milan is home to Da Vinci's masterpiece The Last Supper, which depicts the final meal of Jesus and his twelve apostles before his crucifixion. Although dogs are generally not allowed inside museums (including Santa Maria delle Grazie), I delighted myself with a quick sniff and photoshoot with this true top dog artist and his gang of four. 
Explore the grounds of Duomo di Milano 
This is one ARF-mazing cathedral! One of the most visited sites in the city, Duomo di Milano or Milan Cathedral is an architectural masterpiece that you do not want to miss. ARF-ter all, it only took over 600 years to complete, from 1386 to 1965! As one of the largest cathedrals in the world, this Gothic-Renaissance house of worship is bigger than St. Peter's Basilica at the Vatican City. Standing 354 ft with 135 spires, this cathedral surely caused me and my humans to tilt our heads back for a better look. While dogs aren't allowed inside, you can still take your dog to explore the exterior grounds. However, as this area can get pretty crowded during the afternoon and early evening, I strongly suggest that you go earlier in the morning for a more laid-back experience for your furry traveler. 
Since Milan is the fashion capital of the world, you can only imagine what shopping is like here! Located in the city center (Centro Storico), Quadrilatero della Moda a.k.a. Quad d'Oro is a ritzy commercial shopping area. In English, the name is translated as Fashion Quadrilateral. While I'm no sucker for labels, I love marching with an upright tail along the main street Via Monte Napoleone, which showcases cute boutiques, luxurious brand names, and upscale cafes and eateries. Heck, it IS Europe's most expensive street! And yes, dogs are typically allowed inside stores (unless otherwise noted at the entrance, which rarely happens). Whether you want to window shop or squander $$$ on Prada bags, your dog can be right next to you. As there are four main streets (hence, the name quadrilateral), be sure to sniff out the other three streets: Via Alessandro Manzoni, Via della Spiga, and Corso Venezia.
Get lucky with the Milan bull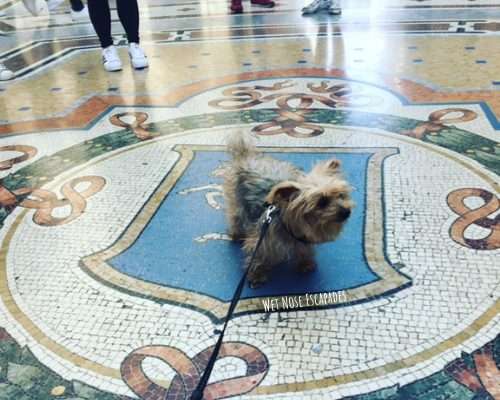 ARF, just to be clear – I will never step on a real bull (or any real animal – I think bullfighting is just straight up sickening). However, for a few seconds, I did stand on the depiction of a bull on a mosaic floor. It's part of the "good luck" tradition at Galleria Vittorio Emanuele II, an upscale shopping mall next to Milan Cathedral. Not to bark, the Galleria is also the oldest shopping mall in the country with construction dating back to 1865! This "tourist" tradition has it that good luck will come if you step on the bull's balls (which has been significantly worn out due to popularity) and then turn or spin your right heel backward three times. Despite my lack of superstition, I did pose here for a few seconds – just long enough for my humans to snap a photo or two.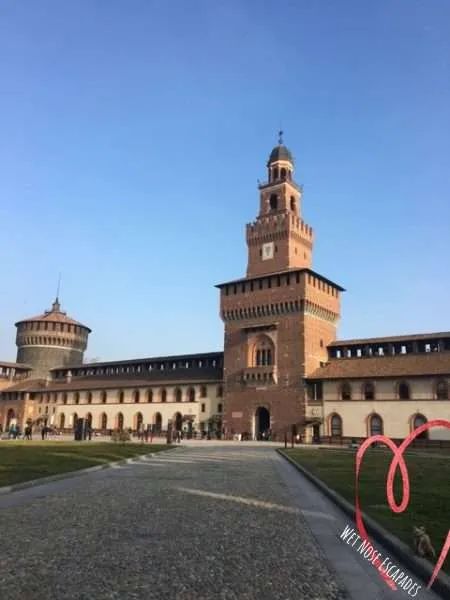 As the alpha dog and pack leader, it's time to step into the furry paws of a courageous Yorkie knight. GRR! Located next to my favorite Sempione Park, Castello Sforzesco or Sforza Castle is the place for me to sniff out and leave my alpha mark. With a history going back to the 14th Century, Sforza Castle got its name from military leader Francesco Sforza who came into power in the 15th Century. From the French to the Spanish to the Austrian, foreign rulers have occupied this castle and renovated it for many centuries. In modern day, the castle is home to many museums, including the Pinacoteca del Castello Sforzesco and the Egyptian Museum. As you can guess, dogs aren't allowed inside BUT are welcome in all outdoor areas of the castle. And, trust me – your dog will meet quite a few dogs here!
Hang out by the canals
WOOF, you might not be in Venice but that doesn't mean you can't hang out by the canals. One local even told me that Milan resembled Venice at one point in time. WOAH! As my furry paws continued southwest in the city, I soon understood what he meant. I tilted my head as I reached the marvelous neighborhood of canals – Navigli. Boasting five canals in its system with Naviglio Grande and Naviglio Pavese as the most famous ones, Navigli has an ancient history that takes you back to the 1100s. After exploring the nearby art galleries, cafes, restaurants, bars, and shops, I rest my furry paws by the canal while my humans take in the scenery. Unless you plan to get aperitivo at one of the restaurants surrounding the canals, you can grease up your paws to some "takeaway" drinks and snacks and relax by the canal. And, again – don't forget to pack treats, dog-safe food, and fresh water for your dog to enjoy!
My 10 favorite healthy dog travel treats
Get spooked out
GRRRR, cemeteries can spook even the most masculine traveler like me. Despite feeling something creeping up on my silky fur, I'll still bark that cemeteries can be quite intriguing places to explore – should you dare. With two massive cemeteries in Milan (Monumental Cemetery and Musocco Cemetery) dating back to the late 1800s, it's hard to turn my nose up at them. Additionally, Monumental is also very close to the city center (while Musocco is northwest in the outskirts). From esteemed poets to well-known actors, these two historical cemeteries house many phenomenal tombs and monuments dedicated to famous Italians. Even though dogs aren't typically allowed inside the cemetery, the exterior grounds are so massive and grand that they still make an ARF-mazing dog-friendly stroll.
Dog-Friendly Trains
Can dogs ride the trains in Milan? WOOF, sì! Like in the rest of Italy, small dogs (and cats) can travel FOR FREE in both first and second class on all trains. They must travel inside a carrier no larger than 70x30x50 cm. 
My fabulous green carrier has been in more countries than most humans on Earth! Get yours HERE!
For bigger dogs (no size limit) who are muzzled and leashed, they can travel on Espressi (Express), IC and ICN trains in both first and second class. However, during rush hour time of 7-9 am M-F, you must purchase a reduced ticket (50%) for your dog.
In spite of the official rules, I've never seen a muzzled dog on the train throughout the several years I've traveled and lived in Italy. Additionally, I've sniffed out plenty of small dogs outside of the carrier. Of course, they were all well-behaved and quiet (like me :)).
*Always check the official Trenitalia website for latest information
Oh yea, before marching inside the Central Station, I like to give the founder of Camillians (San Camillo de Lellis) a quick sniff!
So, is Milan, Italy dog-friendly? WOOF, you betcha! Hope you and your dog enjoy visiting dog-friendly Milan! Feel free to share your experience with me. BARK AT ME! Be sure to subscribe to my YouTube Channel: Wet Nose Escapades by Roger Wellington for fun dog travel videos. 🙂
Markin' it up,
Roger Wellington a.k.a. The Doob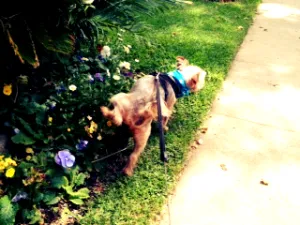 —
Like my post on "Is Milan, Italy Dog-Friendly? A Yorkie's Guide to Visiting Milan with a Dog"? CLICK TO PIN!