WOOF, is Montenegro dog-friendly? Wanna take your dog to Montenegro? Sniff out everything you need to know!
Updated 9/14/21
Zdravo, escapaders! After embodying a brave Yorkie knight in castletown Dubrovnik, I hopped onto a bus to Budva, another medieval resort town where I can get my paws sandy and stick my nose into shopska salads. From pawty beach town Budva to Old Town Kotor, I loved my two-month-long residency in Montenegro, a small yet utterly charming country in the Balkans. Let me just bark that those who have never set paws in Montenegro are seriously missing out! WOOF, the Adriatic Sea, the Bay of Kotor, sandy beaches, relaxing cruises, well-preserved old towns and castles, and of course, fresh seafood – Montenegro is Eastern Europe's hidden gem. And yet, I sure lived a FABULOUS Montenegrin Yorkie life as I made my mark. Is Montenegro dog-friendly? ARF, YES and NO. Follow my alpha paw prints as I lead you through my experience as a dog traveler in Montenegro.
Sniff out my Montenegrin behind NOW by putting your furry paw to play the video below…Hvala!
Restaurants & Bars
WOOF, let the truth be told. Every restaurant and bar I've ever visited in Montenegro accepted me with open paws – no interrogation or nasty glares. Whether indoor or outdoor, fancy or no-frills, I've walked my tiny furry paws into every joint and frequently sat my furry butt on a human chair as I belong. The best part about wining and dining in Montenegro is that not only is it dog-friendly, but it's also relatively cheap compared to Western Europe. ARF, after all, you are in (south) Eastern Europe where the cost of living is astoundingly cheaper. However, with that barked, dog-friendliness largely depends on the establishment owner's discretion. From what I've sniffed, most restaurants will gladly welcome your dog inside in exchange for your business. BUT if all fails, there are plenty of restaurants with dog-friendly outdoor patios, especially in touristy Budva and Kotor where dining outdoors in front of the Adriatic Sea beats sitting inside any day.
Sniff out 10 foods you MUST try in Budva (and I'll tell you where to get it)!
Bakeries
During my extended stay, I made it a habit to get my furry paws on börek, which was my favorite ARF-so-flakey pastry with tasty meat bits. The börek is also super pawpular with the locals here. I've walked my furry paws into both the pick-up/on-the-go type bakeries and the ones with a dine-in area. And yep, they were all accepting of my greasy paws. 
Grocery Stores & Markets
Dogs are generally NOT allowed inside grocery stores and markets, but my human has had some luck when carrying me inside while grabbing something quick. She went in to grab a bottle of cold water and did not want to leave me outside the store (although some locals are okay with temporarily tethering their dogs outside the market, my humans have refused to take the risk). If you transport a small dog with a carrier or in your arms, the staff may look the other way. 
Accommodations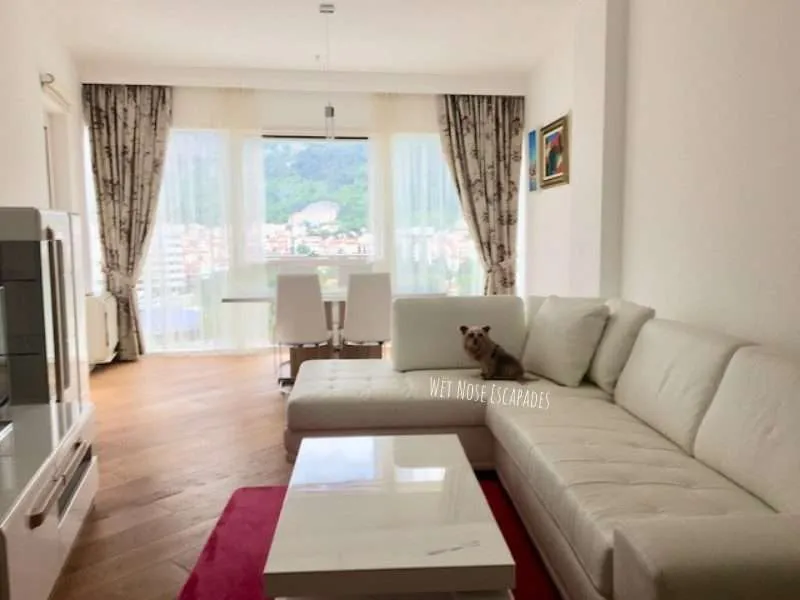 Since Montenegro's most pawpular cities are resort towns that are heavily dependent on tourism, dog-friendly accommodations are quite easy to find. Without having to pay extra "pet" fees, my humans and I secured a luxurious one-bedroom apartment in a 4-star high rise right next to the Slovenska beach in Budva. The amenities included daily housekeeping AND a daily hot breakfast buffet by the pool (which dogs were allowed to join so I never missed a chance to get my paws greasy). Our 2-month stay came out to be a little over 90 USD a night, which was certainly on the higher end for Montenegro. However, for San Franciscans like us who were used to the high cost of living) 90 USD for such luxury sounded like a steal! ARF-yeah, we also got a discount for staying longer than the typical weeklong or two timeframes. They also didn't charge a pet fee, which was pawsome. The best part about my pad was the fancy swing on the balcony (watch my video above), where I could gaze out to the incredible views of the city and rugged Montenegrin mountains. 
Montenegrins' Attitude Towards Dogs
Overall, I got a pawsitive vibe from the locals here. Again, I had no pawblem wining and dining here with my humans – not once was I given nasty glares or disapproving looks. Heck, I even hopped onto two cruises and lounged on a human sun chair around Kotor Bay. I also befriended a nice Maltipoo boy named Leo whose human runs a clothing store nearby my building. Since Leo bowed down to me as the Top Dog, we got along well and never failed to sniff each other out in our daily passing. I always left my alpha mark near his store to remind him who's boss. 
Nonetheless, I did get into a barking match with some outdoor dogs – most of whom serve as solely guard dogs who live lonely, neglected lives outside in a small fenced yard. Since I only visited resort towns that cater to tourists, I didn't sniff any stray dogs. BUT locals informed me that there are a lot of stray dogs in the countryside and less developed parts of the country.
As summertime was quickly approaching, my humans wanted to get rid of my crazy Chewbacca look for a fresh teddy bear summer cut. While shopping for a groomer in Budva, I panicked and lowered my tail when I saw three young puppies inside a small cage (one Yorkie, one Poodle, and one Maltese). Not only did the three of them look terrified, but they also looked way too young to be separated from their mothers. The crate/cage was also too small to house three puppies – it was a standard size crate with enough room for just one puppy. I quickly rushed out of that back room in fear, which my humans found odd at first coming from a dog who wants to sniff out every other dog. Subsequently, my humans made the connection that I must have sensed immense fear from those poor helpless puppies to trigger such an alarming response. After all, I already left my miserable crate life for good – there's no turning back! When my human asked the groomer what the puppies were doing inside a cage, she responded that they were on sale. Expressing concern, my human asked what would happen to them if no one buys them? The groomer did not respond. 🙁 GRRR, I can only imagine as they came from evil puppy mills. As hundreds of millions of dogs are put to sleep globally every year, please don't contribute to dog overpopulation and homelessness. All in all, don't support buying or breeding. Please adopt, NEVER shop.
My Groomer
Given countless stories of groomers injuring and even paralyzing dogs, my humans have always been wary when it comes to selecting the right groomer. GRRR. Although the groomer did a great job on me in terms of aesthetics, I looked terrified when my human picked me up an hour later. As soon as I sniffed her out from a distance, I jumped into her arms. I felt like I escaped death! Sadly, it wasn't over. When the groomer said that she had to finish trimming my tail, my human placed me onto the table as instructed. Then my whole body shook like crazy, and I licked my chops in distress. And lo and behold, her sharp scissors punctured my butt at the third clipping. I squealed and attempted to jump off. My human took me off the table immediately while the groomer tried to explain that it was an accident and how much I liked her. Arf, NOT true. Upon returning home, I walked with a downright tail to hide behind the chair on my balcony. Even as an alpha dog, I looked defeated. Subsequently, my humans then found pink marks on my body – it looked like the groomer had trimmed way too close to my skin for such a reaction to occur. They were heartbroken. Let's just bark that it was NOT a good day.
Of course, this is only my personal experience with one groomer in Budva, which, in no way, represents the entire country. The cost was 20 USD, which was supposedly reasonable for Montenegro although my humans would have gladly paid up for a better experience for me. Even with online research and on-site visit before booking, your dog's grooming experience can be either successful or detrimental. Sadly, I do not have a groomer to recommend here! 
Beaches
WOOF, dogs are allowed on beaches in Montenegro! From Slovenska in the south (my home beach) to Zanjice and Mirišta in the north, I've walked my furry paws all over the sandy beaches of Montenegro. If you've been following my wet nose escapades long enough, you already know that I'm not much of a furry swimmer but will take a good dig in the sand any day. Sometimes, I'll even fall asleep in the shade under the lounge chair only to wake up when I'd sniff food delivered from one of the waterfront restaurants. 
Please always provide shade and clean water for your dog at the beach. And, don't forget to clean up after your dog! 
Transportation
The best way to get in and out of the country is by bus! Because Montenegro is such a tiny country, you can get your paws into Croatia, Bosnia, Serbia, or Albania in just several hours. I've taken the bus into Montenegro from Croatia and then from Montenegro back to Croatia. From my experience, there's no set policy on dogs as dog-friendliness is dependent on the driver and/or the bus company. However, buses are likely to accept small dogs like me who can travel inside a carrier. 
The same goes for Montenegro's railway system – small dogs are usually accepted free of charge. As for large dogs, I couldn't find anything on their website about the rules. As in the case of most European countries, I would expect that leashed, well-behaved dogs can travel for a discounted rate. 
I've also found that rideshares and taxis are OK with transporting small dogs like myself. Regardless, you should either call ahead for approval or simply keep your dog inside a carrier to avoid the potential fuss. The transport of larger dogs can be a hit or miss depending on the driver's discretion. It seems as though the drivers here are more lenient on dogs than in other countries – perhaps they're more focused on making money and are willing to overlook your furry traveler.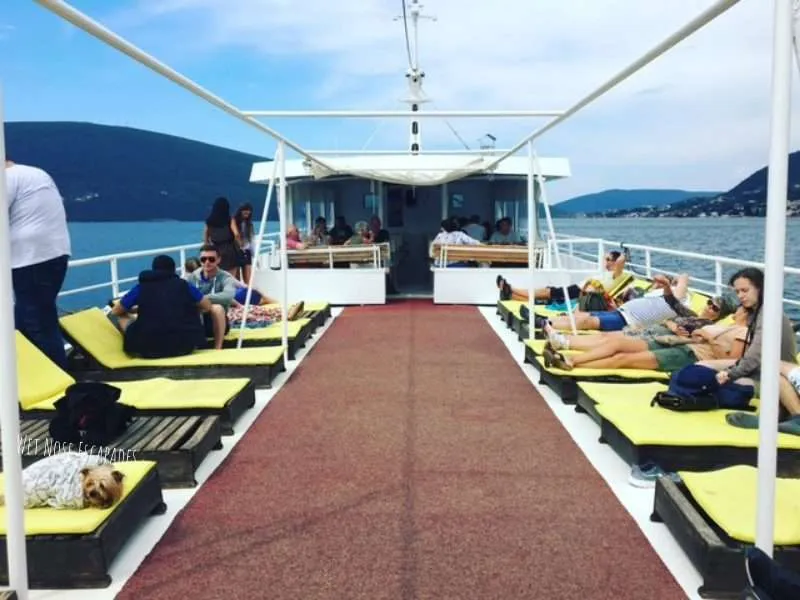 Dog-friendly transportation in Montenegro is not just limited to land! My favorite way to explore the country is actually by water. During my residency in Montenegro, I've hopped onto two cruises – one around Kotor Bay and another around Sveti Stefan (a tiny island near Budva with a 5-star resort) and Sveti Nikola Island (the largest island in the country). Again, a standard policy on dogs doesn't exist since the rules are dependent on the tour company. Like the rideshare and taxi drivers, the tour companies here are quite lenient and willing to accommodate your dog in exchange for your business. 
Pharmacies & Shops
Unless otherwise noted, dogs are accepted inside pharmacies, boutiques, clothing stores, and other shops that don't sell food or drinks. ARF, it's pawsome news when you don't have to leave your dog behind when you're out shopping or running errands. Of course, please make sure your dog is well-behaved in case you encounter people who aren't tolerant of dogs.
Tourist Attractions
From Kotor to Budva, Montenegro's fortified medieval cities welcome furry visitors with open paws! For instance, whenever I wanna play tourist for the day, I'd walk my alpha paws to Old Town in Budva, which was just a 10-minute walk from my apartment. Since Old Town Budva is over a whoppin' 2,500 years old, I felt like I was sniffing some ancient Roman ruins every time my furry body brushed past the defensive stone walls. As my four paws hit the narrow cobblestone pathway, my wet nose couldn't stop sniffing – WOOF, I mean there's only a couple thousand years of history to sniff out. Resting on a head-tiltin' rugged peninsula on the Adriatic Sea, Old Town boasts remnants of Venetian-era buildings. 
Although dogs can roam around Old Town and get their paws sandy on beaches, they are NOT allowed inside churches, cathedrals, castles, museums, or indoor attractions. 
Roger Wellington's Top Dog Tips for Visiting Montenegro
Choose walking routes carefully

: Montenegro roads are a crazy mix of developed and undeveloped parts. When walking your dog, choose your routes carefully! One block would be

pawfectly

paved while the next would be under construction and filled with gravel, which can be harsh on those furry paws – even with those padded paws. Thanks to foreign investment (especially from Russian developers, who run my building), luxurious high-rise buildings and hotels are on the rise). However, this leaves an uneven distribution of developed pathways (not to

bark

, pollution from construction sites).
Don't drink or feed your dog tap water:

Bottled water is the way to go! A bark of warning – my human #2 was sick for over a week from drinking the tap water. Luckily, he recovered on his own without seeking medical care. If you do end up drinking tap water, please NEVER serve it to your dog as a precaution. Shortly after his recovery, he was advised by the locals that tap water is NOT safe to drink whenever it rains and a few days afterward.

Watch out for ticks:

GRRR, my humans had to remove a tick from my belly. It was the first time they ever found a tick on me. ARF, I felt so much better after I barked goodbye to that blood-suckin' monster. Good thing I was on oral flea/tick meds. As ticks can cause diseases to dogs and humans, please do yourself and your dog a favor by NOT skipping routine tick treatment. 

Do your rabies homework:

Because Montenegro is considered high-risk for rabies by many countries (including the ones in the E.U.), returning to rabies-controlled may be an issue. Unless you plan on moving to Montenegro with your dog permanently, you must find out your originating country's rabies classification for Montenegro to plan your dog's return. For instance, the E.U. requires a titer test 3 months before entry from a high-risk rabies country to avoid quarantine. Yet this is in addition to a Pet Passport with a valid rabies vaccination. Nevertheless, some neighboring countries may not scrutinize or enforce the additional titer test requirement (although this is a hit or miss as it largely depends on the immigration officer).

Be careful when allowing your dog to socialize:

Due to Montenegro's classification as high-risk for rabies, you must be extra careful when allowing your dog to socialize with other dogs, even if they're not strays. 
Hope you enjoy your trip to Montenegro with your dog! Be sure to share your dog-friendly experience with me. BARK AT ME.
Wanna find out where to eat in Budva? Follow my paw prints HERE!
Markin' it up,
Roger Wellington a.k.a. The Doob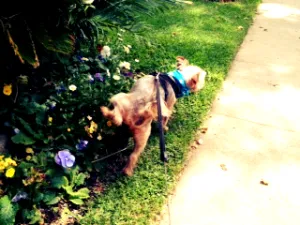 *Please note that this post contains affiliate links, and at no obligation or additional cost to you, my humans and I earn a small commission if you make a purchase. If you love the work that we do, you can show your support by making a purchase through an affiliate link. Proceeds will go towards feeding homeless dogs (and cats) along with improving the lives of the neglected and abused.
—
Like my post on "Is Montenegro Dog-Friendly? A Yorkie's Guide to Visiting Montenegro with a Dog"? PIN IT!