Wanna know everything about moving with a dog to Taiwan from Brazil? Keep on sniffing!
Posted 12/26/21
WOOF, as the world-traveling Yorkie, I'm always on the sniff for other doggies who have pawsomely unique experiences around the globe. My tail was wagging uncontrollably when I sniffed the buttocks of my fellow senior Yorkie pal Monito. Hailing from Brazil, Monito (or Moni for short) made the BIG move to Taiwan earlier this year. ARF-my-DOG! Yes, that's right – this guy moved from South America to Asia. How did he do it? What exactly is needed in moving a dog to Taiwan from Brazil? Which country does he like better? Perk up your ears and tilt your head for this exclusive interview with his sweet human mommy Dani!
Tell us a little bit about Monito! (e.g. background, age, weight, personality, who does he live with, etc. – whatever you'd like to share)
Monito (little monkey in Spanish), a Yorkie boy who just turned 11-years-old two weeks ago, 2.5kg, was born and raised in São Paulo, Brazil, and became a Taiwanese citizen in 2021.
He has only lived with me all his life until this year. Now, he also lives with his grandma and occasionally his uncle, aunt, and cousins.
He's energetic – some say more than his age. He was very hyper when he was little, like Duracell bunny. He has mellowed gradually over the years, and a lot more after we moved to Taiwan – cultural adaptations, I guess. But he's still a super happy and active puppy.
Which part of Brazil did you and Monito live in? How long did you two stay in Brazil before moving to Taiwan?
I'm a dual citizen and have lived mostly in Brazil and the U.S., visiting Taiwan often but always without Moni due to bureaucratic reasons (Taiwan is a rabies-free country). So, this is the first time in his life that he stepped on Taiwanese land.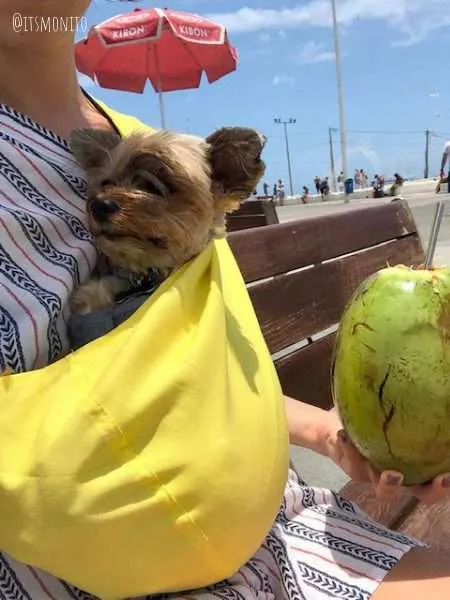 How would you describe Monito's lifestyle in Brazil?
Lifestyle in Brazil: city/apartment dog with splashes of beach bum life. In São Paulo, our lifestyle is pretty standard: walks around the neighborhood, and occasionally we'll go to parks. I take him everywhere I can (restaurants, malls, cafes, etc).
We also frequently went on vacations in the south and northeast of Brazil, where I have friends who live right in front of the beach. What I find curious is that he didn't like the water until he was about 6 years old. He loved running in the sand from day one, but always avoided the ocean. Then one day, he decided to become a swimmer and loves it now.
How would you rate the overall dog-friendliness in Brazil? (e.g. would you say that the locals like dogs and care about their welfare?, etc.)
Brazilians are dog lovers; sometimes a bit too much. They don't respect either the dog's or the human's personal space, and I've had quite a few unpleasant situations because of that.
Having said that, I've also made friends just because of, you know, dogs.
I appreciate that people in Brazil are more conscious and willing to hire trainers and walkers and leave their pets in doggie daycare now more than before. They are starting to understand the importance of exercise, socialization, etc., something that you wouldn't see much even 5 yrs ago.
What's the best part about having a dog in Brazil? Any challenges?
Hm…I think it's great to have a dog anywhere in the world!
Unfortunately, the biggest "challenge" for me is the fact that dog theft is a reality in Brazil, which can make you paranoid.
What are some of your favorite dog-friendly parks in Brazil? (please provide specific parks)
(He doesn't like to interact much with other dogs, but just dog-watch from a safe distance)
What are some of your favorite dog-friendly restaurants in Brazil (please provide specific restaurants)? Are dogs only allowed to dine outside? Or do some places make an exception for indoor dining? If so, where?
Botanikafe: there's a designated area indoors that's pet friendly
Kez Bagel: it has an outdoor but covered area
Pizza Elettrica: it has a designated covered outdoor area.
Very few restaurants make an exception and allow full indoor dining for dogs. Over the years, I started to not take him inside anymore, not even to places that allow dogs. Some people have no common sense – when they see a tiny well-behaved dog inside, they feel encouraged to bring their untrained, loud, large dog as well, which puts the staff in an awkward position.
Are dogs allowed on buses, subways, rideshares, taxis, etc. in Brazil? If you have any memorable experience regarding taking Monito onboard, please feel free to share!
Subways: As long as they're fully enclosed.
Buses: It's a mystery. I think the law says they need to be in a closed carrier, but I've carried him in a sling for 5 years daily, and only ONCE the driver did not allow us on the bus (we just took the next one, and it was fine).
Interstate buses: Also a mystery. The law says you have the right to take them if you show proof of vaccination, but I've heard some traumatic stories where people missed their buses or were mistreated. I just sneak Monito onto the bus, and no one even notices.
Uber/taxi: case by case basis.
What are some dog-friendly tourist attractions in Brazil (if any)? Any other local dog-friendly places that you'd like to share (e.g. beaches, trails, resorts, etc.)?
Dog-focused places are super expensive. Some hotels charge extra for a "cleaning fee" even tho Monito doesn't shed a single hair or pee or bark. Others don't allow dogs, period. I think that's quickly changing though because hotels realize how much business they miss out on because of this.
Our last vacation (which we loved): Paraty, RJ. We stayed at Pontal Gardens, which could not be more pet-friendly (no extra fees, but they just ask for common sense). It was beautiful – the best experience. We also went on a boat ride and a swim in the ocean, which is highly recommended because of the business' dog-friendliness (the staff even rinses off the dogs with fresh water after the swim).
What made you move from Brazil to Taiwan?
Covid, family. I had 2 family losses to cancer last year, and I couldn't visit because of the pandemic.
I didn't want to make Monito go through such a tough move after being older, so it was now or never.
What did you have to do to prepare for the move for Monito? (e.g. what are the requirements – paperwork, vet visits, vaccinations, training, etc.)
Rabies shot and antibody testing 6 months in advance
Submit vaccination proof, vet's note stating he's healthy, and rabies antibody results for entry approval in Taiwan
7 days of quarantine in a specified facility upon arrival in Taiwan
Reserve his "seat" on the airplane
How did Monito do on the international flight? Was it his first time flying? How long was the flight? Were there any layovers?
Moni was already super used to flying/traveling, so I knew the long trip would be fine. We had 2 flights of about 11 hours each, with a 3-hour layover in between.
But the trip took much longer than that, as it was a 1-hour drive to the airport, and we arrived 5 hours early for check-in. Then it's another 2.5-hour drive from Taipei airport to the quarantine facility.
How did Monito handle quarantine? How did you feel about the entire process (e.g. what went smoothly, what didn't go as smoothly)? Would you recommend it to a dog parent who has to make the same move?
His quarantine might have been the longest and most nerve-wracking 7 days of my life.
I already expected nothing to go smoothly. I knew every step of the process would be super stressful and was not disappointed!
I would have never made this move if it wasn't for the biggest reason of all – family. And, doing it mid-pandemic just made it that much worse. Having said that, now that we've done it once and know what to expect, I think we would be able to do it again 70% more easily. There are too many unknowns (that not even staff/professionals can help you with), but it's one of those things that the learning curve is super steep.
How would you describe Monito's lifestyle in Taiwan? Which part of Taiwan do you two live in?
Monito's life is more laid-back in Taiwan because of all the practical things: easy transportation, clear rules with regards to pets inside establishments, and people/dogs who practice social distancing.
He loves parks now because most dogs and humans here won't approach, or will do it slowly, which puts him at ease to make friends (or not) on his own terms. And, there's a lot more free space (I choose less crowded parks) near my mom's house.
Also, no dog stealing (I never let my guard down, but it's just different to have to worry constantly).
And, we got a pet stroller! Never thought I'd be one of those people, but it's so useful! Pets are allowed in a lot of places as long as they're fully enclosed. The stroller makes everything easier and more comfortable for both of us, and we can spend the whole day together going to various places.
Which country do you like better for Monito – Brazil or Taiwan? (e.g. what country would you say is more dog-friendly?)
Although we had 10 wonderful years in Brazil, I think Taiwan is overall more pet-friendly, in terms of rules/expectations and places they are allowed to enter, as well as better health care.
If a visitor were to ask you for your TOP 5 things to do with a dog in Taiwan, what would you say?
We haven't done anything specifically fun yet, since we've been spending a lot of time with family and some covid quarantine. But, the fact that I can easily take Monito almost everywhere I go is in itself a whole different experience for us.
I'm looking forward to taking him to see nature here; it's fairly easy to go hiking in the mountains, and I've seen some places such as sun moon lake in Taichung where we can do SUP together.
Overall, how would you describe the local people's attitudes towards dogs in Taiwan?
People here keep to themselves, they rarely talk to strangers. I really enjoy the aspect of not having our personal space invaded (all the time), but I also miss the warmth of Brazilian people.
I was shocked that it's fairly common to see people (especially kids) who are afraid of or just dislike dogs, so I've had to teach Moni not to invade other people's spaces either. I'm quite amused that he got the hang of it pretty quickly (and probably enjoys this style more – I think, in particular, with tiny docile dogs like him, people tend to go overboard and grab/squeeze without consent).
What is the best part about having a dog in Taiwan? Any challenges?
Best: The safety and clear rules about dog-friendliness in public places (most establishments have a sign at the door).
Challenge: It can be super crowded without sidewalks in some neighborhoods. So, I would have to carry (or stroll) him.
Based on your personal knowledge, would you say that more people tend to buy or adopt/rescue dogs in Brazil or Taiwan? Do you know how breeders are regulated?
I think because there's less regulation (and enforcement) in Brazil. And, because it's a huge country, there's more adoption but also more people abandoning/returning dogs to shelters.
In Taiwan, there are clear laws that you need to follow (including microchipping the adopted pet and fines for abandonment), and it's also much easier to control a smaller population.
Was it easier to find dog-friendly housing in Brazil or Taiwan?
In Brazil, it's rare for the tenant to even ask if you have pets or not, but some apartment buildings don't allow them in common areas (such as elevators, which is against the law and makes it impossible to walk your dog?!).
In Taiwan, probably 95% of apartments for rent are listed as "no pets or cats only." Some are open for negotiation, but the majority still don't allow pets, period.
What are some of your favorite dog-friendly places in Taiwan? (e.g. favorite parks, restaurants, shops, etc.)
Don't have favorites yet.
What is the general rule regarding dining with dogs in Taiwan?
Mall food courts: as long as they're fully enclosed.
Restaurants (indoors): case by case, but I'd say about 50/50 (no pets or they must be fully enclosed).
Are dogs allowed on buses, subways, rideshares, taxis, etc. in Taiwan? If you have any memorable experience regarding taking Monito onboard, please feel free to share!
Again, dogs are allowed everywhere as long as they're fully enclosed – that's why the stroller is super handy!
How would you compare veterinary care between Brazil and Taiwan?
In Taiwan, I've had a more hassle-free experience – the vet has the equipment to do a lot of the exams on the spot, and results come out quickly. In Brazil, you usually need to go to a separate lab to run any tests, which was traumatic for Moni because not all the staff handled him well.
What is one thing you'd like to share with us about a dog's life in Brazil and Taiwan?
Consistently training and communicating with your dog throughout their life will give both of you the best fun and quality of life, no matter which country (or age) you're in. 🙂
Thank you to Dani & Monito for this fantastic interview and sharing their pawsome experience with us! Can't get enough of Monito? Sniff out & follow his Brazilian-Taiwanese escapades on Instagram!
WOOF, hope you enjoyed learning all about moving with a dog to Taiwan from Brazil! Wanna sniff out the fabulous Taiwanese dogs in strollers? Check out my video Dogs of Taipei:
Markin' it up,
Roger Wellington a.k.a. The Doob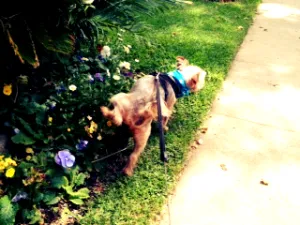 —
Like my post on "Moving with a Dog to Taiwan from Brazil, with Monito the Yorkie"? CLICK TO PIN!