Hellooooo, escapaders! I may be freezing my little yorkie butt in this Pacific Northwest winter, but it is so worth it as I am in LOVE with Vancouver's food scene. Sniff out my list of must-eat food in Vancouver, B.C., one of the most dynamic foodie cities in North America:
#1 MUST-EAT Food in Vancouver
Tan Men – Marutama Ra-men (780 Bidwell St, Vancouver, BC V6G 2J6)
Since I'm not a huge fan of pork, I opted for a bowl of tan men (a.k.a. vegetable ramen) at the popular Marutama in the foodie neighborhood West End. And, dog – this is one to-beg-for vegetarian feast. No meat, even BETTER! The house-made noodles are piled up with an abundance of colorful veggies majestically paired with a creamy chicken or clear vegetable broth. You can even make it vegan by choosing mild (plant-based) over spicy (fish-based) flavor. If you're still hungry, you can order extra noodles for only $1.50 and/or extra broth for $3.00. Go ahead and slurp loudly!
#2 MUST-EAT Food in Vancouver
Mushroom Poutine – The Cascade Room (2616 Main Street, Vancouver, BC, V5T 3E6)
Cascade's mushroom poutine is soooooo YUMMY that I devoured it on four separate occasions in less than 2 weeks. This toothsome dish is like divinity in my yorkie mind – Mmmm…wild and cultivated mushrooms, squeaky cheese, and porcini gravy meshed with irresistible kennebec chips at the bottom. Walk your paws here for their daily 4-6 pm happy hour for an unbeatable deal on this legendary poutine.
#3 MUST-EAT Food in Vancouver
Rickety Rickshaw Bowl – Chau Veggie Express (5052 Victoria Dr, Vancouver, BC V5P 3T8)
The Rickety Rickshaw Bowl is paws-down THE BEST plant-based vermicelli bowl I've ever had (and ARF, I've wolfed down quite a few). It comes with crispy spring rolls, thin vermicelli rice noodles, shredded beancurd, mung beans, crispy shallots, chopped lettuce, cucumber, pickled carrots and daikon, thai basil, bean sprouts, and garnished with roasted peanuts. The most chopslicking part of the meal is their 100% plant-based homemade "fish" sauce, which is surprisingly zesty, a little sweet, and a tad spicy.  
#4 MUST-EAT Food in Vancouver
Happy Hour Oysters at Oyster Express (296 Keefer St, Vancouver, BC V6A 1X4)
Happy Hour oysters at this Chinatown joint are fresh, juicy, slurp-worthy, and CHEAP. Who would have known that a buck and half can buy me so much happiness? Yep, I get one very savory fresh-water oyster for only $1.50 (although I ended up ordering and gobbling down A LOT more). Geez, these chilled oysters filled up my tummy quickly.  Squeeze that lemon wedge and drip Tabasco sauce on each one and then slurp it down!
#5 MUST-EAT Food in Vancouver
JameDog burrito – Budgies (44 Kingsway, Vancouver, BC V5T 3H9)
Tex-Mex style Budgies slaps up some mouthwatering plant-based burritos that will make any dog wag his tail in excitement. I especially love the JameDog; garlic roasted potatoes, rice, beans, cheese (vegan cheese available and free of charge), chipotle sour cream, salsa of your choice, and lettuce all meticulously wrapped up with a 10" or 12" tortilla (whole wheat or flour).
#6 MUST-EAT Food in Vancouver
Roasted veggies – Parlour (1011 Hamilton St, Vancouver, BC V6B 5T4)
YEP, I'm a yorkie who loves his veggies! Parlour's roasted veggies are superb (and beautiful) – a total MUST-TRY. Farm-to-table roasted beets, asparagus, mushrooms, and fingerling potatoes garnished with chopped green onions sitting flawlessly on a creamy avocado habanero to create a lavish presentation. This is what I call paw-lickin' good.
#7 MUST-EAT Food in Vancouver
Avocado Banh Mi – Café Phin and Pho (976 Denman St, Vancouver, BC V6G 2M1)
The avocado banh mi may look like a simple Vietnamese sandwich, but it's the thoughtful placement of each ingredient that comes together for an unforgettable rich taste that leaves you begging for more. Fresh thick avocado slices with lettuce, cucumbers, jalapeños, pickled carrots and daikon, cilantro bits, mayo (optional), and a sprinkle of ground pepper – all sandwiched perfectly by an oven-baked soft baguette with a very light crunch (just right so I don't break my little teeth).
#8 MUST-EAT Food in Vancouver
Steamed green vegetable and egg dumplings – Dinesty (1719 Robson St, Vancouver, BC V6G 1C9)
Stuffed with diced mushrooms, a variety of chopped greens, and bits of scrambled eggs, these steamed vegetable and egg dumplings at Dinesty are WOOF-ilicious. It's cooked-to-order so eat it while it's fresh and hot (but please don't burn your tongue!). Lightly dip it into its complimentary tangy dumpling sauce (most likely made with rice vinegar, soy sauce, ginger, garlic, and sesame oil) for a delightful balance.
#9 MUST-EAT Food in Vancouver
Gambas Al Ajillo – Bodega (1014 Main St, Vancouver, BC V6A 2W1)
WOOF! I have an open-mouth smiley face to the sizzling gambas al ajillo (a.k.a. garlic shrimp) at Bodega. This luscious tapa is worth extending my anaconda neck for a swift slurp before any human gets to it. SIX sautéed, slightly crisp prawns simmered with garlic bits, chillies, and sherry then adorned with tiny fresh sprouts. I made sure to lick my plate dry.
#10 MUST-EAT Food in Vancouver
P.E.I. Mussels – The Flying Pig (1168 Hamilton St, Vancouver, BC V6B 2S2)
GRRR, don't even look at my mussels. So yes, I am in love with the Prince Edward Island mussels at The Flying Pig. These fresh-from-the-water mussels are strategically-paired with delicious white wine and earthy herbs, creating a delicate and juicy texture with a tempting flavor. Mmmm each savory bite (and heavenly sniff) is worthy of all my clever tricks. I'll "shake" your greasy paw anytime.
*BONUS MUST-EAT Food in Vancouver
Tofu Verde Rice Bowl – Maizal RMF (2815 Main St, Vancouver, BC V5T 3G1)
ARF, the tofu verde rice bowl at the counter-service Mexican joint Maizal is one chops-lickin' masterpiece! Scrumptious fried tofu pieces adorned over a bed of white rice and pinto beans, garnished with tomatillo salsa, cotija cheese, chopped cilantro, drizzled sour cream, and pico de gallo. My little yorkie tongue was licking its way to heaven! It also comes with 2 corn tortillas for my paws to assemble all the fresh ingredients into some toothsome soft tacos!
Want more destination tips? Click HERE with your right paw!
Markin' it up,
Roger Wellington a.k.a. The Doob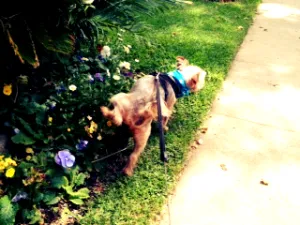 —
Like my post? PIN IT!