ARF, thinking about adding a Yorkie to your family? Sniff out everything you MUST know before getting a Yorkie, as barked by ALPHA Yorkie himself – Roger Wellington!
**Please note that this website contains affiliate links, and at no obligation or additional cost to you, my humans and I earn a small commission if you make a purchase. If you love the work that we do, you can show your support by making a purchase through an affiliate link. Proceeds will go towards feeding homeless dogs (and cats) along with improving the lives of the neglected and abused.
Let's bark Yorkies! The Yorkshire Terriers or Yorkies (for short) is one of the most PAWpular breeds in the world. In the U.S. alone, Yorkies consistently rank in the Top 20 breeds. With such cute teddy bear faces and small statures, Yorkies like me are simply irresistible. However, please stop those PAWS and do your research before bringing a Yorkie home. Despite being so irresistible, Yorkies are NOT for everyone. As millions of dogs are surrendered and rehomed each year, it's imPAWtant to know what you're getting yourself into before getting a Yorkie. Please understand that having a Yorkie (or any dog) is a lifelong commitment, and your decision impacts LIVES. Keep on sniffing for Things You MUST Know Before Getting a Yorkie:
#1 Yorkies are high energy
Don't be fooled! Despite being small dogs weighing only 7-8 pounds, Yorkies are known to be energetic dogs. If you are looking for a lap dog who wants to chill all day, think again! Yorkies are energetic little creatures who love playing, walkies, and attention.
In my younger years, I never failed to impress my humans with how much I was able to walk with my little "strong" legs – WOOF, I could walk for miles on end, anywhere from 60-90 minutes per walk (until my human makes me go home). Now that I'm well into my senior years, my walks are much shorter, BUT I would never refuse a walk (unless I'm not feeling well).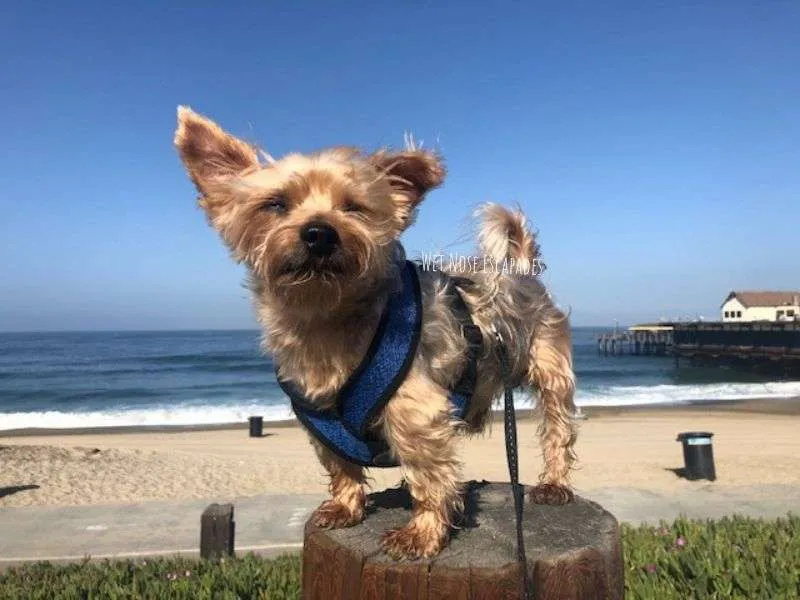 #2 Yorkies have BIG personalities
Again, don't be fooled by a Yorkie's tiny body. Yorkies are small dogs with some BIG attitude! Even though some Yorkies can be more chill than others, they are generally known to be a bossy bunch. Female Yorkies may not be as bossy as males, but their humans can attest that they can still be some sassy divas.
As the alpha dog, I'm the ultimate leader of my human + dog pack! I bark at my humans for treats, lead them on walks, and mark it up to claim my territory. I'm the BOSS Dog with an upright tail who gets (almost) everything I want. WOOF!
#3 Yorkies are demanding
Think Yorkies are easy to take care of because they're small? HAH! Far from it. Yorkies may be a "toy" breed, but I am NOT a toy that can be put away whenever you're finished "playing" with me. With high energy and BIG personalities, Yorkies are demanding and not meant to be left alone all day. This means they should NOT be crated all day or left in the backyard (out of sight, out of mind).
In the morning, I like to step on my human to wake her up so she can take me out for my daily walk. After I'm done markin' it up in the neighborhood, I'll demand foodies from my human until my little Yorkie belly is ARF-solutely satisfied. Then, it's nap time with four paws in the air for a few hours until I feel like eating and playing again. Throughout the day, I stare down my human (who works from home) whenever I want something – usually more goodies or another walk.
#4 Yorkies may or may NOT be yappy
Contrary to PAWpular belief, not all Yorkies are yappy or excessive barkers. Like all dogs, some Yorkies may bark more than others. As for me, I am somewhere in between – I am generally quiet by myself and would only bark at the sound of a doorbell, strange noise, or weird objects (or people). However, with my barky sidekick or PAWtner Penny Gurl in the mix, I'll start leading my pack with my alpha barks once she instigates. ARF, ARF!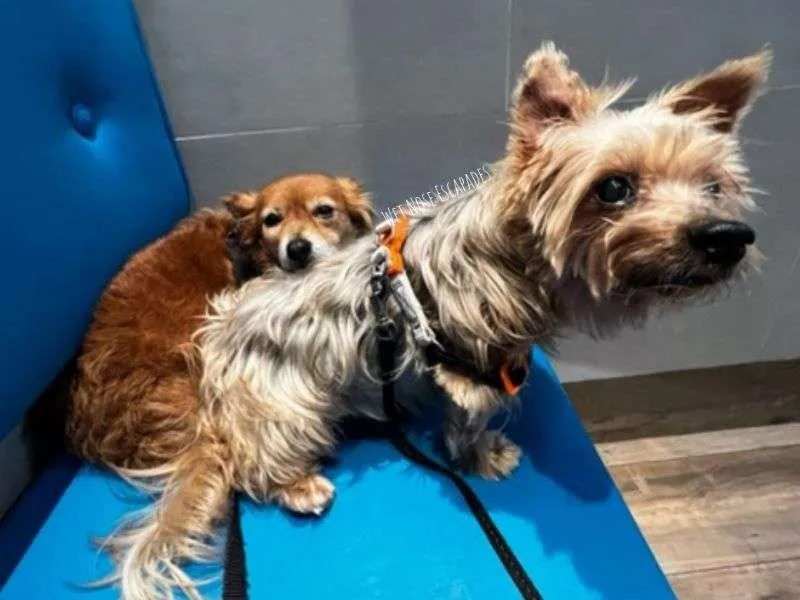 #5 Yorkies are very determined
Who's the BOSS? WOOF, I am the biggest Yorkie BOSS out there! How I got to my boss status is simple – determination! Yorkies are innately determined (unless they've been subject to fear and abuse by humans). With an upright tail, I'm always determined to get MY way all day, every single day. Walks – who's walking who? Meals – I'll stare it down until I will it to my mouth! And, just whenever I want attention, a little snack, or something, anything – I'll put my paws on my human or bark and growl until she gives in like a "good human."
#6 Yorkies have the tails INHUMANELY docked
The AKC standard for a "purebred" Yorkie is to have his tail docked – otherwise, it's not considered a "purebred." Unfortunately, this cruel practice is performed on Yorkies at a very early age. Yorkie puppies may only be as young as 2 to 5 days old when they endure such a painful experience for purely aesthetic reasons to satisfy human preference. Tail docking is painful with ZERO benefits for your Yorkie.
As a matter of BARK, tail docking may even negatively impact a Yorkie puppy's nervous system, which is still in development at the time of docking. If not done correctly, docking can also lead to chronic pain. Bottom line – please don't support or accept such a cruel, outdated practice that yields no advantages for your Yorkie. Unless you're rescuing a Yorkie who already has a docked tail, please do your due diligence and say NO to docking. Don't get a Yorkie from a breeder or place that enforces the tail docking practice.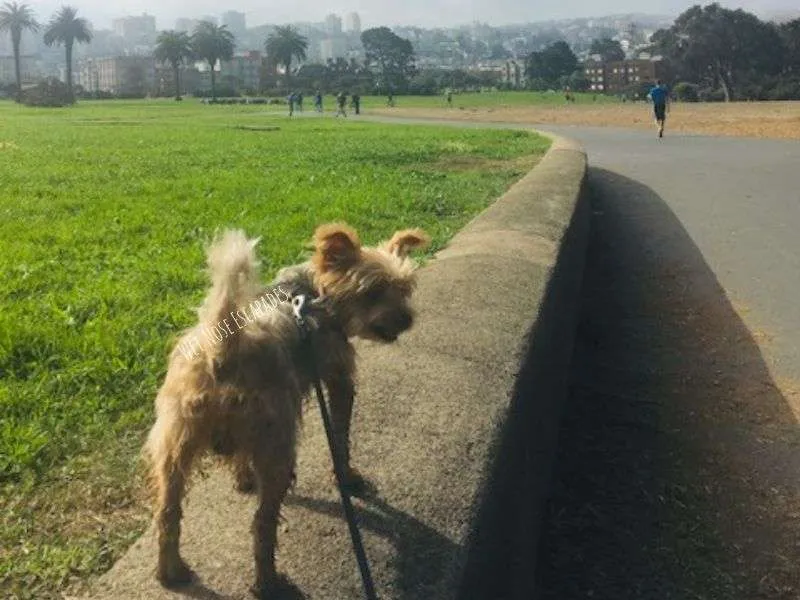 #7 Many Yorkies are bred in evil puppy mills
Because Yorkies are such a PAWpular breed in the world, they are in high demand, paving the way for evil puppy mills to mass produce and breed Yorkies in horrific, inhumane conditions. In these commercial breeding facilities, profit is the name of the game, and dogs are treated as pure commodities. Yorkies are crammed in wire cages without clean water, forced to defecate where they sleep, and even more disturbingly, their fearful mothers are bred over and over during their heat cycle – only to be let out of their cage to mate. Such horrific living conditions are breeding grounds for diseases, health issues, fear, and behavioral problems. Born to fearful mothers, it's no surprise that puppy-mill Yorkies tend to be more fearful and anxious. Just a BARK OF CAUTION: Amish country is known to be the worst place for puppy mills in the U.S.
Please NEVER buy a Yorkie (or any dog) from a pet store because the puppies have come from unethical breeding or an evil puppy mill. If people simply stop buying, the demand will no longer exist, and these evil puppy mills will shut down for good. A "responsible" breeder will always let you visit their home to see where the Yorkie puppy is raised and introduce you to the puppy's parents and the rest of the litter. If they insist on meeting somewhere other than their home, you can safely assume that unethical breeding practices are involved. Smells fishy so RUN!
#8 You CAN rescue a Yorkie
As a rescue Yorkie, I'll be the first to bark out DON'T SHOP, ADOPT! If you're going to get a Yorkie, please PLEASE consider adoption first. As many as 25% of dogs at U.S. shelters are actually purebreds – think about it, as people continue to buy purebred dogs, a good chunk of these dogs will end up getting surrendered – whether it's due to a move or a newborn human baby (GRR). Over the years, I've also seen a number of the most adorable Yorkie mixes available at local shelters – if you have the patience to wait and can open up your heart to a non-purebred Yorkie, please do so! Your Yorkie mix will still give you a buttsload of love and exhibit some similar Yorkie characteristics. Heck, mix breeds tend to be healthier due to a more diverse gene pool. Various SPCAs also offer rehoming programs (e.g. San Francisco SPCA), where you can contact the family surrendering their dogs.
In any event, please do NOT go on Craigslist or Facebook to get a Yorkie. Unfortunately, online scams are everywhere so it's best to play it safe, even if they claim to have "adoptable" Yorkies. NEVER send money before seeing your Yorkie! If you're going to get a Yorkie, always consider adopting from a reputable rescue organization first. If you've exhausted your options, then consider a responsible, reputable breeder. Once again, never ever go to a pet store!
#9 Yorkies are no cowards
Since they were bred to hunt down vermin, Yorkies are inherently bold little dogs. Unless they've been subject to fear and abuse by humans, Yorkies are naturally fearless creatures. That's right, the Yorkie spirit is strong, feisty, and courageous! Because they don't know how small they are, Yorkies are typically NOT afraid to step up to a bigger dog. WOOF, I know I'm not! Therefore, protect your Yorkie and keep an eye on him as he mingles with other male dogs.
#10 Yorkie puppies should NEVER leave their mother until they're at least 8 weeks old
There are compelling reasons why you should NEVER get a Yorkie puppy before eight weeks, and it's in the best interest of YOU and your new Yorkie puppy. From health issues to behavioral PAWblems to the question of ethics, sniff out all the reasons why you should NEVER get a Yorkie puppy before eight weeks.
#11 Yorkies are notorious for being difficult to housebreak, but the truth is that it's up to the humans to put in the work
AWOOO, here's the deal – Yorkie pawrents may face potty training challenges, BUT it doesn't mean potty training your Yorkie is impossible (I mean, imPAWsible). It does, however, take a responsible dog pawrent who's willing to invest time and patience in training. ARF, no one said that having a Yorkie is easy! If you're impatient and claim you don't have "time," please save yourself some headache and a Yorkie from heartbreak. Please don't get a Yorkie if you're not willing to spend time in training.
BTW – there is no such thing as you don't have "time" – what you truly mean is that you don't care enough to make it a priority. If you really want to, you'll make time for your Yorkie. If you don't, you'll find an excuse, as the late Jim Rohn said. Sniff out my guide on how to STOP a Yorkie from peeing inside the house.
#12 Yorkies do NOT mesh well with young children
Again, Yorkies may hail from the class of "toy" breeds, but they are definitely no toys! Due to sudden movements, clumsiness, roughness, and lack of respect for boundaries, young children can easily overwhelm and cause stress for Yorkies. For that reason, Yorkies do NOT make good "family" dogs unless you, the parent, invest the proper time into teaching your young human children HOW to interact with their Yorkie siblings (no teasing!) and respect their space.
When Yorkies (especially teacup Yorkies) live with young children, they get easily injured because they're stepped on or kicked by accident. I've lost count of the times I've witnessed toddlers step on a fellow Yorkie's paw and make him yelp while the parents act like it's not a big deal. GRR. Therefore, it's suPAW imPAWtant to teach your children to be gentle. Lead by example, adult humans!
Sniff out 16 reasons why dogs hate children HERE.
Also, Yorkies do NOT enjoy being carried or hugged like a doll or toy. Why? Because they're NOT toys! Just because Yorkies could learn to "tolerate" hugs or being carried doesn't necessarily mean they enjoy it. If you think Yorkies enjoy being hugged or held, sniff out the truth here. GRR, I'd run away from kids whenever I can!
#13 Yorkies are prone to bad teeth
Due to their uber small jaws and tiny mouths that cause overcrowded teeth, Yorkies are, unfortunately, prone to dental disease and tooth decay. This includes bad breath, cavities, tooth loss, rotting gums, and toothache. Therefore, you must brush a Yorkie's teeth regularly and get an annual teeth cleaning. Otherwise, you'll face some expensive dental procedures later on. Money is one thing, but letting your Yorkie live in preventable pain is another. Often, the only way to tell that they are in pain is their bad breath.
#14 Yorkies have sensitive tummies
Like all dogs, Yorkies are little beggars with BIG appetites. However, that doesn't necessarily mean you should feed them all the goodies you're having. Unfortunately, Yorkies are predisposed to gastrointestinal issues like pancreatitis, the inflammation of the pancreas generally caused by fatty food consumption. The pancreas is an organ responsible for releasing enzymes that aid in digestion. In an episode of pancreatitis, the enzymes start digesting the pancreas itself, causing severe pain in your Yorkie. Pancreatitis usually occurs in middle-aged to senior Yorkies, and CAN be fatal if left untreated.
I had my first episode when I was around 9 to 11-years-old (my exact age is unknown) in Barcelona, and stayed overnight in the hospital for five days. It was my first time hospitalized, and DOG, was it a scary time! My humans had no appetite until they finally got good news about my recovery. Although most Yorkies can typically recover in 2-3 nights of hospitalization, I took double the time. But, nevertheless, I prevailed like a BEAST.
Despite Yorkies being predisposed to pancreatitis, you can help reduce the occurrence by putting your Yorkie on a low-fat diet. While there is plenty of tasty human goodies safe for your Yorkie to eat (sniff out my favorites here), there is a whole list of human food deemed toxic and unsafe for Yorkies (or dogs in general). If your Yorkie has suffered from pancreatitis, please discuss low-fat diet options with a veterinarian. Most likely, the veterinarian will recommend feeding your Yorkie a prescription diet like Hills I/D Low Fat or Royal Canin Gastrointestinal Low Fat.
#15 Yorkies are prone to collapsed trachea
Sadly, Yorkies are overrepresented in dogs with a collapsed trachea. The trachea is described as the "windpipe" or tube connecting the throat to the lungs with small cartilage rings along the trachea wall. In dogs, the rings cover roughly 80% of the perimeter with an ultra-thin tissue completing the circle. When the trachea has "collapsed," the cartilage rings lose strength and flatten, making it difficult for air to get to the lungs. As there are four stages of collapse, your Yorkie may or may not need medical treatment. The collapsed trachea causes occasional coughing in mild cases and respiratory distress or life-threatening cyanosis (blue or purple tongue due to lack of oxygen) in the most severe cases.
Sniff out my long battle with collapsed trachea here.
How well does the Throat Gold herbal supplement work for Yorkies with collapsed trachea? Perk up your ears to my unbiased review NOW.
Can dogs with collapsed trachea fly? Sniff me out!
#16 Yorkies are prone to luxating patella
GRR, the luxating patella or the "tricky kneecap" is another hereditary condition found in Yorkies – another that I have experienced. This condition occurs when the patella or kneecap of the hind legs pops out, temporarily shifts, or dislocates. Your Yorkie might skip or walk on three legs for one second, and walk normally the next second. Like the collapsed trachea, there are four stages of luxating patella – with the most severe stage requiring surgery. My human started noticing that I was hopping around on three legs intermittently when I was around 9 to 11 years old, about 6-7 months after my pancreatitis hospitalization. During my most recent evaluation, my hind legs are at grades 1 and 2, which means the condition is still tolerable for the time being.
Other health conditions Yorkies are predisposed to include Patent ductus arteriosus (a heart defect) and Legg–Calvé–Perthes Disease (a disorder of hip joint conformation).
#17 Yorkies are expected to live 13 to 16 years old (with many living even longer)
Despite all the predisposed health conditions, the Yorkshire Terrier breed is known to enjoy a longer than average life expectancy of 13 to 16 years old. I've once met a 19-year-old Yorkie who had a Yorkie sibling passing away at age 20. But REAL barks – even 20 years is not enough time for your precious Yorkie. Providing your Yorkie with a healthy lifestyle is KEY to increasing his time with you.
#18 Yorkies require daily exercise
Yorkies are small creatures with a wholelotta energy to burn! To keep your Yorkie healthy, be sure to walk him at least twice a day (ideally three times) every day, anywhere from 15-30 minutes per walk. In my prime years, I walked 60-90 minutes on each walk, taking my time to mark it up and return peemail in the entire neighborhood. Now in my older and less energetic years, I'd mark it up about 15-30 minutes each time. Contrary to PAWpular belief, small or "toy" dogs still need regular exercise, especially if you want to maximize their lifespan. For Yorkies, it's all about relaxing long strolls versus runs or high-speed walks. So don't be lazy and keep movin' – it's a WIN-WIN for you and your Yorkie.
#19 Yorkies are territorial
You heard those barks right! Yorkies are territorial creatures ready to fend off any stranger. Expect your Yorkie to protect you, his food, and his belongings. Also, expect him to react to the sound of doorbells, unfamiliar noises, and strangers.
This is me in Montenegro below: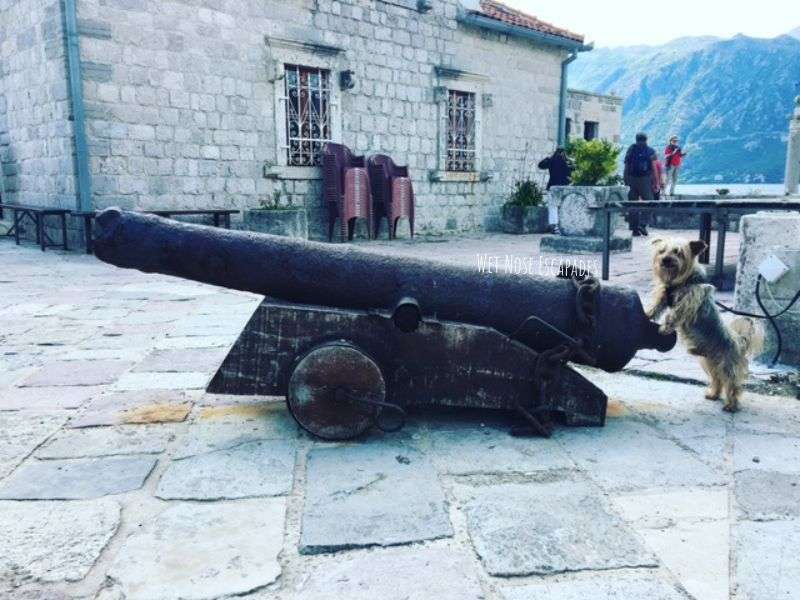 #20 Yorkies can make great travelers
Thanks to their small size, Yorkies can make excellent travelers, especially in-cabin air travel. I mean, just look at me – I've only flown on over 60 flights across more than 25 countries on three continents! Sniff out my expert tips on how to fly with your Yorkie. 
#21 Yorkies must be brushed daily
With such long silky coats, Yorkies have hair that's nearly identical to humans. Due to its length, a Yorkie's coat must be brushed daily, especially if you want to keep it shiny and soft. Otherwise, the hair will get matted and tangled quickly. And yet, the dematting process can be both stressful and painful for your Yorkie. It's always best to use a pin brush over a slicker brush – my human has made this mistake in the past and found that the slicker brush can be harsh on my hair. While the slicker brush is more suitable for dematting, the pin brush is much more gentle on a Yorkie's coat.
#22 Yorkies have hunting instincts
Did you know Yorkies were originally bred to hunt vermin? ARF-ter all, Yorkshire Terriers are TERRIERS! From the Yorkshire county in England, Yorkies were bred in the 1800s by Scottish weavers to be small enough to get into textile mills and mines to chase out vermin. REAL BARKS: Years ago, I alerted my human pack by identifying a rat infestation inside an old house in Los Angeles. Even though my humans wouldn't let me near the rats, I was growling and ready for battle! My humans were amazed that my robust wet nose could sniff them from afar.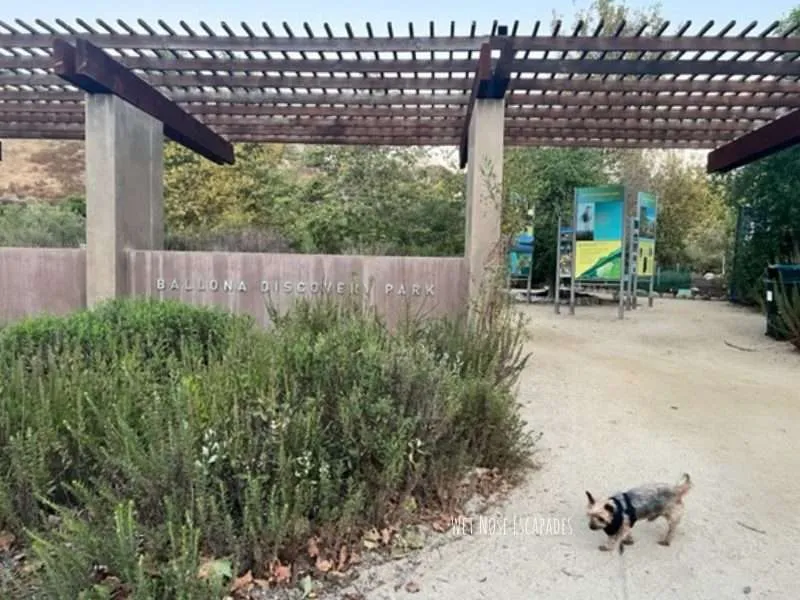 #23 Yorkies are prone to skin allergies
A Yorkie's long coat is prone to trap allergens and irritants, making Yorkies more susceptible to skin allergies like atopic dermatitis (itchy skin). Be sure to take care of your Yorkie's coat through regular grooming and bathing to remove irritants, which should reduce itching. If itching becomes severe, talk to your vet about the Cytopoint injection, which targets and neutralizes proteins in the body that cause itch. I tried it once, and it worked miracles!
#24 Yorkies are considered hypoallergenic
There are technically no 100% hypoallergenic dogs, BUT Yorkies are as good as it gets! With hair nearly identical like human hair (instead of fur), Yorkies are famously known to not shed (or if they do, it's very minimal). Hence, they make such a PAWpular dog breed choice for humans suffering from allergies.
#25 Yorkies can live tail-wagging lives in the city or rural area
Like my Papshund sidekick or PAWtner Penny, I can live a happy, fulfilling life in the city or rural area. From studio apartments in big cities to suburban houses (with or without a backyard) to farmhouses in rural areas, Yorkies can adapt well to wherever they live – as long as they're properly cared for with love, healthy meals, daily outdoor walks, and ample opportunities for playtime. I've wagged my stylish undocked tail in big cities like San Francisco, NYC, and LA as well as small towns like Dubrovnik and Budva.
Regardless of where you live, please do not crate your Yorkie for more than 8 hours TOPS a day.
#26 Yorkies should not live outside
As Yorkies are family, they should ONLY live inside with their humans – even if they live on a farm or in a rural setting. If you plan on leaving your Yorkie outdoors, please save him from misery and do NOT get a dog at all. From social interaction to shelter and protection, there are ample reasons why Yorkies do NOT belong in the outdoors. Even though Yorkies (like all dogs) enjoy being outdoors, they should NOT spend the majority of their lives outside. Sniff out six compelling reasons why you should NOT keep your Yorkie outside or in the backyard.
#27 All Yorkies are individuals
Like all dogs, no two Yorkies are exactly the same – even if they're littermates! Even if Yorkies exhibit similar physical and personality traits, every Yorkie is a unique sentient individual with different characteristics and demeanor. If you're getting a Yorkie, please recognize your Yorkie as a valued family member who can NEVER be replaced. If anything happens to your Yorkie, getting another one will never replace the one you had. Yorkies are beings, not things! Treat your Yorkie like an individual member of the family, and the love will return tenfold!
WOOF, hope you enjoy sniffing out these 27 Things You MUST Know Before Getting a Yorkie! Remember to think thoroughly because Yorkies aren't for everyone!
Do you already have a Yorkie? If so, do you agree or disagree with this list? BARK AT ME!
Markin' it up,
Roger Wellington a.k.a. The Doob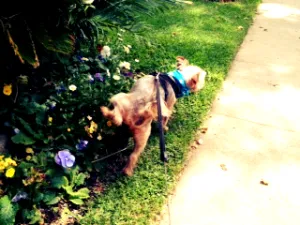 —
Like my post on "27 Things You MUST Know Before Getting a Yorkie"? CLICK TO PIN!