Hellllloooooo, healthy escapaders! Let's sniff out my 5 MUST SEE Places in Edinburgh, Scotland. With the city being downright walkable even for a toy dog like me, Edinburgh is one of my dearest cities to roam and mark in Europe. It's easy to be active in this lovely city with a throwback charm; yep, Medieval times – here I come! It's enchanting. It's hilly. It's unique. It's fairy tale town. It's old. And, it's new. Wooooof! Let's mark up the city. NOW. Explore it. Be active. Walk off our calories after a meal. Here are my 5 MUST SEE Places in Edinburgh:
#1 Must See Place in Edinburgh – Greyfriars Bobby at Greyfriar's Kirkyard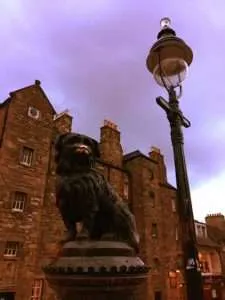 First things first, head over to Greyfriar's Kirkyard to say hello to my good pal Greyfriars Bobby, who sits outside the graveyard at the corner of Candlemaker Row and George W. Bridge. Legend has it that Greyfriars Bobby is the most loyal dog of ALL-TIME. I mean, he only guarded his partner-in-crime's grave for 14 years. FOURTEEN years! Until death due him part in 1872. Traditionally, visitors would rub his nose for good luck, but last I heard – his nose got so much love that he seriously needs a new nose job! Dogs are truly the best – that's why my pal tops my list of Must See Places in Edinburgh.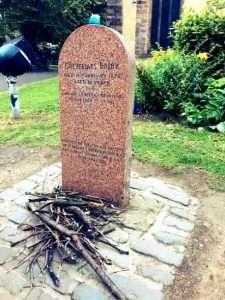 #2 Must See Place in Edinburgh – Princes Street Gardens
Goooosssh, this is one tranquil park in the city. Or dare I say, this is THE park in the city? Within the greenness, you may come across statues and monuments. Despite the fact that Princes Street Gardens attracts multitudinous visitors – both locals and tourists, you shouldn't have a problem finding a quiet spot to relax, exercise, or take in the scenery. I just love walking here and marking my territory; it's so freakin' massive and peaceful. PLUS I can get some marvelous views of the famous Edinburgh Castle.


#3 Must See Place in Edinburgh – Arthur's Seat at Holyrood Park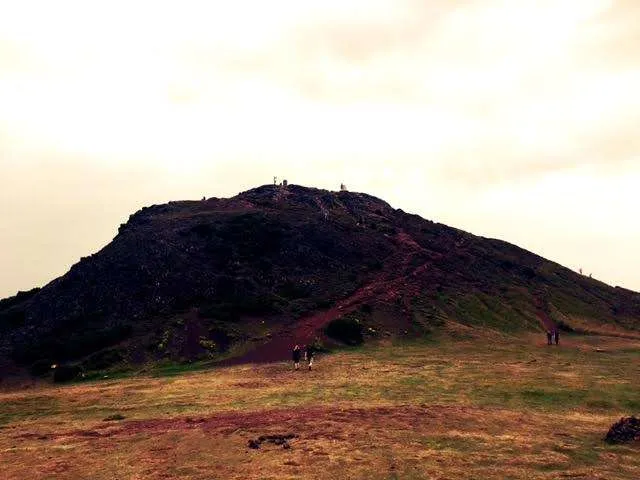 In the 3rd spot on my list of MUST SEE Places in Edinburgh is the spectacular Arthur's Seat. Yiiipppeeee! Time to get movin' and hike up to some Instagram-worthy views. Located in the center of breathtaking Holyrood Park, Arthur's Seat is the highest point in the city so views won't get any better than this. The hike is fairly easy and only takes less than an hour (provided you're in a somewhat good shape). Grab your water bottle, wear comfortable shoes, be safe, and kill your iPhone storage with pictures from every possible angle.
#4 Must See Place in Edinburgh – Old Town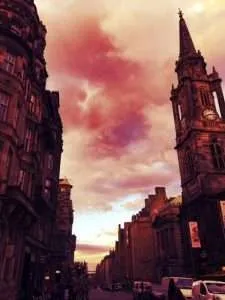 Want Medieval times? You got it! Stroll through the oldest part of the city and you'll feel like you're in some sort of a fairy tale. Be a knight. Be a princess. Feel that Medieval spirit in Old Town. But you can find more than the Medieval remains here – there are a plethora of buildings from the 15th Century Reformation Era. Explore the heart and soul of Old Town, Royal Mile, which spans from Edinburgh Castle to Holyrood Palace. Hah, take more pictures of that stunning castle. Old Town is a real charismatic beauty; it's distinctive, intriguing, and historical. So march on those cobblestones, snap a bunch of photos, sit down to a nice cold beer (whenever you need a break from walking), and BE that annoying tourist in awe.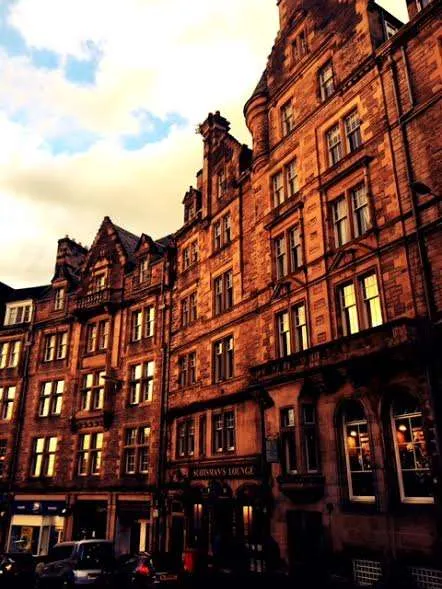 #5 Must See Place in Edinburgh – New Town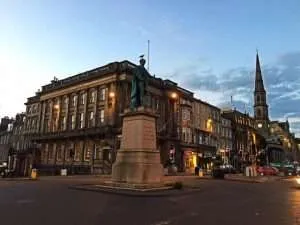 It may be 5th on my list of Must See Places in Edinburgh, but that doesn't mean it's less worthy. Aaahhhh I <3 New Old. Is New Town really new? Hmmm let's say it's certainly newer than Old Town, that is. Constructed between 1767 and 1890 (that's a looooong time ago, especially in doggy years!), New Town has architecture reflecting the Neoclassical and Georgian periods. As Royal Mile is to Old Town, Princes Street is the bustling main street of New Town. New Town is also THE spot for shopaholics – the Department stores and indoor malls here will make sure you pull out your pounds and credit cards more times than you intend.
https://wetnoseescapades.com/best-places-barcelona/
With these 5 MUST SEE Places in Edinburgh, you'll have a remarkable overview of Scotland's splendid capital city. Keep yourself active and healthy while traveling by roaming to these MUST SEE Places before and after your meals! Walk, walk, and walk some more. Looking for yummy food in Edinburgh? Stay tuned for my upcoming post- Vegetarian Food in Edinburgh: My 10 Favorites.
Markin' it up,
Roger Wellington a.k.a. The Doob
—
Like my post? PIN IT?