HALLO, escapaders! My little yorkie heart has a genuine love for Amsterdam, the vibrant capital of Netherlands. OMG this city is amaaaazing; just think about it – the notable arts, dynamic history, intriguing crooked houses, endless canals, myriad of bikes, coffee shops, Anne Frank house, Red Light District, and the list goes ON. As I make my mark around this dog-friendly city, I find myself doing what I do best, which is sniffing out food that's worth licking my chops. My tail is wagging nonstop as I bark out my list of 10 MUST-TRY PLACES IN AMSTERDAM, NETHERLANDS: Favorite Stops for FOOD.
#1 MUST-TRY PLACE IN AMSTERDAM –
Kantjil & De Tijger
Where: Spuistraat 291-293, 1012 VS
Atmosphere: Trendy
Dog-friendly: Yes!
MUST-HAVE(S): After sniffing out their menu extensively, I decide to "Create Your Own Meal," which is a fun way to get a balance of yummy protein and fresh veggies. It allows for one base (e.g. noodles or rice), one veggie item, and one meat item. My nicely-manicured right paw points to stir fried noodles (base) with green beans in a black bean sauce (veggies) and tender beef chunks cooked in mild spicy coconut bumbu (meat). It also comes with half an egg and a huge shrimp chip!
If you don't feel like "creating your own meal," I recommend trying their Rice Surprise. Should I ruin the surprise now? OK, I'm good with a lot of things, but not with keeping secrets (especially good ones)! It's a spicy stir fried rice concoction cooked with an array of spices and fresh veggies (green beans, carrots, bean sprouts, and broccoli), and then topped off with a succulent sunny side-up egg! Mix the egg into the rice for that extra flavor and consistency.
Why it's on my COOL list: Indonesian food in Amsterdam is plentiful, but only a few truly stand out, and this place is "IT." Set in an inviting modern space, the decor is posh yet unpretentious, making it a relaxing spot to meet with friends or just catch up on a good book by yourself. You'll sure be experiencing authentic quality food from Southeast Asia in an inviting modern space.
#2 MUST-TRY PLACE IN AMSTERDAM –
Volkshotel: Werkplaats (ground floor) & Canvas (rooftop)
Where: Wibautstraat 150, 1091 GR
Atmosphere: Funky and hipper than hip
Dog-friendly: Yes!
MUST-HAVE(S): Veggie Wrap (chickpea) at Werkplaats (roast chickpeas, beets spread, sprouts, greens, and pickle slice) AND Drinks of your choice at Canvas (for stunning rooftop views).
Why it's on my COOL list: As a frequent guest of this super hip and funky dog-friendly hotel, I can attest that Volkshotel has some BADASS spots from top to bottom. Their ground floor Werkplaats is where I've spent countless hours gobbling down veggie wraps and sipping fresh ginger tea while my paws type away on my laptop; its rustic yet colorful modern space boasts a cafe/bar, open workspaces, and private meeting rooms. After my work is finally done for the day, I climb my paws up to the 7th floor Canvas, their sensational rooftop terrace. As soon as I catch my breath, I gracefully tap my way through the entrance with an upright tail feeling more confident than ever; here, I lick delicious cocktails, buy my date a nice dinner, and take in sweeping views of the city. It also turns into a club after hours for anyone who wants to paw-ty!
#3 MUST-TRY PLACE IN AMSTERDAM –
Van Stapele Koekmakerij
Where: HEISTEEG 4  1012 WC
Atmosphere: Classic and charming
Dog-friendly: Yes!
MUST-HAVE(S): The ONE and ONLY Chocolate Cookie! An ambrosial delight, the chocolate cookie is simply incredible; so incredible that it's the ONLY item that they sell here. Made from scratch by hand in-house with the renowned French premium chocolate Valrhona, this quintessential sweet stuns you with a creamy white filling that melts in your mouth with pure serendipity.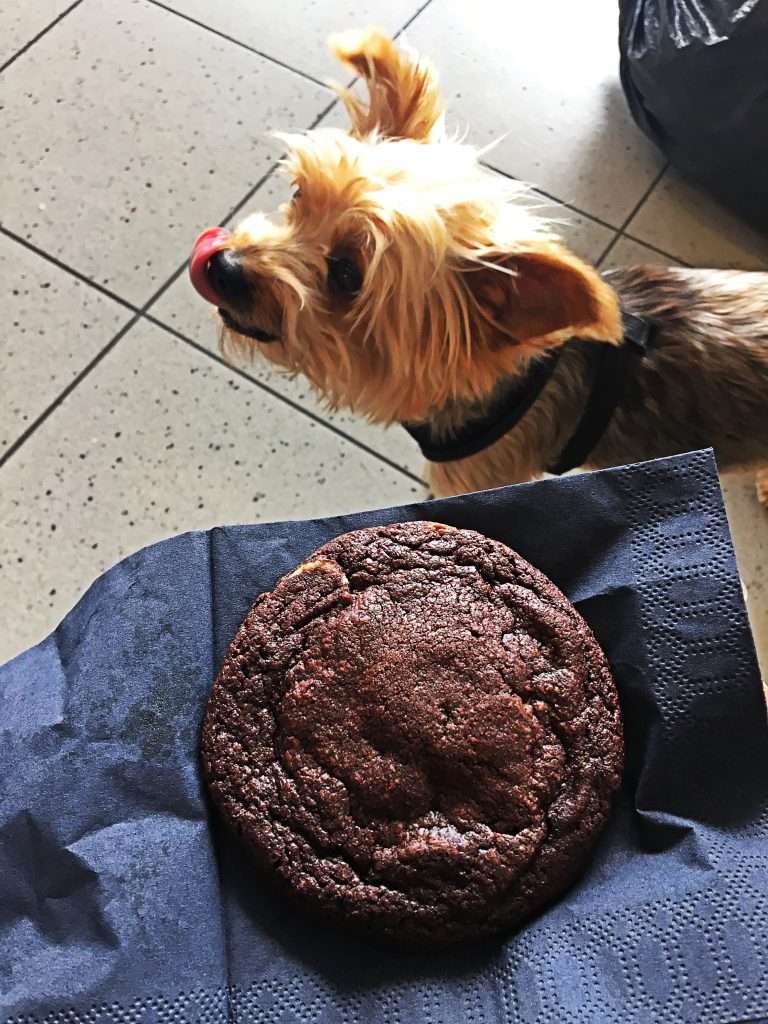 Why it's on my COOL list: After my meal at Kantil and de Tiger, I was quickly enticed by this nearby Amsterdam classic through an irresistible smell of oven-baked freshness and enchanting piano music. Founded in 1922 by a master in cocoa production, this cozy chocolate store is a true Amsterdam tradition. To this day, we are blessed with the same gourmet cookies made with delicious Valrhona chocolate. Indulge in them while they are still fresh-from-the-oven to ensure the right amount of warmness, softness, and extra tastiness.
https://wetnoseescapades.com/barcelona/
#4 MUST-TRY PLACE IN AMSTERDAM –
Terrace at Lloyd Hotel & Cultural Embassy
Where: Oostelijke Handelskade 34, 1019 BN
Atmosphere: Sophisticated, yet relaxed
Dog-friendly: YES!
MUST-HAVE(S): Ginger Tea (sooooo refreshing with real ginger slices) and crunchy Hummus Toast (topped with peanuts, tomato slices, cucumber slice, and a small juicy green salad). What a chops-lickin' breakfast to wake up to!
Why it's on my COOL list: I've spent many days snoozing inside this dynamic hotel. It's a pawsome national monument that historically served a hostel for poor migrants, a detention center, and later an art studio. Today, it attracts both tourists and locals with its rich history and distinctive character. The best feature is really their restaurant, which is a true gem! It's set in a large stylish contemporary indoor space with a fabulous terrace. I love licking my plate clean in the morning as I sit at their wooden picnic tables that are chicly adorned with matching red umbrellas and seat cushions. The menu may be limited, but every item tastes scrumptious, indisputably fresh, and made-to-order.
#5 MUST-TRY PLACE IN AMSTERDAM –
Anne & Max
Where: Oostelijke Handelskade 1001, 1019 BW
Atmosphere: Casual, laid-back in an open contemporary space
Dog-friendly: Yes!
MUST-HAVE(S): Hummus & Smashed Avocado Baguette (homemade hummus with avocado spread, spinach, roasted tomatoes, zucchini strips, and pumpkin seeds) AND Veggie Club (homemade beetroot hummus, organic goat cheese, spinach leaves, pickled vegetables, and marinated beetroot).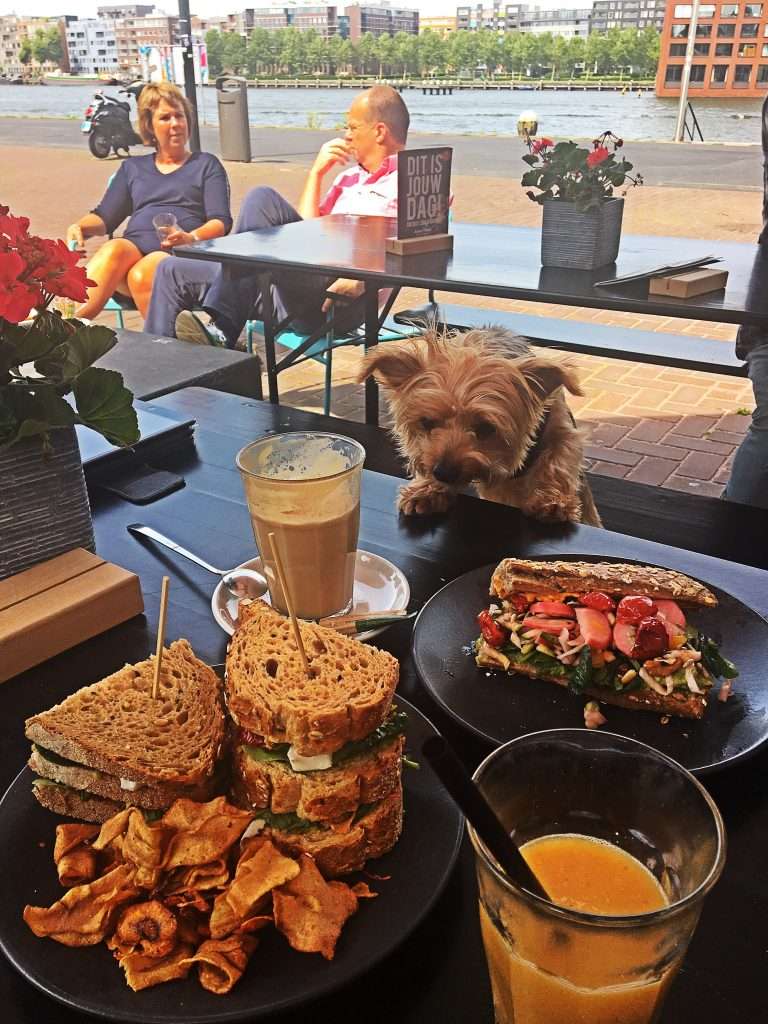 Why it's on my COOL list: My favorite outdoor place to grab coffee and get some work done in Amsterdam! With its prime location along the waterfront and across from the iconic Lloyd Hotel, Anne & Max is a fantastic place to spend a morning or afternoon, especially if you love people-watching (or for me, meeting other four-legged pals) over some appetizing organic treats. It offers a wide variety of coffees, juices, shakes, savoury snacks, sandwiches, paninis, toasts, and salads. My rat tail instantaneously wagged to the freshness and superb quality in their ingredients, in which vegan/vegetarian options are also plentiful.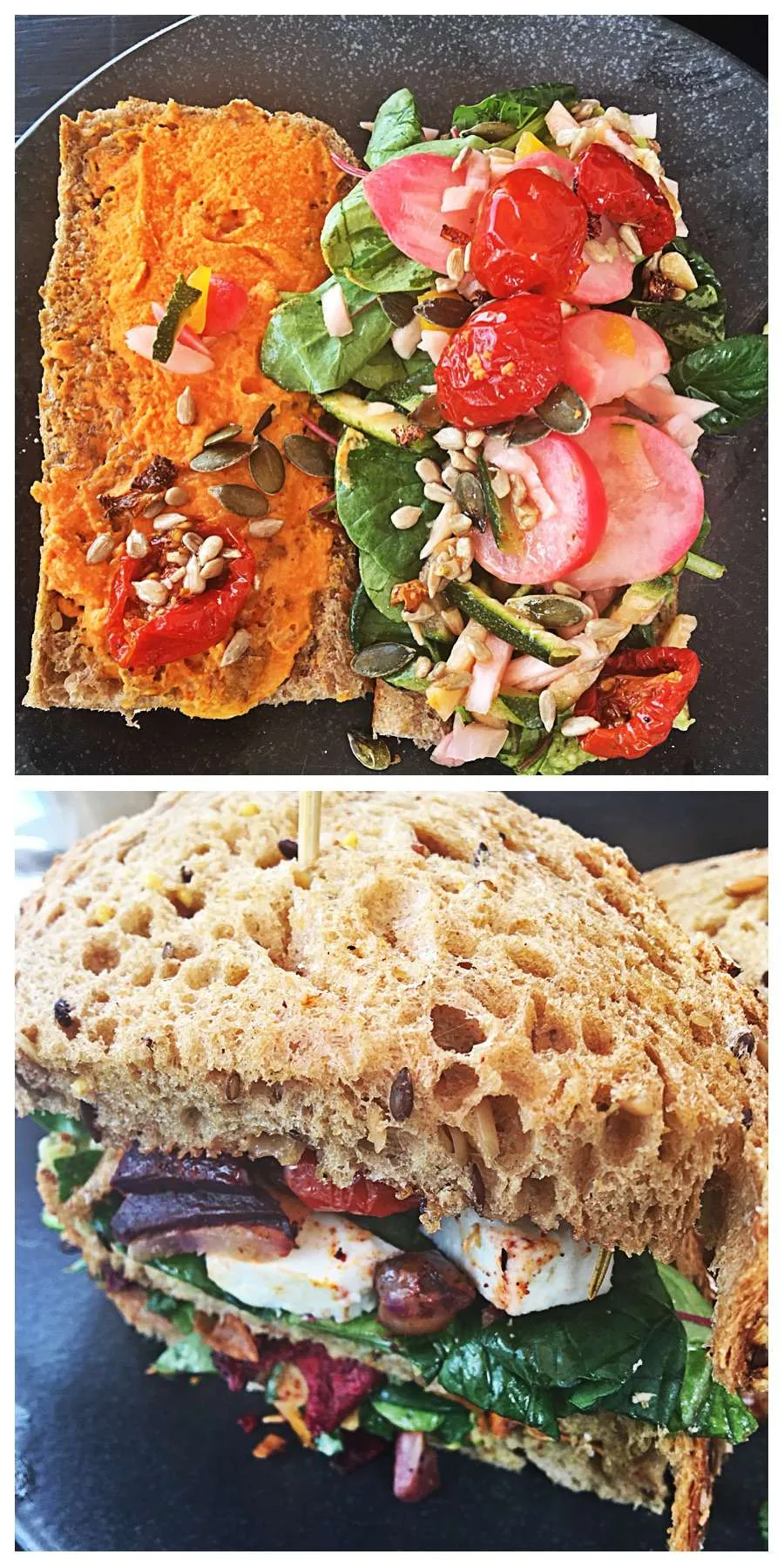 Dog Travel In Athens, Greece: A Yorkie travels to the ancient city
#6 MUST-TRY PLACE IN AMSTERDAM –
Vegabond
Where: Leliegracht 16, 1015 BW
Atmosphere: Homey
Dog-friendly: Yes
MUST-HAVE(S): Summer Rolls (light, yet tasty Asian-inspired rolls meticulously assembled with rice paper, avocado, raw veggies, and Thai basil; served with luscious homemade peanut dip) AND Wheat Wrap (homemade hummus, sun dried tomatoes, spinach, cucumbers, and carrots).
Why it's on my COOL list: My little tummy was sure grateful that my paws came to an immediate stop at their doorsteps after a long morning of exploration! Vegabond is not only a cute lunchroom + store dedicated to plant-based food and products, but it's also a growing close-knit community bounded by veganism. Their 100% plant-based menu offers to-beg-for goodies, ranging from savoury to sweet – all of which are simply divine and without any animal derivatives! It's a terrific spot to grab a tasty healthy bite or drink and take a day off from meat. Enjoy your meal along the canal!
#7 MUST-TRY PLACE IN AMSTERDAM –
Walter's (The Walter Woodbury Bar)
Where: Javastraat 42, 1094 HJ
Atmosphere: Tropical vibe mixed with traditional charm
Dog-friendly: Yes
MUST-HAVE(S): BIG FAT Veggie Burger! Meat may be their claim to fame, but I've fallen in love with their juicy 180-gram beetroot burger as I licked the ruby red juice from my nose. Yet this goes to show that they can perfect practically anything. Sandwiched by spinach and garlic buns, this culinary masterpiece is complemented by cucumbers, homemade mayo, and fries.
Why it's on my COOL list: It's tropical. It's traditional. It's modern. IT'S FUN! Boasting a full bar with LOTS (understatement) of drink options (local beers, signature cocktails, and wine), the lively Walter's is an exciting place to meet and eat! Mingle with friends (or strangers) over their creative signature drinks or wolf down paw-lickin' food that is quality-driven and exceptionally well-plated.
https://wetnoseescapades.com/best-places-barcelona/
#8 MUST-TRY PLACE IN AMSTERDAM –
Koffie Spot
Where: Elandsgracht 53, 1016 TN
Atmosphere: Casual, modern
Dog-friendly: Yes
MUST-HAVE(S): Fresh pressed juices! I love slurping the Ginger Shot (made with fresh ginger) AND Red Maniac (beetroot, apple, pear, ginger, and cucumber).
Why it's on my COOL list: This intimate modern coffee shop in Jordaan is a fun place to get some work done, meet with friends, or use as a pitstop after a long walk. I come here to slurp on a fresh juice and nibble on a homemade pastry or two. Note that this isn't your average neighborhood coffee shop; focusing on both organic and locally-sourced ingredients, Koffie Spot takes pride in making most of their goods in-house. Yippee! They have healthy mouthwatering sandwiches, breakfast items, sweets, fresh juices, and, of course, coffee (in which they also roast locally).  
#9 MUST-TRY PLACE IN AMSTERDAM –
Puero Pata Negra
Where: Oostelijke Handelskade 999, 1019 BW
Atmosphere: Modern
Dog-friendly: Yes, with outdoor seating.
MUST-HAVE(S): Chilli and Garlic Prawns (slowly cooked with garlic slices, chilli sauce, and garnished with cilantro bits) AND Grilled Asparagus (a little crisp on the outside and topped with sea salt).
Why it's on my COOL list: With the notable Lloyd hotel on one side and Anne & Max on the other, Puero Pata Negra basically completes the neighborhood triangle of some kickass food! It provides a pretty chill vibe to chomp on mouthwatering tapas while indulging in a dreamy fruit-infused sangria. But their most redeeming quality is actually their LARGE menu, which offers over 42 authentic toothsome tapas to choose from, which is, like, more than enough to feed 20 hungry yorkies. Relaxed ambience, palate-pleasing food, and splendid location for watching passerby make Puero Pata Negra one heck of a cool place!
https://wetnoseescapades.com/coolest-places-in-budapest/
#10 MUST-TRY PLACE IN AMSTERDAM –
Pancakes Amsterdam
Where: Currently 4 locations in the city, but I went to the one near the Anne Frank House at WESTERMARKT Prinsengracht 2771016 GW
Atmosphere: Touristy
Dog-friendly: Yes
MUST-HAVE(S): Poffertjiles (small, fluffy pancakes made with yeast and buckwheat flour) with strawberry jam.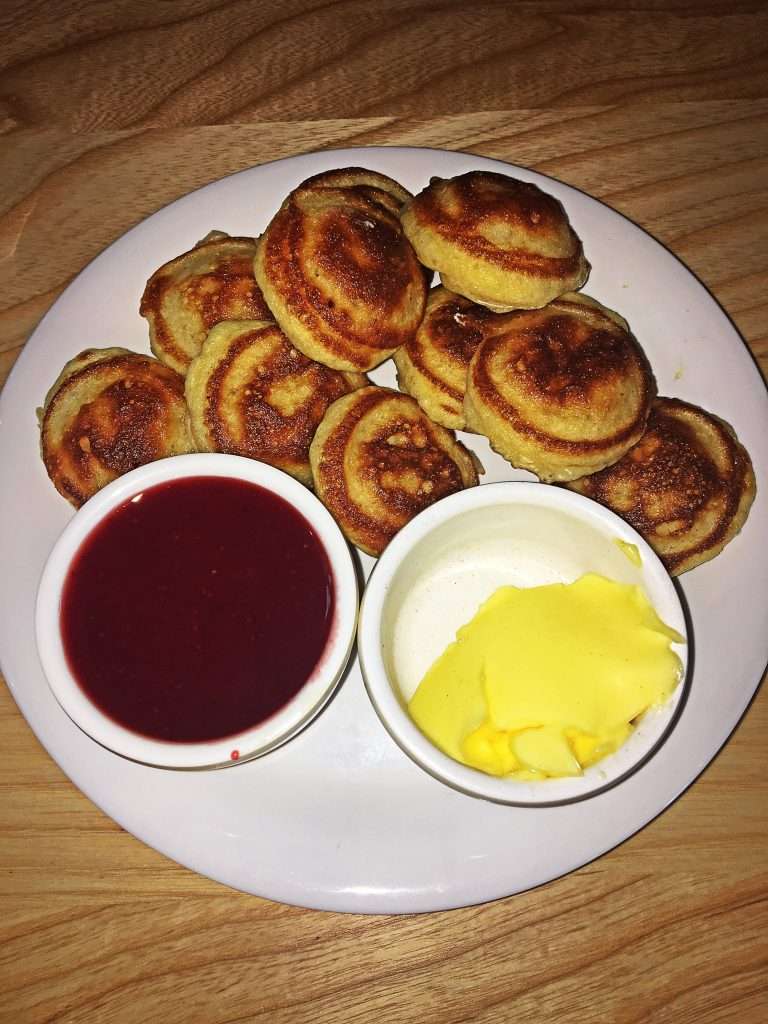 Why it's on my COOL list: I know it's tourist central here, especially with this particular location next to the Anne Frank House. BUT, this is one of the rare times when it is, perhaps, worth the freakin' hype. Why? Because the pancakes here are exquisitely delicious and smell straight-out-of-the-oven (my wet nose is the witness!); they're thin, soft, light, and fresh. One regular order will give you one GIGANTIC pancake that resembles much like a crepe. You can choose from traditional, sweet, and savoury pancakes or even create your own with a variety of toppings (from chocolate sauce to smoked salmon). They also have "American" pancakes, but I'd suggest sticking with the Dutch ones (you are in Amsterdam, afterall). Although most go with a regular-sized pancake, I actually love the poffertjiles, which are more fluffy and my size.
Hope you enjoy Amsterdam, one of my favorite cities in the world! Wanna see where else I've marked? Check out my Destinations: Let's Mark! section.
Markin' it up,
Roger Wellington a.k.a. The Doob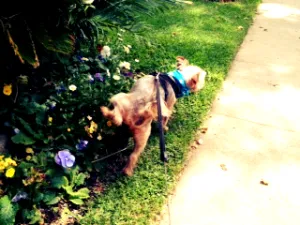 —
Like my post? PIN IT!