Bonjour, escapaders! My powerful nose has led me to none other than the culinary capital of the world. Yes, THE WORLD! OK, I know that this title is up for debate with other culinary powerhouses such as Paris and London competing for the crown, but after experiencing many of the bouchons in Lyon, I stand by this claim. Lyon has produced some of the greatest chefs of all time such as La Mere and Bocuse. In fact, the Prince of Gastronomy, Curnonsky, even labeled Lyon as the "world capital of gastronomy." Although he made this statement almost a century ago, the rich culinary tradition of Lyon has clearly carried its way to the present time, as evidenced by the phenonmenal food currently being served in this historical city. It is almost impossible to describe Lyonnaise cuisine; one can only experience it. So after a couple of weeks in Paris, I hopped on a train and got to work; I put my paws to the pavement and let my nose lead me to the culinary richness of Lyon.
Want traditional Lyonnaise food? Here are some of the delectable dishes that you really MUST TRY…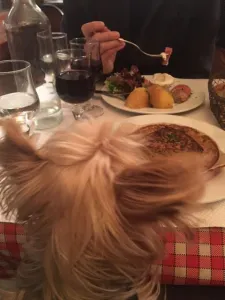 *Eggs poached in red wine sauce (top – pictured above)
*Salade Lyonnaise: lentils with shallots, beef muzzle, veal's foot (bottom – pictured above)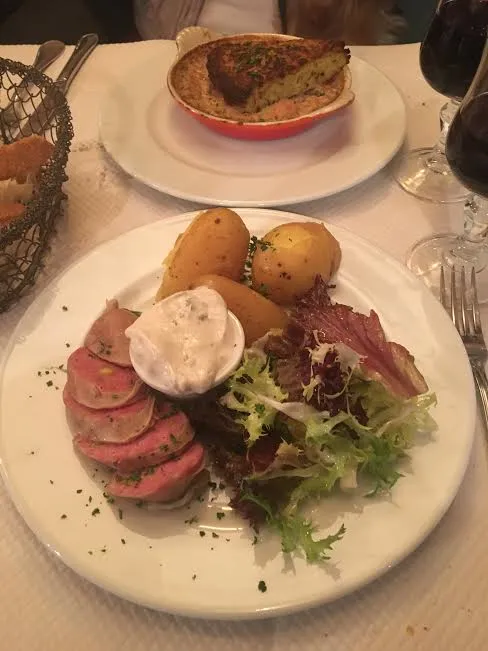 *Gratin d'Andouillette: chitterling sausage in gratin with mustard sauce (top – pictured above)
*Saucisson de Lyon: hot pork sausage with pistachio, white cheese, herbs and garlic, and steamed potatoes (bottom – pictured above)
**Where to get these dishes:
Le Père Fillion Aux Trois Cochons (

9 Rue des Marronniers, 69002)
There's sausage, pork, beef tail, beef muzzle, tripe, veal's foot, head, and tongue – more meat than a hungry wolf can ever dream of. My wolf instincts force me to CHOMP AWAY, leave NO SCRAPS, and LICK EVERYTHING OFF THE PLATE; however, as chops-lickin' as Lyonnaise food sounds, it can be extremely hearty: meaty and fatty. Despite being descended from wolves, my little yorkie body can only eat so much meat in a given time period; therefore, I wandered the historically charming streets, crossed a bridge or two, and put my nose to work to find what mouth-watering, healthy alternatives Lyon had to offer.
Here are my 5 TOP PICKS for healthy and tasty alternatives (as investigated by my wet nose and selective mouth):

#1 MUST-Try Food in Lyon – #NAM (

12 Place Raspail, 69007)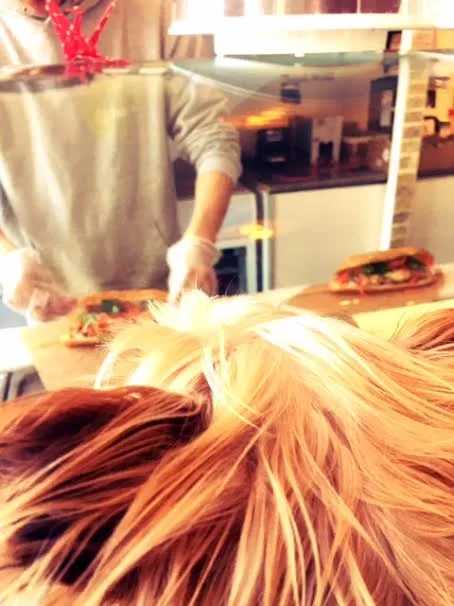 It's no surprise that Vietnamese food is exceptional in France; tons of Vietnamese refugees settled in the country in the 70's after the Fall of Saigon. #NAM is not your typical Vietnamese restaurant; although it's fast and cheap, it also has a modern, upbeat, and fun flare in both its appearance and food. What makes this place stand out amongst its competitors is not only its trendy approach to classic Vietnamese dishes, but also how it preserves the quality of its food while charging low prices. They are SPOT on!

What to get:
Chicken Banh Mi 

Beautifully marinated chicken that's artistically assembled with pickled carrots and daikon, cucumber slices, and cilantro. All of these yummy-in-my-little-yorkie-tummy ingredients are nestled in a fresh French roll that's crunchy, but soft enough for my tiny teeth. You can also spice it up with sriracha sauce or give it a boost with a garlic cheese sauce.
Tofu Vermicelli

I'm a wet nose escapader, which means that I skip meat whenever I can get my protein elsewhere. Try the vegetarian vermicelli with tofu, which comes with a delightful homemade nuoc cham (fish dipping sauce made with fish sauce and vinegar), greens, beansprouts, and chopped peanuts. Tip: Get it "take-away" (that's what the Europeans call "to-go" orders) and eat by the river so you can people (or dog) watch.

#2 MUST-Try Food in Lyon – De l'Autre CôTé du PonT (

25 Cours Gambetta, 69003)

A-R-F! I heart this place. Locals come here to socialize over tasty wine and wholesome food that tastes like it came out of mom's kitchen. The vegetarian plates here are legit. No meat, no problem! I'll keep chomping away any day.
What to get:
Vegetarian Lasagna

Wait, isn't lasagna from Italy? Yes, but if there's one thing I've learned in my extensive travels throughout France, is that the French have perfected every culinary dish. One of my favorite things to do in Lyon is to surprise myself by ordering the vegetarian special of the day, regardless of what it is. That's how I ended up with this masterpiece. Ordering the daily special is like ordering the catch of the day. The chef uses whatever fresh ingredients he/she has on hand and creates ambrosial dishes. Made with homemade pasta, cheese, mushrooms, eggplant, onions, celery, and who knows what else… It's a wonderful mystery that even my Sherlock Holmes nose couldn't figure out. It's served with two healthy side dishes – a green salad and a shredded root medley, both covered with a light vinaigrette. YUM!

#3 MUST-Try Food in Lyon – Lem Sushi (

3 Place des Cordeliers, 69002)
I LOVE fish! Although I love all forms of fish, I'd choose sake over my salmon kibble any day. Heck, I'll even doggy-paddle to the depths of the Atlantic ocean to catch my own fish, slice them up with my sharp nails, and roll my own maki rolls with my four little paws. Lem Sushi is my favorite place to devour sushi in Lyon. The fish here is fresh, its sushi chefs are highly skilled, and the ambience is lively.

What rolls to get:
*Salmon Avocado
*Tuna Avocado
*Avocado Cucumber
*Las Vegas – salmon over salmon avocado
*Yochi Yochi – crab meat avocado CA roll

#4 MUST-Try Food in Lyon – Yaafa (
17 Rue d'Algérie, 69001)

Falafels in Lyon? Hah, it took me quite awhile to sniff this place out – marked up about 21 poles and 13 tree stumps before my wet nose led me to this place. I'm sooooo glad I found it! My ears perked up when I heard "Yaa – fa." No need to give me a perplexed tilted-head look, escapaders – although I usually turn my nose away from falafels due to being deep-fried, the falafels here are never overly greasy or excessively deep-fried. They set off a perfect little crunch, making every bite just soooooo mesmerizing. They continue to make frequent appearances in my dreams.

What to get:
Veggie Fest Falafel Sandwiches
Yay for falafels AND veggies! Corn, falafel, carrots, cucumbers, and hummus all magically wrapped together in a fresh pocket with a splash of homemade zesty sauce. Again, I'm not the type tot lick my chops for deep-fried food, but these falafels have lured me into an unbreakable stare-down.
#5 MUST-Try Food in Lyon

– La Fourmilière (

15 Rue Salomon Reinach, 69007)
Want a fun place to load up on delectable food and relax with your paws open? This place is a charismatic mix of old and new school. This is another instance of me ordering the vegetarian special of the day. Without really knowing what I was getting into, I placed my trust in the chef and ended up with this two-course masterpiece. That is one of the greatest benefits of dining in Lyon; given the city's rich culinary tradition, you can expect any of its restaurants, regardless of the cuisine, to serve up amaaaaazing dishes.
What to get:
Mushroom and Parsley Tart
This miraculously crafted egg-based tart is light, yet flavorful. The soft mushroom and parsley filling contrasted well with the crispy crust. A captivating, yet subtle flavor, this tart is baked to perfection in terms of both hotness and softness. I'll unveil my infamous anaconda neck just for a quick chomp.
Spinach Brioche
This brioche is MMMMM MMMMM! Just cut off a piece and taste the heavenliness for yourself. Not salty, not heavy – arrrrffff, it's PAW-fect! The flaky crisp of the perfectly baked brioche counterbalances the soft creamed spinach-like filling. Served with cancoillotte-based soup and a fresh, colorful salad that is adorned with a tangy Asian dressing.
That's it, escapaders! Hope you like my favorite picks in the culinary capital of the world. Lyon is more than special; its spectacular food makes this destination even more alluring than what can be seen in pictures. You'll just have to come here and experience it for yourself!

Markin' it up,
Roger Wellington a.k.a. The Doob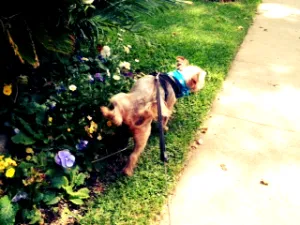 —
Like my post? PIN IT!