Yalla, escapaders!  The dreamy country of Morocco has more to offer than just buzzing medinas and photo-worthy landscapes of the Sahara and Todra Gorge; Moroccan cuisine is an exquisite delight to your stomach and it's the best way to experience the unique North African culture.  Here are 10 mouth-watering, chops-lickin' foods you MUST TRY in Morocco:
#1 TAGINE
What is tagine exactly?  A tagine is the actual clay pot used to cook this famous slowly cooked Moroccan dish with the same name.  You can get tagine simmered with fish, seafood, vegetables, chicken – the options are limitless.  You eat it by dipping bread into the soupy, carefully spiced "tagine."  Chicken tagine is by far the most popular, but fish and vegetable tagines (below) are excellent healthy choices as well.                                                                                                                          
#2 COUSCOUS
There's no Moroccan cuisine without this coarse wheat-based staple food; it basically serves the same role as rice in Asian cuisine.  The grains are smaller than that of rice as they seem less dense.  Like tagine, you can get couscous with anything and everything, and vegetable couscous is a fantastic option if you choose to skip the meat.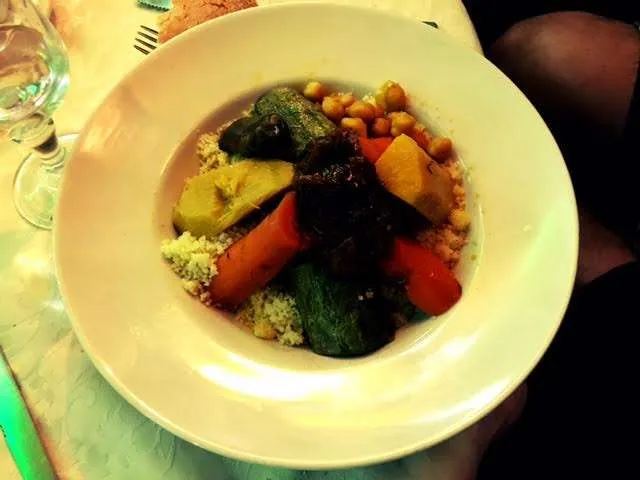 Stay Healthy and Protect Yourself from Coronavirus (COVID-19) While Traveling
#3 MOROCCAN SALAD
Juicy salad with olives, tomatoes, cucumbers, red onions, peppers, and cilantro.  Freshness is KEY.  As for the dressing, it appears to be a mixture of argan oil, olive oil, lemon juice, salt, and pepper.  Many variations can be found, but no matter how it's made, this salad is refreshing and healthy!  It's the ideal appetizer on a hot summer day.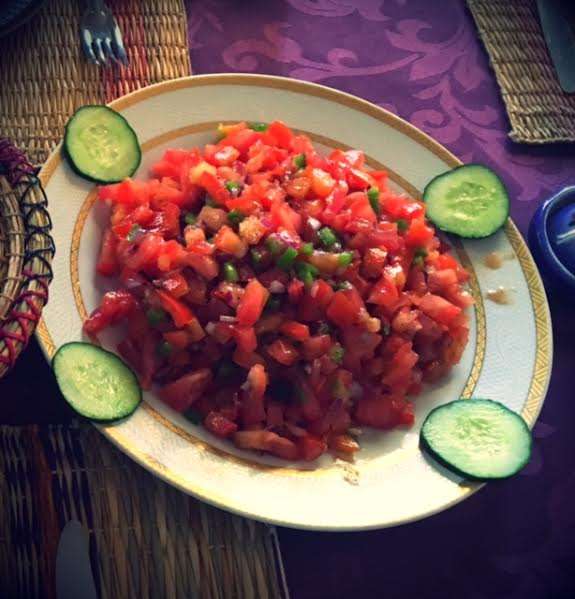 #4 BERBER OMELETTE
What is Berber, or should I say "WHO" are the Berber?? The Berber are the indigenous people of North Africa.  The Berber omelette is a scrambled egg dish with tomatoes, onions, peppers, and cilantro. But don't underestimate the simplicity – it has its own distinctive spice that makes it utterly irresistible!  Devour this dish at any time of the day.
#5 PASTILLA
This is quite a strange flaky pie as some would describe as it is sweet and salty at the same time.  You can clearly taste the chicken, almonds, AND cinnamon.  It's like a Moroccan mooncake! It's an intriguing traditional pie that you just have to try.
#6 HARIRA
Such a homey soup!  It's comfort food.  It makes you feel like you're a child again drinking your mama's veggie soup at home.  Harira is one of the traditional foods to break the fast during Ramadan.  The base is tomato  juice and there are bits and pieces of vegetables added.  It is spiced heavily to make this a real warm treat to your stomach.
Healthy mind while traveling: 5 EASY ways to remain sane on the road (PART I)
#7 PUMPKIN SOUP
This rich, soothing, and luscious mashed pumpkin soup with chickpeas will make you feel good almost as if you're on top of the world after battling a cold.  Despite its thickness, the taste of it is far from heavy.  Add some hot sauce to this appetizing smooth soup for a little kick.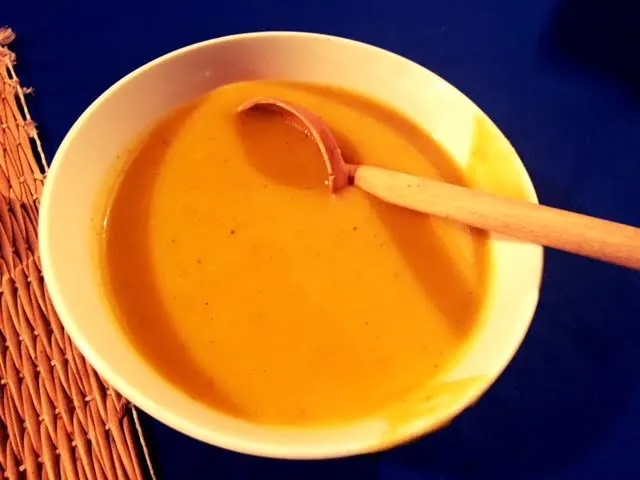 Healthy mind while traveling: 6 EASY ways to remain sane on the road (PART 2)
#8 FRESH ORANGE JUICE
Yes, you can drink orange juice anywhere in the world, but a freshly squeezed orange juice in Morocco is a must-try specialty.  Perhaps it's something about their oranges that make the juice so dulcet in a special way.  They squeeze the oranges right in front of you and it's literally the sweetest and most refreshing orange juice you'll ever have, especially on a hot, HOT, over 100 degrees Fahrenheit Moroccan day.
#9 MOROCCAN TEA
This is THE tea of the country with world-wide fame; it's a bit minty (well, duh – there are actual mints!) and bitter in a wonderful way.  You can skip the sugar to save calories although it's sometimes already sweetened for you.  It is particularly soothing after a big meal as it actively helps you digest your tagine or couscous dinner.
#10 CHEBAKIA
WOOOHOOO, it's treat time!  A popular treat during Ramadan to break the fast, this beautifully shaped honey-coated fried cookie sprinkled with sesame seeds is one small dessert to crave.  You'll see it at every corner while walking through the crazy medinas.
With so many divine options, you're bound to enjoy the exceptional taste of Morocco! Hope you enjoy these MUST-TRY mouthwatering Moroccan foods!
Worried about your long flight to Morocco? Read my post on how to survive that long international flight here!
Markin' it up,
Roger Wellington a.k.a. The Doob
—
Like my post? PIN IT!