Bonjour, escapaders! I know I am long overdue for a post on my beloved City of Romance; as one of my most frequented destinations in the world, Paris is the enchanting yet fast-paced dog-lovin' global city that I love so much. From its extensive history to its world-renowned art, the city continues to intrigue both long-time residents and people (including their dogs) who dream of visiting someday; however, my favorite part about Paris is not necessarily its history or beauty, but rather its diverse selection of exquisite food (whether French or ethnic), which I have fallen in love with. As an international city, Paris has a wide range of fantastic dining options, from "let me get groomed for this"-type restaurants to "I'll clean up the scraps off the ground" local joints. Here are my 10 picks for MUST-TRY Food in the City of Lights:
#1 MUST-TRY Food in Paris – Savory Crepe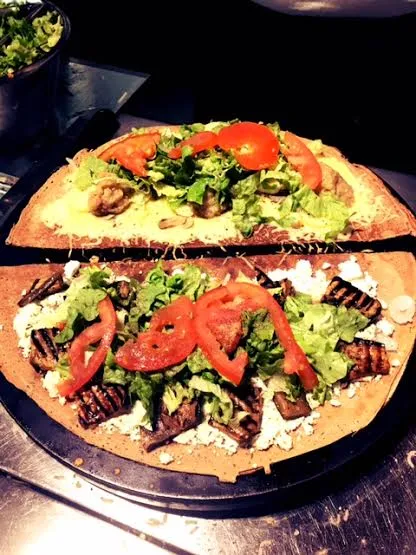 Hands down, the best savory crepes I've ever had in MY entire life were in Paris. Arrrffff is such a strong statement, but then again, I only bark the truth. My personal favorite is the vegetarian crepe, which consists of deliciously seasoned potatoes, freshly chopped lettuce, sliced tomatoes, sautéed onions, and an aubergine-based caviar. The unique aubergine-based caviar brings all the ingredients together while the onions give the crepe a subtle, yet sassy little kick. Ah-mazingly good. My second favorite crepe in Paris is the Greek crepe, which also happens to be vegetarian. This Franco-Greco collaboration is a must-try while visiting "the city of lights." A hearty dose of feta plays the leading role in this performance while a supporting cast of fresh produce perfectly complements the richness of the cheese. Fresh produce includes grilled aubergines, chopped lettuce, sliced tomatoes, and sautéed onions. The chemistry between the sharpness of the feta and the freshness of the produce interact to make this one unforgettable savory delight. It will have you wagging your tail (or at least mine) in no time.
Where to get them: Au P'tit Grec (68 Rue Mouffetard, 75005)
#2 MUST-TRY Food in Paris – Dessert Crepe
Craving for a sweet crepe instead? Get my favorite – the Nutella and banana crepe! I promise you'll like it. Better yet, I promise you'll LOVE it. Made to order crepes filled with creamy Nutella and freshly chopped banana slices. There's no better place to devour crepes than in Paris. I'll do all the tricks in the dog manual with an open mouth smiling face for a little lick of Nutella. YUMMY!
Where to get it: Boulangerie Saint Michele (31 Rue de la Huchette, 75005)
#3 MUST-TRY Food in Paris – Falafel Special
My nose is leading me somewhere!
Get your paws ready and dig your way through the crowd for the falafel special, the best seller at L'as du Falafel in the Jewish Quarter. The falafels here are fresh and never super greasy; always crunchy on the outside and soft on the inside. Mixed with a variety of chopped veggies such as cabbage and cucumber, the falafel pocket is tasty, crunchy, and a little spicy. The spicy red sauce is a perfect counter to the light yogurt-based tzatiki. If you would rather be a true carnivore like my wolf ancestors, try the lamb and turkey schawarma instead.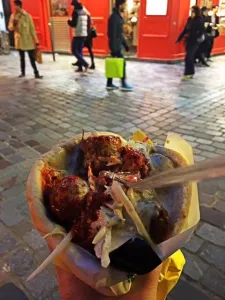 FOUND IT!
Where to get it: L'as du Fallafel (34 Rue des Rosiers, 75004 )
#4 MUST-TRY Food in Paris – Beef Noodle Soup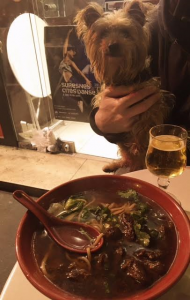 Taiwanese food in Paris? Woof, yes! You don't need to fly to Taipei for dreamy niu rou mian. You can get a large bowl of aromatic noodle soup right here in the capital city of France. Gee, it smells so darn good that it's nearly impossible to stop my nose from taking me straight to the bowl! I'll even settle for a long stare and sniff if I can't get close enough to take a bite. Tender pieces of beef with homemade fresh noodles in a special spicy broth that will make you lick the bowl clean and dry.
Where to get it: Happy Nouilles (95 Rue Beaubourg, 75003)
#5 MUST-TRY Food in Paris – Vegetarian Stew
I wish I could pack a lifetime supply of the vegetarian stew from Bob's Kitchen in my carrier and take it back home with me to California. It's the perfect meal for healthy escapaders: a beautiful medley of seasonal vegetables served with brown rice and comfortably topped with one of three delectable sauces – Indian, green curry, or satay. A comprehensive mix of roasted brussel sprouts, steamed broccoli, potatoes, candied carrots, fresh spinach, sweet potatoes, and a sautéed medley of aubergines, mushrooms, onions, and peppers provides a wonderful surprise with every bite; each bite unearths another delicious ingredient buried somewhere in the pile of goodness. The variety of colors, textures, and flavors blends together to make this one unforgettable experience. Light. Healthy. Colorful. Tasty. Or as I would say, SCARF-able. I could scarf an entire bowl down RIGHT NOW. My little tail is wagging just thinking about it!
Where to get them: Bob's Kitchen (74 Rue des Gravilliers, 75003)
#6 MUST-TRY Food in Paris – Onion Soup
Although simple, soupe a l'oignon (i.e. onion soup) is a French specialty. No human (or dog) visitor should ever leave the city without trying it, even if it's just a spoonful. Commonly called French onion soup in other parts of the world, it is a hearty soup that consists of caramelized onions (of course), some type of meat broth, bread (usually a couple pieces of a sliced baguette), and cheese. Although the main ingredient is onions, the onion flavor is never overpowering. The taste is flavorful yet light. Despite the cheesiness, you won't get an overly greasy soup. Chomp, chomp, chomp away!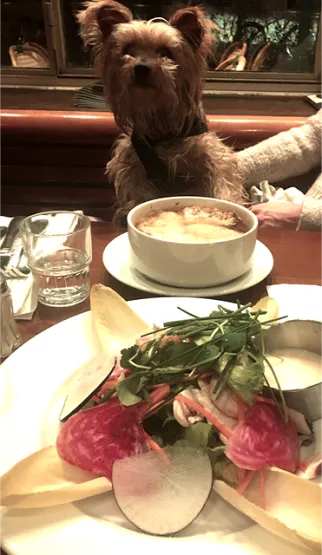 I just can't get enough! More onion soup PLUS a healthy fresh salad!
Where to get it: Any brasserie!
#7 MUST-TRY Food in Paris – Beef Bourginion
This dish has to be every dog's dream for dinner. Gosh, how can you blame us? Our teeth are made for MEAT! All day and night (note: I sleep A LOT), I dream of beef bourginion. Tender beef chunks slowly cooked in a red wine sauce and served with a wonderful assortment of vegetables (including carrots, potatoes, broccoli, and mushrooms) create such an exquisitely stomach-pleasing dish. It's juicy, savory, and downright ambrosial with every single bite. I may have a small stomach, but I can clean up any serving size of beef bourginion any day. I'll groooowwwwl if you get close to my dish. GET YOUR OWN AND STAY AWAY.
Where to get it: La Chaise Au Plafond (10 Rue du Trésor, 75004)
#8 MUST-TRY Food in Paris – Bistro Burger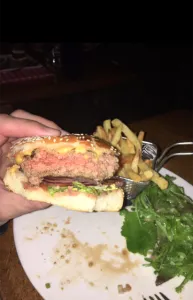 Arrrrf, I'm continuing my carnivorous streak with my love for burgers. Burgers are like treats for me – I like to bury them like bones for future rainy days. Although I don't eat them frequently (trying to stay healthy here, escapaders!), I sure love to devour a good burger occasionally. The French have the tendency to perfect everything in the world of cuisine and burgers are fabulous models of their culinary talent. Ubiquitous in the city, chops-lickin' homemade burgers are made from scratch and diligently cooked to your liking, whether medium-rare or fully cooked. Served with the perfectly cooked frites make this one complete dish.
Where to get it: Le Temps des Cerises (31 Rue de la Cerisaie, 75004 )
#9 MUST-TRY Food in Paris – Salmon Bowl
Time for some hip Japanese food in Paris! Mmmmmm, why go for salmon kibble when I can chomp on fresh salmon instead? A huge filet of salmon sprinkled with sesame seeds and nori is artistically served with very light teriyaki sauce (yippee, better for my tummy) and a lemon wedge. AGAIN, healthy, light, colorful, and tasty – absolutely worth begging for! Stare it down. I love how the pickled veggies and glass noodles provide such an awesome offsetting balance.
Where to get it: Rice and Fish (22 Rue Greneta, 75002)
#10 MUST-TRY Food in Paris – Cheese Plate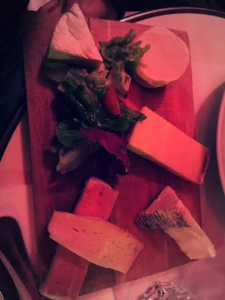 MUST HAVE CHEESE. Bark for cheese. Sit for cheese. Lay down for cheese. Even cry for cheese. Cheese, cheese, and more cheese! Cheese is one of the (many) foods that the French have perfected; therefore, you can try an outstanding cheese plate at pretty much any brasserie. Cheese plates usually include an assortment of different cheeses along with a small salad and a freshly sliced baguette. My last cheese plate included five types of cheese: three French (canat, chevre, and camembert) and two Italian (gargonzola and taleggio). It was a wonderful mix of flavors and textures. It is always fun to analyze the differences in taste, scent, and texture among each of the cheeses. Pretend to be Parisian for a day: find an outdoor table at a café and people/dog watch while enjoying a wonderful assortment of cheeses along with a glass of French wine. I may howl like a wolf, but I'm one sophisticated dog.
Where to get it: Any brasserie, but I do like the one at Café March Du Enfants Rouges (37 Rue de Bretagne, 75003)!
Hope you like all my picks for Paris eats for 2017! Stay tuned for my next post on where to mark it up in the city. Have a lovely time sniffing out one of my favorite cities in the world.
Need tips on how to stay healthy on the road? Check out my page here!
Markin' it up,
Roger Wellington a.k.a. The Doob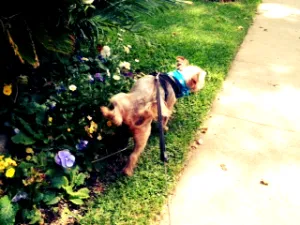 —
Like my post? PIN IT!