ARF, is the Netherlands dog-friendly? Should you take your dog to the Netherlands? Perk up your ears and sniff out my furry buttocks NOW!
Posted 4/9/22
*Please note that this post contains affiliate links, and at no obligation or additional cost to you, my humans and I earn a small commission if you make a purchase. If you love the work that we do, you can show your support by making a purchase through an affiliate link. Proceeds will go towards feeding homeless dogs (and cats) along with improving the lives of the neglected and abused.
HALLO, escapaders! Besides being a French Yorkie, I was also once a Dutch Yorkie and barked Amsterdam as one of my beloved European home bases! Dog, did I enjoy my residency in the Netherlands – it's so hip that it's almost too cool for even a Top Dog like me. Resting in northwestern Europe, the Netherlands is one pawsome country known for its lush greenery, windmills, tulips, cheese, canals, nightlife (AWOOO, Red Light district), beers, genever, and coffee shops (ARF, obviously not the kind of coffee shop you're thinking of in the U.S.). Needless to bark, the Netherlands is one of the most ARF-citing countries in Europe. Outside of the capital city Amsterdam, there's so much to sniff and mark – even out in the Dutch countryside. If you're thinking of taking your dog to the Netherlands, you're in luck as this small country has a supaw BIG dog-friendly culture.
Is the Netherlands dog-friendly?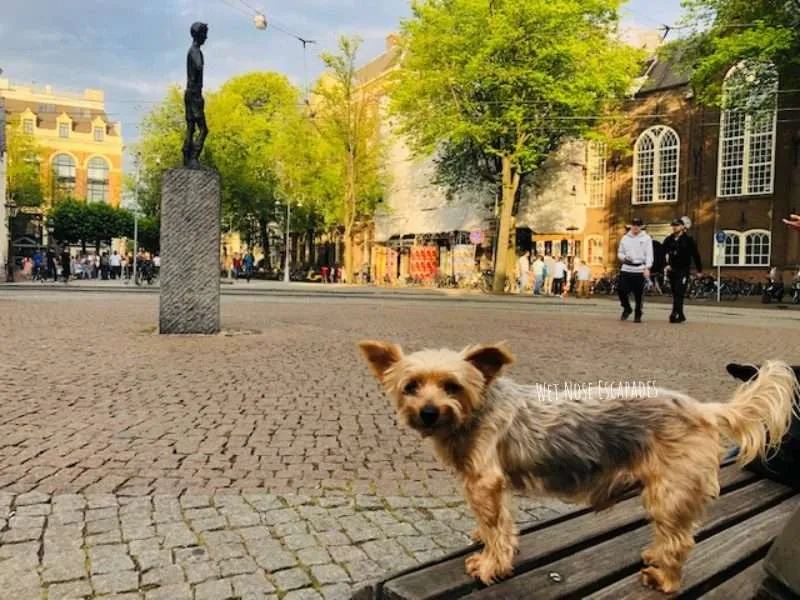 ARF, my shortest bark is YES – the Netherlands is very dog-friendly! PAWS DOWN, it's one of the best countries for dogs. With 200 million stray dogs worldwide, I wagged my tail uncontrollably when I sniffed out that the Netherlands became the first country without any stray dogs. Yet, it is no surprise that this place is such a haven for dogs. And fortunately, their zero stray policy isn't based on the use of euthanasia.
Rabies was historically a pawblem in the Netherlands. It became such an issue that people started abandoning their dogs. GRRR. In response, the government implemented drastic measures to pick, sterilize, vaccinate, identify, and return stray dogs in the country (PSVIR). Animal abuse and cruelty became punishable by law with imprisonment and hefty penalties. To encourage residents to "adopt don't shop" from shelters, the Dutch government imposed heavy taxes on store-bought dogs. Additionally, a law enforcement unit (Animal Cops) was established to respond to animal abuse and aid in rescue. The Dutch Animal Control even has a pawbulous reputation for its speedy response in rescuing an animal in need and taking care of it until adopted.
And yet, the government implemented such animal welfare measures to combat the inhumane treatment of animals, not necessarily just about the health and safety of its residents (like earlier on). My tiny jaws dropped to an open-mouth smiley face as I sniffed that 90% of the pawpulation has adopted a dog, with over 1.5 million pet dogs in the country. If you ever make the Netherlands your permanent home, you'll have to register your dog and pay an annual dog tax (hondenbelasting) depending on your city of residence.
AWOOOOO, if you witness animal abuse or neglect or see an injured animal while traveling in the Netherlands, please dial 144 on your phone. 144 will connect you to the dierenpolitie a.k.a. the animal response unit that's part of the police force.
ARF course, remember to clean up after your dog! It's not just common courtesy, especially as a visitor, but you'll also face a fine if you don't!
Where are dogs allowed in the Netherlands?
Dogs are everywhere in the Netherlands (not strays, ARF course), especially in cities like Amsterdam, The Hague, and Rotterdam where the Dutch love taking their dogs out and about. Look for the dog symbol! If dogs are allowed, you'll see a dog symbol with a circle over it (versus the same symbol with a slash, which means dogs aren't allowed. GRR).
Eating & Drinking Places
AWOOOO, the coolest part about traveling to the Netherlands with your dog is that you can take your dog to most (if not, all) restaurants and bars. WOOF-HOO! Indoor or outdoor – I've always felt welcome to sit my furry buttocks on a human seat and sniff out the most chops-lickin' Dutch goodies (or oftentimes, mouthwatering international cuisine) and watch my humans act halfway foolish with their Amstels and Heinekens. My Yorkie brain can't recall being denied entry – not even once! Yep – just like in France, I've never had any issues walking my furry paws into an establishment that sells food or drinks.
*As dogs are pack animals who'd LOVE to experience meals with you, don't forget to pack a bag of treats, dog-safe food, bottled water, and to-go bowls for your dog! Don't make your dog feel left out.
Heck, you can even take your dog inside most "coffee shops," where you can legally buy and smoke cannabis. In Amsterdam, they even have the famous Bulldog-themed Coffee Shops all over the city, which is ARF-so-pawsome! BUT due to the harmful effects of second-hand smoke, I do NOT recommend taking your dog into congested, smokey coffee shops, which often have poor ventilation. As a healthy nomadic Yorkie, I do everything I can to avoid second-hand smoke in Europe.
Parks
The Netherlands welcomes dogs into their parks with open paws, including Vondelpark a.k.a. the largest park in Amsterdam! So go ahead, and put one furry paw forward. The Dutch laws allow dogs to walk around in public spaces, but dogs can only go off-leash in designated areas. Hence, you should sniff out signs that indicate on-leash vs. off-leash areas. For instance, at the largest park in the country, Nationaal Park Oosterschelde, on-leash dogs are allowed in many areas inside the dikes while dogs can go off-leash in other areas. At Drentsche Aa National Park, there are plenty of dog-friendly trails including Pieterpad: Zuidlaren – Rolde Etappe, Boswachterspad Oudemolense Diep, and Anloërdiep en Landgoed Ter Borgh. It's time to mark it up!
Squares
ARF, I just love resting my furry paws and human and dog-watching at public squares in Europe! Yet the Netherlands doesn't fall short of pawtastic dog-friendly, bustling squares ("pleins" in Dutch).
Just to bark out these squares that are a paw above the rest:
Anton Pieck Plein – Kaatsheuvel
An old Dutch town square located in the theme park Efteling with different carousels that take you one paw back in time!
Dam Square – Amsterdam
A MUST-SNIFF as this is Amsterdam's most famous square! ARF-ter all, the neoclassical Royal Palace resides right here.
Leidseplein – Amsterdam
Another vibrant square attracts crowds at night, especially with numerous street performances, nearby bars, and late-night eateries.
Waterlooplein – Amsterdam
WOOF, this square is home to the oldest flea market in both Amsterdam and the Netherlands. It's a daily furry affair here!
Rembrandtplein – Amsterdam
Named after the impawtant Dutch artist Rembrandt van Rijn, Rembrandt Square is quite the hotspot for young nightlifers, making it extra entertaining.
Janskerkhof – Utrecht
Located in the province of Utrecht, this square is home to the lovely Saturday flower and plant market. Not to bark, there's also a sniff-worthy statuette of Anne Frank.
Onze-Lieve-Vrouweplein – Maastricht
In the historic center of Maastricht, Onze-Lieve-Vrouweplein is pawpular with both locals and tourists thanks to its many inviting cafe patios.
Vrijthof – Maastricht
Formerly an ancient Roman and Frankish cemetery, Vrijthof has been Maastricht's main square since the 19th century. This cobble-stoned square is surrounded by historical buildings, museums, hotels, restaurants, and bars.
Beaches
It's time to dig up the sand! For those who know me well, you know I'm no furry swimmer. I don't like getting my paws or silky hair wet at all! However, I know many dogs who do, including my little BIG Weimaraner cousin Sonny.
So here's the deal with the beach in the Netherlands:
Dogs are typically welcome on beaches except during the spring and summer months when the beaches get a little crazy and packed with 20-something-year-olds showing off their speedos and bikinis. From October to April, dogs can even go off-leash! WOOF-HOO! However, every beach may have slightly different time frames when dogs are allowed. Therefore, you should check before getting those furry paws sandy.
For instance, from Wijk aan zee to Castricum, dogs are allowed off-leash on all beaches from October to April. Before 10 am and after 7 pm between May and September, dogs can also go off-leash.
From Egmond aan Zee to Camperduin, dogs are allowed on-leash from 10 am to 7 pm between the orange poles on the beaches of Camperduin, Hargen aan Zee, Schoorl aan Zee, Bergen aan Zee, and Egmond aan Zee.
Get your paws on more dog-friendly beach info HERE.
Public Transportation
At the national railway of the Netherlands (Nederlandse Spoorwegen), small dogs like me travel for FREE as long as they're in a bag, basket, or able to sit on their human's lap. On the flip side, larger dogs can only board if they have a "dog ticket," which only costs €3.30 and does not have to be checked in. The tail-waggin' news is that you can conveniently reserve an e-ticket or mobile ticket for your dog, making things supaw convenient. Unfortunately, this "dog ticket" is required for larger dogs and is only valid on domestic NS and Arriva trains.
Not to bark, this is on top of your own human passenger ticket. Your larger dog passenger must also be leashed. Regardless of size, furry passengers may not occupy a seat although the staff and passengers may not mind your small, well-behaved dog (gauge the situation beforehand, ARF course). As usual, legitimate and recognizable guide dogs always travel for free.
Dogs can also ride trams, buses, and metros for free as long as they fit inside a carrier, sit on your lap, are leashed, and stay on the floor. But, nevertheless, dog public transportation rules may differ slightly depending on the city or region.
Shops & Boutiques
In a country where dogs are free to wine and dine next to their humans, it's not surprising that dogs are also allowed in most retail shops and boutiques. I'm not much of a shopper, but I wag my undocked stylish rat tail, knowing that I can walk my four paws into souvenir stores, designer shops, and department stores – if I ever wanted to take a sniff or two. Again, look for signs and symbols that indicate otherwise.
Grocery Stores
GRRR, grocery stores are pawbably the only places that make me lower my tail and set my ears back in the Netherlands! Unfortunately, most supermarket chains will not allow dogs inside, as indicated in the "No Dog" symbols on the doors of supermarkets. Again, these symbols will have a dog icon inside a circle, and then a slash. Regardless of where they are, my humans never trust "dog parking," where you can tether your dog outside while you run in to grab groceries. They either take turns entering or keep me inside a carrier where hardly anyone would notice my presence (as a last resort). For the most part, the Dutch are dog lovers and will not make a big fuss about your well-behaved pooch, but it's always best to follow the rules as a visitor.
Open-air Markets
YES, dogs are generally allowed to walk through alongside their humans (unless otherwise noted).
Uber/Taxi
GRRR, as dog-friendly as the Netherlands is, it is NOT so dog-friendly when it comes to Uber and Taxi. Paws down, I've had such a RUFF experience here. Certainly memorable as I've never felt so stranded and rejected before! Like anywhere else, whether or not your dog can go along for the journey is entirely up to the individual driver. Unfortunately, I was denied so many times that my humans started putting me inside a carrier before getting picked up. My experience with Uber in Amsterdam has been the WORST out of all the places I've ever set my furry paws on. It seems as though we were constantly matched up with drivers of a certain religion who generally do NOT like dogs or view them as "unclean." 🙁 GRRR. Double GRRR. Therefore, if you have a small dog, you can put him or her inside a carrier before your ride shows up. OR save time and frustration by calling ahead of time to ensure the driver is okay with your dog, but you may need to make multiple calls.
Tourist Sites/Museums
Dogs are not allowed at indoor tourist sites or museums, including churches and Anne Frank House. However, they are always welcome to explore the exterior grounds and get in on some IG-worthy photos.
Accommodations
Dog-friendly accommodations are easy to sniff out in the Netherlands, although you'll have better luck in cities versus the countryside. However, be prepared to pay extra euros daily or per stay for your dog. I would bark that it's worth the extra fees at the hotel because your dog can usually access most (if not, all) common areas of the property, unlike at many hotels in the U.S. and Canada. Plus, the pet fees are typically much lower in Europe compared to the U.S. and Canada. And, if you look hard enough, you may even find a few places where dogs can stay for free!
My go-to dog-friendly hotels in Amsterdam are:
Volkshotel – My FAVORITE Dog-Friendly Hotel in the city!
Wibautstraat 15
3-star Hotel
Location: Near Van Gogh Museum
One dog is allowed for an extra charge of EUR 15 per night
Book your stay at Volkshotel here!
Heathrowstraat 5, 1043 CE
3-star Hotel
Location: Within a 10-minute drive to Rembrandt Square and Anne Frank House
One dog is allowed for an extra charge of EUR 30 per night
Book your stay at Teleport Hotel here!
Oostelijke Handelskade 34, 1019 BN
3-star Hotel
Location: Eastern Docklands, a 10-minute drive from Anne Frank House and Dam Square
Dogs stay FREE!
Book your stay at Lloyd Hotel here!
Nieuwezijds Voorburgwal 5
4-star Hotel
Location: City Center near Oude Kerk
Dogs stay FREE!
Book your stay at Kimpton De Witt here!
Get your furry paws on my tips on how to find (and save money on) dog-friendly accommodations HERE.
Airlines
KLM Royal Dutch Airlines welcomes dogs to fly in-cabin! Your dog must be at least 15 weeks old and fit in a closed pet travel bag or kennel that fits underneath the seat in front of you (maximum dimensions of 46 X 28 X 24 cm). The combined maximum weight is no more than 8 kg. Sadly, dogs are NOT allowed to fly Business Class on an intercontinental route because it's not pawssible to put them underneath the seat in front. Fees range anywhere from EUR 75 to EUR 400 one-way, depending on your departure airport and destination. Only one dog is permitted per passenger.
Although I do not recommend your dog travel via cargo, KLM allows you to bring up to 3 dogs in the hold. The combined weight of your dog and kennel cannot be more than 75 kg.
Canal Cruises
It's a hit or miss when it comes to hopping on a canal cruise with your dog. Unfortunately, many cruise companies won't allow dogs on board unless you opt for a private cruise.
However, here are a few dog-friendly ones that my robust wet nose has sniffed out: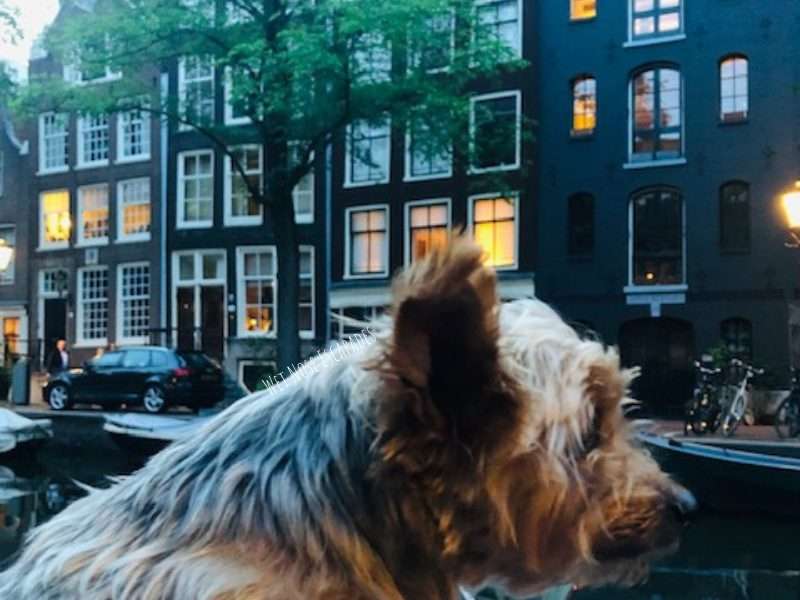 Rederij Kooij
+31 (0)20 – 623 38 10
Sint Nicolaasbrug 1, 1012 TM Amsterdam, Netherlands
Amsterdam Boat Adventures
+31 (6)48 – 464743
Amstel 51 C, 1018 EJ Amsterdam, Netherlands
Locaboat Holidays (Private hire)
They have bases in the Dutch countryside of Loosdrecht and Alphen where you can start and take your dog up to Amsterdam.
+44 (0)20 3966 4318
Rederij Paping (Private hire)
+31 (0)20 – 2101 256
WOOOF, hope you enjoy visiting the Netherlands with your dog! So, is the Netherlands dog-friendly? AWOOO, except for my Uber experience, I can bark with an upright tail that the Netherlands is, indeed, supaw dog-friendly! Feel free to share your dog-friendly Netherlands experience with me. BARK AT ME!
Subscribe to my YouTube Channel: Wet Nose Escapades by Roger Wellington for fun dog videos!
Markin' it up,
Roger Wellington a.k.a. The Doob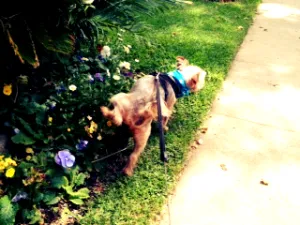 —
Like my post on "Is the Netherlands Dog-Friendly? A Yorkie's MUST-SNIFF Guide to Dog Travel in the Netherlands"? CLICK TO PIN!