Happy New Year! Let the countdown begin…New year, new YOU! Sniff out my 8 New Year's Resolutions for dog lovers and owners. 
#1 GET IN SHAPE by exercising your dog
WOOOF, having a dog is a lifelong commitment! Oftentimes, once the excitement of a new dog fades, humans get caught up with their work and children and become "too busy" to exercise their dogs. It's unfair to for your dog to resort to pee pads or the backyard. Providing ample opportunities for your dogs to walk and enjoy playtime (e.g. at the dog park) makes them healthier, more socialized, and consequently, happier (not to mention, they'll be much calmer after exerting all the energy). 

Both you and your dog will reap major health benefits from routine exercise. Even if your schedule is completely "packed," try to find at least 20 mins daily for a short walk or playtime. There's no such thing as being "too busy" or having "no time" – it's called NOT making something a PRIORITY. 
Do Dogs Really Love Their Crates? Dog Crate Misconceptions Debunked
#2 DESTRESS by giving your dog extra attention 
In addition to giving your dog more exercise, you should also give them extra care. Grooming (e.g. brushing and bathing), belly rubs, gentle massages, and positive reinforcement training are ways to show your dog the love and attention they deserve. 
Even if you have human children and do not have "time," please recognize that quick belly rubs and gentle strokes will only take a few seconds. In case you don't already know, petting a dog has therapeutic effects; it can lower your heart rate, blood pressure, stress, and anxiety. Just like exercising your dog, giving your dog extra love and attention is a WIN-WIN situation.
#3 SAVE SKIN and LIVES by vowing to never buy fur (real or faux)
ARRRF, my fur is beautiful and it belongs to ME and ONLY ME. An estimated ONE BILLION animals are tortured and killed for their fur every year, including DOGS and CATS. Over 100 animals are killed for the production of a single fur coat. FUR PRODUCTS = INNOCENT DEAD ANIMALS.
In China, millions of dogs and cats are disturbingly abused before being SKINNED ALIVE for their fur; unfortunately, fur manufactured from dogs and cats is commonly mislabeled as "faux fur" or fur from other animals and then sold to unsuspecting consumers. These innocent animals suffer a slow, inhumane, and agonizing death in the name of fashion for humans. Sadly, animal rights are virtually nonexistent in China and other parts of the world.
Keep scrolling down with your furry paw for more New Year's Resolutions for Dog Lovers!
#4 EAT HEALTHIER by going meatless at least once a week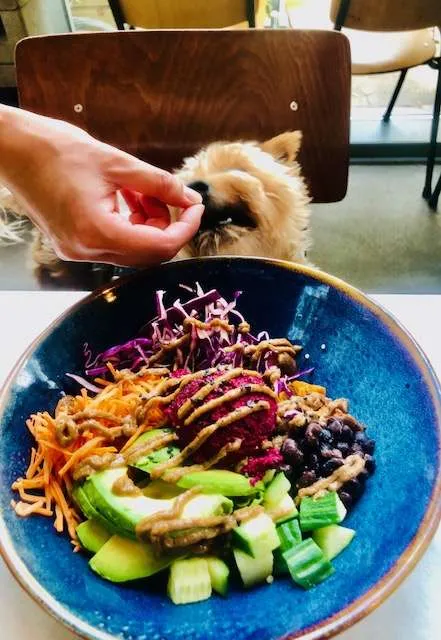 As we all know, meat is heavily linked to heart disease, diabetes, cancer, and obesity. It's no debate that reduced meat consumption is another WIN-WIN for your health and the animals (not to mention our precious environment). With veganism on the rise, it has never been easier to go meatless, even if you only manage to do it one or two days out of the week. Start first with Meatless Mondays and gradually work up another day or two to abstain from meat.
Over 25 million dogs are killed for CONSUMPTION globally every year. Even though dogs are widely considered as companion animals in Western societies, dogs in other parts of the world (China, Korea, Vietnam, Indonesia, Cambodia, and so on) tragically suffer from a different fate. As Westerners fight to end the Yulin dog meat festival in China, supporters criticize us for hypocrisy with the way we eat and treat our factory farm animals. When we go meatless, we are standing up for ALL animals being killed for meat. Meat substitutes and vegan/vegetarian options are on the rise in grocery stores and restaurants worldwide. Yet the meatless trend will only continue to grow.
**Did you know that pigs are even more intelligent than dogs? Although pigs heavily suffer in factory farms, they make awesome family members and get along well with dogs. Check out my favorite piggie Instagrammers!
#5 STOP THE TORTURE by going cruelty-free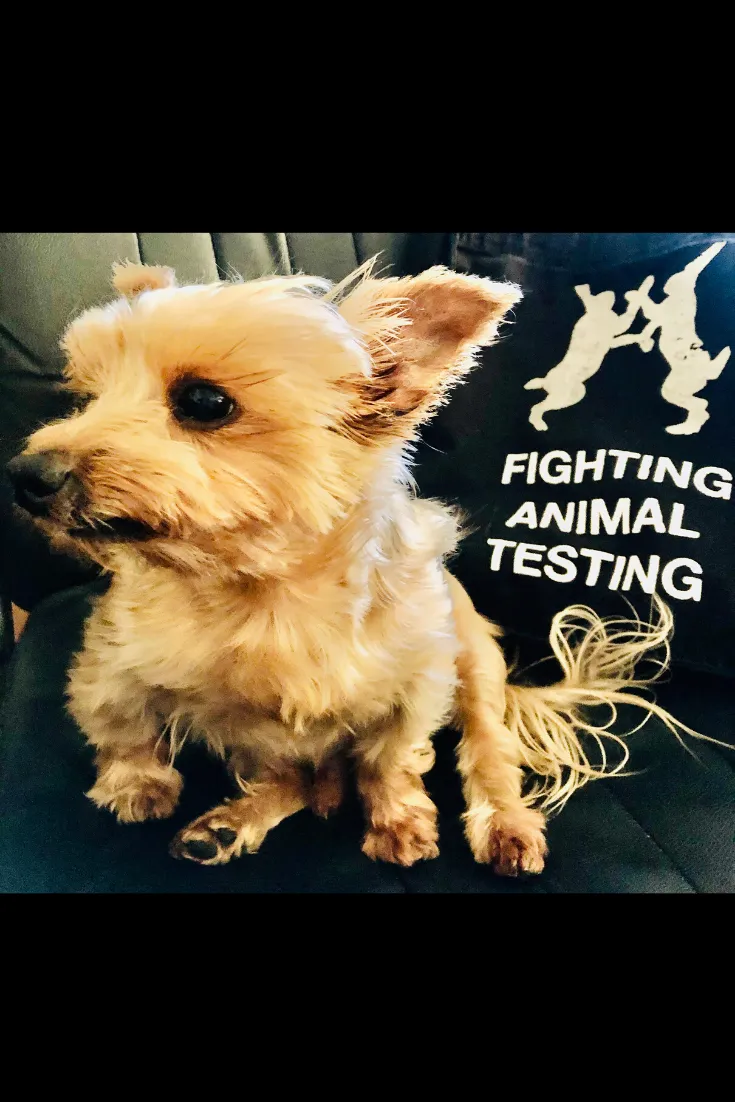 "Each year, more than 100 million animals—including DOGS, CATS, mice, rats, frogs, rabbits, hamsters, guinea pigs, monkeys, fish, and birds—are killed in U.S. laboratories for biology lessons, medical training, curiosity-driven experimentation, and chemical, drug, food, and cosmetics testing." – PETA
Make the new year THE year to go CRUELTY-FREE and be an ethical consumer! As a dog lover, you should try to only support brands that do not test on animals. Over 65,000 dogs are mutilated, poisoned, and tormented daily in laboratories in the U.S. alone. Innocent dogs are purposely bred with awful diseases or wrongfully purchased from shelters. Disturbingly, over a whopping 90% of experiments on animals do NOT lead to any treatment for humans. Also, the National Institutes of Health (NIH) has admitted that 95% of all drugs proven safe and effective in animal tests FAIL in human trials.
In spite of all the horrors that dogs and other animals are going through every second, there is some good news – my home state of California has become the first state in America to go cruelty-free! Products tested on animals will no longer be sold in California after January 1, 2020. Although there are some loopholes in this new act, we must celebrate the start of a new chapter for animal welfare. 
Together, we can put an end to animal testing!
READ MORE ABOUT DOG TESTING HERE and "WHY ANIMAL TESTING IS BAD SCIENCE" HERE.
#6 STRENGTHEN THE BOND by letting your dog sleep with you
A list of New Year's Resolutions for dog lovers is incomplete without a resolution to allow your dog to live like a true member of the family. Forget crates (a.k.a. cages), backyard "dog houses," and chains! Dogs deserve to live freely inside and sleep with you. Sleeping with your dog enables both of you to feel closer to one another, deepening the bond. Through touch, you and your dog(s) will feel secure, safe, and warm. 
If you are opposed to having dogs on your bed, you can place a dog bed right next to yours so they are as close to you as possible.
#7 Feed your dog BETTER food
Give your dog a healthier diet for a happier, longer-lasting life. The world of dog food is changing, but for BETTER! It's not just about grain-free anymore, but also about raw, organic, and less processed ingredients. Vegan dog food is also on the rise although met with some criticism; please always research before implementation of any diet to ensure proper nutrients for your furry family members. 
Here are some of my favorites:
5 lb. Blue Wilderness (Chicken or Salmon – Adult) 
4 lb. Blue Buffalo Basics (Turkey & Potato – Adult) 
1 Pack of Blue Ridge Naturals (Chicken Wrapped Sweet 'Tater Stix)
6 oz. Merrick Power Bites (Beef)
4 oz. Blue Buffalo/Wilderness Bits (Chicken)
You can always mix in high-protein, low sodium home-cooked meals for your furry family members in addition to high-quality wet food and kibble. Although I've listed certain brands, I am definitely NOT stuck on eating the same type or brand of food all the time as I personally believe food diversification is essential to a healthy diet. A lot of my meals are actually home cooked – I love salmon (unseasoned) baked with sweet potato wedges and zucchini slices. Carrots and cucumbers are my favorite go-to snacks. Mmmm mmm. I try to switch up my "dog food" every month, but regardless, I always opt for grain-free and natural (or even better, organic) whenever possible.
#8 Help other dogs (and other animals)
As a rescue, I am lucky to go from being neglected in a crate without food or water for 16-18 hours daily to now bossing my humans around. I recognize that not every dog gets a happy ending like me. 
If you plan to get a dog or cat in the new year, I beg you to ADOPT, NEVER SHOP. MILLIONS of dogs and cats are euthanized every single year. Due to overcrowding, most shelters will only hold a stray animal for 72 hours before ending their lives via euthanization. 
Yes, it's WRONG to Buy a Dog! 6 Reasons Why You Should NOT Buy a Dog from a Breeder
If you cannot offer your loving home to a homeless animal, you can still help by volunteering your time and/or making a small donation to a local animal shelter or an established nonprofit pro-animal group (e.g. ASPCA, The Humane Society). If you are unable to offer time or money, you can still help by simply spreading the word about animal welfare! Awareness is the KEY to change. 
Oh yea, any purchase made by you through this website will go directly towards helping homeless and neglected dogs and cats worldwide – wherever I set my tiny alpha paws. Bark to that! ARF!
Have a safe and wonderful NEW YEAR!
Traveling in the new year? Here are tips on how to help animals while traveling!
Markin' it up,
Roger Wellington a.k.a. The Doob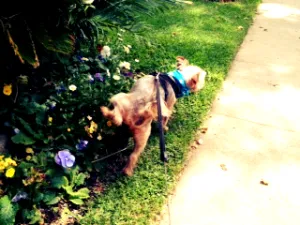 *Please note that this post contains affiliate links, and at no obligation or additional cost to you, my humans and I earn a small commission if you make a purchase. If you love the work that we do, you can show your support by making a purchase through an affiliate link. Proceeds will go towards feeding homeless dogs (and cats) along with improving the lives of the neglected and abused.
—
Like my post on "8 New Year's Resolutions for Dog Lovers"? PIN IT?