WOOF, sniffing for the best dog-friendly activities in Orange County? Take a deep sniff at the furry buttocks of this SoCal Yorkie and perk up your ears to 10+1 things you MUST do in Orange County with Your DOG!
#1 Have PAWTY at Huntington Dog Beach
E Pacific Coast Hwy and Goldenwest St., Huntington Beach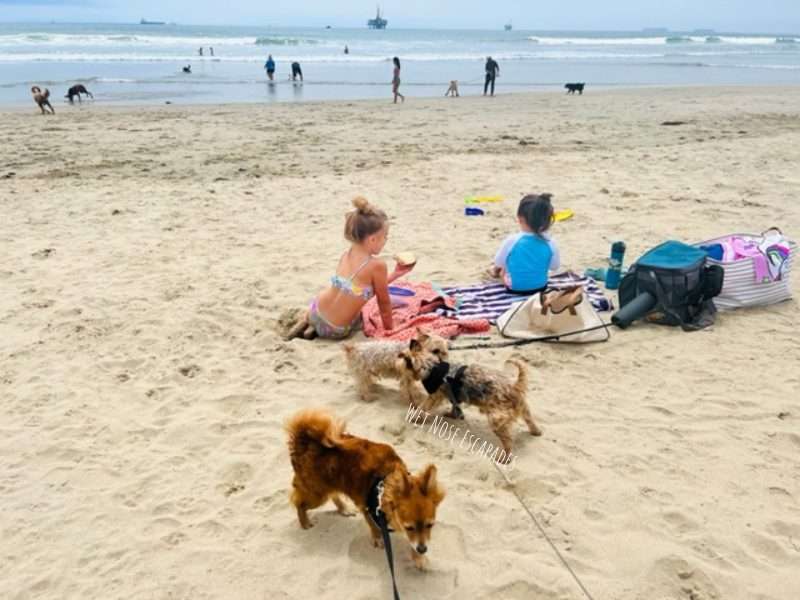 From Miami Beach to the Greek Islands, I've gotten my paws sandy on too many beaches in my day, and yet, I've never sniffed out such a crazier PAWTY until I set my furry paws at Huntington Dog Beach. ARF-my-DOG, it's Surf City USA for Dogs! It's like an exclusive beach club for furry beach bums who like to get their paws sandy or take a dip in the Pacific Ocean (except it's NOT exclusive).
While dogs must be on a leash when entering and exiting, they are free to roam loose and chase furry butts on the beach in the zones between Seapoint Street and 21st Street. WOOF, open from dawn to dusk seven days a week, Huntington Dog Beach is the only off-leash beach in the county. Be sure to bring a tent so your dog can rest in the shade whenever he needs a break from all those butt chasing. And, ARF-course, don't forget to pick up after your dog.
#2 Hit up the Downtowns
OK, what does this mean? Obviously, Orange County is a massive county with an area spanning a whoppin' 948 mi², and there isn't a "single" Downtown that represents the entire county. As a matter of bark, driving from Anaheim on the north to San Clemente or Dana Point on the south will take over 40 minutes WITHOUT the infamous SoCal traffic. While it's not realistic to hit up every downtown in the county, it is pawssible to explore a few sniff-worthy ones with your dog. ARF, if I had to narrow down to a few Downtowns to mark up in the OC, I would bark that Huntington Beach and Laguna Beach downtowns are a MUST-SNIFF with your dog.
Huntington Beach Downtown: HB Downtown is the place to be! The ARF-so-lively Main Street boasts cute boutiques, surf shops, souvenir stores, and trendy restaurants. I sniffed many communal dog water bowls outside many storefronts, and most restaurants also offer dog-friendly patios. For some head-tiltin' ocean views, find a restaurant on the PCH (Pacific Coast Highway) like Duke's Huntington Beach. It can get a little hectic here, so it's best to avoid peak hours (e.g. after work hours/dinner time) for a better walking experience for your dog.
Laguna Beach Downtown: From Main Beach to Legion Street, LB Downtown is a TOP DOG spot, to bark the least! What stands out the most about their vibrant downtown is its plethora of art galleries! ARF course, they have ample dog-friendly posh eateries, hip bars, and specialty shops, but Laguna Beach ARF-solutely prides itself in supporting the local art scene. Nevertheless, it's an art town here, and most (if not, all) galleries allow dogs to venture inside with their humans. I've also sniffed out dog water communal bowls here, which means water breaks are rarely an issue.
#3 Dig up sand at Newport Beach
OK, I love Newport Beach, but it's no crazy PAWTY like Huntington. With Newport Beach being, PAWS DOWN, one of the nicest beaches in the county, I still recommend exploring with your dog – BUT there are stricter rules to follow. Unlike Huntington Beach, Newport Beach only allows dogs on the beach or beachfront sidewalk before 10 am or after 4:30 pm. GRRR, dogs are NOT allowed between 10 am and 4:30 pm, including the ocean front beaches and bay front beaches. And, they must be on a leash no longer than 6 feet.
Unfortunately, off-leash dogs are not allowed anywhere on the beach or in public (e.g. parks). However, my tail still remains upright as I hop around this ARF-so-clean beach since on-leash entry is better than NO ENTRY. Dog-friendly beaches in the city include Newport Municipal Beach (and yep, the boardwalk is also dog-friendly), Corona Del Mar State Beach (be sure to sniff out the dog-friendly Inspiration Point along the shores), Balboa Pier Beach, and most beaches at Newport Bay.
#4 Mingle with furry locals at Newport Beach Dog Park
1521 Avocado Ave
Besides getting my nose sandy at Newport Beach, I like to leave my alpha marks and chase those furry OC cuties at Newport Beach Dog Park, one of the most pawpular dog parks in Orange County. This clean, well-maintained park boasts a good amount of space with two separate dog zones and artificial grass, which helps keep my tiny alpha paws clean. AWOOO, the only pawblem is the lack of shade so it's best to venture with your dog in the morning or near sunset to avoid the heat on hot sunny SoCal days. Hours: 7 am to Dusk with a 3-dog limit per person. As usual, be a good visitor and don't forget to pick up after your dog. 🙂
STAY AT ONE OF MY FAVORITE DOG-FRIENDLY NEWPORT BEACH HOTELS
#5 Mingle with furry locals at Laguna Beach Dog Park
20672 Laguna Canyon Rd., Laguna Beach
The very first dog park in Orange County, Laguna Beach Dog Park was established by the City back in 1992 and is one of the best dog parks in the county. Heck, it's technically the ONLY place in Laguna Beach where dogs can roam freely off-leash. As a matter of bark, it's my favorite dog park in Southern California because it's so spacious (just over 2 acres) yet pawfectly maintained! Just 2.5 miles from the famous Main Beach on Laguna Canyon Road, this dog park has two separate zones for large and small dogs.
Although the large dog zone is significantly bigger (at least twice the size) than the small dog zone, my stylish rat tail wags at how much shade the small dog section gets. Hence, there's no need to pant even after a crazy zoomie (OK, I'm not much of a zoomie dog, but my sidekick Penny Gurl loves her zoomies). ARF-ter all, a senior dog like me can only take so much SoCal heat. According to the official website, five shady trees were purchased and planted strategically throughout the park (and five more trees donated). There's ample benches, picnic tables, and umbrellas along with two water fountains (plus dog fountains). Open daily except Wednesday, from 6 am until dusk.
#6 Take a dip in the "real" OC
ARF, it's time to take a dip in the Pacific Ocean (OK, maybe not me as I'm more of a sand digger, but for the dogs who love a good swim). AWOOO, the "real" OC a.k.a. Laguna Beach is THE SPOT for dogs! Just think 7 miles of stunning coastline and 30 pristine beaches welcoming your dog with open paws. Despite not being as dog-friendly as Huntington Beach, Laguna Beach is the playground for fun dog beach pawties – well, with some restrictions. With the exception of summer time, dogs are allowed on the beach at any time of the day. However, between the summer days of June 15 and September 10, dogs can only get their paws sandy and bum it out on the beach before 9 am and after 6 pm. Unlike Huntington Beach, dogs must be on a 6 ft or shorter leash.
#7 Shop, Dine, and Relax at Irvine Spectrum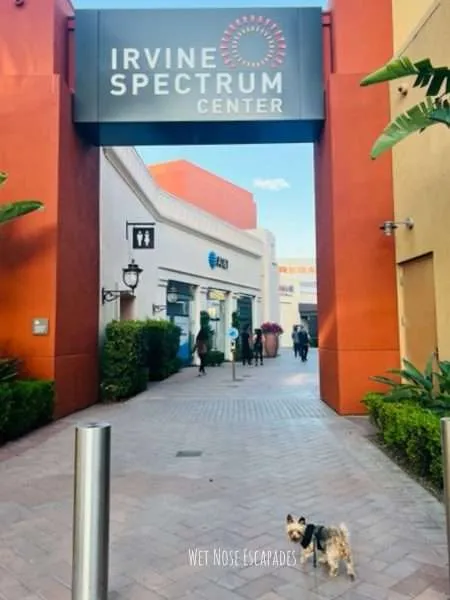 WOOF, Irvine Spectrum is the premier outdoor shopping center in Southern California, let alone Orange County. With over 150 retail shops, many chain eateries with dog-friendly patio seating, and artificial lawns for relaxation, Irvine Spectrum makes one tail-waggin' outing with your dog. They're so dog-friendly that the official website even has a comprehensive dog-friendly directory. My little Yorkie jaws drop open to an open mouth smiley face (with my remaining four teeth showing) knowing that I can march into Adidas, Anthropologie, Lush, and LuluLemon. Not to bark, I can lick my chops to handmade pan-fried dumplings at P.F. Chang's and slurp on some noodles at Silverlake Ramen. Even if I don't feel like shopping (ARF, nomads are rarely materialistic!), I can take a stroll and sniff out all the OC peemail on their flawlessly designed pedestrian walkway, which offers plenty of shady areas on a hot summer day.
#8 Explore Salt Creek Beach Park
WOOF, let's bark southern, southern OC – Dana Point! Even though it's a bit of a drive south, taking your dog to Salt Creek Beach Park is well worth the gas and time. Although not as frequented or known as Laguna Beach, this beach is supaw pawpular to OC residents for beach volleyball, surfing, and swimming. Here's my real BARK – ARRRRFFF, Salt Creek Beach is technically NOT dog-friendly. But, no need to lower that tail because Salt Creek Beach Park is! This dog-friendly park on the hill overlooking the beach and gorgeous Pacific Ocean welcomes dogs to enjoy the Pacific Ocean views and sniffs anywhere on the grounds as long as they are on a 6 ft leash. Or better yet, be sure to bring a blanket or grab a table to picnic with your dog here. There's also the Salt Creek Trail, a 7.7-mile hike that takes a little over 3 hours to complete (this may be a pretty easy hike, but it may not be suitable for small or senior dogs like me). This hilly paved trail connects two parks with beach access along the route. And, just like the park, dogs are welcome on a leash.
#9 Grab Vietnamese food in Westminster
ARRRRFFF, besides pawtastic beaches, overpriced theme parks, political conservatism, Lauren Conrad, and the "original" Real Housewives, Orange County is known for ARF-mazing Vietnamese food. Although not widely known to non-Asian visitors, Orange County is home to the oldest and largest Little Saigon in the country. Westminster is the historical center of it all with Vietnamese plazas GALORE. ARF-ter all, the Vietnamese constitute a whoppin' 40% of the city's pawpulation (although the Vietnamese pawpulation has spread to different parts of Orange County like Garden Grove, Santa Ana, and Fountain Valley over the years). As any Yorkie foodie would guess, this area has, PAWS DOWN, some of the BEST Vietnamese food outside of Vietnam. From toasty bánh mì (meat, pickled vegetables, smeared pate, and mayo on baguette) to phở (rice noodle soup with beef, chicken, or nowadays, veggies only) to classic Vietnamese coffee, Vietnamese food always gets my chops lickin' and my little BIG Yorkie belly filled.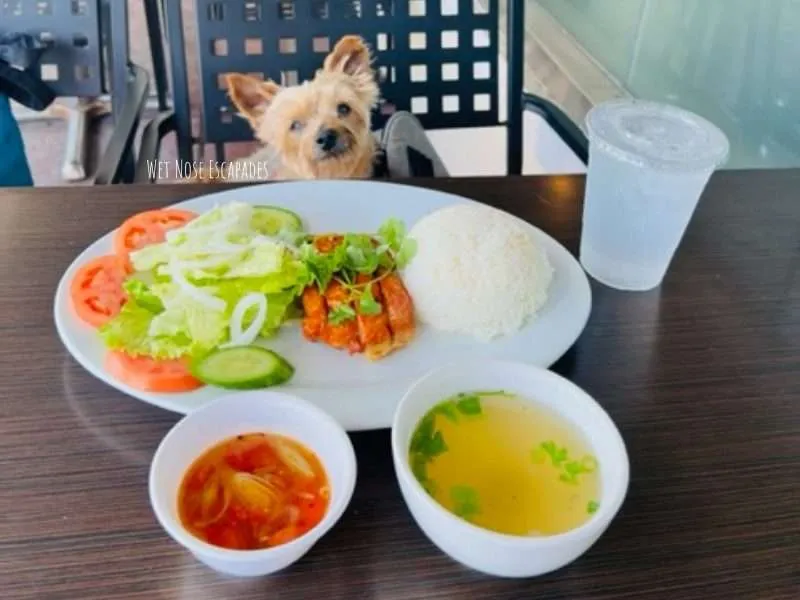 Thanks to the mild year-round weather, finding an authentic Vietnamese joint to eat outside with your dog is hardly a challenge. Nevertheless, please keep in your human mind that dogs are still technically not allowed inside restaurants, so be sure to make any inside ordering as quick as possible. Try my favorite Vietnamese eateries that offer dog-friendly patios (or shall I bark, "dog-tolerant"):
Tam Bien Express (15560 Brookhurst St Westminster)
Quan Mii (16031 Brookhurst St. Fountain Valley)
Bien Hen (14092 Magnolia St Ste 121 Westminster)
Banh Mi Che Cali (15551 Brookhurst St, Westminster)
#10 Walk San Clemente Beach Trail
OK, let's keep those strong paws heading south in the OC and hit up San Clemente, the last stop before hitting San Diego county. Like Salt Creek Beach, dogs are banned from San Clemente Beach itself. GRRR. However, the 2.3 mile one-way San Clemente Beach Trail is indeed dog-friendly. Heck, I sure found plenty of butts to chase after on this spacious trail, which allows dogs as long as they are on a leash. The best part about the beach trail is the abundance of dog-friendly grassy parks and scenic areas where dogs can stop along the way – to sniff and mark or rest to a water break. These parks include Max Berg Park, Linda Lane Park, and Parque Del Mar.
If you want to explore more dog-friendly San Clemente, be sure to take your dog to San Clemente Dog Park, where there are two separate zones for large and small dogs.
BONUS #11 Eat & Drink
In Orange County, outdoor dining with your dog is practically a MUST. No matter where I end up in the OC, my robust wet nose always finds ultra-cool restaurants for me to wine and dine alongside my humans (and ARF course, satisfy my little BIG Yorkie appetite). Here are a few dog-friendly restaurants and drinking places that cater to dogs:
Slater's 50/50
17071 Beach Blvd., Huntington Beach
Lazy Dog Restaurant
1623 West Katella Ave., Orange
Dog Pawrk Brewing Co.
27122 Paseo Espada #904, San Juan Capistrano
If all fails, there's In-N-Out Burger, a SoCal original headquartered in Orange County (Irvine). There's always outdoor seating and drive-thru!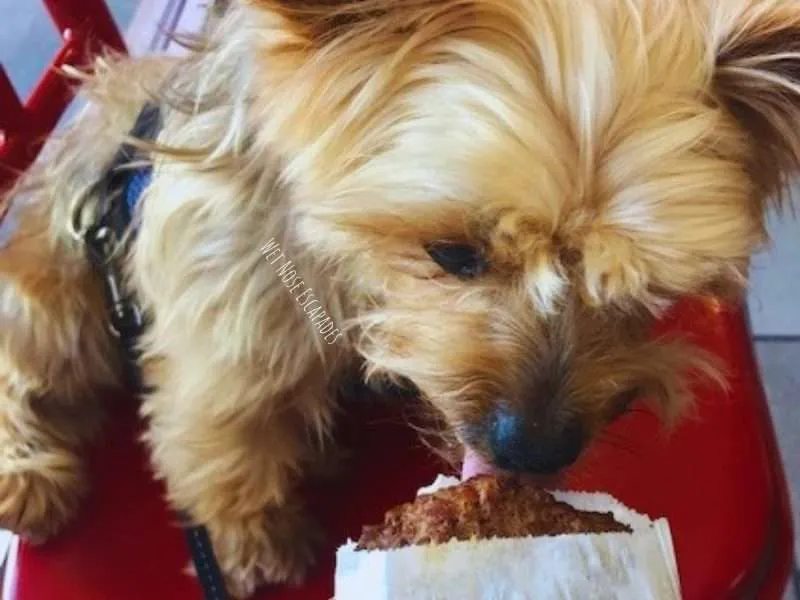 *Get the real sniff on In-N-Out's pup patties!
WOOF, hope you enjoy my 10+1 things you MUST do with your dog in Orange County! Feel free to share your dog-friendly experience with me. BARK AT ME.
Markin' it up,
Roger Wellington a.k.a. The Doob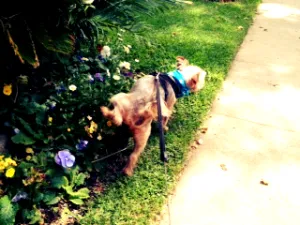 –-
Like my post on "10+1 Things You MUST do in Orange County, CA with Your DOG"? CLICK TO PIN!