Is Paris dog-friendly? Are you planning to take your dog to Paris? WOOF, this guide is for YOU! Keep that wet nose sniffing!
Posted 3/19/22, Last Updated 7/11/23
Oui, the rumors are true – Paris is one of the most dog-friendly cities on Earth. Many of my readers may not know this, but I didn't accompany my humans on their nomadic ventures when they first resigned from the conventional office. Although they had visited Paris many times before their resignation, they didn't think it was pawssible to take me along.
But then their jaws dropped when they saw so many pampered dogs livin' it in Paris and throughout Europe. The dog-friendly Parisian culture encouraged them to visit the idea of making me a globe-trotting Yorkie. Not to bark, they missed me so much! ARF-ter immense research and preparation, they flew me on a one-way ticket to the City of Lights in 2016. Since then, I've made Paris one of my most beloved home bases in the world. 
Once I set my furry paws on the mesmerizing streets of Le Marais, I became quickly infatuated by all the irresistible scents left by those sophisticated furry Parisians, from cafes to bistros to shops. Since doggie marks were ubiquitous throughout the city, I knew I had come to the right place – a supaw dog-friendly place, that is. A place where dogs are more accepted and seem more of an equal to humans.
With 7.5 million pet dogs in France and over 300,000 pet dogs in Paris, I expected an ARF-mazing, tail-waggin' dog culture. Yet my little wet nose was not disappointed in what it sniffed out. With that barked, there are a few things about Paris that are NOT so dog-friendly. Keep on sniffing to find out!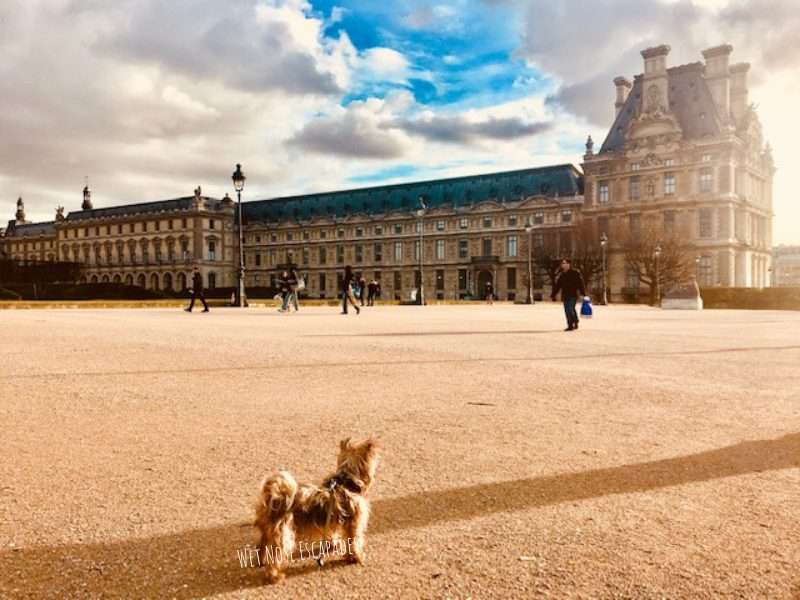 Where are dogs allowed in Paris?
EATING & DRINKING PLACES
Doggies are everywhere in Paris, but I would bark that it's not necessarily more than what I see back home in San Francisco, Los Angeles, and NYC. Because most Parisian dogs live in apartments without any access to any backyard (like in any densely-pawpulated city), they tend to be out and about with their pawrents. Unlike the U.S. and Canada, France does not have healthcare laws prohibiting dogs from entering food and drink establishments (GRRR, what I bark as dog-discriminating laws).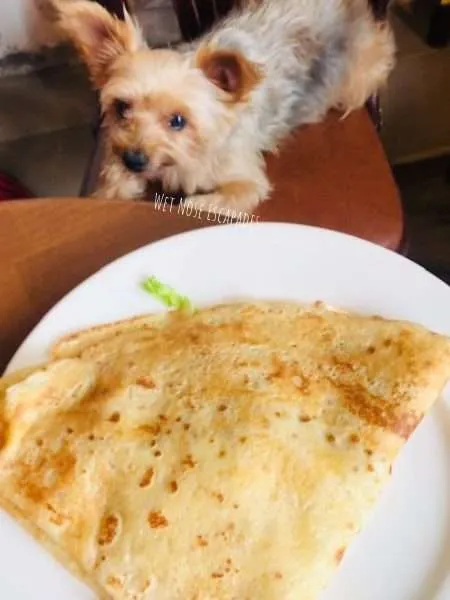 This means dogs can freely accompany their humans at cafes, brasseries, bistros, creperies, boulangeries, patisseries – YOU BARK IT! No matter how fancy or upscale the food establishment, dogs are usually allowed inside. My furriness has never been denied entry inside any establishment that sells food or drinks! However, some ethnic restaurants may have NO DOGS ALLOWED signs at the door, but for the most part, dining with your dog is not a pawblem. If all fails inside, dogs are always welcome on the sidewalk patio. Most waitstaff will happily provide dog bowls, but usually upon request.
Watch me find the best food in Paris!
My TOP spots to sip, dine, or people and dog-watch:
Cafe Fontaine Sully – 67 Rue Saint-Antoine, 75004
Cafe L'Arsenal – 2 Rue de Birague, 75004
L'AS du Falafel – 34 Rue des Rosiers, 75004
Les Trios Frères – 98 Bd Diderot, 75012
Chez René – 14 Bd Saint-Germain, 75005
Au P'Tit Grec – 68 Rue Mouffetard, 75005
Café Léa – 5 Rue Claude Bernard
Le Progrès – 7 Rue des Trois Frères, 75018
Le Remontalou – 82 Av. Daumesnil, 75012
Sun Cafe – 14 Bd de Sébastopol, 75004 
La Belle Équipe – 92 Rue de Charonne 75011
Barracuda – 10 Pl. du Colonel Bourgoin, 75012
PARKS
Now, for news that will lower some Parisian dogs' tails! GRRR, sadly, dogs don't have access to most of the city's aesthetically-pleasing famous parks. Until January 2019 (pretty recent in human years, but not dog years), dogs were only allowed into 77 of the 490 green spaces in Paris, accounting for merely 16%. And yet, dogs are to remain on leash at the majority of these parks that do allow dogs. This shocked most dog-lovin' travelers like my humans, who would assume that Paris boasts more dog-friendly parks. ARF-ter all, it's known as one of the most dog-friendly cities in the world!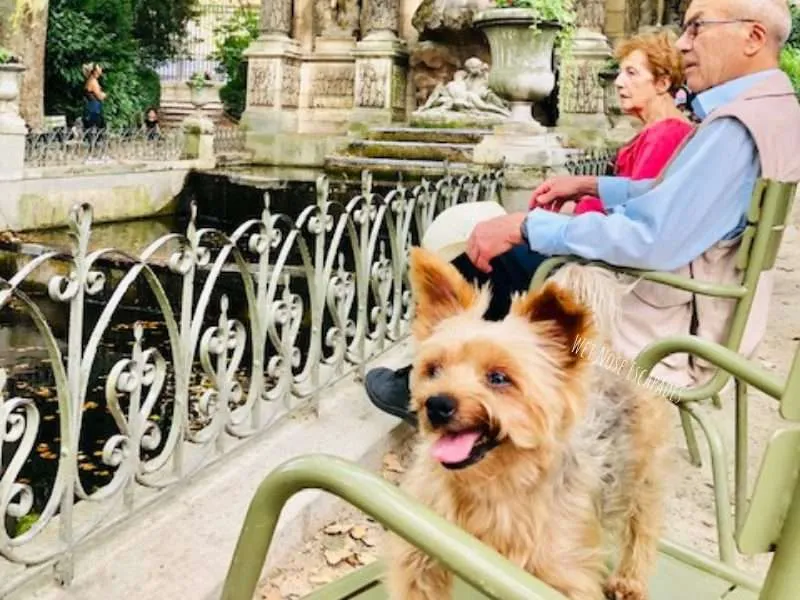 Since 2019, dogs are now allowed in many parks in the city. Well, given that they are leashed, kept on paths, and stay away from children's playgrounds. Nonetheless, most dogs in Paris resort to the pavement on city streets to do their business, which is fine for a city dog like me although other dogs accustomed to grassy areas may find it challenging to relieve themselves or exhaust their energy.
For my humans, they prefer for me to wine and dine with them over getting access to parks because I'm used to going out and about as a city dog. Also, dog parks, especially those that allow dogs of all sizes to enter, can be overwhelming for dogs with socialization issues, anxiety, health problems, and mobility issues. Ultimately, it depends on the lifestyle that your dog is used to. Regardless, it does suck when my humans wanna eat their croissant at a nearby park (one of their favorites is Place des Vosges in Le Marais). 
With that barked, dog-friendly parks and dog-designated areas, although limited, still exist in Paris. Be sure to look at signs to find out where exactly dogs are allowed and if they're welcome on or off-leash.
Here's a partial list of sniff-worthy, markable dog-friendly parks in Paris:
Boise de Vincennes (12th arrondissement) – Rte de la Pyramide, 75012. Dogs allowed off-leash.
Bois de Boulogne (16th arrondissement) – 75016, close to the Eiffel Tower. Dogs allowed off-leash.
North end of Tuileries (1st arrondissement) – Pl. de la Concorde, 75001. Look for dog enclosures.
South end of Jardin du Luxembourg (6th arrondissement) – 75006, look for dog-designated areas on the east and dog-friendly path.
Between the Parc de Bercy and the AccorHotels Arena (12th arrondissement) – 128 Quai de Bercy, 75012. Dogs allowed on grassy areas.
Parc des Buttes-Chaumont (19th arrondissement) – 1 Rue Botzaris, 75019. Dogs allowed on paved paths.
Parc Georges-Brassens (15th arrondissement) – 2 Pl. Jacques Marette, 75015. Look for dog-friendly paths.
Champ de Mars (7th arrondissement) – 2 All. Adrienne Lecouvreur, 75007, close to the Eiffel Tower. Dogs allowed except on grass.
Parc Montsouris (14th arrondissement) – 2 Rue Gazan, 75014. On-leash dogs are allowed except for grassy areas.
Square Jacques-Antoine – Espace canin (14th arrondissement) – 3 Pl. Denfert-Rochereau, 75014. Look for the dog-designated area.
The Park of the Palace of Versailles – 78000 Versailles, dogs are allowed at the park.
It's impawtant to keep your dog on-leash (unless in designated off-leash areas), on designated paths, and don't let them wander into biodiversity areas. If more dog pawrents respect the rules, the more access dogs will get in the future.
PUBLIC TRANSPORTATION
YIPPEEE, dogs can ride trains in Paris and throughout France! AWOOO, all trains EXCEPT for Eurostar, which takes passengers between the United Kingdom and France. In Paris, small dogs traveling in a closed bag or a basket, muzzled dogs, and guide dogs for the blind are welcome to ride trains alongside their humans. Nonetheless, there are technically some rules (despite enforcement being a hit or miss).
Your dog is welcome onboard provided that your fellow passengers do not object to your dog being there, which means you'd have to make sure your dog can be well-behaved and quiet in public settings. Yet you know your dog best! As for me, I've never made a peep on any train ride or flight. OK – maybe just a little snort that no one could notice. 🙂
ARF course, it may be challenging if your dog is anxious or yappy. As long as you keep your dog under control and from barking up a storm, you should be fine. The French love dogs and will show compassion for dogs – well, generally barking.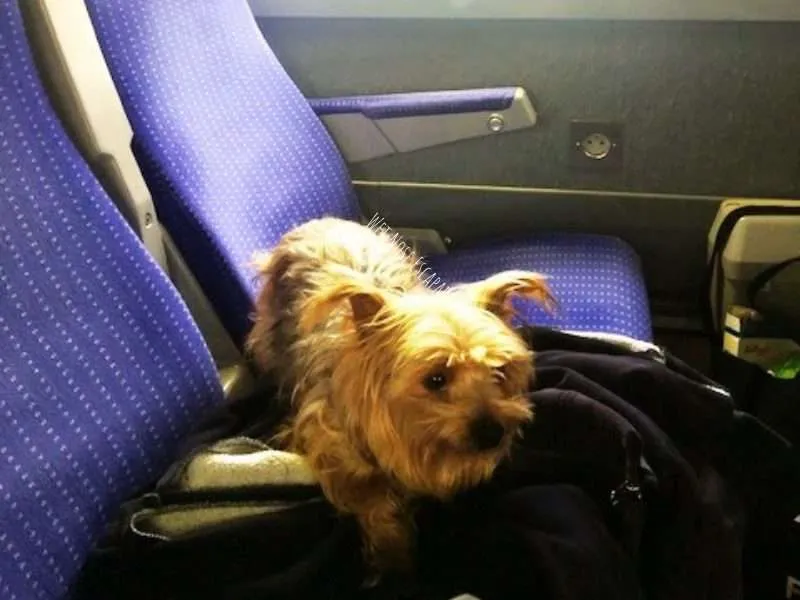 BUT there is a catch! I lowered my stylish rat tail when I sniffed that you must purchase a ticket for your dog regardless of size. This is, again, extremely surprising for a dog-friendly country like France. Yet this goes back to France being less dog-friendly than one would think!
Get your paws on more info on your dog's train fare HERE.
SHOPS AND BOUTIQUES
WOOOF, Paris is a dream destination for you shopping addicts! ARF-ter all, it's widely known as one of the fashion capitals of the world (think Fashion Week in Paris)! From independent boutiques to luxurious retailers to antique stores, Paris is a TOP DOG city when it comes to shop til you drop. And oui, dogs are allowed in most, if not all, shops and boutiques! From shopping malls to designer shops (Louis Vuitton, anyone?), it's generally NOT a pawblem taking your dog along.
I've marched into shops on all four paws AND carried around by your human's arms or inside my carrier. As long as your dog is well-behaved, clean in appearance, and doesn't relieve himself inside the store, the staff is usually indifferent about your furry shopper. However, it's best to check for any NO DOGS signs at the window before entering. 
Here are a few pawpular districts, areas, and main streets to drop some euros with your dog:
Louvre-Tuileries – Rue du Faubourg Saint-Honoré, Rue Saint-Honoré, Rue de la Paix, and Place Vendome (know for designer shops)
St. Germain des Prés – St. Germain, Rue St. André-des-Arts, and Rue de Sèvres (known for cute fashionable shops)
Boulevard Haussmann and the Grand Boulevards – Boulevard Haussmann and Place de Madeleine (known for expensive department stores)
Le Marais – Rue des Francs-Bourgeois, Place des Vosges, Rue de Turenne, and Rue des Rosier (known for vintage stores, antiques, and fine art galleries)
Les Halles and Rue de Rivoli – Rue de Rivoli, Rue Pierre-Lescot, Rue Etienne Marcel, and Rue de Turbigo (known for major chain retail and upscale boutiques)
PHARMACY
OK, this is where the U.S. lags in dog-friendliness. While CVS is dog-friendly, Walgreens does not welcome dogs on its premises, except for trained service dogs. But, this is not the case in France. WOOF-HOO! In Paris, dogs are always welcome to accompany their humans on a prescription run. WOOF, it's an integral part of Parisian life to run errands with your dog. Again, with most dogs living inside tiny apartments, they need to take a breather out on the city streets.
Like shops and boutiques, your dog is generally welcome at pharmacies if he's well-behaved, clean, and does not relieve himself inside. Yet, pharmacies in Paris and throughout France are "real" pharmacies dedicated to selling only medicine and personal care products like sunscreen and contact solution while you can get your furry paws on toilet paper and dog clothes at CVS.
BAKERIES
Want a bite of that buttery, toasty croissant or heavenly sweet macaron? ARF, go get your paws on some French goodies at the boulangerie et pâtisserie and your dog won't have to wait outside or get left behind! Most bakeries are dog-friendly unless they have signs indicating otherwise (although this is generally not the norm). Like cafes, bakeries are so ingrained in Parisian culture that they are at every corner of the city. While some bakeries have tables and chairs for you to enjoy your pastry, most bakeries are grab-n-go spots where you order at the counter, get your treats, and be on your tail-waggin' way.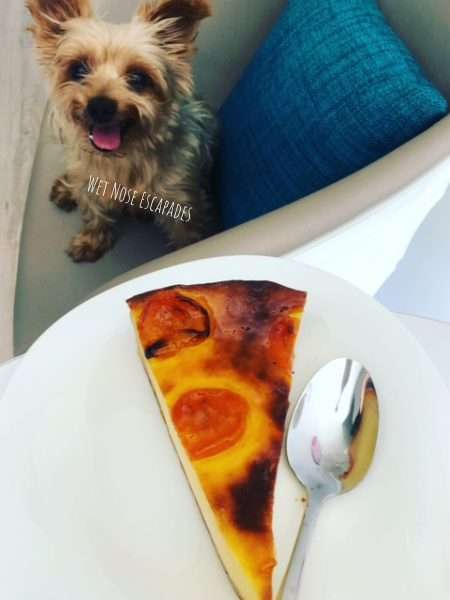 Get your chops lickin' with these MUST-TRY French baked goodies:
Croissant – must go for the chocolate croissant!
Baguette
Madeleines
Macarón
Canelé
Opéra
MARKETS & GROCERY STORES
WOOF, this is where Italy beats France in dog-friendliness any day! Unlike in Italy where dog-designated shopping carts are provided, dogs are technically NOT allowed to shop for groceries alongside their humans anywhere in France, including Paris. From Spar to Tesco to Carrefour, dogs are generally banned from markets and grocery stores except for assistance dogs.
Nevertheless, don't be surprised to see a few French test their luck – I've seen dogs get carried or transported inside carriers, and the staff doesn't say a peep or give a glare. As a foreigner, it's always in your best interest to follow the rules. There are usually "dog parking" spots right in front with metal hooks where you can tether your dog before entering the market. As my humans are terrified to leave me outside by myself, they have yet to utilize these dog parking spaces anywhere. 
OPEN-AIR MARKETS
Unless otherwise barked, dogs are usually welcome to walk through open-air markets, even when food is sold. Although not set in stone, open-air markets seem to have a more laxed dog policy.
UBER/TAXIS
GRRR, my Uber experience in Paris has been a hit or miss. Some drivers have canceled my ride the moment they spotted me from afar. Others were completely indifferent as my human carried me into the car. ARF course, whenever I'm "hidden" inside a soft carrier, the pickup goes smoothly. "G7" Taxi is a taxi booking app with a pet-friendly option, which comes in handy when traveling locally with your dog. As for "normal" or non-G7 taxis, it could be challenging to find one that accepts dogs. Like Uber and other rideshare services, it's solely up to the discretion of the driver.
Other Dog-friendly Taxi Options
Taxi Dog
Taxi Animalier
Taxi Canine
TOURIST SITES/MUSEUMS
Indoor tourist attractions, museums, and places of worship are NOT dog-friendly, including the interior of the Eiffel Tower, the Louvre, Montmartre, Sacré-Cœur, Panthéon, Notre Dame, and Versailles. However, dogs are welcome to sniff out the exterior grounds of these magnificent masterpieces (be respectful and don't leave a mark. GRRR!), including the Louvre Palace and the grassy area outside of the Eiffel Tower. If you want an organized tour of these sites, you'll have to leave your dog back at the hotel. BUT if you're satisfied with some exterior ground exploration with your dog, ARF-mazing photo opportunities are always pawssible.
Get my guide on dog-friendly Louvre HERE!
Dogs are also allowed to hop on the tourist double-decker buses that go all over the city! Big Bus and L'Open Tour allow dogs on board if transported inside a carrier or basket. Batobus hop-on-hop-off boat service along the enchanting Seine allows dogs onboard with a leash and muzzle or small dogs in a bag or carrier.
HOTELS
Dog-friendly hotels are supaw easy to find in Paris, but DO expect to pay a small daily or weekly fee. Be sure to contact the hotel for additional information.
Le Sénat
4-star hotel
10 Rue de Vaugirard, 75006
+33 1 43 54 54 54
Hôtel Maison Mère
4-star hotel
7 Rue Mayran, 75009
Tonic Hotel Du Louvre
3-star hotel
12 Rue du Roule, 75001
+33 1 42 33 00 71
Hôtel MARAIS HÔme
3-star hotel
38 Bd du Temple, 75011
Grand Hôtel des Balcons
2-star hotel
3 Rue Casimir Delavigne, 75006
+33 1 46 34 78 50
Sniff out my tips and tricks on finding the right dog-friendly hotel + money-saving tips!
FLIGHTS
Flying into or from Paris via Air France? Just a bark that your dog must be at least 15 weeks old to travel on Air France flights.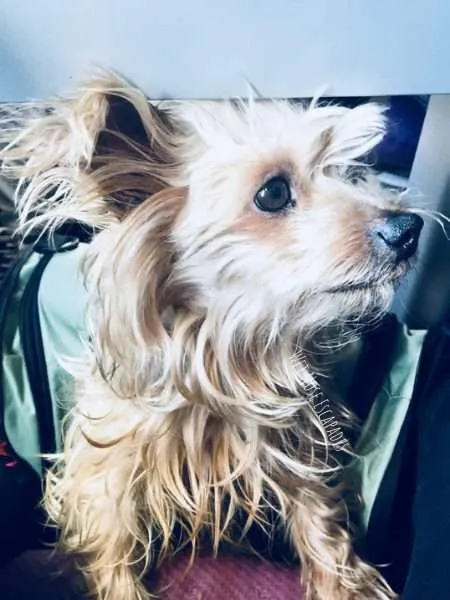 Your dog + carrier must not exceed 8 kg/17 lbs to travel in the cabin. Maximum carrier dimensions must be 46 x 28 x 24 cm / 18 x 11 x 9 in. The carrier or travel bag must be well-ventilated and big enough for your animal to stand up and turn around, AND fit underneath the seat in front of you. Your dog's carrier is considered an additional baggage item, which will incur an additional fee.
Dogs with carriers exceeding 8 kg/17 lbs must fly via cargo. Stub-nose dogs like pugs, boxers, bulldogs and Shih Tzus are not permitted to travel in the cargo hold.
Flights in metropolitan France – carriage in the hold: €80 – carriage in the cabin: €40
Flights within the Caribbean* – carriage in the hold: €75 – carriage in the cabin: €30 (excluding flights from and to Miami €55) * Flights between Atlanta, Cayenne, Fort-de-France, Miami, Pointe-à-Pitre, Port-au-Prince, and Santo Domingo.
Find out HOW to take your dog to Paris!
The Poop Situation
Whatever you do with your dog in Paris, be sure to clean up after your dog! OK, so the French are notorious for not picking up after their dogs, BUT that doesn't mean you should follow suit. Regardless of the norm, you should be a respectful visitor by cleaning up after your dog. From my extended stays over the years, I can attest that the poop situation has improved, particularly in Paris.
This could be due to a more environmentally-conscious younger generation and/or the rise of hefty fines for un-scooped poop (although enforcement can be a hit or miss). Nevertheless, you still need to watch where you're going – don't glue your eyes to your phone while walking your dog! 
Useful Dog-related French Phrases
Dogs NOT ALLOWED
"Chiens Interdits"
Are dogs allowed here?
"Les chiens sont-ils autorisés ici?"
Can I bring my dog inside?
Puis-je amener mon chien à l'intérieur?
Watch me study the Parisians!
Can't stand the second-hand smoke in Paris? GRRRR, I can't either! Learn how to keep you and your dog safe from second-hand smoke!
That's all I got, escapaders! So, is Paris dog-friendly? AWOOOO, YES! OUI! Feel feel to share your dog-friendly Paris experience with me. BARK AT ME!
Markin' it up,
Roger Wellington a.k.a. The Doob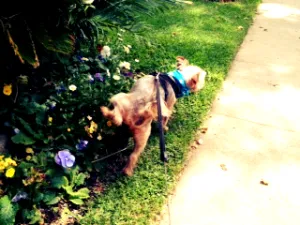 —
Like my post on "Is Paris Dog-Friendly? A Yorkie's Guide to Visiting Paris with a DOG"? CLICK TO PIN!