WOOF, let's bark Paris! This internationally renowned dog-lovin' city needs no introductory barks. Whether you're a connoisseur of the prestigious French culture or have dreamt about frequenting Parisian cafes and devouring tasty galettes since you were young, you have to admit that Paris is one TOP Dog city. Whether you love it or hate it, you know Paris is…Paris. And yet, "Paris with a dog" rolls off any Yorkie or human tongue. Every world-travelin' dog pawrent wants to take their dog to Paris. Trust me, I know – not because I have those wanderlust pawrents myself, but I get plenty of emails (or shall I bark, peemail) about making Midnight in Paris into reality, with a four-legged furry friend and subtracting the rain, that is.
Posted 6/27/22
If you're sniffing for the best dog-friendly activities in Paris, sniff no further because this former French Yorkie has you covered! Perk up your ears and hear my alpha barks for my exclusive list of 15 Things You MUST do in Paris with Your Dog:
#1 Mark up Jardin de Luxembourg
Arf-my-DOG, most dog lovers come to Paris to be surprised that many parks are actually closed off to dogs! GRRR. Until January 2019 (pretty recent in human years, but not dog years), dogs were only allowed into 77 of the 490 green spaces in Paris, accounting for merely 16%. And yet, dogs are to remain on leash at most of these parks that allow dogs. Luckily, one of the most beautiful parks in Paris is dog-friendly, and that is no other than the ARF-so-famous Luxembourg Gardens. Resting on the left bank of the Seine River, the garden covers a whoppin' 23 hectares (and is the largest public park in the 6th arrondissement).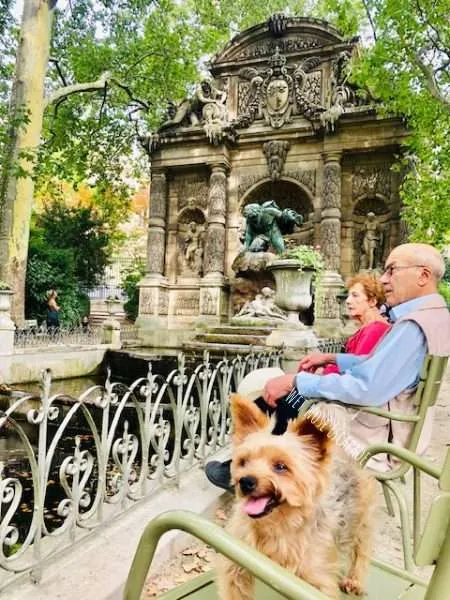 Constructed in 1612, this garden was created in conjunction with the Luxembourg Palace for Marie de' Medici to resemble Pitti Palace in her hometown Florence. It is known for aesthetically pleasing lawns, tree-lined promenades, and colorful, head-tiltin' flower beds. Although the parts where dogs are technically allowed aren't precisely the most attractive, the dog path (shared with joggers and pedestrians) provides a dog drinking fountain, which comes in handy during a long outing.
#2 Snap pics in front of the Eiffel Tower at Champ de Mars
Unfortunately, no animals are allowed inside the Eiffel Tower except for animals accompanying persons of disability. However, no need to lower that tail of yours! Even though dogs are NOT allowed inside the tower itself, that doesn't mean they can't enjoy it from afar and have their amused humans snap a selfie or two. One of the most recognizable structures in the world, this famous wrought-iron lattice tower is located on the Champ de Mars, the massive flat, long rectangular green space in the 7th arrondissement extending from École Militaire (military academy) to the Eiffel Tower. Champs de Mars is a pawpular spot for tourists and exchange students to picnic and relax.
Despite its worldwide stellar reputation, the Eiffel Tower seems to be not much of a hit with Parisian natives and old-timers, which is why I've put it at the bottom of my list. Setting your paws anywhere within a few blocks will put you in tourist central. If you ought to visit the tower, be sure to leave your dog back at the hotel and get your furry paws on some human tickets HERE.
#3 Roam around the Louvre Palace
As dog-friendly as Paris is, dogs are generally not allowed at any indoor tourist attractions, (well, except for assistance dogs). This means taking your dog to the world-renowned Louvre Museum is a NO GO. GRRR, no Mona Lisa for the furry travelers. But the good news is that I can still roam around the Louvre Palace and sniff out hundreds of years' worth of pee-mail on its stunning grounds. My favorite place to leave my alpha mark in the City of Lights is at the Louvre. The architecture here is magnificent, and even though my little robust wet nose is usually glued to the ground, I'll lift my head occasionally whenever I hear my humans make weird human noises (e.g. "WOW" or "OOOOH"). From the Gothic to French Renaissance to Louis XIII (among many other architectural styles), the cut stone Louvre emerged from various complex phases of building, modification, destruction, and renovation.
Sniff out everything you need to know about taking your dog to the Louvre.
#4 Wander around Parc des Buttes au Chaumont
The fifth largest park in Paris, Parc des Buttes-Chaumont is a dog-friendly public park located in the northeastern part of the city. Built under Napoleon III, Buttes Chaumont is a ginormous 61-acre park with an artificial lake, temples, bridges (including a 200-feet suspension bridge), waterfalls, ancient ruins, and grottos. The main entrance is at Place Armand-Carrel, 19th Arrondissement. I often see dogs frolic around here off-leash, and this park is often known as the most dog-friendly park in the city because it's one of the few longstanding places where you can picnic, relax, or wander around with your dog. And yep, it appears that the entire park is dog-friendly, not just certain sections like other public parks. Don't forget to sniff out those pawsome views at the top of the hill.
Watch me study the Parisians:
#5 Hang out in Bercy Village
ARF, I LOVE Bercy Village! As a traveling Yorkie who has marked up different parts of the world, I dropped my jaws open for an open mouth smiley face to show how impressed I was to mark up Bercy Village's cobblestoned roads. With a mix of old and new buildings, this charming area feels like an off-the-beaten path, like a small French village in a big city. ARF-my-DOG! From old wine cellars to upscale eateries (and ARF course, a fair share of Parisian cafes) to retail stores (including supaw cool pet supply stores like Animalis) to art galleries, Bercy Village is the pawfect place to spend the afternoon in Paris with your dog. Situated in the 12th arrondissement, Bercy Village is open 7 days a week from 10 am to 8 pm for shops and 11 am to 2 am for restaurants. The best part about visiting Bercy Village with a dog is that it is a pedestrian only zone, which means less pollution and stress for your dog.
Oops, I lied – besides the pedestrian only zone, the BEST part about Bercy is really the park (Parc de Bercy), which is also dog-friendly with gorgeous gardens, grassy areas, and ponds. A romantic, relaxing afternoon with your dog? CHECK.
#6 Human and dog watch at a cafe in Le Marais
AWOOO, taking your dog to Paris doesn't always mean you have to be on the go. The most Parisian thing you can do doesn't require much paw or foot movement, and that is to simply relax and watch the passerby at any cafe. Parisian cafes are an integral part of the social and culinary scene in the city. My go-to cafes are in Le Marais, the pawbulous authentically Parisian neighborhood known for chic boutiques, galleries, vibrant nightlife, and a mixture of Jewish, Chinese, and LGBT establishments. Translated as "the marsh" or "the swamp," Le Marais is built on swampland in the 3rd and 4th arrondissements with architecture dating back to medieval times.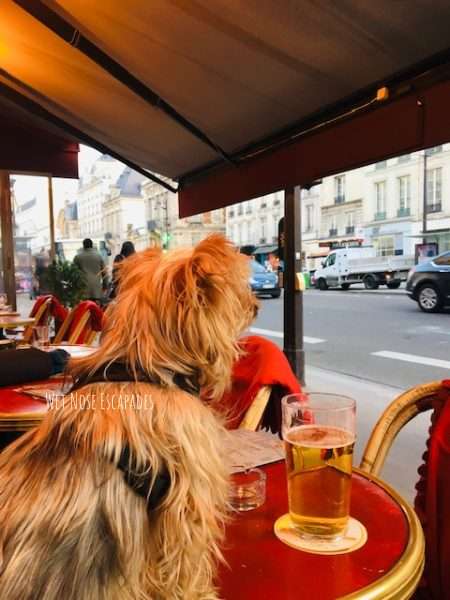 As soon as I set my furry paws on the streets of Le Marais, my little robust wet nose confirmed that I found the right place for some ARF-mazing cafes – my humans can sip on cafes (or espressos, as the Americans call them) or beers while I get front row barking on Rue de Rivoli. Sniff out one of my favorite spots for human and dog-watching near the Place des Vosges (Place Royale) – Cafe L'Arsenal (2 Rue de Birague).
#7 Explore Bois de Boulogne
WOOF, on the west side of Paris lies Boulogne Park, the second largest park in the city! With that barked, you can only imagine that this is no beta dog park. Once a forest and royal hunting preserve, this woody area was acquired by the city of Paris in 1852 and transformed into a whoppin' 2,100 acres of recreational area, from man-made lakes to lush gardens to walking paths to spectacular waterfalls to meticulously manicured lawns. Although this pawtastic park lies on the outskirts of the city (taking up to an hour on public transport), it's still worthy of my wet nose sniffing and marking. ARF-ter all, it is, indeed, very dog-friendly where butt chasing and sniffing is always a common sighting. WOOF, dogs are even allowed to walk off-leash in certain wooded trails, leading to beautiful creeks, lakes, and views of the pawsome Seine and the Eiffel Tower.
#8 Grab crepes in on Rue Mouffetard
WOOF, I can never leave the City of Lights without getting my furry paws and greasy lips on some crepes! Whether savory or sweet, crepes in Paris are a MUST lick, MUST devour. Originating in Brittany, France in the 13th century, crepes are essentially supaw thin pancakes with various fillings ranging from sweet to savory like strawberries, bananas, Nutella, potatoes, grilled veggies, cheese, and meats. Let's just bark that these tasty treats never fail to melt effortlessly in my little Yorkie mouth. ARF, I'll let you in on a TOP DOG secret – the best spot for crepes is, PAWS DOWN, is Au P'tit Grec, the bustling hole in the wall on the ARF-so-mesmerizing street Rue Mouffetard in the Latin Quarter.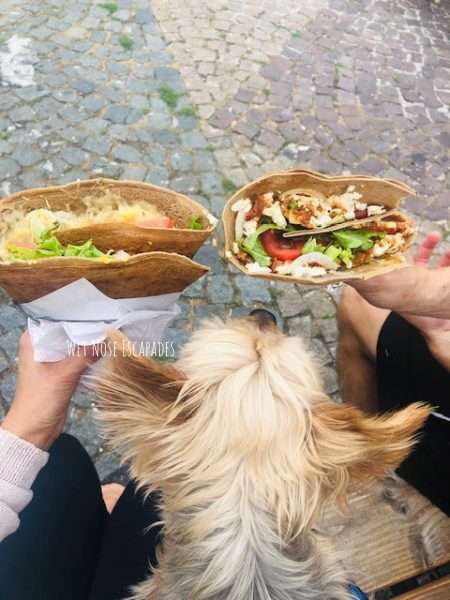 Despite being a carnivore, I like to lick my chops to the vegetarian crepe at this dog-friendly Greek creperie (yes, Greek!); this pawpular choice consists of deliciously seasoned potatoes, freshly chopped lettuce, sliced tomatoes, sautéed onions, and aubergine-based caviar. The unique aubergine-based caviar brings all the ingredients together while the onions give the crepe a subtle, yet sassy little kick. ARF-mazingly good.
#9 Devour falafels at L'as du Fallafel
Falafels in Paris? ARF, you betcha! ARF-ter all, Paris is an international city with chops-lickin' cuisine from around the world. With virtually most (if not, all) restaurants allowing furry diners in Paris, dining with your dog is rarely a pawblem, even at a Middle Eastern eatery. At L'as du Fallafel (34 Rue des Rosiers, 75004), I can either fight the crowd outside for a falafel special to-go (oops, I meant "take away) OR sit my furry butt inside the restaurant, assuming my humans are patient enough to wait for a table.
This no-frills joint is found in the historical Jewish Quarter (in Le Marais), where it's considered the most "tourist friendly" quarter in the city. Heck, the falafels here are fresh and never super greasy; always crunchy on the outside and soft on the inside. Mixed with chopped veggies such as cabbage and cucumber, the falafel pocket is tasty, crunchy, and a little spicy. Mmm mmm.
#10 Sniff out Jardin du Palais Royal
Constructed in 1629, this neoclassical royal garden in the 1st arrondissement was created for Cardinal Richelieu by Jacques Lemercier. Heck, even Louis XIV lived here so you can only imagine its rich history (or attempt to sniff it if you have a Sherlock nose like me). Connected to the Royal Palace and formerly known as Palais Cardinal, Jardin du Palais Royal is an alluring urban green space tucked away from the city chaos, welcoming dogs in certain sections with enforcement being a hit or miss. With benches, charming statues, flowerbeds, and a fountain, this is the arf-solutely pawfect spot to relax my strong alpha paws and sip on some refreshing water.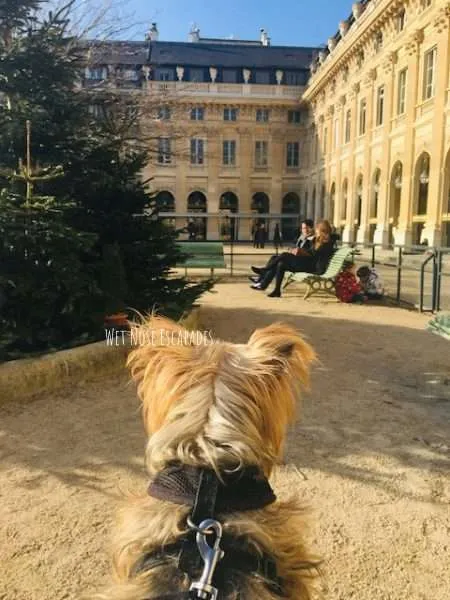 #11 Mark up Bois de Vincennes
Now, the #1 leader of the pack is Bois de Vincennes, the largest public park in the city. Unlike Bois de Boulogne, this TOP DOG park lies on the eastern side of Paris on the edge of the 12th arrondissement near Chateaux de Vincennes, the fortified chateau that is NOT dog-friendly (at least not inside). Similar to Boulogne, this massive park boasts forestry wooden areas with lush gardens, incredible waterfalls, and calming lakes. It was the King's former hunting area (GRRR, hunting is murder and is NOT a sport). I wagged my stylish rat tail to find out that dogs are also welcome to roam around off-leash here (well, under voice control of their humans – what an irony since my humans are under MY voice control and barks). Whether in the morning or late afternoon, I love marking up this park and chasing after the cute furry Parisians.
#12 Shop for used books along the Seine
AWOOO, one of the dreamiest things a human can do in Paris is to walk along the Seine River and pick up an old book at a "bouquinistes" stall. Bouquinistes are booksellers of used and antiquarian books who set up shop along the large sections of the riverbanks. Think Midnight in Paris, one of my human's favorite movies of all time! Currently, there are over 200 bouquinistes in the city trading over a whoppin' 300,000 old books.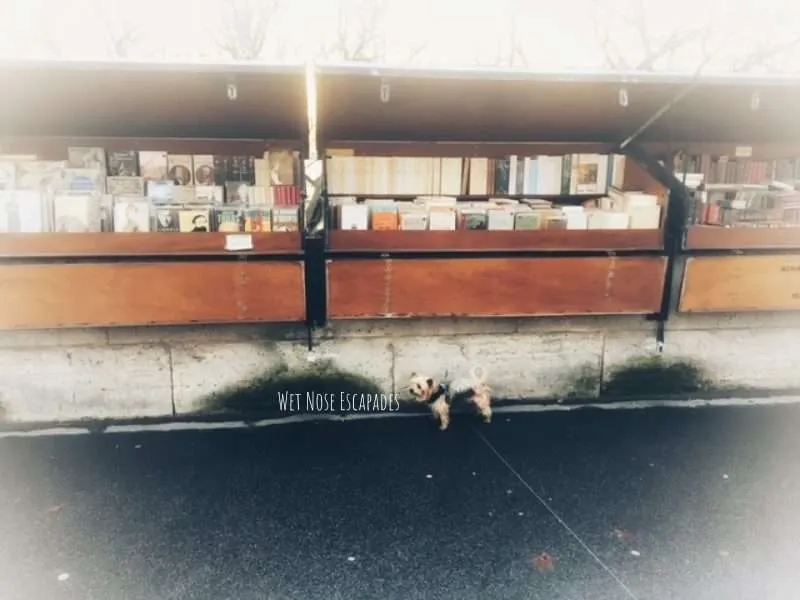 And, as any dog pawrent would guess, making one of these ARF-so-romantic second-hand bookseller stops (whether long or short) is something you can do with your dog. Heck, dogs are also welcome inside actual bookstores, let alone outdoor ones.
Interestingly enough, the boxes used by the bouquinistes must be a maximum length of 8.6 meters (length: 2 meters, width: .75 meters, height: .6 meters on the Seine side, and .35 meters on the Shore side).
#13 Relax at the Jardin des Tuileries
Separating the Louvre from the Place de la Concorde lies the beautiful Tuileries Garden, which boasts Maiilol statues, two ponds, manicured trees, and simply meticulously landscaped greenery. Construction began in 1564 as a garden for the Tuileries Palace under the direction of Catherine de' Medici, and it became open to the public in 1667. More barks of history – Louis XVI and Marie Antoinette also took refuge here during the French Revolution.
Technically, dogs are allowed in the upper section of the garden or on two elevated flanks (although enforcement of "restricted" areas may also be a hit or miss), which means your best bet is to use one of the side entrances to get a sniff of this Parisian masterpiece. This quintessential Parisian park is a fantastic spot for taking a quick nap, resting furry paws, enjoying a water or treat break, and ARF-course, some prime dog-watching (and butt sniffing).
#14 Drink up during "Happy Hours"
Unlike the U.S., it's called "happy hours" (yes, with an "s") in Paris! And, unlike the U.S., happy hour time isn't just limited to right after work for 2 or 3 hours. With an upright tail, I'm excited to bark that happy hours in Paris generally last A LOT longer, oftentimes from the afternoon until 10 pm or even midnight, and even on the weekends. WOOF, what a deal!
If you grab a table outside, be prepared to pay a small fee or upcharge for your drinks (but ARF, it's worth the money). ARF course, dogs can sit outside or inside at drinking and eating establishments in Paris. However, outdoor seating almost always provides a better atmosphere (well, subtract the second-hand smoke).
WOOF, hope you enjoy my list of 14 things you MUST do in Paris with your dog! Feel free to share your dog-friendly Paris experience with me. BARK AT ME!
Markin' it up,
Roger Wellington a.k.a. The Doob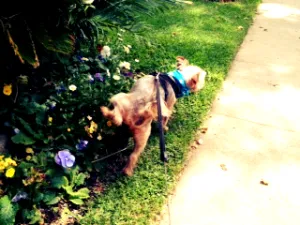 —
Like my post on "14 Things You MUST do in Paris with Your Dog"? CLICK TO PIN!