Bonjour, escapaders! Whenever I set my tiny paws in the City of Lights, I just love human-watching (and pretending that I'm a sophisticated Parisian dog). Filled with diverse cultures and beautiful architecture, Paris is one of the best places on earth to sip on coffee (or tea, beer, or water – whatever drink you prefer to lick your chops to), sit back, and watch the world pass by. From bustling local cafes to enthralling parks, you can find me learning the Parisian way of life with my sniffing wet nose, perking up ears, and tilting head. Hopefully, I will transform into a true Parisian dog (oops, I mean "chien") overtime!
Dog Travel in Paris: Roger Wellington studies the Parisians
Wanna see more of my Parisian escapade? Take a look at how I explore the Louvre!
Happy and healthy traveling!
Markin' it up,
Roger Wellington a.k.a. The Doob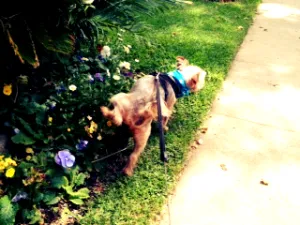 —
Wanna transform your pooch into a Parisian dog (chien)?
Need help packing for your world-traveling dog? Here are my recommendations:
Gooby Harness
Flexi Retractable Tape Leash
Water bowl
Food bowl
Alfie Pet Collapsible Silicone Travel Bowl Set (3 bowls)
LOTS of poop bags
Blanket
Kurgo Pet First Aid Kit
Bravecto Oral Flea/Tick Meds
Brushes
Combs
Clothes (depending on the climate)
Toys
Nature's Miracle Deodorizing Bath Wipes
Ziweto Pets 4-Piece Grooming Scissors Set
TruDog Bathe Me Refreshing Shampoo (you can split it into several travel size containers for carry-on, if necessary)
Sentry Petrodex Enzymatic Toothpaste
TropiClean Fresh Breath Oral Care Toothbrush Kit
OraVet Dental Hygiene Chews
TruDog CLEAR ME Safe, Natural Ear Cleaner
TruDog SPRAY ME All Natural And Effective Dental Spray for Dog Breath
ARF, don't forget delicious FOOD AND yummy TREATS!
Need more dog travel accessories? Get your paws on them HERE!
*Please note that this post contains affiliate links, and at no obligation or additional cost to you, we earn a small commission if you make a purchase. If you love the work that we do, you can show your support by making a purchase through an affiliate link. Proceeds will go towards feeding homeless dogs (and cats) along with improving the lives of the neglected and abused.
—
Like my post on "Dog Travel in Paris: Roger Wellington studies the Parisians"? PIN IT!