WOOF, trying to find the best pet-friendly all-inclusive resorts and hotels in Cancun? Keep on sniffing!
*Please note that this post contains affiliate links, and at no obligation or additional cost to you, my humans and I earn a small commission if you make a purchase. If you love the work that we do, you can show your support by making a purchase through an affiliate link. Proceeds will go towards feeding homeless dogs (and cats) along with improving the lives of the neglected and abused.
ARF, let me bark the truth. My stylish tail didn't wag when my humans said we were hopping on a flight to Cancun. It's not because I don't care for mouthwatering tacos and dreamy white sandy beaches, but because Mexico has always been a country my humans and I took for granted. Thanks to its proximity to our hometown California, where the Mexican culture is already prevalent, Mexico feels too close to home – like "non-travel" travel technically considered international travel. Even though my humans have visited the Mexican state of Jalisco several times in the past, they didn't take me across the border until this summer.
For a furry traveler from America like me who is used to 10+ hour overseas flights and devouring gemistas on the Greek Islands, the thought of a trip to Mexico feels more like a Vegas trip than world traveling. However, arf-ter spending many moons getting my furry paws sandy and sippin' on gold margaritas on the gorgeous Mexican Caribbean Coast, I instantaneously changed my little BIG Yorkie heart and became a fan.
From Cancun to Playa Del Carmen, I relived my days as a furry beach bum on the coast of the Yucatán peninsula in Quintana Roo, arguably the most expensive state in the country. But even then, Cancun is a relatively cheap destination with spectacular beaches (not to bark, arf-mazing food), if you're coming from the U.S., Canada, or Europe.
My tail is wagging as I bark that wanderlust can happen anywhere, whether near or far. Just a quick 4-hour flight from Los Angeles took me to a different world where I'd chase down chihuahua chicas, lick my chops to juicy Al Pastor, and leave a trail of my alpha paw prints on the whitest sand my paws have ever touched.
If you're looking for the BEST pet-friendly all-inclusive resorts and hotels in Cancun, I've done all the sniffing for you. Arf-ter all, I bounced around multiple stays during my nearly month-long stay to experience different parts of the city, from the more local Downtown to the arf-so-touristy Hotel Zone.
Neighborhoods in Cancun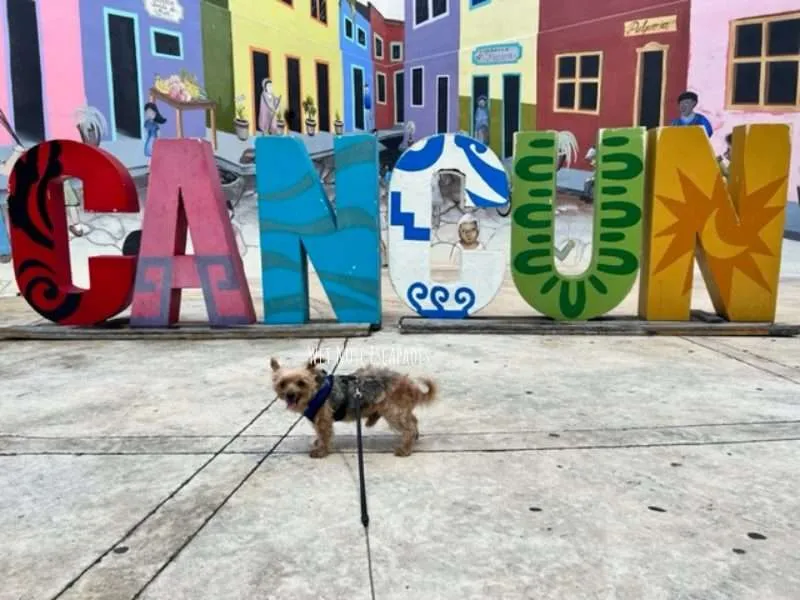 Cancun consists of two major areas – Hotel Zone (Zona Hotelera) and Downtown (El Centro). Hotel Zone is where you find luxurious oceanfront high-rise resorts with all-inclusive packages. From restaurants to accommodations, you can expect to pay up if you're spending time in the arf-so-touristy Hotel Zone, home to high-end fashion retailers in La Isla and famous nightclubs like Coco Bongo and La Vaquita.
Downtown is a much cheaper area to rest your furry paws at night, if you're on a budget. Besides monetary reasons, staying in their inland Downtown gives you a more authentic experience with its green parks and bustling Avenida Tulum where you can find locals hitting up shopping malls, markets, restaurants, nightclubs, and bars.
Which area is better to stay with your dog in Cancun?
Having rested my furry paws and left my alpha marks in both areas, I would bark that Downtown is definitely the calmer, less crazy neighborhood of the two; however, Hotel Zone feels safer since it's so tourist-centric. Not to bark, all the military guards who patrol the area 24/7. Plus, you get white sandy beaches with dreamy turquoise waters. If you only plan on staying within the resort grounds most of the time (or simply avoid the Party Zone at night), Hotel Zone can be a plausible option as well.
All-Inclusive Pet-Friendly Resorts in Cancun
All-inclusive resorts are the best options for families and vacationers who don't want to do much exploration of the town itself or pay for food elsewhere. Due to safety, private beach access, nightly live entertainment, kid-friendly activities, and the convenience of drinking and eating establishments on the resort grounds, all-inclusive packages are more expensive than regular hotels here. Unfortunately, most all-inclusive resorts in Cancun are not pet-friendly so it can be slim pickings if you want an all-you-can-eat-and-drink vacation with your dog.
As soon as my human applied the "pet-friendly" filter on booking websites like Hotels.com, Expedia, and Booking.com, many results get wiped out. If you are adamant about staying at an all-inclusive resort with your dog, be ready to pay up on the dog fees (unless you have a service dog with proper documentation, which I heard establishments do not always recognize).
ARF-my-DOG! If you wanna be TOP DOG cool, then walk your furry paws to the legendary Hard Rock, an ultra-cool, all-inclusive oceanfront resort in the heart of Hotel Zone. Although I've never been a big fan of Hard Rock back home, it seems like the SPAWT to be in Cancun. To get an idea of Hard Rock's coolness, you gotta perk your ears up to their own description of the 5-star property – beachfront celebrity" playground, "rock star" pawradise, cosmopolitan flair.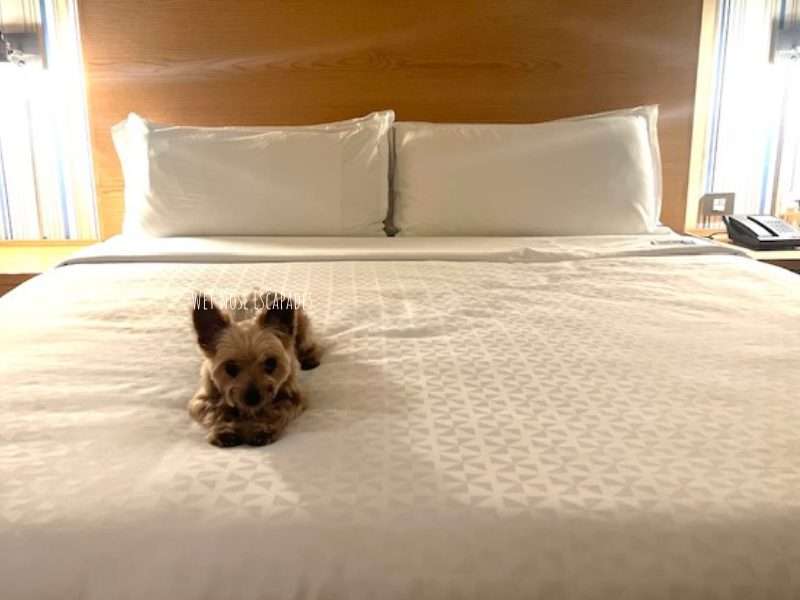 Hard Rock unleashed its pet-friendly program with a tasty welcome gift, memory foam dog bed, and designated areas for furry travelers, who are limited to dogs and cats with a maximum of two pets per room. Hard Rock's ultimate luxury for your pet does come at a price of 150 USD per pet per stay. If you stay more than 7 nights, 150 USD will be charged for each week, per pet. The weight limit per pet is 22.5 kg/50 lbs. Unfortunately, pets are not allowed in restaurants, bars, pool areas, beaches, fitness centers, and so forth – they are only allowed in designated pet-friendly areas. A deep cleaning fee is also applied in certain room categories.
For the humans, their all-inclusive package comes with casual and à la carte dining at 5 gourmet restaurants, 24/7 in-room service, land sports, fitness center, pool and beachside service, daily activities (like Spanish lessons, water volleyball, and salsa lessons), and live entertainment. Not to bark, there's also a full-service spa onsite. 
Book your stay at Hard Rock Hotel Cancun – All Inclusive!
North of Cancun and close to Puerto Juarez, Atelier sits in the newly developed Playa Mujeres, which has bragging rights to being directly across from the arf-so-picturesque Isla Mujeres (also dog-friendly, btw). Located 30 minutes from the Hotel Zone, Atelier is an all-inclusive 5+ star resort for adults and guests over 16 years old.
Their design is inspired by the Art and Design of Contemporary Mexico, sparking an inviting avant-garde ambiance that blends pawfectly with the crystal clear water of the Caribbean and its onsite golf course. Despite staying outside Cancun, Atelier has plenty to drop an open-mouth smiley face, including 24 restaurants and bars, a state-of-the-art fitness facility, 24-hour suite service, butler service, and water sports. 
Under their pawsome dog-friendly PET-IT program, furry guests can enjoy gourmet treats and toys and even order from an exquisite five-plates menu. Your dog can mingle with other furry guests at one of their many doggie social activities on the resort's Pet Patio. If you need a night out, you can rest assured that your furbaby is cared for by an experienced dog sitter on-site. The biggest BARK of all is that Atelier even offers veterinary medical service, which is available upon request. ARF-my-DOG! Only small dogs up to 10 kg/20 lbs are allowed for an additional fee of USD 30 per night. One dog is permitted per suite. Your dog's health must be certified through a veterinary certificate and vaccination card.
Book your stay at Atelier Playa Mujeres!
Although not technically in Cancun, Dreams Riviera rests along the gorgeous white-sand Caribbean coast of the Yucatán Peninsula, nestling between Cancun and Playa Del Carmen. Needless to bark, it's picture pawfect here, and staying at Dreams does feel like a dream! PAWS DOWN.
This family-friendly, all-inclusive AAA Four Diamond resort prides itself in unlimited luxury – with a top-notch spa, ocean view rooms, and a whoppin' 15 restaurants and bars with top-shelf liquor (unlimited dining and unlimited drinks). 24-hour room service, pool & beach wait service, and endless entertainment. Pets weighing 10 kg and under are welcome to stay with their humans for an extra cost of USD 65 per night. Only one pet is permitted per room. 
Book your stay at Dreams Riviera Cancun Resort & Spa!
GRRR, don't take my breath away (I have a collapsed trachea)! Opened in December 2021, this brand-spankin' new adults-only property is the place to pawty it up. Situated between the Caribbean and Nichupte Lagoon, Breathless Cancun Soul is an all-inclusive resort with 2 infinity pools and 429 chic suites with private balconies showing off pawbulous sophistication. As you would imagine, there's A LOT for humans to do here! From 10 supaw trendy dining options to DJ-spinnin' pool pawties, group activities from fitness classes to Spanish lessons, and 24-hour room service.
The down side is that you share the beach with the public. Small dogs up to 22 lbs are welcome to stay in their designated pet-friendly rooms for an extra charge of 65 USD per dog, per night. Your furry guest is provided with food and water bowls, and can roam around in an off-leash area on the property. Due to their pawty vibe, this may not be the ideal stay if your dog gets overwhelmed easily.
Book your stay at Breathless Cancun Soul Resort!
Spanning over 100 acres of Mayan coastline south of the Hotel Zone, this spectacular 5-star Hilton property is one mesmerizing place to stay with your dog. Within a quick 20-minute drive from the airport, this smoke-free resort boasts a private beach, fitness center, water park, swim-up bar, 2 poolside bars, 12 unique dining experiences (including 5 specialty restaurants serving global cuisine), room service, unlimited drinks, cocktails, churros, ice creams, and sweets. Pet-friendly rooms are available for a 50 USD fee with a 23 kg weight maximum. 
Book your stay at Hilton Cancun!
Located in the calm Punta Nizuc (southern part of the Hotel Zone), ÓLEO gives their human and furry guests some head-tiltin' beachfront views. Just a 15-minute drive from the airport, ÓLEO is a small all-inclusive 4-star resort with a minimalist, contemporary feel. You can enjoy beach access, poolside snack bar, two gourmet restaurants, a buffet, and 24/7 room service. It's also more affordable for an all-inclusive package, albeit the level of luxury is not the same as big resorts in Cancun. Dogs weighing 10 kg/22 lbs or under are welcome to stay for a fee of 50 USD per night. One dog max per room. 
Book your stay at ÓLEO Cancun Playa All-Inclusive Boutique Resort
Located on the northside of Hotel Zone, Ocean View Cancun Arenas is an all-inclusive property just a few paws away from the turquoise waters and soft white sand. Surrounded by tropical gardens and vibrant Cancun nightlife, this older property is an OK stay as long as you don't spend too much time here (and don't expect 4 or 5-star quality). It has 3 restaurants (including a buffet), room service, an outdoor pool, a spa, a fitness center, daily activities like movie nights and walking tours, and fun live entertainment. Pets are allowed for an extra charge of 950 MXN per pet, per night.
Book your stay at Ocean View Cancun Arenas!
Pet-Friendly Hotels & Resorts in Cancun
Situated in the prime location at Punta Cancun (where nightlife was literally just a few paws away), Aloft was my favorite place to stay in the Hotel Zone. Like other Aloft hotels, this Cancun location is pet-friendly. Dogs can sleep with all four paws in the air for 50 USD per stay in designated pet-friendly rooms. Having stayed at other Aloft hotels back in the States, I wagged my tail to familiarity – trendy bar and lounge, swanky rooftop, and contemporary rooms with hip and bright-colored decor.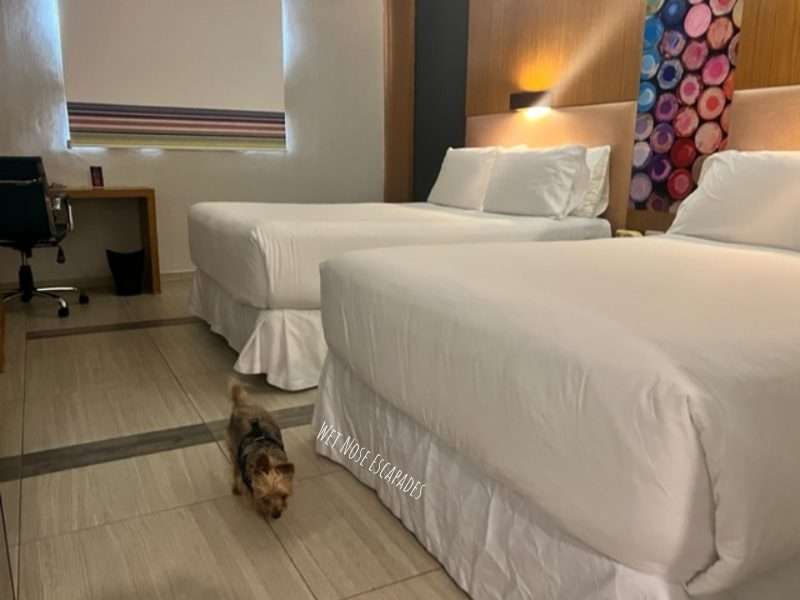 Although booking sites mention dog amenities like dog bowls, I did not receive any during my nearly 2-week stay. While they offer a free open bar and paid breakfast buffet option, Aloft is a hotel, not an all-inclusive resort where you should post up day and night devouring unlimited fish tacos and cheesy enchiladas. As travelers, my humans preferred to explore the town versus staying at an all-inclusive resort where they wouldn't want to leave (arf-ter all, you've already paid for every single meal and drink in a typical all-inclusive package). 
Book your stay at Aloft Cancun!
Spanning 29 acres of Caribbean pawradise, Nizuc is an award-winning opulent resort in Cancun. Although private and secluded,, this 274-room waterfront property is only a 15-minute drive from the airport. A 5-star AAA Diamond resort, Nizuc is one dreamy escape with 3 outdoor pools (plus an adults-only tranquil pool), a luxurious Mayan-inspired spa, a gym, two beaches and private plunge pools in most suites and villas. Most accommodations offer at least 700 square feet of pure bliss and Mayan decor. To fill up those bellies, Nizuc offers 6 world-class restaurants, from traditional Mexican to Italian fare. Besides eateries, they also have a Kids Club and room service despite not being an all-inclusive resort. Dogs under 4.5 kg are welcome for 123 USD plus taxes per stay (154 USD total). Beds, bowls, and water are provided for furry guests.
This 4-story property is your best bet for a comfortable dog-friendly stay in Downtown Cancun. As a matter of bark, I chose Four Points as my main residence to explore Downtown arf-ter sniffing out mostly pawsitive reviews. Reasonably priced, the rooms here are spacious, clean, and comfy. The pet fee per stay is only 25 USD with a maximum of 2 pets in the room (maximum pet weight of 44 lbs).
Conveniently located on Avenue Tulum where you can find many shops, restaurants, markets, and even a Petco, Four Points is right next to a hospital should you pawtied too hard in Cancun. This well-maintained property comes equipped with a fitness center, stunning infinity pool with ocean views and pool bar, a hip sport bar with posh outdoor seating (Toastina Sports Bar), and an international restaurant (The Eatery Bistro). 
Book your stay at Four Points by Sheraton – Cancun!
In the recently developed 800-acre upscale Puerto Cancun, SLS is a pawtastic place to stay if you're sniffing for modern luxury without the all-inclusive package. This trendy beachfront haven boasts 45 suites, a private beach club, a lush spa, an Argentinian-Japanese fusion restaurant headed by Chef Jose Icardi, a private marina, and an 18-hole golf course (designed by American golfer Tom Weiskopf). Pets up to 22 pounds are welcome for a non-refundable fee of 100 USD per stay. One pet is limited per room. 
If you're on a tight budget, Ibis in Downtown Cancun is a good option to stay with your dog. BUT the truth is that I wouldn't recommend it if you can afford to spend an extra 10-20 USD a night to stay at Four Points Sheraton. Trust me, I know because I ended up resting my paws here for 2 nights just to compare. And, while it's cheaper than Four Points, the accommodations don't even compare; Ibis feels more like a Motel 6 – it's affordable and pawfect if you don't plan on spending much time in the room. Their standard rooms are supaw small, fitting only a Queen bed, desk, and small bench.
The level of cleanliness is also questionable since I sniffed out hair on the shower floor right off the bat. The flip side is that the location is much better than Four Points (despite being close to one another), with a shopping mall and several restaurants just right outside the doorsteps on top of their onsite buffet restaurant. Only dogs are allowed for an extra charge of 250 MXN per pet, per night, plus a deposit of 1000 MXN per stay.
Book your stay at Ibis – Cancun!
Conveniently located on the bustling Avenue Tulum near Marina Puerto Cancun, Fairfield Inn and Suites is a solid dog-friendly, budget-friendly option for those who want to stay in Downtown Cancun. Like most Marriott hotels, this location is a no-frills, eco-friendly property with clean rooms, a complimentary hot breakfast, a fitness center, and a sparkling pool. Since Fairfield Inn is undoubtedly cleaner and better-maintained than Ibis, I can bark with an upright tail that spending the extra dollars is worth it. Pets under 10 kg are welcome for an additional fee of 450 pesos per night. One pet per room. 
Book you stay at Fairfield Inn and Suites by Marriott Downtown!
WOOF! Wherever you decide to stay in Cancun with your dog, I hope you have an ARF-mazing, tail-waggin' time! Feel free to share your experience with me. BARK AT ME.
Get your furry paws on more dog-friendly Mexico posts HERE.
Watch me take Isla Mujeres, the tiny island just right across from Cancun:
Markin' it up,
Roger Wellington a.k.a. The Doob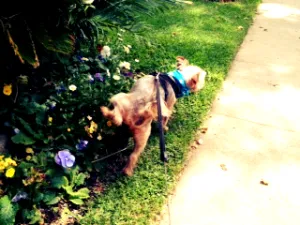 —
Like my post on "Where to Stay in Cancun with Your Dog: Pet-Friendly Resorts & Hotels"? CLICK TO PIN!