Wanna know all about the Pet Relief Area at Tocumen Airport in Panama City? The Traveling Yorkie got you covered! Perk up your ears to hear my honest barks below.
Posted 1/17/23
*Please note that this post contains affiliate links, and at no obligation or additional cost to you, my humans and I earn a small commission if you make a purchase. If you love the work that we do, you can show your support by making a purchase through an affiliate link. Proceeds will go towards feeding homeless dogs (and cats) along with improving the lives of the neglected and abused.
WOOF, arf-ter hopping on a 3-hour flight from Cancun (Mexico), my sidekick Penny Gurl and I landed in Panama City. Even though it was a quick flight, we were supaw arf-cited to stretch our legs and sniff out the furry guestbook at the Pet Relief Area inside Tocumen Airport. Now, I don't always bark about pet relief areas at airports because I've sniffed out so many and they're not usually barkworthy. However, the Pet Relief Area at Tocumen Airport was a different story – at least in the eyes of my human who definitely seemed more arf-cited to be inside than me and Penny.
Watch me and Penny fly to Panama City and sniff out the Pet Relief Area at Tocumen Airport:
Subscribe to my YouTube Channel: Wet Nose Escapades by Roger Wellington for fun dog videos!
Whether your dog is stuck at the airport due to a layover or needs a quick potty break before or arf-ter a flight, finding a pet relief area is always a big RELIEF! If you are in Panama City for a layover, you can't take your dog outside the airport without going through Customs. Yet, to get through Customs, you'll need to have the dog import paperwork ready, which is obviously not something you can do overnight but with advanced planning. Therefore, if Panama City is merely a brief stop on your itinerary, locating a relief area at the airport is crucial for a healthy travel day for your furry traveler.
Having sniffed out countless pet relief areas in my 6+ years of world traveling, I would bark that most airports only offer barebones when catering to dog travelers. Basically, it's a small room with a patch of artificial grass, poop bag station (often without any poop bags), and water hose (which I'm unsure if anyone ever uses, judging from the smell and color of the artificial grass).
Being the gateway to the Americas (North, Central, and South), Tocumen is a major hub for Copa Airlines (Latin America's primary airline) with flights between South America, the Caribbean, and North America. Hence, it's no surprise that it's known as the busiest airport in Central America. Despite being a major hub, Tocumen only has two terminals: Terminal 1 (North) and Terminal 2 (South).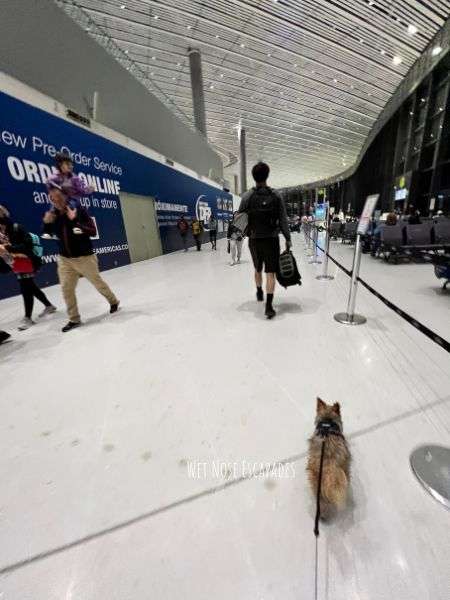 Tocumen's Pet Relief or "Area de Mascotas" (in Spanish) is located inside Terminal 1, Second Floor (Central Zone). It was a long walk from our gate in Terminal 2, and at first we didn't think a pet relief area existed at all. Once in Terminal 1, my human asked the staff if there is a place for dogs to do their business and the lady busted out for smartphone to check (and then stopped to take a phone call). Thankfully, my human #2 returned from the bathroom with good news that he found signs for Pet Relief.
From afar, the entrance tilted my head and caught my human's attention – it was a sure giveaway that this could be a unique, barkworthy experience. Arf-ter all, it boasts an inviting entrance with giant paw prints on the walls AND seemingly happy cat and dog caricatures on the door.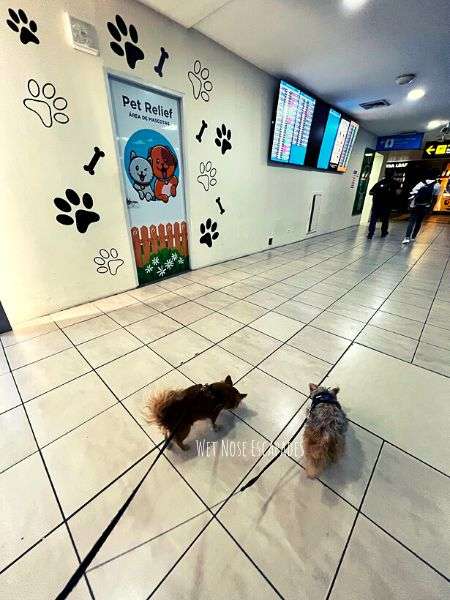 ARF yeah, if you're worried about catching your next flight, you can keep that tail upright as the flight monitor screens are right next to the door for easy access.
The colorful decor inside the Pet Relief Area feels like a kindergarten classroom, except it caters to sophisticated furry travelers, as opposed to snot-shooting, screaming kids. There's a massive wall illustration of doggies on a fenced yard (plus a small airplane), implying that the room serves as the backyard or intended place of elimination for furry travelers like myself and Penny. Arf course, Penny and I are proud to be part of such an elite class of canines who are more well-behaved than most (if not, all) children you'll ever meet.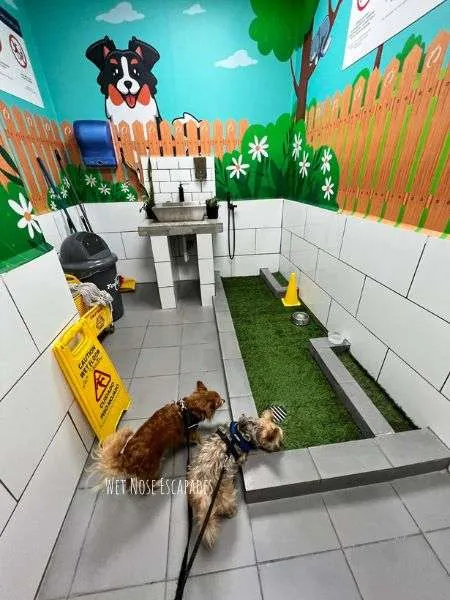 As soon as I stepped my alpha paws inside the tiny room, I instantaneously wagged my tail to sniff out all the pee-mail that long-awaited my response. As the beta, Penny Gurl followed my lead. The last in the pack order, my tertiary human followed. She was pleasantly surprised that the bathroom-sized room was very clean. Most impawtantly, it didn't have a nasty stench, which she has typically found at other pet relief areas. The floor also looked SPAWT-less, which implied a high level of maintenance by the airport cleaning staff. CLAWS up for that! She also appreciated the presence of a black chair, if she wanted to rest her legs.
Besides a horizontal patch of artificial grass, the lockable room comes equipped with a fully stocked poop bag station, two water bowls, one individual sink, and a towel dispenser. REAL BARK: Everything in the room looked and felt cleaner than most public restrooms my human has ever used.
Let's sniff out the rules:
#1 You must clean up after your dog and dispose of the waste immediately – Fair and universal, I must bark.
#2 NO SMOKING – PAWS DOWN, my favorite rule! Grrr, I just hate second-hand smoke. It's inconsiderate, and it KILLS humans and dogs. As a senior Yorkie born with a collapsed trachea, the last thing I need is polluted air to trigger a coughing fit.
#3 This is NOT a children's play area – GRACIAS for bringing this up and separating us from obnoxious little humans. Penny and I are not a fan of young children because they tend to make loud noises and sudden movements, and NOT know to be gentle with us and respect our boundaries (although this is the parents' fault).
Did I ever share my barks with you that I was smacked by a toddler who "just wanted to say hi"? GRRR. Seriously, if the toddler and I had switched roles, I'd be dead in a heartbeat! Such injustice is no joke.
Any-HOWL, let me share with you my REAL barks about the Pet Relief Area:
Here's the truth about what really happened inside. To my dismay (and pawbably Penny's too), there wasn't much to sniff. Maybe it was too clean. Although my human appreciated the superb cleanliness, Penny and I were not exactly fans. We took a couple sniffs of the artificial grass and walked back to the door immediately, motioning to leave. No marks were left behind. Not even from an alpha dog like me who likes to mark it up.
Since I'm used to doing my business outside, I would only potty indoors if I could smell another dog's markings (which is a great strategy to train your dog to potty without a crate BTW). Hence, it led me to believe that the high level of sanitation sadly worked against its primary objective, which was to provide a relief area for dogs.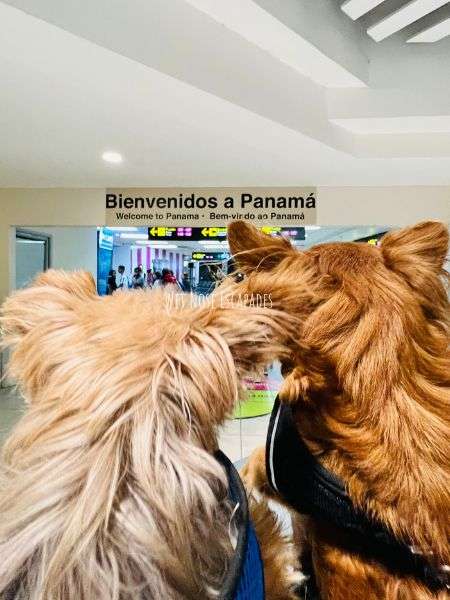 Quick Rundown:
LOCATION
Terminal 1, Second Floor (Central Zone)
PROS
*VERY clean
*Very well-maintained
*Looks new overall
*No stench
*Inviting, fun, colorful atmosphere
*Lockable for privacy
*Fully stocked poop bag station
*Has a chair for the human
CONS
* Long walk from Terminal 2
*Only one pet relief area inside the entire airport
*It's a small room with no outdoor access (unlike larger airports like LAX, which have post-security decently-sized outdoor relief areas)
*The superb cleanliness and lack of doggie scent may actually deter your dog from using it
So what should you do if your dog refuses to use the pet relief area, for whatever reason?
Well, you should always stay prepared for accidents.
Arf-ter over six years on the road, I can honestly bark that I've never had an accident on a plane. Nonetheless, my human is always ready for a swift and easy cleanup should I ever have an accident. Please remember to be empathetic if you catch your dog in action because he has either held it in for a long time or feels anxious or scared in the unfamiliar environment.
As my human always tells other dog pawrents, don't make a scene – have those poop bags and wipes ready and easily accessible to quickly clean up and move on. Yelling at your dog doesn't help since that only generates fear and confusion. As we all know, dogs learn best through positive reinforcement.
ARF yeah, it doesn't hurt to bring a pee pad (perhaps with another dog's marking). Sniff out more potty training tips and tricks here – #3 and #4.
WOOF, hope you enjoy listening to my honest barks about the Pet Relief Area at Tocumen Airport in Panama City! Did your dog have any pawblem using it? Feel free to share your experience with me. BARK AT ME!
Markin' it up,
Roger Wellington a.k.a. The Doob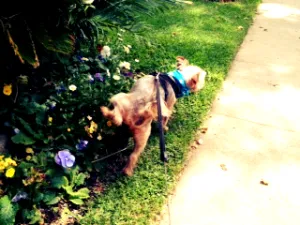 –
Like my post on "Pet Relief Area at Tocumen Airport in Panama City: A Yorkie's Honest Review"? CLICK TO PIN!