WOOF, wanna go to Pisa, Italy with your dog? Keep on sniffing!
Posted 5/13/21
Subscribe to my YouTube Channel: Wet Nose Escapades by Roger Wellington for fun dog travel videos!
Ciao tutti! ARF, did someone bark "Leaning Tower"? PAWS DOWN, my ears are perking up. As a former cultured Florentine dog, I feel I know Pisa like the back of my front paws! After all, it's only a little over an hour westward to get to the head-tiltin' Leaning Tower from my home in Florence. Due to uneven sand and clay foundations, Pisa's infamous bell tower started leaning during the construction phase in the 12th century. Internationally known for a crazy 4-degree lean, the Leaning Tower of Pisa measures 55.86 meters on one side and 56.67 meters on the other. And yet, this iconic engineering mistake is one bizarre attraction in hilly Tuscany that you must visit with your dog. Although dogs are NOT allowed inside the tower (GRRR), the city of Pisa still makes a delightful dog-friendly day trip from Florence. Just take a quick sniff below at what's it like going on a day trip to Pisa, Italy with your dog:
*Please note that this post contains
affiliate links
, and at no obligation or additional cost to you, my humans and I earn a small commission if you make a purchase. If you love the work that we do, you can show your support by making a purchase through an affiliate link. Proceeds will go towards
feeding homeless dogs (and cats) along with improving the lives of the neglected and abused
.
Dogs on Trains in Italy
Being a small dog weighing 7-8 lbs, I get to travel for FREE on trains throughout Italy. As long as I stay inside a carrier no bigger than 25.5x12x15.5 in. (although not always enforced), I'm free to hop from train to train with my humans. Heck, I'm even allowed to board first class! WOOF, this makes day trips from Florence to Pisa easy peasy.
Per the official Italia Rail website, you'll need your dog's E.U. Pet Passport OR dog registration certification and health card. All small animals (including cats) who fit inside the carrier dimensions can travel FOR FREE in first and second class while bigger dogs with a muzzle and leash can travel on Express, IC, and ICN trains in both first and second-class. During morning weekday rush hour between 7 and 9 am, you must purchase a second-class ticket for your bigger dog at a discounted rate of 50% of the original price. HOWEVER, after setting my tiny furry paws on countless train rides all over Italy, I can only bark that I've only seen bigger dogs on leash but not necessarily muzzled. And, I've never been asked for my E.U. Pet Passport. Regardless, you should always follow the rules as a visitor. However, if you somehow forget to muzzle your dog or bring your dog's passport, chances are you should be OK. 
Is Venice Dog-Friendly? Find out NOW!
Taking Your Dog to Pisa, Italy from Florence
With an upright tail, I crossed Ponte Santa Trinita and marched my furry butt over to S. Maria Novella Station, the closest train station from my home. Upon arrival at the train station, be sure to keep your distance from scammers who walk around offering to help you with the ticket machine (as they will attempt to take money from you later on). If you ever need help with your purchase, always seek an official train station employee. 
The cheapest one-way ticket is $10-11 USD (2021 price) if you don't upgrade to better seats. Since I travel for free, my humans only had to grab their tickets and OFF I GO! A little past the hour, I arrived at Pisa S. Rossore, the closest station to the Leaning Tower (you can also get off at Pisa Centrale and walk through the town before reaching the Leaning Tower). As expected, I snoozed effortlessly inside my carrier. Halfway into the ride, I took a breather by the window to enjoy the lovely Tuscany scenery.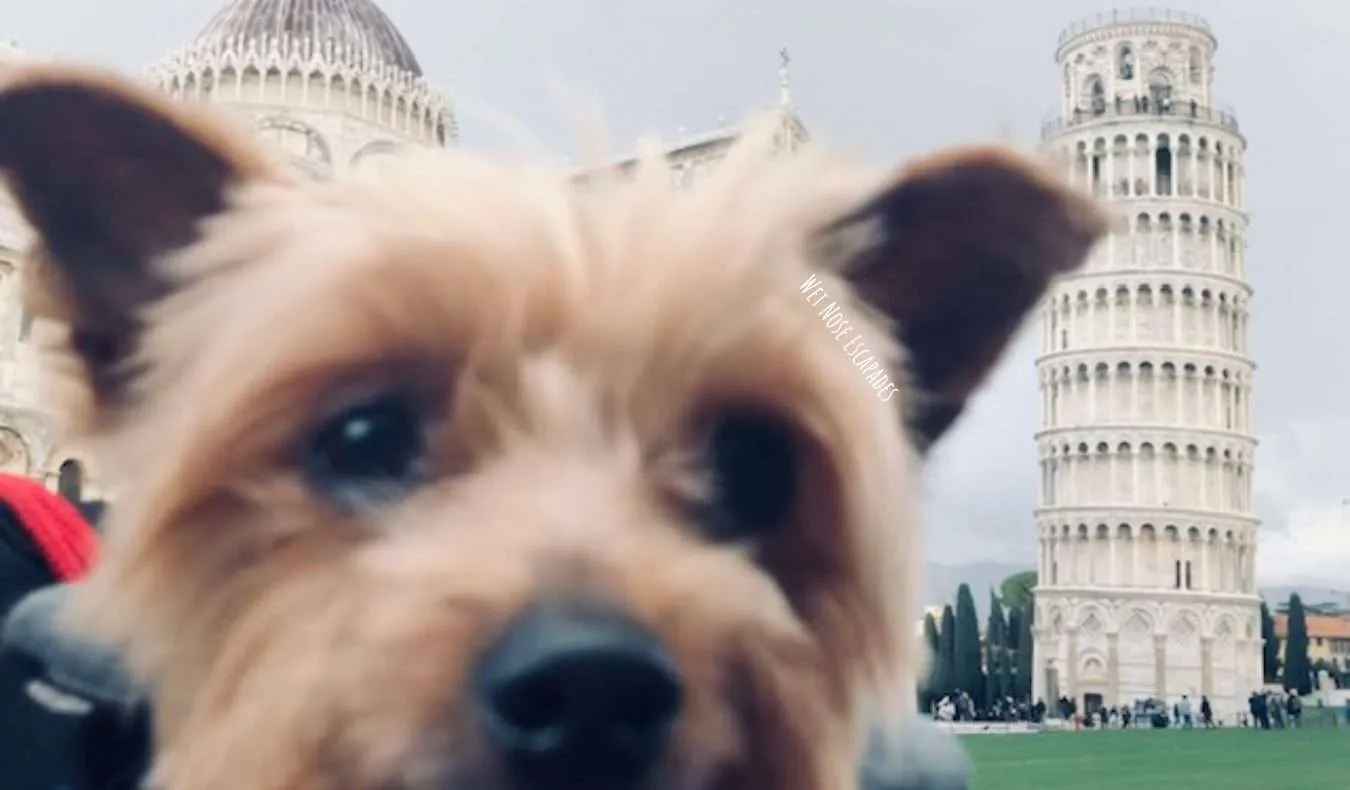 As soon as my furry paws made their way out of the train station, I led my humans to the intriguing Romanesque-style Leaning Tower! 
No joke, this circular white medieval marble bell tower is ARF-solutely leaning. It sure got my little Yorkie head tilting in confusion! 
The Leaning Tower is the third and final structure of the city's cathedral. Giovanni Di Simone, the original engineer, attempted to add new stories on the short side to even it out, but the extra stonework only made the tower sink deeper. I was quite ARF-mazed that the tower actually hasn't already "fallen" down to the other side after all these years. But my robust wet nose reported back that a substantial amount of work was done to straighten the tower to reduce the lean from 5.5 degrees (15 feet) to 4.0 degrees. In addition, a war between city-states paused the construction for almost a century, which pawsitively settled the tower's foundation.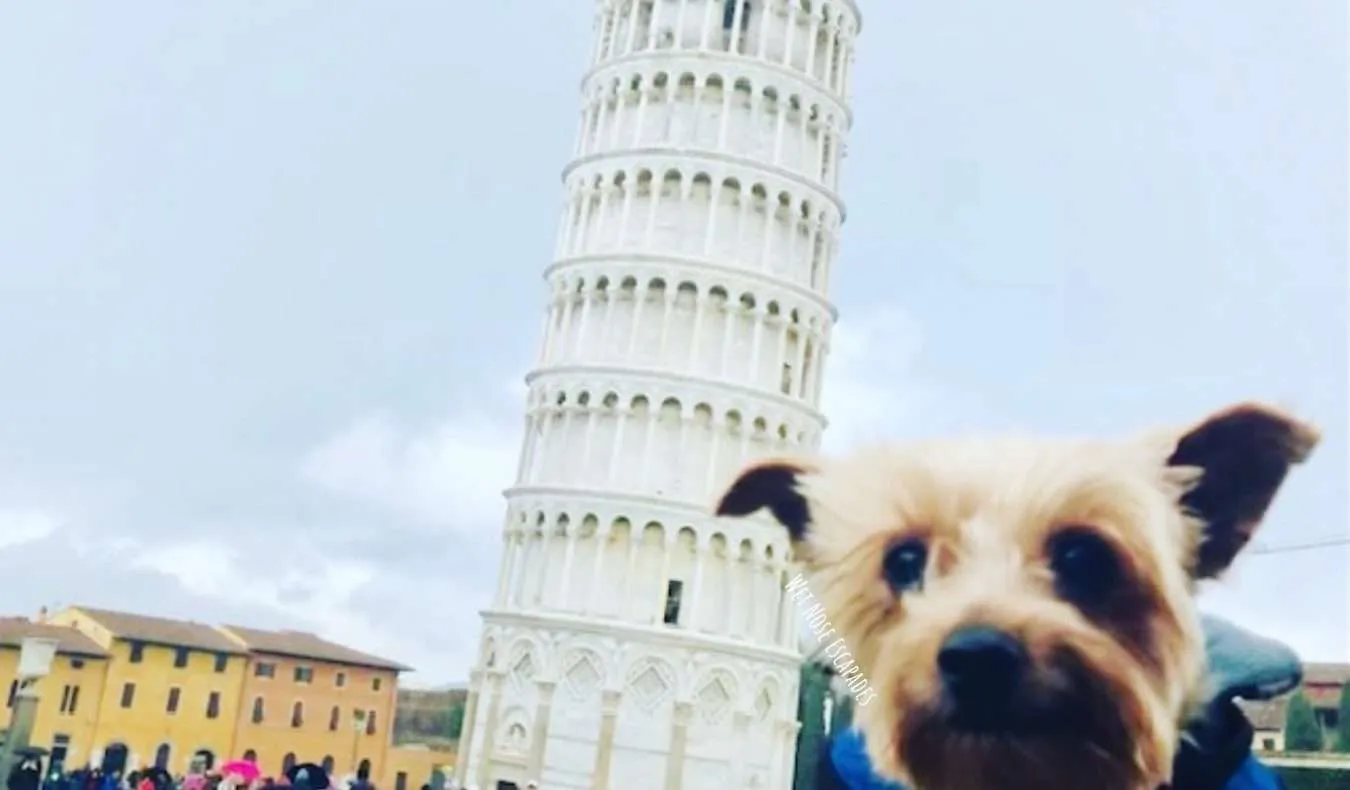 Again, dogs aren't allowed inside the bell tower but they're always welcome on the exterior grounds. While everyone tries to get creative and silly in their photos with the Leaning Tower, I only made a lazy attempt to lean on it. OK, not even. Since I'm way too impatient and bossy, my humans had to bribe me with lots of treats for a few good shots. GRR, I just hate staring at the camera unless there's an irresistible treat on it. 
Dog-friendly Attractions near the Leaning Tower 
Besides the infamous Leaning Tower, here are a few must-visit spots to explore and capture those dreamy Italian moments with your dog (the exterior grounds and facades, that is). Don't forget to pay your dog with delicious treats before and afterward. 
Square of Miracles (Campo dei Miracoli or Piazza del Duomo) – Originally called Piazza del Duomo, this 8.87-hectare must-sniff pristine green space is known as the square or field of MIRACLES. Away from the city center, this square is situated along the fortified walls. Although construction of the Duomo began in the 11th century, it wasn't completed until the 19th century when architect Alessandro Gherardesca made the finishing touches to this flawless square. Humans and dogs are often found relaxing on this spacious green lawn. Heck, I even chased some butts of a few furry Italian travelers here. *Be sure to pick up after your dog!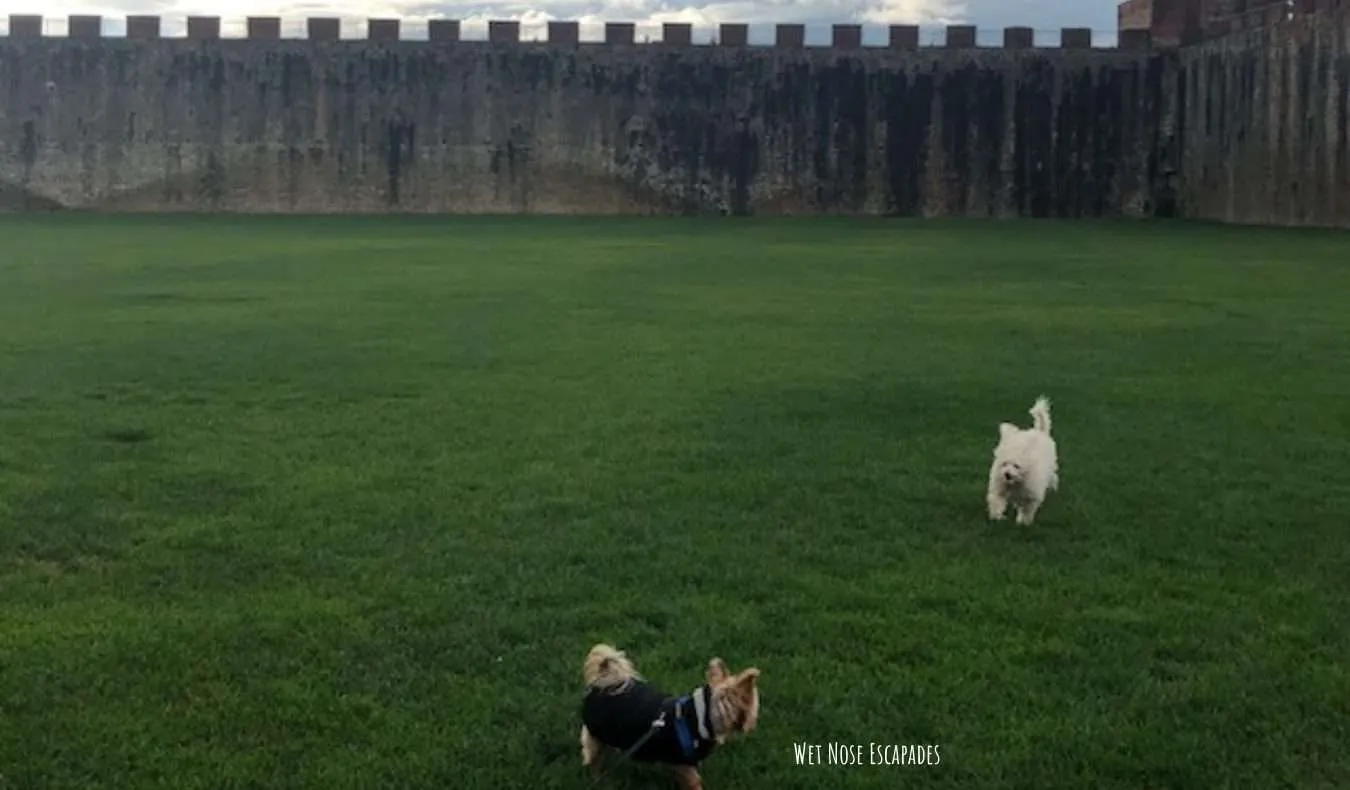 Medieval Walls – These are the oldest city walls in the country! Built to protect the cathedral and baptistery, these ancient yet well-preserved fortification walls with a 3-kilometer walkway are a MUST-SNIFF. 
Cathedral of Santa Maria a.k.a. Pisa Cathedral (Duomo di Pisa, Metropolitana Primaziale di Santa Maria Assunta) – With a rich history dating back to 1063, the Pisa Cathedral consists of classical, Lombard-Emilian, Byzantine, and Islamic styles and elements. As the Leaning Tower is technically the bell tower of the Cathedral, you and your dog can admire the intricate marble, mosaic, and bronze facades with the striking Leaning Tower in the backdrop.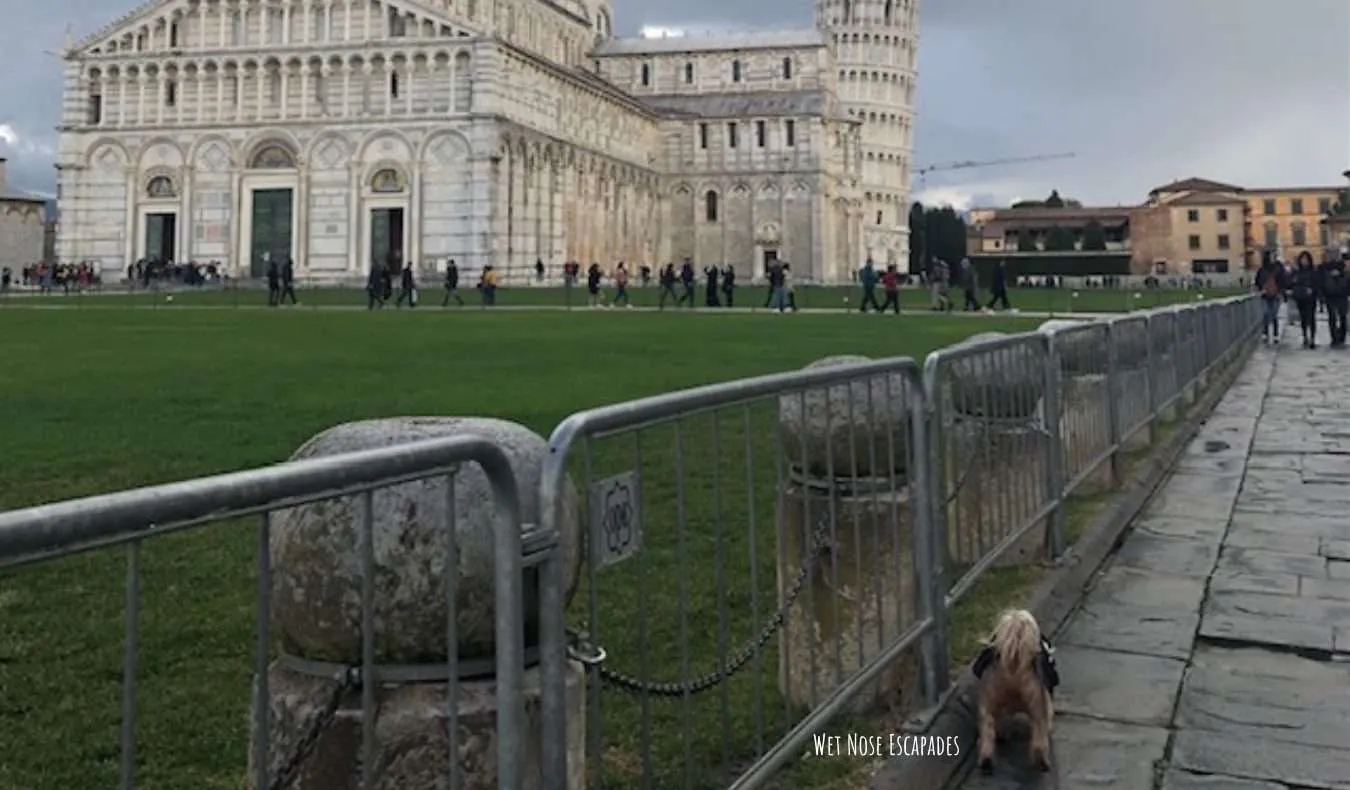 Pisa Baptistery of St. John (Battistero di San Giovanni) – WOOF, the Leaning Tower isn't the only structure that's leaning in Pisa! Built on the same ground as the Tower and Cathedral, this half-grey, half-red baptistery leans 0.6 degrees toward the Cathedral. Constructed in 1152, this Roman-Gothic marble baptistery was conceived to replace an older, deteriorating baptistery. Standing tall at 54.86 m high with a diameter of 34.13 m, this is the most ginormous baptistery in Italy. ARF!
More Dog-Friendly Activities in Pisa
After a thorough investigation of the Square of Miracles, I retired my nose and hit the ground running on all four paws to explore the rest of the town. Keep sniffing to see how else I made my mark in Pisa:
Mark up Piazza dei Cavalieri
WOOF, did I bark that Piazza dei Cavalieri is translated to Knights' Square? GRR, time to step into my brave Yorkie knight persona! Now, where is that beautiful furry princess of mine? 🙂
Known as the second main square in Pisa, Piazza dei Cavalieri was previously the center of the city's government affairs. Today, it serves as an educational center for Scuola Normale di Pisa. This bustling gigantic square offers a prime location for human and dog-watching. I tilted my fluffy head to the massive Palazzo della Carovana a.k.a. Palace of the Knights of St. Stephen, which has a stunning sgraffito facade with its contrasting colors. Other buildings in Piazza dei Cavalieri include two other palaces (Palazzo dell'Orologio and Palazzo del Consiglio dei Dodici), Church of Santo Stefano dei Cavalieri, Statue of Cosimo I, Muda Tower, and Canonica.
If you want to take your dog to a smaller, lesser-known square instead, be sure to sniff out Piazza delle Vettovaglie. Built during the 16th-century, this humbling square attracts mostly locals and is home to a daily food market, local watering holes, authentic osterias, and bakeries. 
Is Milan Dog-Friendly? Find out NOW!
Cross the Pontes a.k.a. Bridges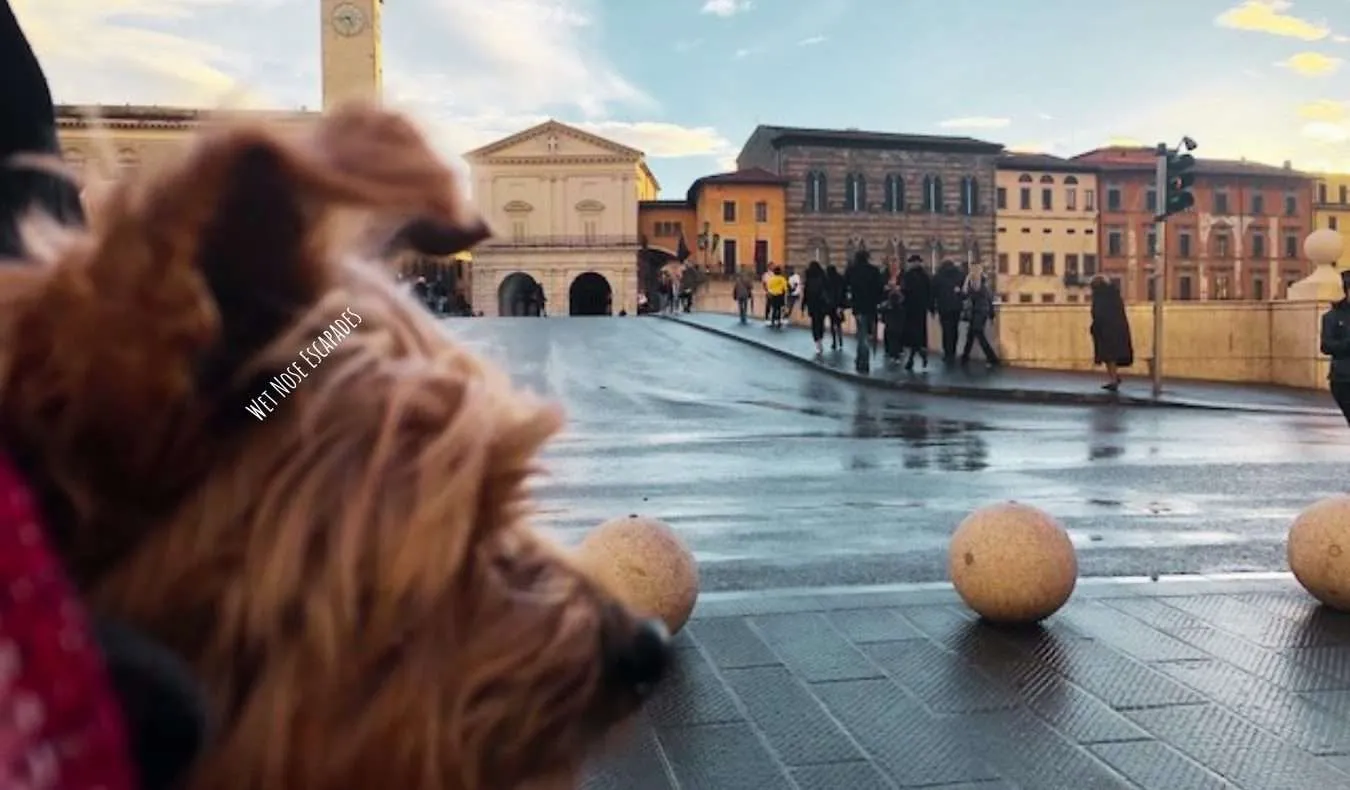 From Ponte di Mezzo to Ponte della Fortezza to Ponte Solferino, Pisa boasts various scenic bridges over the Arno River that are pawfect to stroll across or enjoy the Italian sunset with your dog. My favorite bridge to watch the sunset is Ponte di Mezzo, the ARF-so-charming 89-meter arch bridge that connects the old center of Pisa (e.g. Leaning Tower) to the new part with the main shopping street of Corso Italia (along with the central train station). WOOF, I just love taking in the gorgeous view of the calming riverbank with centuries-old colorful Italian homes on both sides. 
Explore along Corso Italia 
Considered the main commercial street in Pisa, Corso Italia is a buzzin' street filled with fashionable boutiques, designer shops, ristorantes, trattorias, osterias, gelaterias, and cafes. Given its wide walkway, this street makes a pawsome saunter with your dog. I'm not much of a shopper, but I sure love a good sniff of all the fascinating neo-gothic architecture on this pedestrian (or paws)-only street. 
Enjoy Aperitivo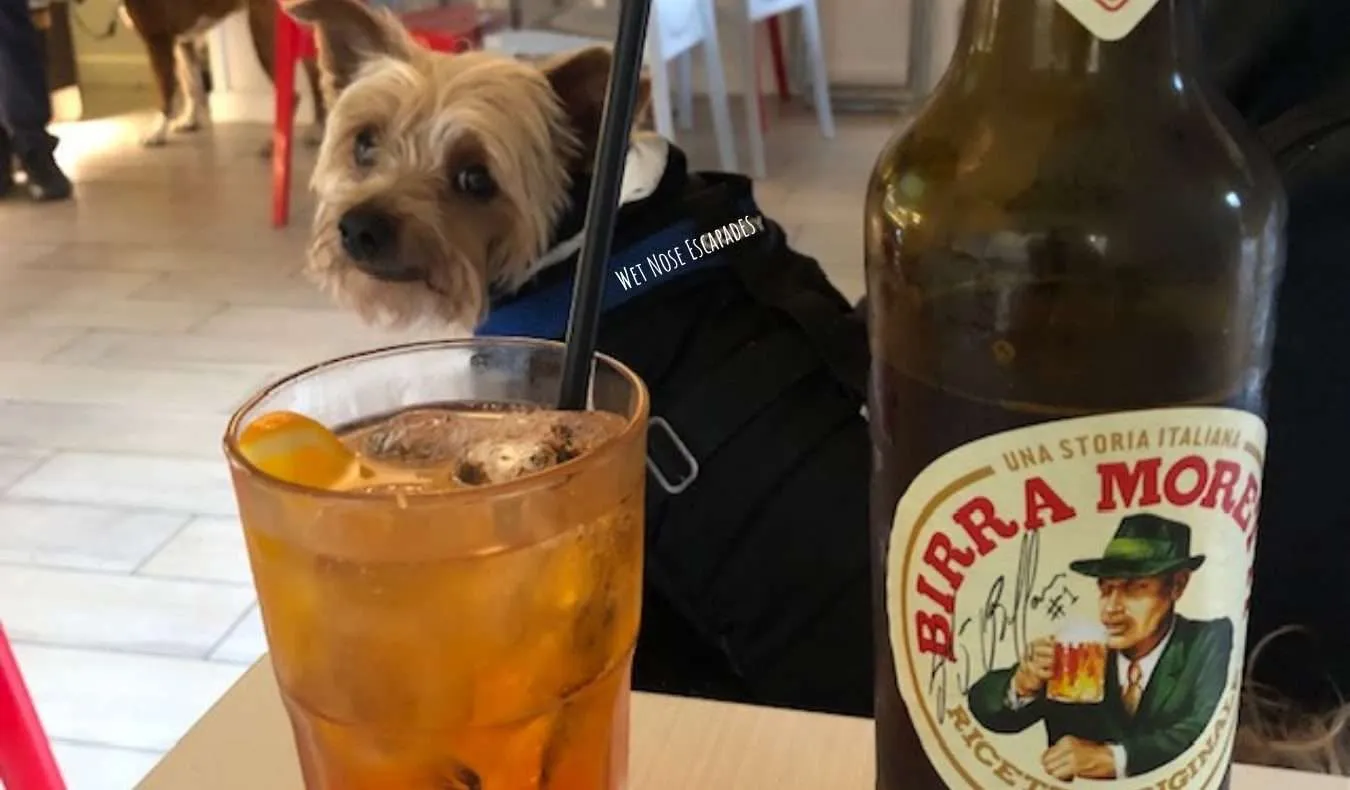 WOOF, finally it's time to take a break from all that walking and photo-snapping! I'm ready for APERITIVO TIME! 
Even though this fabulous Italian tradition originated in Northern Italy, aperitivo can be relished pretty much anywhere in the country. If you're new to Italy, you're probably tilting your head and asking, What the heck is aperitivo (or apéritif)? ARF, let me give you my softest barks! Aperitivo is a cocktail (or wine) with light snacks (typically finger foods) to warm up your appetite before dinner. Since the Italians tend to eat dinner late around 8 or 9 pm, aperitivo usually happens around 7 pm. Although it's a way to socialize after a long day at work, it's important to not confuse this Italian tradition with the happy hour that we are accustomed to in the U.S. With a history of intention to stimulate the appetite before a meal, aperitivo is perfected through careful convergence of bittersweet liquors like Aperol Spritz (my human's favorite drink) and salty finger foods. 
For an international foodie like me, it's hard not to stick my little wet nose in those sniff-worthy aperitivo lines. ARF, I must get my paws on those chops-lickin' olives, bruschetta, and crostini! Whether you go to a local or upscale aperitivo spot, you can take your dog with you! Unlike the U.S., dogs are allowed INSIDE restaurants and bars in Italy. Come to think of it, after several years of living and traveling throughout the country, I was denied once and only once – at an upscale touristy restaurant in Rome. 
Get my 8 tips on how to dine with your dog!
*As dogs are pack animals who'd LOVE to experience meals with you, don't forget to pack a bag of treats, dog-safe food, bottled water, and to-go bowls for your dog! Don't make your dog feel left out.
After filling up my tummy with a good ol' 5-course Italian dinner post-aperitivo, I decided that it was time to head home. My tiny furry paws marched over to the Pisa Centrale station and boarded the next train back to Florence. And, can you guess that I slept the whole train ride home?
WOOF, hope you enjoy your day trip to Pisa, Italy with your dog! Feel free to share your experience with me – BARK AT ME!
Markin' it up,
Roger Wellington a.k.a. The Doob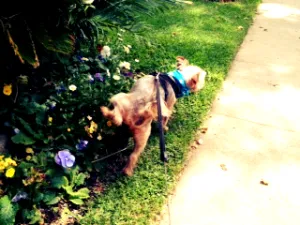 Like my post "Day Trip to Pisa, Italy with Your Dog"? PIN IT!