WOOF, wanna know what it's like living in Playa Del Carmen with a DOG? ARF-ter spending three months bummin' it up on white sandy beaches and stuffing my little Yorkie mouth with tacos, sniff out what I have to bark about the dog culture in Playa so far!
Posted 11/30/22, Last Updated 7/28/23
Watch me and Penny reunite in Playa del Carmen arf-ter months of separation:
Playa del Carmen (or Playa, as locals bark) almost needs no introductory barks. Maybe it's because it feels almost like the U.S., except you're really in Mexico. In this beautiful resort town nestled in the Yucatán Peninsula's Mayan Riviera on the Caribbean Coast, Americans are pretty much impawsible to avoid. Besides being a pawpular place to retire, many Americans (along with Europeans) flock to this pawradise just 40 mins south of Cancun every year. And, some may never leave, as illustrated in the strong presence of expats – AWOOO, just an estimated 186,000 expats live here full and part-time.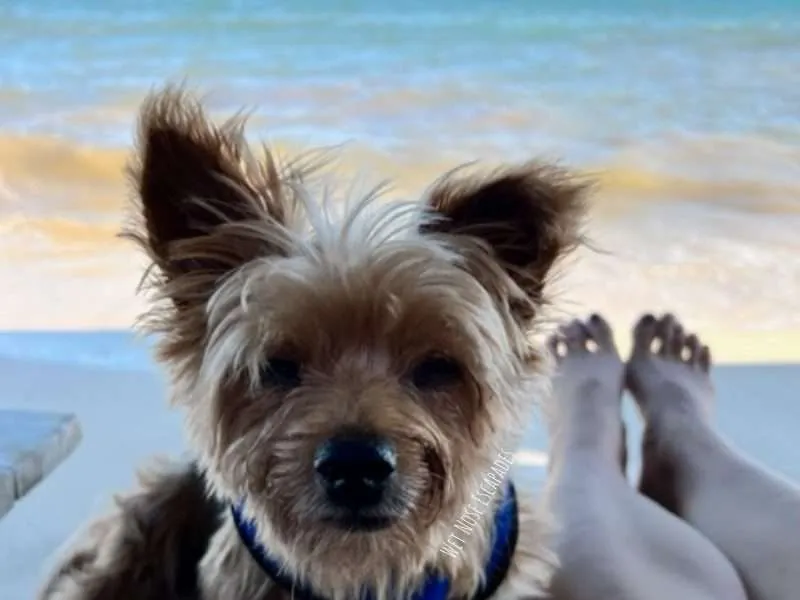 Thanks to Playa's gorgeous beaches, vibrant nightlife, a wide range of exciting dining options (from classy eateries to local joints), proximity to the U.S., and most impawtantly, affordability, it has become a prime destination for vacationers, spring breakers, and retirees. It's so American here that there's even a Walmart! And, those who come here to live or play (whether short-term or long-term) tend to bring their dogs along.
But, how dog-friendly is Playa? And, what is it like living in Playa del Carmen with a dog?
ARF, my tail is wagging as I bark that life in Playa del Carmen with a dog is pretty good, generally barking. Since Playa del Carmen lies in the wealthy state of Quintana Roo, I was NOT surprised to sniff out pampered dogs getting their paws sandy and roaming the streets of the arf-so-touristy 5th Avenue (Quinta Avenida), the beachtown's main thoroughfare.
Eating out on 5th Avenue or Downtown/Centro with your dog is rarely difficult since most restaurants offer dog-friendly seating right in front or inside the partial alfresco dining space.
However, I would bark that only a paw-ful of places have offered me a water bowl. It wasn't too big of a deal since my human always packs a bottle of water for me anyway since tap water in Mexico is not safe to drink, but I am always on the sniff-out for "dog-friendly" establishments as opposed to "dog-tolerant." Plus, some of those dog bowls provided tend to look extremely dirty or rusty, which is a big NO-NO for my sensitive Yorkie tummy. ARF-ter wining and dining at many of the restaurants in Downtown/Centro, below is a list of the barkworthy ones that took the initiative to welcome me with open paws.
Dog-friendly Restaurants in Playa
Thompson Hotel (Calle 12 entre 5ta Ave. y 10 S/N, Centro) – If you are seeking a Vegas dayclub-ish ambiance on the Caribbean Coast, Thompson Hotel is the place to lay down and post up poolside with your dog. It sets off a supaw posh and loungey vibe with a live DJ, stunning views, and relatively overpriced (but worth the head-tiltin' views) drinks & food at three rooftop establishments – Alessia, Alessia Rooftop Dayclub, & Cinco. My favorite is Cinco, where I'm always treated with dignity and served a fresh water bowl by the attentive staff.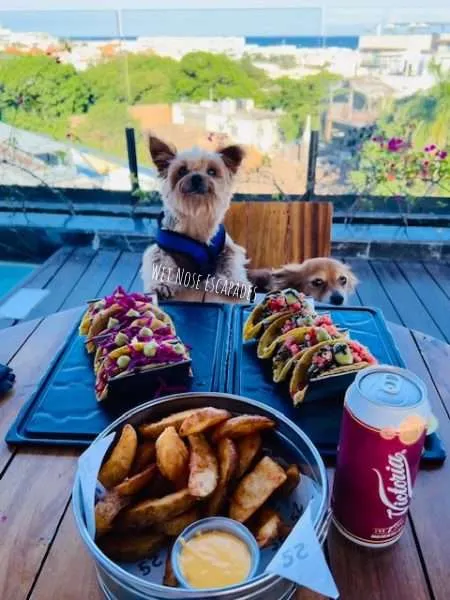 Trattoria Del Centro (Calle 26, entre Avenida 10 y Avenida 5) – The staff of this rustic Italian restaurant provided me and Penny with a bowl (made from a to-go box) with filtered water right off the bat. And, that ARF-ter they welcomed us inside the restaurant, which boasts a partially open-air design. PAWS DOWN, my humans and I became instant fans of their veggie and seafood pizzas. They also have live music in the evening, making for a fun evening out!
Señor Frogs (Plaza Marina/Quinta Avenida 5) – Yes, it's a tourist trap, but a trip to Mexico is not the same without getting your groove on at this pawpular chain – arf, at least once! Although you pay the price here to pawty it up with the dancin' Frog staff, it's always a tail-waggin', uplifting experience. Not to bark, they've designed the cutest little dog bowls just for furry patrons. There are two locations in Playa – one by the Marina (where you would hop on a ferry to Cozumel) and another on 5th Avenue.
La Vagabunda (5ta Av entre 24 Y 26, 5 Av. Nte., Centro) – Serving "Mexican food with a twist," La Vagabunda is one of our go-to SPAWTS for live music (woof, my human #2 loved Mr. Rojo's music). Make sure to sit in the back so the music doesn't get too loud for your dog. On all my visits, the staff never failed to bring out a clean dog bowl of water or ask if I wanted some.
Zenzi (Calle 10 y la Playa, Centro) – Although I didn't have a good final outing here, Zenzi was my go-to SPAWT for daily live music, iced cold beer, and mouthwatering fish/shrimp tacos during most of my stay. Even though I was never ever offered a water bowl, I would still bark that I had a tail-waggin' experience overall. Many staff members would greet me and didn't complain when I sat my furry butt on the chair. However, the manager never looked friendly, but it seemed like he would tolerate dogs for the sake of profit.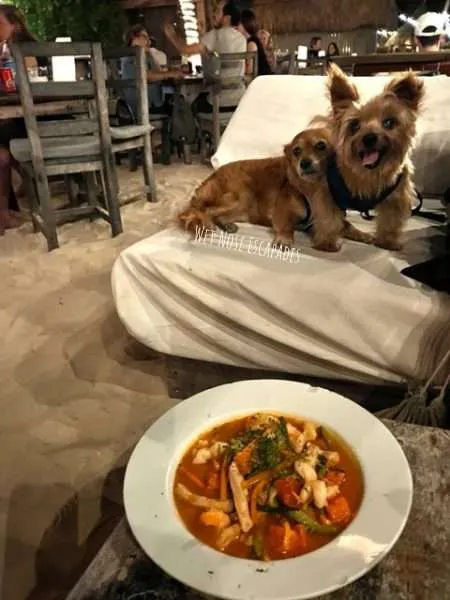 100% Natural (5°Av. Mza. 28 #209-1, entre 10 y 12, Centro) – This healthy food joint was supaw quick to serve me a bowl of water even though my human already put one down! Although my human #1 wasn't impressed by her vegan tacos, my human #2 happily bragged about his chicken plate, which I snatched a bite with my anaconda neck.
As dogs are pack animals who'd LOVE to experience meals with you, don't forget to pack a bag of treats, dog-safe food, bottled water, and to-go bowls for your dog! Don't make your dog feel left out.
Dog-friendly Beaches in Playa
As for the beaches here, most are technically NOT dog-friendly as indicated with signs (and threats of hefty fines). BUT the truth is that hardly anyone follows the rules, including locals; hence, it's common to see dogs frolicking on the sand. The presence of the military, national guard, and police (+ sadly, overworked and blatantly abused narcotics dogs) is uber strong in the touristy areas. It's pawbably the most armed protection my humans have ever seen while traveling (and they've been around the block), and yet, all the authorities seem indifferent when it comes to dogs walking on the beach. Put a furry paw here to help make the beaches at Playa Del Carmen officially dog-friendly.
With that barked, restaurants operating as day clubs (servicing lounge chairs at the beachfront) tend to be very strict with having dogs on the beach. They've advised us that it's a governmental ordinance that forbids dogs to be on the sand. Hence, your dog must technically sit on your lap or arms OR the lounge chair – given that the restaurant doesn't have a pawblem. Although we would only go to the ones that were OK with my furry butt on the chairs, my humans always bring along an oversized shirt or thin blanket for my comfort (but I would prefer to sleep on the sand.
Beach days can be fun, but it's impawtant to keep your dog safe from hot sand since it can burn paws. GRRR, no ouchie for me por favor! Spending too much time in the heat and sun can also be dangerous for your dog – that's right, dogs can get painful sunburns and skin cancer. And, arf course, your dog should have access to fresh water at all times.
Also, don't forget to keep sand out of your dog's eyes as much as pawsible. I'm guilty of loving a good nap directly on the sand. As a matter of bark, I'm always walking away from the beach towel and jumping off the lounge chair. If you see sand in or around your dog's eyes, be sure to NOT let him scratch or rub his eyes because it can cause a painful infection or cornea scratch.
Don't use your fingers to remove sand from your dog's eyes – it can do more harm than good. The best way is to let water (NOT salt water, arf course) gently run through his eyes and/or squirt a few drops of saline solution into his eyes until the sand is completely rinsed out. Consult a veterinarian if necessary.
Day trips to Cancun and Cozumel with your dog are easy peasy from Playa!
Traveling from Playa to Cancun with a dog
For your dog's sake, I would avoid going to Cancun by bus or shuttle. There is Ado bus, a straight shot from Playa to Cancun Airport and is the cheapest way to go back and forth between these two cities. However, Ado bus is NOT dog-friendly as I sniffed that it only allows dogs in the baggage compartment, which sounds like a death sentence. It's a great option – for humans only.
Although private transfers are costly, they are the safest option to get to and from these two cities. With a private transfer, it's a seamless process where you can definitely bring your dog along! Penny and I have used USA Transfers 4x to go between Cancun and Playa without any pawblems. However, I would keep your dog inside a carrier – at least in the beginning of the ride, but most drivers are friendly and speak English. A one-way trip will cost 75 USD, NOT including gratuity (which is expected from Americans).
Besides Cancun, you can also use a private transfer to Tulum with your dog, which is just an hour south of Playa along the Caribbean Coast.
Another option is to try to Uber from Cancun to Playa, but the pawblem is that cars are very limited in Cancun so expect to get canceled a few times before getting picked up. Uber drivers in Cancun are prohibited from picking passengers up from the Hotel Zone and will ask if any taxis are around before the pickup. With that barked, we were still able to successfully get around via Uber in Cancun even though it took a lot of time to find a driver who wouldn't cancel. None of our drivers had an issue with me riding in their car, even when I was outside the carrier.
The flip side is that even if you make it to Playa via Uber, you cannot get back to Cancun the same way. GRR, this is due to the fact that Uber cannot currently operate in Playa, which is a real bummer for us Americans who are used to this convenient rideshare service.
Another way is to rent a car, in which there is a plethora of rental car agencies at Cancun Airport or Hotel Zone. Please research the rental policy to ensure that dogs are allowed inside the car to avoid potential penalty fees.
From Cancun, you can hop on a dog-friendly ferry to the famous Isla Mujeres.
Traveling from Playa to Cozumel with a dog
Like Isla Mujeres, hopping on a ferry is the best way to get to Cozumel with a dog. I've ridden on Ultramar and Winjet, the two major ferry companies, and the journeys were smooth. However, I would bark that Ultramar is a better option for dogs compared to Winjet, whose staff was more strict on enforcing the dog in carrier rule.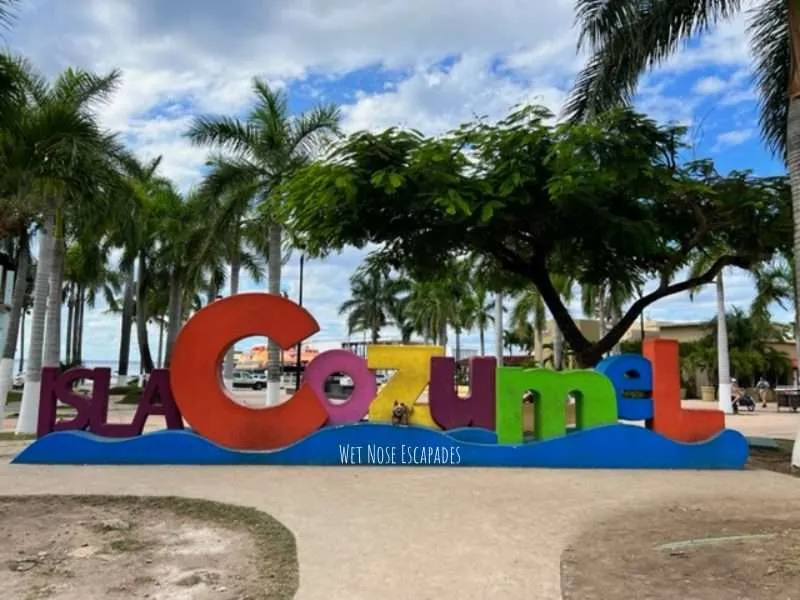 At Ultramar, my human carried me onboard without any questions. You either book online in advance or order tickets right then and there. On both ferries, I sniffed out dog-designated seating but would rather sit elsewhere with my humans.
Sniff out my guide to visiting Cozumel with a DOG.
Veterinarians in Playa
With the high concentration of expats here, English-speaking vets are ubiquitous. My human even found a compassionate veterinarian who speaks pawfect English and does house calls, which makes things supaw convenient. Besides Google search, the easiest way to sniff a good, reliable English-speaking vet in Playa is to connect with other expats on FB groups like Friendly Expats in Playa and Animal Lovers Playa del Carmen. And yet, that was how my human found mine to obtain the vet health certificate to travel to South America.
The "OTHER" Dogs in Playa
Sadly, it's not all fun and games for dogs in Playa. With strays roaming around, Playa can be heartbreaking for dog lovers. Many are malnourished, infested with fleas, apparently mistreated, and desperately looking for a home. It's not uncommon to see stray dogs follow tourists around on 5th Avenue, in hopes of finding a family or getting a bite of table food.
During our time here, my human spent a great deal of time feeding strays in Downtown/Centro and reaching out to local rescue organizations (which didn't always respond, unfortunately). It is common for people to dump unwanted dogs in Downtown/Centro where trash (or "food") is plentiful due to all the restaurants catering to tourists.
We came across one particular stray who was newly homeless based on the cleanliness of her coat and healthy-looking body. Due to her sweet demeanor, she received affection and food from dog lovers walking and dining on the streets. She had to navigate through hundreds, if not thousands, of pedestrians and cars. 🙁
Unlike many rescue organizations back in the States that only accept volunteers who can commit for at least six months, the shelters here would love any help they can get with walking rescued dogs. For instance, CEBIAM Sanctuary is one pawsome organization that welcomes volunteers to book a walking session with their dogs. Even if you don't adopt a dog, you can still make a difference in their lives.
In addition to strays, neglected and lonely outdoor guard dogs are found all over Playa. Although they technically have a home, they definitely don't have a loving home and deserve so much more. My stylish tail lowered as we walked past guard dogs living in filth without shelter, shade, or access to water. It was no mystery why they barked up a storm day and night to get some attention.
As if the stray and guard dog situation wasn't bad enough in Playa, the mistreatment of police dogs is astounding. A common upsetting sight on 5th Avenue is the sniffer dogs, trained to locate narcotics. They pant heavily and tiredly while being aggressively yanked by their handlers. It is rarely a comforting sight to witness these overworked, mistreated dogs in action. And yet, if this is acceptable in public, can you imagine what goes on behind closed doors?
BAD Advice from a BAD Human
On one morning walk around Downtown/Centro, we encountered a despicable local who gave some sick advice to my human. As the bossy 7 lb. Yorkie pack leader, I am a bit stubborn on walks as I like to take charge.
Seeing how determined I was to get my way on walks, this middle-aged Mexican man who worked at a tour vendor exclaimed to my human, "You need to HIT them to get them to listen!"
Disturbed and disgusted by his ignorant advice, my human fired back, "You should NEVER hit dogs! It's WRONG!"
The man simply laughed in response and then returned to his listless chatter with his coworkers. GRRR.
Now, with that barked, most of the locals I've come across are either dog-indifferent or dog-loving.
The WEATHER in Playa – NOT so dog-friendly
Playa is pretty much warm (and humid) year-round, making it appealing as a vacation SPAWT throughout the entire year. The downside is that the weather is NOT so appealing for dogs who tend to suffer in high humidity. The coolest month is in January, and even so, the high can be in the low 80s Fahrenheit. ARF-my-DOG! If you have a senior dog like me, you must keep him safe and cool inside with the AC running when it's hot outside. Go on walks when the temperatures are tolerable – in the morning and evening.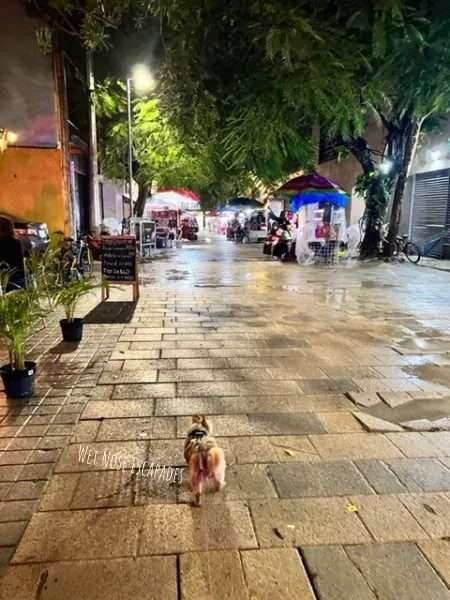 Also, avoid walking your dog during sunrise and sunset hours when mosquitoes are most active. Unfortunately, the high level of humidity creates a pawfect environment for mosquitoes to thrive in Playa. If you haven't already done so, it's impawtant for your dog to get on a monthly heartworm preventative for protection. Consult your veterinarian for more information.
This is particularly challenging for a Yorkie with collapsed trachea like myself.
The Water in Playa – BEWARE!
Like the rest of Mexico, tap water is NOT safe to drink in Playa. It's the truth – even locals drink bottled water. Gigantic water jugs are sold at every single market. If your dog is used to drinking filtered or bottled water back home, chances are his digestive system may not tolerate Mexico's notoriously contaminated water. If a restaurant provides water to your dog, politely ask if it's filtered or bottled before allowing your dog to get a sip. To be on the safe side, it's a better idea to simply pack a bottle of water and a to-go bowl (don't forget dog-safe goodies!) whenever you're eating out with your dog. The last thing you want to do is to rush your dog to the Animal ER!
Dog-friendly Housing in Playa
While it's not too challenging to find dog-friendly accommodations here, you should expect to pay a fee for your dog's stay, either a one-time flat fee or daily charge. Bear in mind that once you check the "pet-friendly" filter on your booking app, most of the affordable options will disappear, leaving you with some slim pickings in the prime location of Downtown/Centro. Also, beware of housing scams on Facebook!
WOOF, hope you enjoy sniffing out what it's like living in Playa del Carmen with a dog! Feel free to share your experience with me. BARK AT ME!
Markin' it up,
Roger Wellington a.k.a. The Doob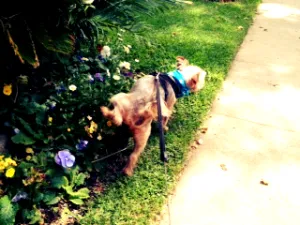 Like my post "What it's like living in Playa del Carmen, Mexico with a DOG"? CLICK TO PIN!