Wanna find out what precautions to take with your dog during a coronavirus (COVID-19) lockdown? READ ON NOW…
It's a strange feeling in the city of Barcelona…
ARF, ARF! It's official – I'm an American dog living in Spain during the coronavirus (COVID-19) lockdown, which started on Saturday, March 14, 2020. Spain is currently the MOST infected European country after Italy, which has already been in a lockdown for weeks prior. With Europe being the "new epicenter" of the coronavirus (COVID-19) outbreak, Spain imposed a nationwide lockdown to curb the number of infections. With a US travel ban to Europe in place for 30 days, my pack and I ultimately decided to stay put and stick it out instead of traveling back home and hassle with the extra screenings and self-quarantines (especially with ME in the mix). With the coronavirus (COVID-19) lockdown in place, everything has shut down except for grocery stores, pharmacies, and a few food spots offering takeaway (para llevar). The Spanish government has urged people to confine to their homes to avoid further spread of the virus.
So, what are my humans and I doing during this coronavirus (COVID-19) lockdown, especially since I am a physically and socially active dog? Find out how I did during my first 5 days of lockdown HERE.
Read on to find out 11 precautions to take with your dog during a coronavirus (COVID-19) lockdown! If you're looking for things to do with your dog INDOORS during a coronavirus (COVID-19) lockdown, put your furry paw HERE.
4/28/20 Update: Based on the data available, it doesn't appear that dogs and cats can spread COVID-19 to humans so there is no need to panic or abandon your pets. The overall risk remains LOW. There have been several cases of human-to-animal transmission, but the "infected" pets only exhibited mild symptoms, if any. Nevertheless, the Centers for Disease Control and Prevention AND World Health Organization recommend good hygiene when handling your pet. 
WOOF, here are 11 precautions to take with your DOG during a coronavirus (COVID-19) lockdown:
#1 Cut the walk time
Here in Spain (along with Italy and the States), people are still allowed to take their dogs out to do their business during the coronavirus (COVID-19) lockdown. However, as people are urged to confine to their homes, it's safer to cut down the time outside with your dog. GRRR, this has been very hard for me as I love my long investigative walks. For the safety of my humans, I must adjust somehow in the upcoming days.
#2 Take walks during off-peak hours
One of the easiest precautions to take with your dog during a coronavirus (COVID-19) lockdown! Fewer people around = fewer chances of catching or spreading the coronavirus (COVID-19) or any virus. My humans started walking me earlier in the morning and later in the evening to avoid people on the streets.
Do Dogs Really Love Their Crates? Dog Crate Misconceptions Debunked
#3 Go to less congested areas
Forget the dog parks or busy streets. To avoid people, find less congested areas or parks to take your dog.
#4
Socialize less and from a distance
GRRR another tough one because I am quite the ladies man. I LOVE to sniff out every dog I come across. During this lockdown, I am socializing less with dogs as people are taking precautions by keeping their distance. My humans must maintain 2 meters or 6 feet distance from other humans to avoid possible contagion, which means quicker butt sniff outs for me and my furry pals. 🙁
4/28/20 Update:
After recent news of several domestic cats and zoo tigers in New York tested positive for COVID-19, the CDC has revised its guidelines for pet dogs and cats to practice social distancing as well. Dog parks and public places where there is a large number of people and dogs should also be avoided. About a week after the release of new guidelines, a pug in North Carolina is the first dog to test positive in the States. However, all instances appear to be human-to-animal transmissions; the good news is that the "infected" animals only experienced mild symptoms and are expected to make full recovery.
Updated CDC guidelines:
Do not let pets interact with people or other animals outside the household.
Keep cats indoors when possible to prevent them from interacting with other animals or people.
Walk dogs on a leash, maintaining at least 6 feet (2 meters) from other people and animals.
Avoid dog parks or public places where a large number of people and dogs gather.
Read 8 Tips on Social Distancing with Your Dog!
#5
Bring hand sanitizer with you
Even if you're not walking your dog, you should have a bottle of hand sanitizer to clean your hands while you're outdoor, in case water and soap are not available.
#6 Never touch your face during a walk or after touching your dog  
OK I'm not setting a good example here, but JUST DON'T DO IT. BRING POCKET TISSUE with you in case you have a cough, sneeze, or perhaps a face itch during your time outside. 
#7 Clean your hands immediately after every walk
According to top health officials, clean hands are your best bet to fight the coronavirus (COVID-19)! As soon as my humans return home from our walk, they wash their hands with soap thoroughly for 20 seconds. They also make sure their hands are completely dry before touching anything else.
#8 Disinfect the leash and harness after every walk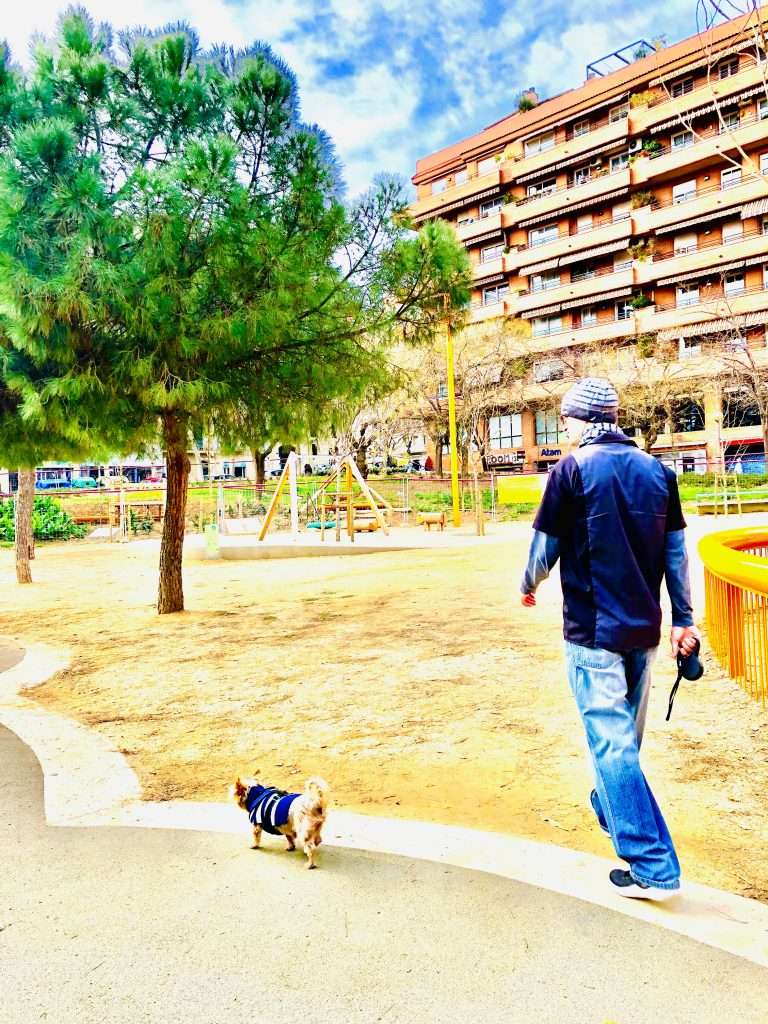 Just as you are disinfecting your everyday personal items and surfaces during this outbreak, you should also regularly disinfect your dog's leash, harness, and other everyday items. 
#9 NEVER use human cleaning products on dogs 
It's extremely dangerous to use products made for humans on pets! Please do NOT put hand sanitizer, rubbing alcohol, hand wipes, shampoo, Lysol wipes, household cleaners, etc. on your dog or cat. 
If you want to clean your dog after a walk, please use wipes or sprays that are made ONLY for dogs.
#10 Do NOT over-bathe your dog
Always follow your veterinarian's guidelines on how often you should be bathing your dog (as frequency can vary based on your dog's condition). It may be tempting to wash your dog after every single walk, but this will do more harm than good. Overbathing can dry out their skin and cause allergic reactions or skin irritations. Remember, dogs and cats CANNOT be infected with coronavirus (COVID-19) nor can they spread the virus to you. The best thing you can do is to just wash your hands after touching them! 
#11 NEVER cough, sneeze, or spit on your dog
Do I need to bark more? That's just disturbing and disgusting! And, sorry – no kisses either (as loving as they are)!
*If you are or could be sick with coronavirus (COVID-19), please restrict contact with your pets immediately and have someone you trust to look after them.
Hope you stay safe with these 11 precautions to take with your dog during a coronavirus (COVID-19) lockdown! Sniff out my funny video illustrating 8 ways you can stay busy with your dog HERE!
And, don't forget to watch me show appreciation to Spain's healthcare workers below:
Markin' it up,
Roger Wellington a.k.a. The Doob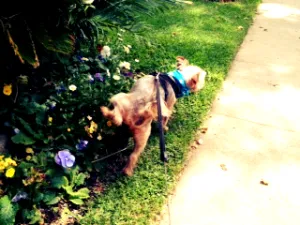 Like my post on "
11 Precautions to take with your DOG during a coronavirus (COVID-19) LOCKDOWN"? PIN IT!