ARF, what's a pup patty from In-N-Out? Should you get one for your dog? Is it FREE? Sniff out everything you need to know!
Posted 1/8/22
As the world-traveling Yorkie, I've licked my chops to some mouthwatering goodies from all over the world. From savory crepes in France to hearty poutine in Canada to refreshing gemistas in Greece to succulent goulash in Hungary, I've become quite the international foodie. My anaconda neck has even gone in for a slurp of a bowl of hand-made Japanese udon. Mmmm mmm. For over five years, my furry paws have hopped on over 50 flights and countless trains (only with a brief pause during the pandemic), which can only mean I've gotten a lick or two of some of the yummiest dishes out there.
Regardless of where I've left my alpha mark over the years, my robust wet nose will always lead me back to an In-N-Out whenever I rest my furry paws back home in California. WOOF, I love In-N-Out! Although my humans don't eat much meat in general, they love taking me to In-N-Out. I mean, what kind of dog would pass up on such an irresistible, meaty scent detected by their ARF-so-sensitive nose from miles away? Founded in Baldwin Park (in Southern California) back in 1948, In-N-Out now has a jaw-droppin' 358 locations (as of January 2022) across the U.S. with plenty of imitators and knockoffs globally. 
Besides the usual dog-friendly tables outside with solid red umbrellas, the best part about In-N-Out is that humans can order something for their dogs. Arf-ter all, dogs are pack animals who love to enjoy meals with their humans. GRRR, no dog wants to feel left out! It drives me crazy when people take their dogs out to restaurants only to make them "lay down" quietly under the table. That doesn't sound fun to me! ARF course, I'm not implying that you should feed your restaurant meal to your dog as not all human food is dog-safe, BUT packing treats, bones, and dog food is the way to go. Now, luckily at In-N-Out, you can order your dog a tasty pup patty instead of packing goodies from home. Keep on sniffing for my ultimate review:
OK, so a "Pup Patty" is essentially an unsalted burger patty at In-N-Out. While you can refer to it as a "pup patty" when ordering, the receipt will indicate "unsalted patty."
My Taste Test: 10 out of 10! AWOOO, can anything be tastier than a pup patty? I don't know how those guys do it, but they sure cook up some ARF-mazing beef (it's supposed to be 100% ground beef, that is). Can anything smell better than a pup patty? Just the dreamy aroma is enough to make me jump onto my human and demand a bite! Just drop the whole juicy thing down, and I'll gladly rip it apart with my few remaining teeth. Watch me take my first few licks!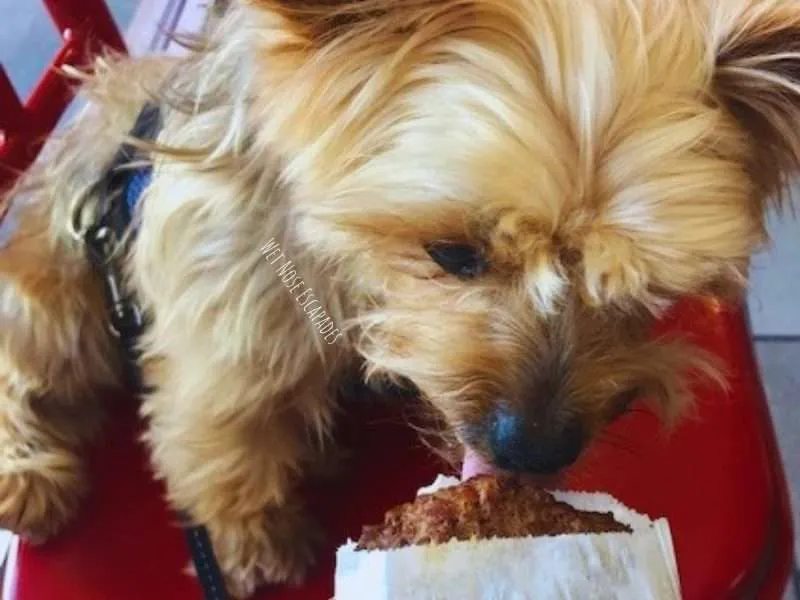 The PROS: It's no surprise that the pup patty is utterly delicious for both humans and dogs. PAWS DOWN, your dog will LOVE it and want to gobble down the entire thing in seconds. I know I do! I can't stop staring it down and attempting to will it to my mouth (don't worry, I get my wish every single time). Your dog will find it super-duper toothsome and chops-lickin'. Whether you and your furry diner grab it on the go or eat outdoors, In-N-Out makes for a pawsome dog-friendly outing! Time to pawty! And, because it's unsalted, the pup patty is generally safe for your dog to consume – well, in moderation like an occasional treat.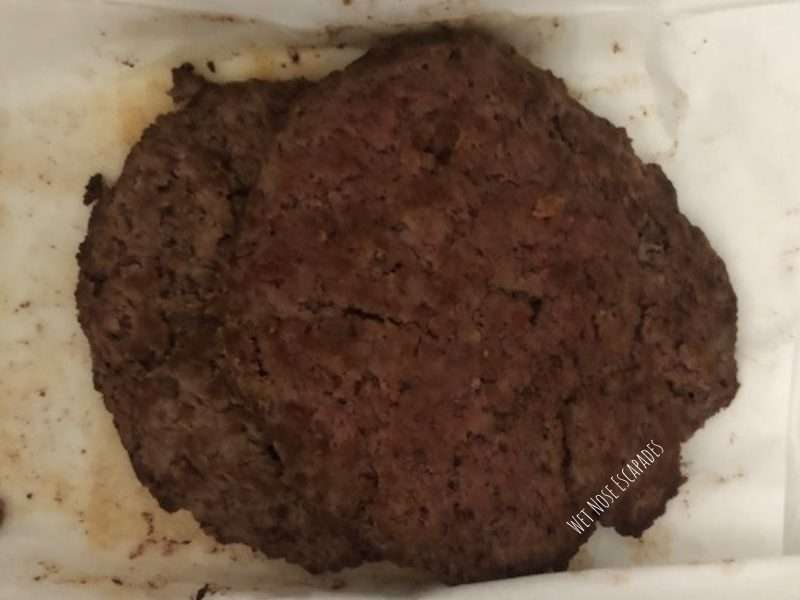 The CONS: ARF-my-DOG, it's greasy! Even though it's not salted, the pup patty is high in fat content at a whoppin' 17 grams (as indicated on the official website). Now, for a big dog like my Weimaraner cousin Sonny, one pup patty might be a safe snack and probably won't do any harm if consumed in one sitting. However, for small or "toy-sized" dogs like Yorkies, eating the entire pup patty in one sitting may be dangerous. It doesn't help if your dog's breed is prone to pancreatitis like Yorkies. GRRR.
If you're doing drive-thru, you may be tempted to feed the pup patty to your dog immediately, BUT I beg you to use a napkin to absorb some grease off the patty first. It also helps to rip the patty into tiny pieces and feed your dog throughout the day for easier digestion. In addition, my human splits the patty into two or three separate servings for me and my crazy sidekick Penny, a Papillon-Dacshund mix who is another "toy-sized" dog. If you wish to store leftovers overnight in the fridge, be sure to seal it in a sandwich bag or a small plastic container to keep it from drying out.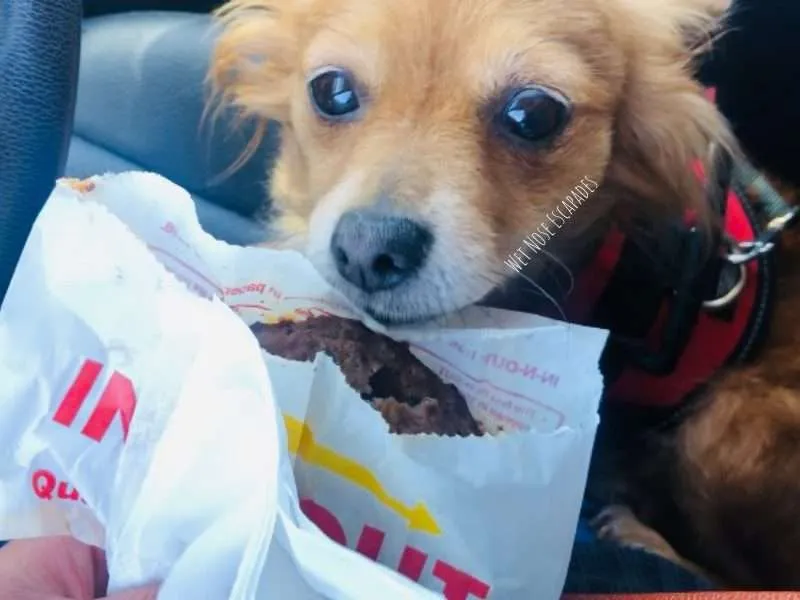 Another downside is that the pup patty is NOT free, despite recent online rumors. If you're lucky enough to get a pup patty for free, please do share your barks and location with me! In the last several years, my humans have ordered well over 10 pup patties in different locations throughout California, and NOT ONCE have they gotten it for free. The good news is that this juicy treat for your dog will only cost you around a buck, depending on the area (in San Francisco, the pup patty goes up to $1.35, as of Jan 2022). ARF course, it's not much to pay for a good time with your precious furry companion. BUT Starbucks and the Dutch Bros will gladly give your pooch a puppuccino (a small cup with whipped cream) for FREE. Not to bark, Tim Hortons gives out one free "timbit" per dog, which is a sugar-free, bite-sized donut that is safe for dogs to consume as an occasional treat.
My Takeaway: Overall, I give the pup patty a 4 out of 5 stars! WOOF, In-a-Out makes it FUN for both you and your dog. The downside is the fatty content, which can pose health risks and obesity to your dog. In addition to splitting the servings, make sure your dog doesn't overindulge in the pup patty. Too much of anything is no good! As long as your dog is healthy, a pup patty once or twice a month should be OK. BUT, ARF course, check with your veterinarian beforehand if you're concerned. Every dog is different!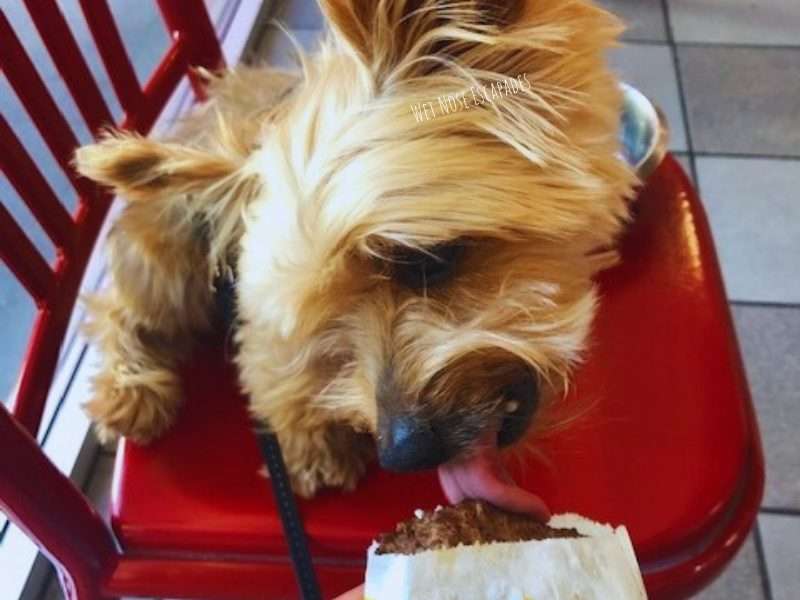 Now, if you want to treat your dog to something more ARF-citing than a single pup patty, In-N-Out offers another dog-friendly item on their secret menu – it's called the Flying Dutchman. Pretty cool name, huh? ARF, the Flying Dutchman is TWO slices of cheese melted between TWO pup patties. No bun, no vegetables. ARF-my-DOG! It sure sounds yummy, but this double trouble is not exactly a healthy option for your dog, even as an occasional treat. Plus, the Flying Dutchman will cost you well over $2 (or even $3 in some areas). If my humans weren't around, I'd take it down in a heartbeat! But then my body will surely regret it later somehow. My take? Stay away from the quadruple grease and stick with the single pup patty!
That's it, escapaders! WOOF, hope you enjoy my honest taste test and review of the pup patty from In-N-Out! How do you like the pup patty? BARK AT ME!
Markin' it up,
Roger Wellington a.k.a. The Doob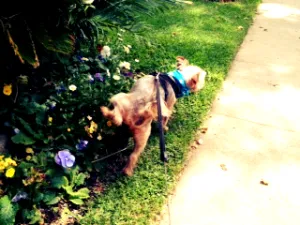 —
Like my post on "Pup Patty from In-N-Out: A Yorkie's Taste Test & Review"? CLICK TO PIN!