ARF, are you planning to take your dog to Redondo Beach, California? Is Redondo Beach dog-friendly? Keep on sniffing!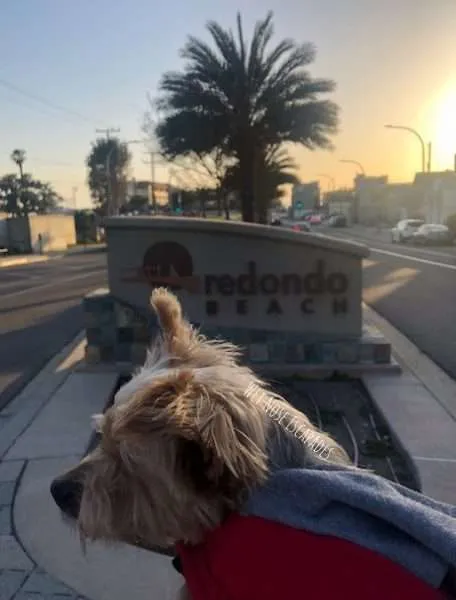 My simplest bark is NO, Redondo Beach does NOT allow dogs on its beach. Known as LA's Ocean Adventure Capital (and probably the most touristy beach of Los Angeles County's three beach cities in the South Bay), Redondo Beach prohibits animals on OR off-leash in the beach area. In addition to the beach, their international boardwalk and historical landmark pier overlooking the stunning Pacific Ocean is off-limits for dogs. And, probably for safety reasons, dogs are not allowed on the bike path. GRRR. Dogs are also not allowed on the beach areas and piers of the other two beach cities lying north – Hermosa Beach and Manhattan Beach.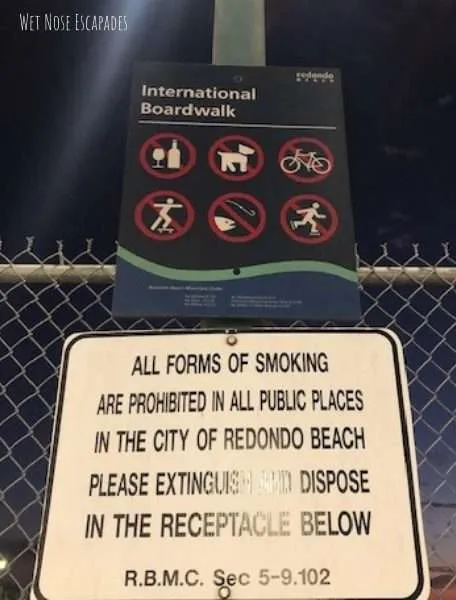 Just another bark that dogs are, unfortunately, not allowed on any beaches in all of Los Angeles County, except for the following:
Long Beach's Granada Beach – Dogs can go off-leash on Rosie's Dog Beach
Malibu's Leo Carrillo State Park – Dogs are allowed on-leash dogs in North Beach
However, don't lower your tail or flatten your ears! Despite Redondo Beach's no-dog policy, your furry beach companion will still love visiting this vibrant beach community with a huge dog-lovin' vibe and a plethora of dog-friendly activities. As a furry California native and SoCal resident, I'm wagging my tail to bark out my 7 favorite dog-friendly things to do in Redondo Beach, California!
*Please note that this post contains affiliate links, and at no obligation or additional cost to you, my humans and I earn a small commission if you make a purchase. If you love the work that we do, you can show your support by making a purchase through an affiliate link. Proceeds will go towards feeding homeless dogs (and cats) along with improving the lives of the neglected and abused.
7 Dog-Friendly Activities in Redondo Beach, CA:
#1 Hit up the Esplanade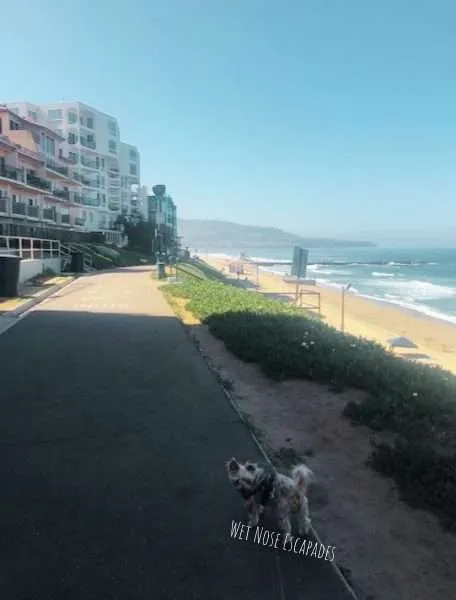 Just right above the alluring sandy beach is a winding path a.k.a. the Esplanade. Every single time my furry paws hit the Esplanade, my wet nose goes crazy! Needless to bark, the doggie guest book here is massive and can take hours to sniff out (and leave my alpha markings in return). After a short climb up, I perked up my ears to this scenic two-way path right above the beach that boasts head-tiltin' views of the Pacific Ocean.
Even though dogs are technically not allowed on the beach or the path alongside it, they can still stroll, walk, or run along the elevated Esplanade and take in some fresh ocean breeze. Heck, the views are even better on top! ARf, top views for Top Dogs! In addition to some ARF-mazing photo opportunities, my human's favorite part about this spectacular walkway is that there are plenty of dreamy multi-million dollar beach homes to fall in love with (along with some friendly resident beach dogs).*The narrow grass area near the bike path leading up to the Esplanade is also dog-friendly.
#2 Venture out to other beach cities
The best part about Redondo Beach is that it's within walking distance to LA county's two other beach cities – Hermosa Beach and Manhattan Beach (both are to the north and set off utterly distinguished vibes). With a large pier and international boardwalk, Redondo Beach has a more carefree, down-to-earth yet touristy vibe. On the other hand, Hermosa Beach is known for its nightlife for the 20 to 30-something while Manhattan Beach draws in an older, wealthier crowd as the poshest beach community of the three (plus the most expensive real estate).
If you head north with your dog on The Strand, you will run into Hermosa Beach (1.5 miles away) and Manhattan Beach (3 miles away). OR for a less congested pathway, follow your dog's lead on Veteran's Parkway, the 3.5 mile-long green belt trail that runs inland through all three beach cities. In addition to memorials and eye-pleasing landscape, I wagged my tail to find dog water fountains sprinkled throughout the trail. ARF, I gotta refuel so I can mark it up some more!
Alternatively, you can head south along the Pacific Coast and cross through South Redondo Beach for Torrance Beach, a lesser-known and trafficked beach in neighbor Torrance with mostly locals and similar pawsome coastal views.
Sniff out my 10 favorite dog-friendly things to do in Los Angeles
#3 Spy on the harbor seals & sea lions
ARF, just like horses, there's something about seals and sea lions that intrigues me! My nose goes crazy for a sniff from a distance, and then, GRRR, I'll start growling and barking up a storm. It's quite a head-tiltin' experience to watch and listen to seals and sea lions in their natural habitat, unlike zoos and aquariums where animals are held and bred in captivity. 🙁 So, what's the difference between harbor seals and sea lions?
WOOF, let me bark out a quick marine biology lesson – sea lions walk with their large flippers on land while seals have small flippers and squirm on their bellies. At King Harbor Marina (208 Yacht Club Way), I always see sea lions frolicking in the sun on boats and docks (sometimes even causing damage, which has led the city council to build a 700-square-foot barge for them to lounge on). And, of course, please remember to respect these cutesy strange creatures by observing from a safe distance and leashing your dog.
GRRR, I think I hear seals! Watch how I react:
#4 Take pictures with Bill & Bob at Seaside Lagoon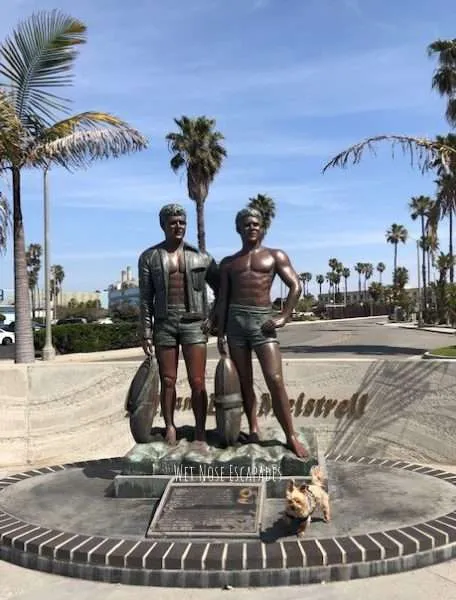 WOOF, the Bill & Bob Meistrell Memorial is a MUST-VISIT in Redondo Beach! I'm no surfer (heck, I don't even like the water), but a Top Dog like me has no pawblem giving props to these two Top Dog surfers who revolutionized wetsuits. The twins may have hailed from Missouri, but they sure developed a love for the water at an early age when they taught themselves to dive into ponds and lakes. ARF-my-dog! Shortly after moving to Manhattan Beach at age 16, the Meistrell twins became lifeguards at Redondo Beach. When they returned home from serving in the Korean War in 1953, they invested in the surf shop Dive N' Surf, also located in Redondo Beach.
They then focused on making wetsuits more comfortable and protective by using neoprene; their wetsuit was subsequently named "Body Glove," which has dominated the water sports industry for decades. Today, the Meistrell family still runs and owns 25% of the business, in which annual sales hit a jaw-droppin' two hundred million dollars each year. After these two incredible pioneers passed away (Bill in 2006 and Bob in 2013), Redondo Beach commemorated their life and contributions with a life-sized bronze statue at the Seaside Lagoon in 2014. I wagged my tail to sniff out their iconic memorial where they stand ARF-so-youthful, fit, and ready to dive. 
Sniff out Bill & Bob at the Seaside Lagoon (270 Portofino Way)!
#5 Relax to the sunset
ARRRRF, as the world traveling Yorkie, I can bark with an upright tail that almost nothing compares to the California sunset over the Pacific Ocean. Move out of the way, Santorini – this view is more worthy of my begging and barking (and I don't need to hop on an international flight)! Whether I choose to watch it from the dog-friendly El Torito outdoor patio (Redondo Beach Pier) or the Esplanade, my little BIG Yorkie heart always melts for such a sweet, barkworthy moment. That's right, even a fearless pack leader like me has some softie moments. Witnessing the bright orangey sun stretching out against the blue skies over the stunning Pacific Coast is such one calming experience (that even Yorkie bosses can appreciate).
#6 Chill at the Marina
Besides sniffing out those fascinating sea lions at King Harbor Marina, I just love getting a taste of the sea life by walking along the beautiful marina and looking at the boats and yachts docked here. Not to bark, it's also a fantastic spot to watch the sunset (ARF, going back to #5) – my little Yorkie jaw drops to make an open-mouth smiley face as the radiant sun shines in the backdrop against a myriad of small white boats in the water. ARF-my-dog! I may not own a boat, but I'll widen my soft brown eyes and tilt my head to the side for a long, uninterrupted gaze. With a history dating back to 1958, King Harbor Marina has bragging rights to 36 acres of land and water, including an 825 boat slip marina AND a 49-unit apartment building. WOOF, is this one Top Dog marina or what?
My fabulous green carrier has been in more countries than most humans on Earth! Get yours HERE!
#7 Visit Redondo Beach Dog Park
Sadly, there is currently ONLY one dog-friendly park in Redondo Beach, whether on or off-leash. GRR. BUT the good news is that this one and only dog-friendly park in the city is pretty darn pawsome. And, it's one heck of a pawty here! Established in 1992, Redondo Beach Dog Park is an off-leash dog park with benches, drinking fountains (for both dogs and humans), and waste clean-up stations. Located at Flagler and 190th Street at Dominguez Park (200 Flagler Ln.), the park is open every day from dawn until dusk except for Wednesdays when it's closed until noon for routine maintenance. As with any dog park, your dog should have a tag or collar and be up-to-date with vaccines. Don't forget to pick up after your dog!
Per the city's official website, dogs are prohibited in any other city park and yet this egregious dog ban also applies to green belt right-of-way under SCE power lines. GRRRRRRR. Not knowing the law initially, I randomly followed my wet nose to Veterans Park (located right next to the Pier), where I found beachside views and a lovely memorial. Even though the park goers didn't make a deal about my furry existence, I quickly sniffed out the "No Dogs Allowed" sign and then hit the ground running on all four paws.
AHH-WOOOO: Although dogs are technically NOT allowed on the pier (except for service dogs), you may still see a few meandering alongside their humans or carried around), especially after sunset on the weeknights when things are relatively quiet.
Sniff out the 10 BEST Dog-Friendly Day Trips from LA
WOOF, I hope you enjoy visiting dog-friendly Redondo Beach, California! Feel free to share your dog-friendly experience with me. BARK AT ME!
Markin' it up,
Roger Wellington a.k.a. The Doob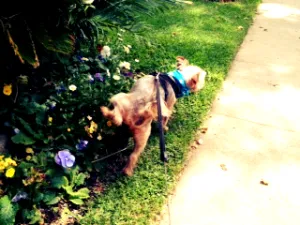 —
Like my post on "Is Redondo Beach Dog-Friendly? 7 Things to do in Redondo Beach, CA with Your Dog"? CLICK TO PIN!