Woof, is Reno dog-friendly? Are you thinking of taking your dog to Reno, Nevada? Are you wondering if "The World's Biggest Little City" has any fun dog-friendly activities? After a recent trip to this city resting on the California-Nevada border, I quickly dropped Reno as a recommended dog-friendly destination – sniff out why NOW! Perk up your ears to this supaw special Nevada post by my sidekick/little sis Miss Penny Rose.
-Markin' it up,
Roger Wellington a.k.a. The Doob
Posted 10/30/22
*As with all the content on this website, this post is strictly based the opinions derived from personal experiences.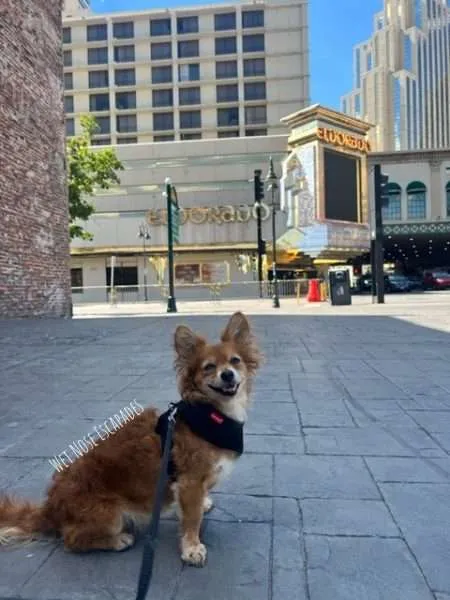 Just 22 miles north of Lake Tahoe, Reno has always been in the childhood memory of my human who was raised (and born) in Northern California in the 90s. From locking her eyes on acrobatic performances at Circus Circus to stuffing her mouth at Boomtown Buffet (which permanently closed its doors earlier this year), Reno was always an easy day trip or weekend getaway for her and her family whenever they wanted a change of scenery.
Until the 1960s, Reno was actually the gambling city of America – well, before Las Vegas took over its throne. Regardless, many go to Reno to test their luck with the slots and blackjack tables to this day. Despite the growth of local casinos (Atlantis and Peppermill), an influx of big tech (Tesla and Amazon), and massive annual events (bowling tournaments and Cinco de Mayo celebrations), Reno's reputation as a prime destination has been on the decline.
But that's not precisely why you shouldn't take your dog here. Sure, I roll with folks who have devoured fresh tagliatelle in Rome, set their foot/paws on the extraordinary grounds of the Louvre, pawtied it up in Tokyo's Roppongi, and called the Upper East Side home. Still, as travelers, we don't discriminate – we should love small cities and towns just as much as we love big cities. I couldn't wag my tail in Reno…I tried but failed miserably.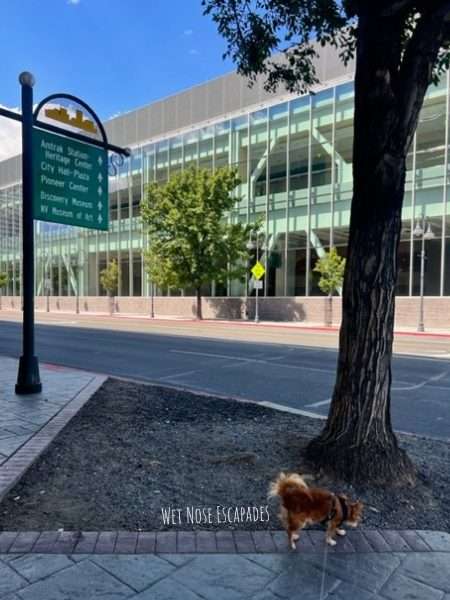 As a gambling town, there's not much to do here with your dog. Casinos are generally not dog-friendly, whether in Vegas or Reno. And, even if they are, dogs shouldn't be spending much time here except to pass through due to deadly second-hand smoke. Their #1 attraction is the National Automobile Museum, which houses an impressive collection of over 200 rare, classic, and specialty cars. But, arf course, this attraction along with any other indoor museum here is unsurprisingly NOT dog-friendly. Sure, there are restaurants with dog-friendly outdoor seating where your dog can wine and dine with you, but nothing beyond the ordinary.
ARF, my real barks: I'm not just barking that you should not take your dog to Reno, but also, you really shouldn't take yourself there.
And, this is no disrespect to the humans and furry residents who call Reno home. If you live here, it is what it is – you may choose to live here or are stuck for the time being. With a pawpulation of nearly 269K humans (and who knows about their canine numbers), Reno isn't exactly what anyone would bark a "small town" – hence, their nickname as the "biggest little city." For furry Reno residents, life may not be so bad with walks in safe, clean neighborhoods and residential areas. Not to bark, Reno's claim to fame is its proximity to Lake Tahoe and resorts in the Sierra Nevada like Boreal and Mt. Rose, which could make some pawsome dog-friendly day trips and weekend getaways.
But choosing to visit Reno for fun is another story. Unless you have family or friends to travel here, the city doesn't have much appeal or activities for non-gambling travelers.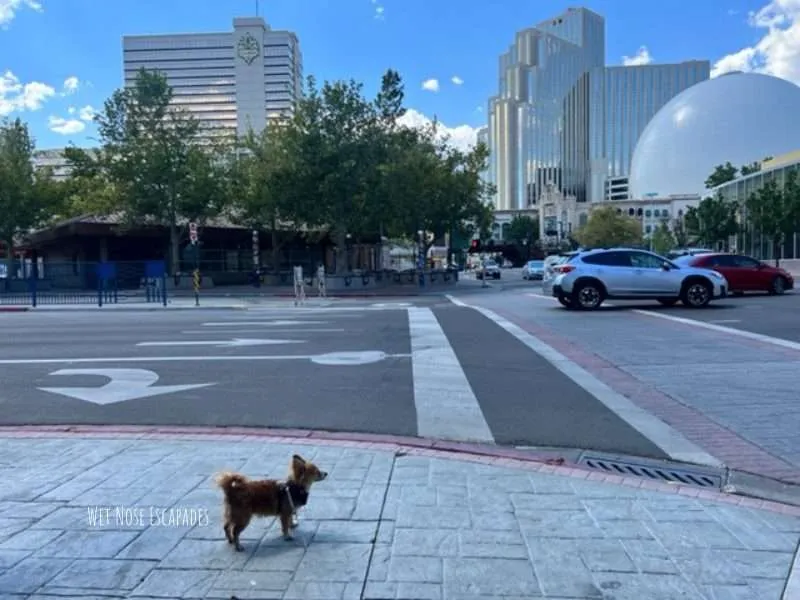 Why? Reno feels…kinda gross. Not to bark, creepy. Sorry, my human said it. I barked it. I know this may be offensive to many people who love Reno and/or call it home, and I sincerely apologize! But Reno is just not for me or my human. Trust me, it's way easier to write about "Top 10 Things to do in Reno with Your Dog," but I want to be honest with my readers. Like any traveler, I think I am entitled to my own opinion about a destination based on personal experience – whether good or bad.
It's not that I mind all the filth and homelessness in the city, especially Downtown – arf-ter all, I'm from San Francisco, the 7×7 city where homeless camps and human urine are almost ubiquitous. Some may say that it's because my human was never a gambler, despite having gone on too many trips to Vegas (35+ times and counting – Roger and I even have a go-to vet there now). Sure, Vegas has its fair share of crazies, crime, and homeless pawpulation as well – just like any other good-sized city, but the difference is that smaller town (oops, I mean city) Reno feels creepy. Plus, Vegas' world-class casinos and resorts are on an elite level compared to what you would find in Reno, which feels pathetic and tertiary. Also, none of Reno's buffets (such as Grand Buffet or Charlie Buffet) are not even close to Vegas' top notch buffets like Bacchanal, Bellagio, or Wynn.
At first, my human was ecstatic to find street parking right off the bat (not to bark, cheap at only $1.00 an hour) – what a breather compared to horrific, overpriced parking in San Francisco. As soon as I stepped my furry chicken legs out of the car, my hairy ears perked up to an incoherent, obviously drunk homeless guy who started screaming at the top of his lungs while crossing the street to Silver Legacy. My tail lowered immediately.
If you google "Downton Reno," the description sounds exciting, almost magical to any wanderluster: "Downtown is a buzzing, 24/7 entertainment district, home to big-name casino resorts and the iconic Reno Arch, which is lit up at night. As well as vast gaming floors, casinos offer sleek sushi bars to laid-back diners, plus luxe cocktail haunts and casual pubs." But in reality, it was far from it. While Reno may have a variety of dining options and bars/lounges, they don't attract the hip or sophisticated crowd.
While exploring Downtown in broad daylight by foot (I mean, paw), we couldn't help but notice that the town was pretty dead. OK, definitely dead. Reno feels like a ghost town, except for the handful of tourists (who pawbably regret spending more than one night here) and with the homeless, drunks, and druggies who seem like the only ones keeping this town alive. While I'm sure it can get pretty crowded on a holiday or special events weekend (as my human recalled way back in the 90s), Reno still sets off an incredibly eerie feeling. Heck, we even turned our heads back several times to make sure no one was following us. While walking past a few visibly run-down casinos for a split second, we could smell the unescapable filth of decades-old carpeting mixed in with cigarette smoke galore and poor ventilation. We walked past a few trinket shops, but they looked lackluster and unappealing (although likely dog-friendly). Many stores were out of business.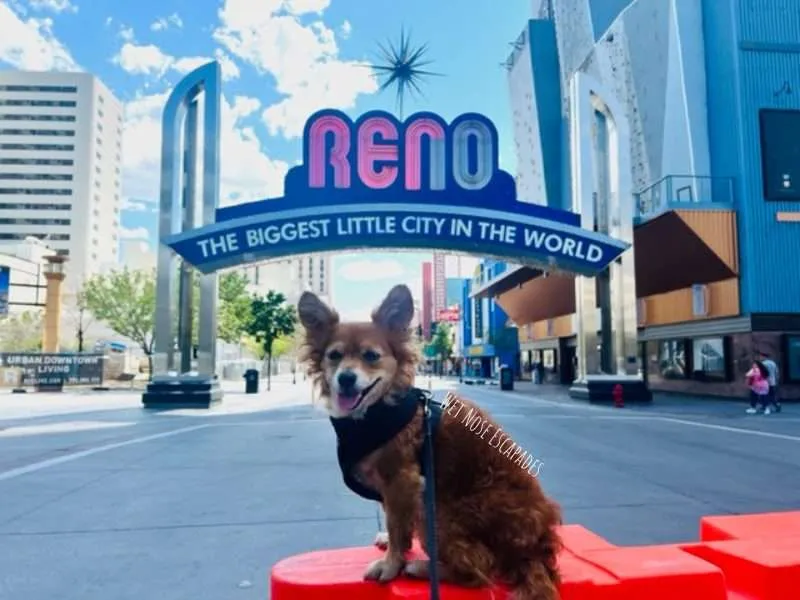 As I sniffed for some IG-worthy shots in Downtown, I really couldn't find any good ones because everything just looked run down – like not in a nice, nostalgic way. The only photo-worthy backdrop was their one and only iconic sign of their nickname – the Reno Arch, which reads "The Biggest Little City in the World." Despite the construction zone on the street, I got a decent picture by standing on the orange safety barrier.
As we walked back to our car, there was not another soul in sight, EXCEPT a visibly intoxicated, shirtless man who started screaming at us.
I was hoping that the city's famed Riverwalk could reverse my initial ill impression of the city. Running from the western edge of the city's Idlewild Park to east into Downtown's Wingfield Park, this 2-mile trail overlooking the scenic Truckee River and Downtown was the highlight of my trip. Although it has a fair share of homeless people, the Riverwalk is a pretty nice walk and feels less creepy with a few more humans in sight. Like non-intoxicated humans.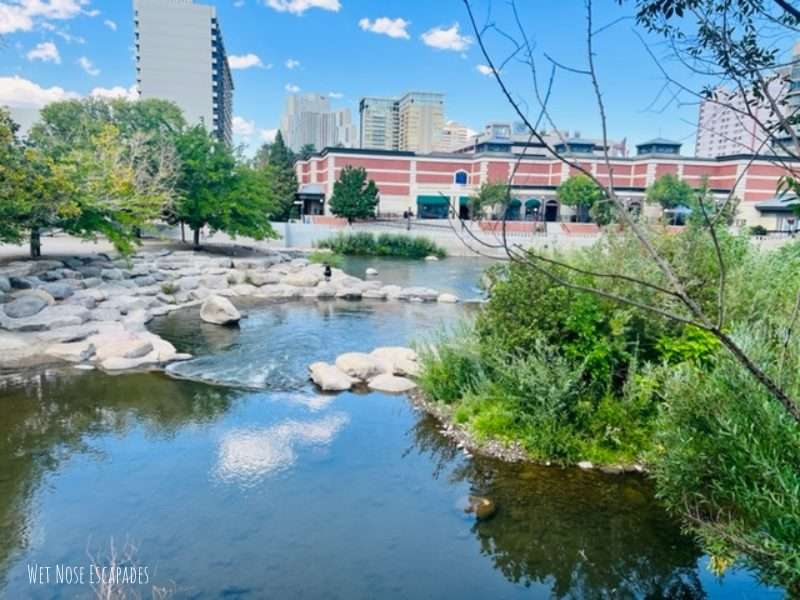 I was disappointed to not spot any other dogs on this walk, but it could have just been the timing. Wingfield Park comprises 5 parks, including Wingfield Park (East Island), Brick Park, Barbara Bennett Park, Wingfield Park (West Island), and Bicentennial Park. There are picnic tables, benches, barbeque grills, basketball courts, and arf course, grassy fields for dogs to do their business.
But even in this scenic, more relaxed area, we felt like we had to watch our back. It is reported that Reno has a violent crime rate 30% higher than the national average, BUT the good news is that more than 95% of residents said in a 2020 survey that they feel safe. However, I'm not big on stats – I didn't feel safe simply based on the vibe I got from walking around here.
OK, I'm sure Reno has some nice areas where walking your dog feels safe or doesn't make you want to shower afterwards, but the heart of the city is just not a desirable place to be – whether you are human or dog.
Sadly, my interaction with store employees throughout the city didn't help my already-ill feelings. From CVS to Raley's to several restaurants, the overall impression I got from the workforce here was indifference (although the restaurant staff is obviously a little more driven by tips). For instance, I went to 3 different CVS, and the lines were long beyond belief with a similar sight – a few listless, middle-aged, overweight workers who were extremely slow to respond. At Raley's, a clearly miserable worker insisted that the store was out of a certain type of tea, but then my human subsequently found it herself on the same aisle. ARF course, I'm sure there are plenty of hard workers here, but I think it's safe to bark that Reno generally doesn't attract movers and shakers.
Here are my final barks on Reno (again, this is my opinion): Whether you have a dog or not, please don't go out of your way to visit Reno – unless you're there for a reason, like visiting someone or for an event. There's not much to do or see here. If you're hitting up Tahoe or the nearby ski resorts for the weekend, stay there and skip Reno. If you are looking to gamble the weekend away, go to Vegas. If you must visit, be sure to keep a vigilant eye, stay away from the junkies, and watch your back (like you would in any city). BUT if you happen to live in Reno, I'm sure life isn't too bad for you and your dog.
So is Reno dog-friendly? For us, it's a NO-GO for dog travelers!
Did you take your dog (or yourself) to Reno? How did you like it?
Rollin' it out,
Penny Rose a.k.a. Penny Gurl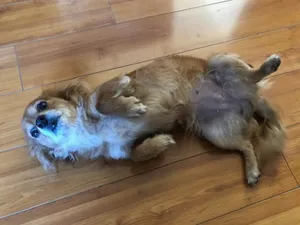 —
Like my post on "Is Reno Dog-Friendly?"? CLICK TO PIN!