Welcome to Penny's Corner!
Las Updated 11/2022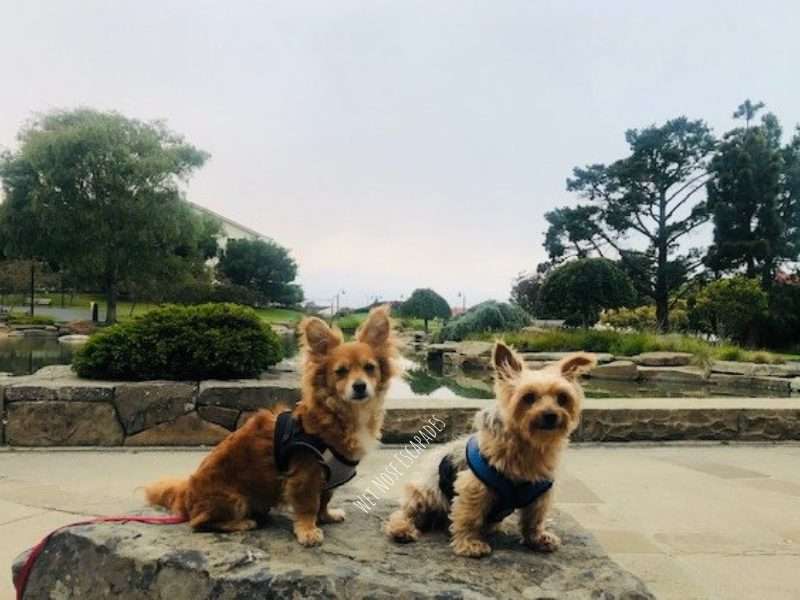 Arf, I'm Miss Penny Rose, but most people call me Penny Gurl! I am the frequently seen pretty sidekick of the world-traveling Yorkie Boss Roger Wellington. Let me first bark that I've never sniffed out a dog with that much swag and charisma. Like his humans, I quickly conceded to him being the pack leader. Being at least 6 years younger (per the hypotheses of two different vets, I'm around 5 or 6-years-old), I've tried to outrun him with my crazy zoomies and get in through the door before him.
However, I then realized that there was no way that I could usurp his alpha-male status. His tail is always upright. His dominance is PAWS DOWN evident. Bow down to the Yorkie Boss. As my humans can attest, I'm pawfectly fine with being beta (although I still growl at him from time to time and like to leave my own marks…for other dogs).
So I may have those cutesy Papillon "butterfly" ears, but I'm actually mixed with Dachshund (hence, the term "Papshund"), which means I'm both French and German. Just take a look at my slender elongated body! I sure hope I'm blessed with those longevity genes that wieners dogs are known to have. I am a little shy and timid (not to bark, reactive) when you first meet me, but I quickly warm up to belly rubs and treats, which are shortcuts to my little heart.
In the very beginning of June, I was found scared and lost walking on the busy streets of San Francisco – not too far from the Tenderloin (the city's notorious crime-infested neighborhood). Barking about infested, I was infested with fleas myself! Plus, I was underweight (per my first vet physical exam). Luckily, my now and fur-ever human came to my rescue. Roger W. was there too – he kept sniffing me, which crept me out a bit.
My new human immediately took me to a nearby animal shelter for microchip scanning (btw – if you haven't microchipped your dog, PLEASE do it as soon as possible since this is the most effective way for reunion). Unfortunately (or is it fortunately?), I wasn't chipped. Hence, the shelter advised her to take me to Animal Care & Control. After reporting to ACC, she had the option of keeping me temporarily to see if anyone comes forward (versus leaving me inside a cage at the facility and who knows where I would have ended up).
Subsequently, she put up lost dog alerts online and treated my fleas with a bath and meds. ARF, I felt like a brand new Papshund at that point! My new human and her dog-lovin' friend Marie made sure I was fed, hydrated, comfortable, and safe. On the first night of my rescue, I even slept on a comfy King size bed in Marie's luxurious multi-million dollar, 2-story house in one of the most expensive zip codes in the country.
The following days were quite intense – the new human took me back to the area where she found me to see if I could sniff my way home. After a few false alarms, she tried her best to resist the ARF-so-dreamy idea that I could be hers fur-ever. It was also becoming apparent that I had not come from a good home; for the first few weeks, I kept crouching down in fear and rolling onto my back into the submissive position every single time her hand came near me. Even though she was just trying to pet me, I was so afraid of getting hit. 🙁
ARF-course, I had no idea that my days of "abuse" were over the moment I met her. Not to bark, I'm terrified of the sound of windshield wipers, car traffic on freeways and bridges, and oftentimes, strangers (especially men) – among other scary sounds and sights.
Although she quickly fell in love with my sweet demeanor, soft brown eyes, and wagging tail, she didn't want to get her hopes up until after the 30-day mark. Sadly, dogs are still technically considered "property" so ownership of a found dog does not become legal until after 30 days of a reasonable effort to reunite the dog with his or her "owner" (as all dogs are sentient individuals, we prefer other terms like human, pawrent, or guardian). Nonetheless, as soon as the "ownership" became legal, she took me to get microchipped. Dog, did it hurt! I yelped in pain. GRR. But at the same time, I was ecstatic and relieved that I've found the best pawrents ever!
Besides the expected jealousy and a few growls (on my end – hey, don't mess with a skinny girl's food), Roger W. and I got along pretty well straight from the beginning. He's the pawfect big brother and a true pack leader. He's confident, determined, fearless, protective, yet loving. As his fur-ever sidekick, I am really good at keeping his butt warm. I am amazed by how he manages to get exactly what he wants. He is indeed the #1 Human Trainer!
Thanks to his guidance, I'm quickly learning to become a spoiled rescue dog like him (and hopefully the #2 Human Trainer soon). I haven't transformed into a world-traveling Papshund YET, but I've already hit up many spots all over California in the last several months. Please be sure to stick around and sniff out what happens in my next chapter.
November 2022 PUP-DATE: ARF-ter countless road trips 🚘 and several practice flights ✈️ to Vegas 🎲 and Salt Lake City, I finally flew out of the country last month in October. As a matter of BARK, I've already set my skinny crab legs in 3 countries so far – Mexico, Panama, and Brazil. RUFF, RUFF – I am officially the world-traveling Papshund and HBIC!
Watch my journey below:
Don't forget to subscribe to the Wet Nose Escapades YouTube Channel for upcoming videos of Roger W. and me. A Yorkie joined by a Papshund can only mean FUN! Rescues rock!
Rollin' it out,
Miss Penny Rose a.k.a. Penny Gurl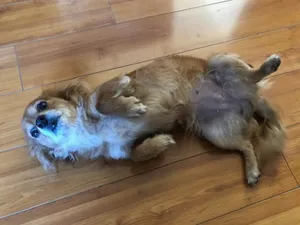 —
Like my post "Penny's Corner: Barks from a Rescue Papshund"? CLICK TO PIN!